Table of Contents:
1. New policy proposal: Can fail kids after Class V, let foreign universities in
1. IAF test-fires land-attack version of BrahMos
2. Norms soon to weed out fraud in staffing industry
3. The new game changer in Pakistan
1. PIB
a) IAF Participation in Ex Desert Eagle – II at UAE
b) EU-India Make Co-ordinated Proposal for the KP Chair in 2018 and 2019
2. The Financial Express:Secure Policy
3. Business Standard:Border blues
4. The Business Line: The mirage of inclusive growth
5. The Economic Times: Government doctors to retire at 65, to counter shortage
.
+++++++++++++++++++++++++++++++++++++++++++++++
Useful News Articles
A. GS1 Related
Nothing here for today folks!
B. GS2 Related
Topic: Governance Category: Education Location: The Indian Express Key points:  
A five-member committee was entrusted with the responsibility of assimilating feedback collated by the HRD Ministry through grassroots and national level consultations on 33 topics and making suggestions for drafting a new education policy for the country
The last policy was made almost three decades ago in 1986
The government will now study the report and prepare a draft education policy, which will be put in the public domain for feedback
The committee headed by former cabinet secretary T S R Subramanian has recommended that the government reinstate detention of students beyond Class V(As of now, under the Right to Education, all children are ensured promotion each year up to Class VIII. As per the new proposal, a student will be tested each year after Class V, but will not be promoted to the higher class until she clears the exam — she will get three attempts each year) and also set up an all-India cadre of educational services on the lines of the Indian Administrative Service (IAS) in its report on the new education policy
The panel, reportedly, hasn't recommended any changes to the three-language formula followed in schools
"The committee has written strongly in favour of remedial classes for such students during holidays and after school hours. They will be given three attempts to clear the examination in the same year. If he or she cannot cope, then the school can hold the student back in the same grade. They can even encourage the student to join the vocational stream," said a source
The members have proposed that the government, through the 'Digital India' initiative, track all school students, teachers and learning outcomes and start linking the latter's promotion to the performance of their class in two years
"There is a strong focus on value education, too. Every student should be proud to be an Indian and schools have a vital role in inculcating that," the source said
The committee also feels that the National Assessment and Accreditation Council (NAAC), the central accreditation agency for higher education, is ill equipped to handle the current burden of quality assessment and, hence, has recommended that the Centre train auditors like chartered accountants to audit quality and infrastructure of all institutions every three years. "So the idea is that NAAC will lay down standards and procedures for the quality auditors. It will not regulate the institutions, but the auditors," said another source
The 200-page report contains close to 90 suggestions, including a drastic overhaul of regulators such as the UGC and AICTE, allowing foreign universities to set up campuses in India under a strict regulatory framework and compulsory quality audit of all highereducation institutions, both private and public, in three years
C. GS3 Related
Topic: S &T Category: Defence Location: The Hindu Key points:
The Indian Air Force on Friday successfully test-fired a land-attack version of the supersonic cruise missile, BrahMos, in the western sector
the IAF too has been equipped with the land-attack version of BrahMos, which flies at a supersonic speed of Mach 3 (that is, three times the speed of sound). The Navy and the Army have already deployed the two-stage missile, which has a range of 290 km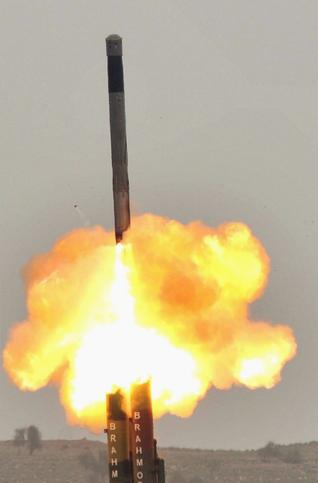 2. Norms soon to weed out fraud in staffing industry Topic: Economy Category: labour issues Location: The Hindu Key points:
The Centre is set to regulate private employment agencies by amending the contract labour law of 1971.He said the agencies won't be allowed to take money from candidates for jobs and hiring agencies who "dupe workers' would soon be weeded out
Recruiting workers on contract will allow flexibility in the labourmarket.But there has been no regulation for private recruitment agencies
There is no official website to check the authenticity of a particular agency
3. FDI inflows rise 29 % Topic: Economy Category: Investment Location: The Hindu Key points:
Foreign Direct Investment (FDI) inflows into India increased by 29 per cent to a record $40 billion during in the financial year ended March
Maximum inflows (equity) were from Singapore ($13.69 billion), followed by Mauritius ($8.35 billion), the US ($4.19 billion), the Netherlands ($2.64 billion) and Japan ($2.61 billion)
the investment decisions of investors are based on the macro-economic policy framework, investment climate in the host country, investment policies of the trans-national corporations and other commercial considerations
D. GS4 Related
E. Important Editorials: A Quick Glance
1. Mr. Obama at Hiroshima Topic: World History Category: WWII Key points
As expected, U.S. President Barack Obama did not utter any apology on behalf of his country for dropping an atomic bomb on Hiroshima in 1945. But such is the power of personal presence that by the simple act of laying a wreath at the Hiroshima Peace Memorial on Friday, he sent out an uncommonly gripping message
Obama did so with a gesture that will be one of the defining images not only of his presidency but also of the wider struggle to rid the world of nuclear weapons, when he embraced a survivor of the attack
Obama walked through such a political minefield to make it to the memorial that it had not been certain till almost the last moment whether he would even meet the survivors
"Death fell from the sky," Mr. Obama said of the Hiroshima bombing, and it showed that "mankind possessed the means to destroy itself." The nearest any previous occupant of the White House had come to acknowledging the devastation caused by the bombings in Hiroshima and Nagasaki was Jimmy Carter, but only after he demitted office
On a narrower time horizon, Mr. Obama's visit to Hiroshima can be viewed against the backdrop of his landmark address in Prague in 2009, when he laid bare his disarmament agenda. He declared that as the only country to have deployed the nuclear weapon, the U.S. had a moral responsibility to act
Those remarks earned Mr. Obama plaudits from the global peace movements, whereas hawks at home attacked him as an apologist President. But the pragmatist in Mr. Obama minced no words in Prague, in saying that as long as nuclear weapons were around, the U.S. would maintain a credible deterrent, even while striving for a reduction in the arsenals of Washington and Moscow
In his two terms in the White House, Mr. Obama has made a modest beginning. Understanding his realism is critical to covering the long and arduous road ahead
Topic: Governance Category: land Key points:
The Centre's plan to identify surplus land held by government departments and public sector undertakings with a view to auctioning such land to the private sector, or deploying it for urban renewal projects, is noteworthy
This also appears to be in sync with the Budget promise to encourage public sector firms to divest individual assets and re-invest the proceeds in new projects. A committee has been tasked with creating an inventory of public landholdings and identifying plots that are not needed for future expansion or strategic purposes, and thus could be alienated for other uses
As past strategic disinvestment cases have shown, valuation of land is a prickly issue that leaves governments susceptible to extreme scrutiny from political peers as well as the auditor. In addition, it can take years to conclude
To that extent, the Budget's promise to divest specific assets (such as land) of public sector firms — through the auction route with total transparency, it is to be hoped — seems pragmatic
Five years ago, the then government had set up the Committee on Allocation of Natural Resources to suggest transparent mechanisms that would eliminate discretionary powers in such allocations. It had determined not just how much land was under the domain of Central government departments, but also how much was under encroachment
Of the 16 lakh acres of defence land outside the cantonments, 11,000 acres had been encroached upon. Every department told the panel it had no land to spare that could be considered surplus. The committee had mooted creating a depository of all government/public sector land with satellite mapping done to indicate actual usage, which it is hoped the new panel will also do
Other recommendations are also very relevant: land transactions should be on an outright sale basis with the optimal land use being approved before the sale, via e-auction
It must also be kept in mind that this exercise is a minor recompense for the larger reform agenda that the government has set aside: amending the land acquisition law
A model tenancy law that the NITI Aayog has mooted as an alternative reform step to allow the leasing of agricultural land, also remains a work in progress. The government needs to put more energy into those solutions for faster economic growth
3.The new game changer in Pakistan Topic: International Relations Category:  India's Neighbourhood Key points:
Is China about to transform Pakistan? The unanimous consensus in Pakistan is that it is, and quite comprehensively too
The "game changer", which government officials, military generals, diplomats, journalists and a host of other observers refer to, is the $46 billion China-Pakistan Economic Corridor (CPEC) project, a highway which is to run from Kashgar in China to Gwadar in Balochistan, on the edge of the Persian Gulf, in Pakistan
This Economic Corridor has been called a "game changer" and even a "fate changer" by an overly enthusiastic Pakistani press and government; with some analysts even saying that this $46 billion "unprecedented" Chinese investment over the next decade-and-a-half will make Pakistan the next Asian Tiger. It is a huge investment, especially when contrasted to the (only) $5 billion investment made by the U.S. in the period 2009-15.
Moreover, the fact that the Chinese President, when he visited Pakistan in 2015, agreed to the $46 billion investment also gave rise to a sense of gloating in the press, since he promised only $20 billion in investment to India when he visited the country in 2014. The Pakistani Finance Minister stated that the corridor would change the destiny not just of Pakistan, but of three billion people in the region! Such has been the hype over the projected road
There is an expectation, well-founded no doubt, that such projects will give rise to jobs (particularly unskilled ones), will allow local businesses to benefit, and might open the way to development
Fortunately, some sceptical commentatorshave questioned whether the Chinese investment represents Chinese strategic and economic interests solely focussed on what will benefit China, much more than it does economic investment which might be of some benefit to Pakistan in the end
The Chinese President's visit gave rise to the signing of 51 Memoranda of Understanding and projects worth $46 billion in sectors which include energy, infrastructure, security, and broader economic development. For energy, $34 billion investment was envisaged and $12 billion in infrastructure projects. It was estimated that $15.5 billion would be spent on coal, wind, solar, and hydroelectric projects. The ambitious plan includes energy projects with a capacity close to 10,000 MW to be completed by 2018, with more to follow. Most of the money is expected to be spent on the construction of the corridor itself
One of the key externalities to the Chinese investment is the fact that a "Special Security Division" of the Pakistan Army, consisting of perhaps 10,000 Pakistani troops and headed by a Major General, would be set up to guard the Chinese workers and their investment, particularly in Balochistan, given the militancy and insurgency in the province
Even a year after the initiation of the CPEC project, there continues to be much ambiguity about what the $46 billion project entails. There is little public information and disclosure as to what will be built, how it will be financed (that is, whether some of the money will be a grant or a loan, and on what terms and from whom), and who will implement the various parts of the corridor, which includes roads, railway lines, pipelines and other infrastructure
Nevertheless, one cannot deny the fact that sections of what might constitute the corridor have been constructed in the last year and work is underway in many regions
An important indicator of the work in progress is the huge Chinese foreign direct investment (FDI) which has come into Pakistan over the last year. Pakistan has been an FDI-starved country for a host of reasons, but the first 10 months of the current fiscal year (Pakistan's fiscal year runs from July to end June) saw FDI increase by 5 per cent on a year-on-year basis, to $1 billion, of which 55 per cent came from China alone
In fact, China's contribution to Pakistan's FDI increased 152 per cent over this period. Much of the hype about the CPEC has also led to a "feel good" factor about prospects for Pakistani development, and many business and investment interests are waiting in the wings to cash in once the corridor and its ancillary investments take off
Pakistan's Chief of Army Staff has reiterated the Pakistan military's resolve to safeguard the CPEC, and has stated on many occasions that all opponents to the project will be dealt with. He was reported as saying recently that "hostile intelligence agencies averse to this grand project, especially Indian intelligence agency RAW … [are] blatantly involved in destabilising Pakistan", and that "we are totally aware of all campaigns against the corridor and I vow that the security forces are ready to pay any price to turn this long cherished dream into reality." China's civil and military leadership has also pledged "full support". Much is at stake here, for both countries
The government of Pakistan too can gain much with economic development linked to the corridor taking off, offering far greater prospects for re-election in 2018 when some projects come on stream. The Pakistani military is an obvious beneficiary with its role in security and with its fingers in numerous infrastructure and economic projects around the corridor. Perhaps some underdeveloped regions in Balochistan and Khyber Pakhtunkhwa will also benefit
The Chinese are too savvy to invest in such a project without counting the numerous economic, geopolitical and geostrategic returns to their investment and agenda of regional economic connectivity through their One Belt One Road initiative
There are many unanswered concerns as well. For Pakistan, will U.S. and Saudi imperialism now be replaced by the Chinese variety? What if the Chinese interests shift to other regions and projects, and CPEC abandoned like some African mining site? Would India attempt to sabotage Pakistan's future development, as the Pakistani Army Chief has hinted? Does CPEC come at a cost to the bonhomie between India and China? Or, will this be the great "destiny changer" for Pakistan at the further loss of its sovereignty, given the absence of any indigenous economic strategy other than one corridor?
Indian Express
African Rulers of India
Topic: History Category:  Medieval History Key points:
Many able-bodied men from Abyssinia (present day Ethiopia in East Africa) were part of the forces of Babur. Eventually, they conquered the fort at Janjira(Raigad,Maharashtra)and later occupied Sachin(Gujarat)and ruled over their own kingdoms.
The Nawab of Sachin is a personified remnant of a glorious African past in India. Africans have, for centuries been a part of Indian society. While the slave trade from Africa to America and Europe is well documented, the eastward movement of African slaves to India has been left unexplored.
The systematic transportation of African slaves to India started with the Arabs and Ottomans and later by the Portuguese and the Dutch in the sixteenth -seventeenth centuries. Concrete evidence of African slavery is available from the twelfth-thrirteenth centuries, when a significant portion of the Indian subcontinent was being ruled by Muslims
There is, however, a major difference between African slavery in America and Europe and that in India. There was far greater social mobility for Africans in India. In India, they rose along the social ladder to become nobles, rulers or merchants in their own capacities. In Europe and America, Africans were brought in as slaves for plantation and industry labour. In India on the other hand, African slaves were brought in to serve as military power
These were elite military slaves, who served purely political tasks for their owners. They were expensive slaves, valued for their physical strength. The elite status of the African slaves in India ensured that a number of them had access to political authority and secrets which they could make use of to become rulers in their own right, reigning over parts of India. They came to be known by the name of Siddis or Habshis (Ethiopians or Abyssinians). The term 'Siddi' is derived from North Africa, where it was used as a term of respect
The political power acquired by Africans in the Deccan, in particular in Janjira and Sachin, is best demonstrated in a painting by AbulHasan, thatdepicts Emperor Jahangir taking aim at the head of the African slave Malik Ambar. The political career of Malik Ambar can be traced back to a time when he was known as 'Chapu'. He was initially bought as a slave in Ethiopia by an Arab merchant. Later, after being resold a number of times, he somehow landed in the court of Ahmadnagar as one among the hundreds of Habshi military slaves there
By the mid-sixteenth century, the Mughals had increased their appetite for the South and were aggressively trying to encroach upon the NizamShahi dynasty that ruled much of Deccan. In 1600 AD, the Ahmadnagar fort finally fell into the hands of the Mughals. However, the presence of the Mughals in the Deccan was still limited and Ahmadnagar's surrounding countryside still lay with the troops deployed by the NizamShahi state of which Malik Ambar was a part
It was during this period that the African slave grew to be a political game changer. Commanding a troop of 3000 cavalrymen, he proved to be a major obstacle to the Mughals' appetite for the Deccan. The painting by Abul Hasan is testimony to what a nuisance the Ethiopian soldier had become to the Mughals
Malik Ambar constructed a fort at Janzira, located in the Konkan coast, by the end of the sixteenth century. It still stands intact, currently under protection of the Archaeological Survey of India (ASI). At Janjira, the Africans developed their own kingdom (with their own cavalry, coat of arms and currency) which the Mughals and Marathas failed to occupy despite repeated attacks. Later, the African rulers of Janjira went on to occupy another fort at Sachin in modern day Gujarat
A large number of royal coins found in Bengal tells the story of a time when the region was ruled by Africans who had been originally brought as slaves. Much of Bengal, in the thirteenth century was being ruled by the Muslim Sultans of Delhi. The Bengal Sultanate was established by Shams al-Din Ilyas Shah in 1352. Historian Stan Gordon has recorded that during this period a large number of Abyssinian (inhabitants of Ethiopia in East Africa) slaves had been recruited in the army of the Bengal Sultans. They did not just work in the army, but also rose to get involved in major administrative tasks such as act as court magistrates, collecting tolls and taxes and involved in services of law enforcement
Eventually, the Abyssinians in the army managed to seize power from the Sultans under the leadership of BarbakShahzada, and conquered the throne of the Bengal Sultanate.BarbakShahzada laid the foundation stone of the Habshi dynasty in Bengal in 1487, and became its first ruler under the name of Ghiyath-al-Din Firuz Shah.
Ghiyath-al-Din was followed by three other Abyssinian rulers. His successor, Saif al-Din Firuz is considered the best of the Habshi rulers. "He is said to have been a brave and just king, benevolent to the poor and needy, and a patron of art and architecture" .Firuz is believed to have patronised the building of a number of religious and secular structures. Most well known among these is the FiruzMinar at Gaur(Malda,West Bengal)which still stands tall, in a good state of preservation. The FiruzMinar is often compared to the QutubMinar in Delhi, both in appearance and also in its significance of a victory tower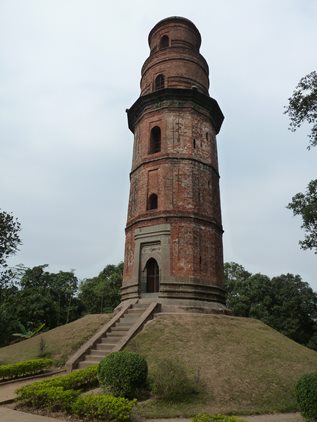 theFiruzMinar at Gaur
The Habshi rule of Bengal was very brief and came to an end in 1493 AD, when Sayyid Husain Sharif Makki seized the throne and founded the Husaini dynasty.
In the fifteenth century Adoniin Kurnool district of Andhra Pradesh was part of the Vijayanagarempire. With the decline of the Vijayanagarempire, the city came in the hands of the Bijapur Sultanate. As part of the Bijapur Sultanate, Adoni got one of its most important governors by the name of Siddi Masood Khan. Masood was a wealthy merchant from Abyssinia
Siddi Masood was the vizier of Bijapur and was virtually the ruler of Adoni. He improved upon the Adoni fort and also built the ShahiJamia Masjid. Apart from architectural constructions, he is known to have patronised a sizeable number of paintings under his reign. It is possible that he also founded the school of painting at Adoni, which is a variant of the Bijapuri style.
The Abyssinian ruler's reign at Adoni came to an end when Aurangzeb captured Bijapur in 1686. Records suggest that a dramatic fight took place on the banks of the mosque built by Siddi Masood, following which he surrendered since the mosque was very dear to him. Aurangzeb appointed Ghazi ud-din Khan as governor of Adoni, replacing Siddi Masood.
Apart from the above rulers, historians are still trying to recover more about African elites in the past. It is possible that the first ruler of the Sharqui dynasty in Jaunpur in the fourteenth century was an Abyssinian. African rulership was perhaps also a part of Sind's history. However, not enough documentary evidence has been unearthed to make these claims.
Today, approximately 20,000 to 50,000 Siddis are residing in India and Pakistan, with the majority concentrated in Karnataka, Gujarat, Hyderabad, Makaran and Karachi. In contrast to their part of royal privileges, most of them live in conditions of abject poverty
Poverty, lack of access to education and racism are some of the reasons why the Siddis live in solitude today.Dr. Kenneth Robbins, author of "African elites in India", is of the opinion that it is necessary to shed light on the ruling status of Africans in India. "The purpose is to see India in a different light, to understand social mobility in India. It is important for Indians to take note of the place that Africans had at one point secured in the country."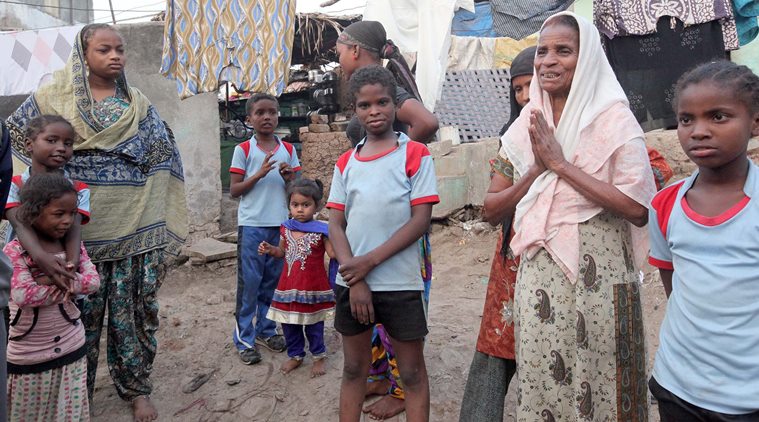 Siddis in India
"A major difference in the history of African presence in the rest of the world and that in India is that racial discrimination was not a feature. Nowhere else in the world had they ruled. However, this part of their history has been ignored"
Others:
1.PIB
a) IAF Participation in Ex Desert Eagle – II at UAE – A bilateral Air Force exercise between India and United Arab Emirates (UAE) is underway at Al-Dhafra Air Base in UAE from 24 May 16 to 03 Jun 16 – Ex-Desert Eagle-I with UAE Air Force was held at the same location in Sep 2008 – Su-30 MkI of the Indian Air Force and Mirage 2000-9, F-16 of UAE Air Force are participating in the exercise. The exercise will be played under multiple simulated scenarios – These air combat exercises provide exposure towards mission planning and execution in a simulated high threat combat environment besides building up crew confidence and bonhomie with Air Forces of India and United Arab Emirates
b) EU-India Make Co-ordinated Proposal for the KP Chair in 2018 and 2019– Official representatives of the European Union and India participating in the Kimberley Process (KP) Intersessional, currently under way in Dubai, made acoordinated proposal under which EU will assume responsibility as the KP Vice-Chair in 2017 and as the KP Chair in 2018, while India will become the KP Vice-Chair in 2018 and assume the position of KP Chair in 2019 –The KP could enhance cooperation and partnership with the United Nations' system and with the international financial institutions; India and EU can explore how the KP can contribute to the implementation of the UN Sustainable Development Goals
2.The Financial Express:Secure Policy Topic: Governance Category: Safeguarding Privacy Key Points
Privacy is one area where the governments have seldom seen eye-to-eye with citizens in the digital age—while people vie for greater privacy, governments have backed greater surveillance
Against this backdrop, the Indian government, too, is set to bring a policy on what data of private parties (companies and individuals) should and shouldn't be accessible to the government agencies in the name of security
The government is taking another shot at bringing a National Encryption Policy after introducing a draft last September—and withdrawing it within a week, following protests over "government overreach" and "violation of privacy"
The new draft is expected to set a new, higher encryption standard, but there is a chance that the government might make storing messages in plain text for a period of 90 days mandatory. While upgrading encryption from the current 40 bits to 256 bits will be a welcome step, asking companies to provide the keys to encryption violates privacy. At the same time, asking users to store messages on their phones leaves their privacy vulnerable to hackers
The government would do better if it were to upgrade its security and tracking protocols as well as working on its own resources to meet challenges that higher encryption standards may pose for national security
3.  Business Standard:Border blues Topic: India's Neighbourhood Category: China Key points:
A disturbing sequence of news reports emerged recently that should impact any assessment of the state of Indo-China relations.
The first was news out of Beijing that the Western Tibet military command has had its rank and status raised. Most military commands of the People's Liberation Army are, after a recent reorganisation, subordinate to a defence department under the Central Military Commission; the Western Tibet command, however, will be directly controlled by the PLA Ground Force, and will thus likely receive more attention and have its demands answered quicker. Some reports from within China indicated that this suggested the Western Tibet command would be more prepared for "combat assignments".
This provided an ominous backdrop to the second piece of news that emerged recently: at the release of the US Department of Defence's annual report on China, the Pentagon official responsible highlighted an "increase in capability and force posture" along the Indian border. This dovetails neatly with the Indian defence ministry's annual report for 2015-16, issued in March, which noted an "increase in assertiveness" by the PLA during routine patrolling along the Line of Actual Control.
Of course, we don't know for certain what the reasons for these two changes are. It could be any of a range of things, from greater worries about internal destabilisation to political manoeuvring.
One relatively benign explanation could be that, as China's massive "One Belt, One Road" plans for infrastructure development into Central Asia and Pakistanbegin to take hold, they worry as much about what might come back along the road into their restive border provinces
It is worth noting that many reports suggest the Xinjiang military command, which borders Af-Pak, might also be similarly upgraded
Better connectivity with Pakistan could be something of a double-edged sword; it might allow the export of stability to that troubled country, but it could also permit the import of instability. Certainly, strategists in Beijing are far more worried about jihadi terrorism and its incubators in Af-Pak than they were a decade ago
But this may not be the only, or even the primary, reason for increased Chinese focus on areas bordering India. And, either way, it certainly suggests that China intends to further increase the already yawning gap in capabilities between it and India along the border. New Delhi, however, looks set to ignore the signal this sends out
The government seems to have decided that China is being more co-operative than otherwise – its international posture on such things as United Nations condemnation of Pakistan-based terrorists notwithstanding. This complacent approach, which seems to contradict the defence ministry's own estimation of increased aggressiveness, needs to be re-examined
What makes the need to revisit this assumption doubly urgent is that the abysmally poor level of India's military preparedness continues to be on the back-burner. There is a range of issues – from personal armaments to border infrastructure – that need to be addressed. The defence Budget for 2016-17 was only marginally increased, by 9.7 per cent over 2015-16 – less than the likely growth in nominal GDP. As a consequence, it appears that India's defence expenditure as a proportion of GDP is at its lowest since 1962
Note that this does not come at a time when the Centre is strapped for funds; clearly, it does not feel short enough of money to, say, embark on a privatisation programme. It also feels flush enough to satisfy ex-servicemen's demands for higher pensions, and to actually raise more divisions in an already over-staffed, 19th-century army. And it certainly is not a question of having to balance social-sector schemes and defence spending – those schemes can be and are fully funded.
The consequence of this complacency is that even simple purchases lie unmade – the army frequently complains it does not have enough bullets to fight. India's parliamentarians have fortunately woken up to this fact; a recent meeting of the Standing Committee on defence apparently centred on India's lack of preparedness.
The skewed funding priorities are highlighted by reports that the manpower component of the new mountain strike corps has been given its full Rs 64,000 crore – but the infrastructure part, costing less than half that, hasn't
The recent reports about developments on the Chinese side of the border should startle India's leadership out of its happy doze.
4. The Business Line:The mirage of inclusive growth Topic: Economy Category: growth and development Key points:
In the age we live in, the process of securing a persistent rate of higher economic growth is considered to be the ultimate means of achieving prosperity for all
It becomes pertinent thus to explore the underlying neo-liberalist idea of inclusive growth that fails to apply in evidence to the developing world context (specifically to India in South Asia).
The idea of inclusive growth has shaped our understanding of growth since the mid-1960s
Such growth, as expected, by itself will then lead to a high elasticity of poverty reduction (higher reduction of poverty in per unit of growth), also reducing income inequalities at individual and group levels.
Inequalities do not last for long. According to Simon Kuznets, 'Economic inequality increases over time while a country starts developing; however, after a certain average income is attained, inequality becomes to decrease'
The curve of inequality — the Kuznets curve — is inversely U-shaped, where inequalities tend to decline after a point because of two reasons: Firstly, with higher economic growth, the tax revenue of governments is likely to increase, enabling them to spend more on infrastructural development, education, healthcare and skill development; particularly in backward areas where the need of such social investment is felt more, in improving opportunities for people lacking the capital to grow
And secondly, after the initial period of economic growth and boom, the stated expectation of neo-liberal advocates is that it will trickle down to people, by creating more jobs and incomes for many
JagdishBhagwati cites the need of 'Track II' reforms in developing countries where he calls for the government to massively spend the economic benefits from liberalising markers on healthcare, education, etc. for the initial growth to trickle down and achieve the principles of equity and sustainability
In a her 2012 paper, Indira Hirway provides some useful empirical evidence from South Asia to debunk myths attached to 'inclusive' theoretical application of neo-liberalist version of economic growth. Hirway explains how, in spite of the adoption of pro-market policies in most South Asian countries, the level of income inequalities continue to widen.
Out of the 14 Asian countries studied, inequality has increased in 11 — including Sri Lanka, China, Cambodia, India, Indonesia and Nepal. Malaysia and Thailand were the only two countries where inequalities decreased at the margin. In the case of India, the Gini coefficient (a measure of income inequality) rose from 0.44 to 0.47 during the last decade
The issue with the Indian case has primarily been with the implementation of Track II reforms where, in spite of higher, sustained economic growth levels from early 2000s, public spending on education and healthcare has remained drastically low (less than 3 per cent and 2 per cent of the GDP, respectively, till now)
This has resulted in the accumulation of economic wealth in limited geographical city centres where economic prosperity is enjoyed by the few who directly accrue the benefits, leaving 'the others' entirely dependent on the government
Upward income mobility within these lower income classes remains an issue due to the lack of adequate education, health standards and access to increasing productive job opportunities.
In the field of employment and labour, scholars indicate a poor performance in generating productive employment with 'decent work' conditions. In India, the unemployment rate increased from 1.96 per cent in 1993-94 to 2.2 per cent in 1999-2000, to 2.37 per cent in 2004-05 and to 2.06 per cent in 2009-10.
Though different reasons are cited for explaining this increase by economists, trends show the rate of growth of employment including the rate of growth of 'decent work' has been far from satisfactory
This is not just true in the case of India but other developing economies as well. According to the ILO, during 1995-2006, open unemployment grew by 22 per cent, pegging the global unemployment rate at 6.3 per cent. While the output growth rate was much higher than job growth, it is appalling how the obsession with production as the ultimate factor of inclusive and consistent growth still wheels the imagination of our policymakers
A major limitation of the theory underlying the neoliberal policy framework is that it leaves two important macro-economic components outside its purview — natural resources or natural capital, and unpaid work or work that is outside the production boundary but within the general production boundary of the UN System of National Accounts. Both these exclusions are associated with the excluded sections of population, relevant for developing economies
So, there is a strong need for policymakers in India and across the developing world to give a fresh look at the macroeconomic framework underlying the present policies. It is critical to end the tug of war between the growth and the redistribution phases as there is a clear lacuna between these two
The mainstream growth process that creates exclusion as well as inequalities tends to overpower the redistribution process and intensifies exclusion in the process. As supported by Hirway, 'both the growth phase and the redistribution phase should be complimentary to each other for the mainstream growth process to be inclusive'.
For this, first, the macroeconomic policy framework warrants a radical change, where we need a vision shift in moving from short term focus goals to a more long-term focus
It is also important that growth in developing economies continues to remain more labour-intensive and broad-based, as a generation of production employment opportunities on a large scale is perhaps the best way for including the excluded and marginalized sections of the population. This can be achieved by investing more in the development of small and medium-scale enterprises and providing an easier line of credit to their development
Secondly, it is critical to adopt a rights-based approach accepting the citizenship's rights of people. Provision of education, healthcare, basic infrastructural needs are part of the basic rights of every citizen. A persistent increase in social investments such as education and healthcare are attached with long-term benefits and are part of a macro strategy for improving productivity of workers and for enhancing aggregate effective demand in the economy
It would, therefore, be useful for developing economies to think afresh on the theoretical applications of existing neo-liberalist policies that somewhere have failed to include the excluded and in the process modify the theoretical basis of such policies to indigenize them more suitably with a longer term focus
5. The Economic Times: Government doctors to retire at 65, to counter shortage Topic: Governance Category: health Key points:
The Prime Minister has said that government doctors would retire only at 65, to counter the shortage of doctors. This is welcome. Doctors who retire from government service rarely sit idle; most work in the private sector.
Doctors are in acute shortage: every government doctor serves a population of over 11,000 people, and the public healthcare system is in a parlous state
It makes eminent sense to retain doctors in service, subject, of course, to professional fitness measured by identified benchmarks. Subject to fitness, retirement can be made voluntary.
Retaining elder doctors will not increase the number of doctors on government rolls unless the government continues to hire more, for which, the budget outlay has to go up. Nor will it change the total number of doctors available in the country
If one doctor per 1,000 population is taken as a norm, India has a shortage of some 6,00,000 doctors. India needs to expand and improve medical education, overseen by the Medical Council of India (MCI), widely seen as a den of corruption
India has only 14,500 postgraduates seats in clinical subjects and 56,000 MBBS seats. Shortage of seats leads to high prices. The need to pay huge sums to secure admission to a Masters programme leads on to an unethical scramble after passing out to make good the 'investment'
MCI must be cleansed to gain credibility, and postgraduate seats expanded. Hospitals should have teaching establishments to widen the doctors' pool. Bigger hospitals — subject to a minimum size — must offer postgraduate courses.
Some private hospitals tie up with US universities for training programmes to increase the supply of emergency doctors. Legally empowering nurses to perform the tasks in specialty fields like nurse practitioners and nurse anaesthetists. That makes sense too. India needs to build not just an army of medical professionals but also fix its broken public healthcare system. Manpower is just one part of the problem. Managing and financing healthcare remain challenges
F. Concepts-in-News: Related Concepts to Revise/Learn:
National Policy on Education
NAAC
UGC
AICTE
BrahMos
Hiroshima and Nagasaki Bombing
China-Pakistan Economic Corridor
Deccan Sultanate
Bengal Sultanate
The Kimberley Process
National Encryption Policy
Kuznets Curve
Gini Co-efficient
MCI
G. Fun with Practice Questions 🙂
Question 1: Which of the following statements is/are correct about the National Policy on Education(NPE)?
The NPE, 1968 called for the "three language formula" to be implemented in secondary education
'Operation Blackboard'to improve primary schools was an outcome of the NPE,1986
a) 1 only b) 2 only c) Both 1 and 2 d) Neither 1 nor 2
Question 2: Which of the following statement(s) is/are correct?
Kimberley Process a certification scheme that attempts to halt the trade in diamonds sold to finance civil wars
India was one of the founder participants in the Kimberley Process Certification Scheme (KPCS)
a) 1 only b) 2 only c) Both 1 and 2 d) Neither 1 nor 2
Question 3: Which of the following statement(s) is/are correct?
Kuznets curve graphs the hypothesis that as an economy develops, market forces first decrease and then increase economic inequality
A Gini coefficient of one expresses perfect equality
a) 1 only b) 2 only c) Both 1 and 2 d) Neither 1 nor 2
Question 4: Which of the following monuments can be associated to Deccani sultanates?
GolGumbaz
CharMinar
Rangeen Mahal
Dargah of BandeNawas
a) 1 and 2 b) 1,2 and 3 c) 2 and 3 only d) 1,2 and 4
Question 5: Which of the following statements is/are correct?
Hydrogen bomb employs nuclear fission and fusion reactions
Output of an atomic bomb is exclusively from fission reactions
a) 1 only b) 2 only c) Both 1 and 2 d) Neither 1 nor 2
"Proper Current Affairs preparation is the key to success in the UPSC- Civil Services Examination. We have now launched a comprehensive 'Online Current Affairs Crash Course'. Limited seats available. Click here to Know More."