Table of Contents:
1. Monsoon cheer as El Nino ends
2. Fewer girls get cardiac care: study
1. Death of Congolese student: Government seeks to cool African ire
1. India fifth largest producer of e-waste: Study
2. Paper found on Pathankot terrorists genuine, says lab
3. Government approves capital goods sector policy
1. Resolving the NEET conundrum
4. Must Read: Two years of Modi government: a review
1. From plate to plough: A barren field
1. PIB
a) President Mukherjee Outlines Eight Steps for a People Centric Partnership Between India and China
2. The Economic Times: The variety of rail regulator India needs
.
+++++++++++++++++++++++++++++++++++++++++++++++
Useful News Articles
A. GS1 Related
1. Monsoon cheer as El Nino ends
Topic: Geography
Category: weather and climate
Location: The Hindu
Key points:
Australia's weather bureau said the withering El Nino — among the strongest in history and responsible for two years of consecutive droughts and record summer temperatures in India — had ended
While that bodes well for the monsoon, weather officials in India said this could also be a precursor to floods during August and September and monsoon possibly spilling over to October.
Typically, an El Nino — marked by above-average temperatures in the Pacific — that begins to cool is followed by a neutral phase before transitioning into La Nina, a phenomenon of below-normal temperatures. The latter brings heavy rain over India
Changes in the tropical Pacific Ocean and atmosphere, combined with current climate model outlooks, suggest the likelihood of La Niña forming later in 2016 is around 50%
In the year 2016, the total area under kharif food grains is expected to increase by 15 to 20% over last year. Accordingly, the kharif food grains production is expected to be around 129 to 130 million tonnes. Area under oilseeds including soybean, groundnut, pulses (tur, moong and urad) and rice may increase. Area under cotton may reduce marginally while total agricultural land under sugarcane may remain the same as previous year
2. Fewer girls get cardiac care: study
Topic: Society
Category: Gender Issues
Location: The Hindu
Key points:
A retrospective study involving 519 schoolchildren from various areas of Punjab has revealed that gender bias exists with parents favouring boys over girls when it comes to getting their children's heart problems corrected, even when treatment is provided completely free of charge
Children were diagnosed with heart problems during a screening programme carried out under the National Rural Health Mission between 2009 and 2014. Since the prevalence of congenital heart disease is nearly the same in both the sexes, relatively fewer girls being brought to tertiary care centres and even fewer of them undergoing corrective procedures reflected a strong gender bias, the study said. Also, the average enrolment of girls (46 per cent) in schools was slightly lower than for boys (54 pr cent)
Gender bias was apparent for all ages of children and seen in parents from both rural and urban communities. In fact, the discrimination was greater in the case of urban communities with the ratio of male to female patients being 1.71:1 for urban setting compared with 1.64:1 in the rural setting
B. GS2 Related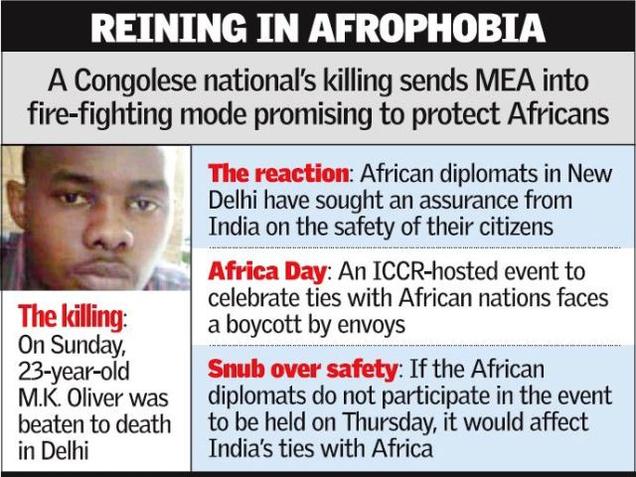 The Minister of State (MoS) for External Affairsmet a delegation of African diplomats requested them to "continue with the tradition" of marking the event with suitable celebrations
 the African move comes two months before Prime Minister Narendra Modi is scheduled to leave for a trip to Africa, when he is expected to visit Mozambique and South Africa, as a follow up to the India-Africa Forum Summit of October 2015
C. GS3 Related
1. India fifth largest producer of e-waste: Study
Topic: Environment
Category: Pollution
Location: The Hindu
Key points:
India is the fifth largest producer of e-waste, discarding roughly 18.5 lakh tonnes of electronic waste each year,a joint study by Assocham-KPMG said.With more than 100 crore mobile phones in circulation, nearly 25 per cent end up in e-waste annually, it said
The Ministry of Environment, Forest and Climate Change has notified e-waste management rules, 2016, in which producers are for the first time covered under extended producers' responsibility (EPR)
The rules prescribe a waste collection target of 30 per cent waste generated under EPR for the first two years, progressively going up to 70 per cent in the seventh year of the rule.
2. Paper found on Pathankot terrorists genuine, says lab
Topic: Security
Category: Terrorism
Location: The Hindu
Key points:
An Urdu statement written in English alphabet and signed by the Afzal Guru Squad of Jaish-e-Mohammad (JeM) — claiming responsibility for the Pathankot terror attacks — has been found to be genuine during a forensic analysis, said a senior government official
It assumes significance as it was dated December 25, 2015 — the day Prime Minister Narendra Modi made a surprise stopover at Pakistan Prime Minister's residence in Lahore on his way back home from a day-long trip to Afghanistan
Another piece of paper found to be genuine said that the attacks were a revenge for Afzal Guru's hanging
3. Government approves capital goods sector policy
Topic: Economy
Category: capital goods sector
Location: The Hindu
Key points:
The Cabinet approved the first-ever policy for the capital goods sector in the country that aims to triple the value of production of these goods to Rs.7.5 lakh crore by 2025 and create more than 21 million jobs
The policy also envisages increasing exports to 40 per cent of production from the present 27 per cent. The share of domestic production in India's demand will also be increased from 60 per cent to 80 per cent, making India a net exporter of capital goods
D. GS4 Related
E. Important Editorials: A Quick Glance
1. Resolving the NEET conundrum
Topic: Governance
Category: Education-Higher education
Key points
The Supreme Court had suddenly decided that NEET should be the sole basis for medical and dental college admissions from this year onwards. Several State governments objected to NEET, arguing that its implementation would denude them of the power to regulate admission to institutions run by them, as well as to private institutions within their jurisdiction
Some States have their own legislation governing admission and had strong objections to the prescriptive approach underlying NEET. The Centre clearly had no option after the State governments brought pressure on it
The exemption is, however, limited to undergraduate courses of State government institutions. Admission to postgraduate courses and all courses in private medical and dental colleges will still be under NEET
And from next year, NEET will be the sole national test to decide a candidate's admission to any medical or dental course. The regulations that introduced NEET were struck down by a Supreme Court Bench in 2013 by a 2:1 majority
The 2013 verdict has been recalled, but the review plea is yet to be disposed of. The Bench is keen on enforcing NEET immediately
A common national test for professional courses is faultless, in principle. In this connection, it will address the problem of private institutions selling medical courses at astronomical prices to candidates who may lack aptitude
Yet, it is important that the ground is properly prepared before the implementation of a common test. State governments have to be convinced that their socio-economic priorities will not be affected by centralised regulation of admissions, and that regional disparities in syllabi and linguistic differences will be adequately resolved
There is also a larger legal issue since there are Supreme Court judgments that have underlined the unfettered right of unaided, minority institutions to regulate their own admissions processes, subject to their being fair, transparent and non-exploitative
These contradictions need to be ironed out, and it would have been far better had the court allowed the political executive to assess the feasibility of having a common national test this year instead of ruling on what is essentially an executive decision. A perfect pan-Indian medical admission system needs to be carefully crafted in the present environment, not rammed home by judicial fiat
Topic: Governance
Category: Urban development
Key points:
With the second round of 13 cities making it to the Centre's list, there are now 33 urban agglomerations that have made a successful bid to become "smart cities". The idea of city managers accepting a 'challenge' to make specific 'smart' proposals is being followed in several countries at different levels of development
Cities in the developed world are focussed on self-driving cars, electric vehicles and smart grids, while those in India are yet to meaningfully address basic issues such as walkability, public transport, waste management and pollution
This was evident in the latest round, for instance, with the Lucknow municipal administration, which made the best-rated bid, finding that 58 per cent of residents who took part in its online survey cited traffic and transport as their top priority, with 24 per cent highlighting solid waste management. Unsurprisingly, this is also representative of the national story. City administrations have done a poor job of gathering data available from multiple sources and analysing them to make informed decisions on civic services. A lot of new information about what people do is now available from commercial services that use mobile phone applications, such as taxi companies, and the anonymised data with them can aid planning
Cities that have successfully bid for Central seed funding face the real challenge of attracting private partners to raise the massive resources needed. The 20 cities chosen in the first round are expected to spend Rs.48,063 crore on projects, and the 13 in the second round, Rs.30,229 crore
Intelligent parking could be one way to mobilise funds and cut congestion. By integrating IT, motorists could be guided to available parking spaces in various locations in a city, using real-time information. Over time, it would be possible to even predict the availability of parking spaces based on usage patterns
A smart city should look at robust IT connectivity and digitalisation
At the consumer end, however, few cities have achieved this. They have not integrated the databases of their service agencies for water, transport, property and energy, and are therefore unable to serve citizens online. This is the low-hanging fruit of civic smartness waiting to be picked, and it should be mandatory for all million-population cities to do so in a time-bound manner
The benefit of investment in urban regions is bound to increase property values, and governments should tap into the surplus to fund more programmes, especially affordable housing. All cities can become smart, if the Urban Development Ministry makes available off-the-shelf open source technology solutions for management. In the smart world, sharing rules. And governments should set the pace
3. The takeaway from Tehran
Topic: International Relations
Category: Indo-Iran Relations/Modern World History
Key points:
The centrepiece of the PM's trip to Iran was the basket of agreements on the development of the Chabahar port and onward connectivity with Afghanistan
we have a set of interlinked outcomes: a contract for the development and operation for 10 years of two terminals and five berths; the extension of credit lines of $500 million for the port and of Rs.3,000 crore for importing steel rails and implementation of the port; memorandums of understanding on provision of services by Indian Railways, including financing to the tune of $1.6 billion, for the Chabahar-Zahedan railway line — a line that is also part of the trilateral agreement between India, Iran and Afghanistan on a transit and trade corridor
it has taken us nearly 13 years since the idea was first mooted. The proposal was mired in three sets of problems
Although the Indian government claimed that it would not adhere to any unilateral sanctions, in practice it took a cautious tack. The danger of exposing Indian banks and companies to indirect American sanctions for dealing with Iranian entities bulked large in the government's thinking. Interestingly, this view continued to hold sway in some sections of the government even after Iran began accumulating billions of rupees in a UCO Bank account owing to India's inability to pay for energy imports in U.S. dollars
There was the absence of a strategic view of Iran. Iran's strategic importance
Notwithstanding Mr. Modi's references to Chabahar's strategic location, it is still unclear that we have a sense of Iran's strategic importance. For this we need to look behind and beyond the last decade.
The basic point is that Iran has always potentially been the most important power in the region. It has a unique geopolitical location owing to its reach in Central Asia and Caucasus as well as in West Asia and the Persian Gulf.
During the two world wars, Russia and British India jointly occupied Iran. By this time, Britain was also interested in the oilfields of southern Iran that were under joint Anglo-Iranian management. After the Second World War the U.S. supplanted Britain as Iran's main external patron, forcing out the Soviets from the country in 1946 and overthrowing an elected nationalist leader, Mohammad Mossadegh, seven years later. Under the reinstated Shah, Mohammad Reza Pahlavi, Iran became the stalwart U.S. ally in West Asia. In the early 1970s, following the British naval withdrawal from east of Suez, the Shah became the main upholder of American interests in the Persian Gulf
After the revolution of 1979, of course, Iran became beyond the pale for the U.S. In the 1980s, the Americans and their Arab allies supported the Iraqi aggression on Iran. In the following decades, the U.S. sought to keep Iran out of all regional initiatives, including the Palestinian peace process and the Gulf Cooperation Council (GCC). Yet, paradoxically, America's own regional policies ensured the resurrection of Iran's relative power and influence. The wars against Iraq in 1991 and 2003 removed the strongest regional counterweight to Iran. During this period, Iran also began supporting dissident Palestinian groups such as Hamas as well as anti-Israel outfits like Hezbollah. The Israeli mauling of Lebanon in 2006 — with American approval — helped catapult Hezbollah to political dominance and the concomitant extension of Iranian influence in the country
It was in this context that the Arab sheikhdoms grew anxious about Iran's growing regional heft — its alleged quest for nuclear weapons being merely a symptom of this larger problem. Add to this their growing nervousness about the reliability of the U.S. in the wake of Hosni Mubarak's ouster in Egypt. Instead of seeking a modus vivendi between the GCC countries and Iran, Saudi Arabia (and Qatar) sought to undercut Iran's regional influence by upending Bashar al-Assad in Syria and more recently by intervening in Yemen
The outcomes of these moves have been nothing short of disastrous for the Arab states. The rise of the Islamic State apart, the disintegration of the region has empowered Iran by driving Iraq, Syria and Russia closer to it. The prognosis seems inevitable: Iranian hegemony in Iraq and what remains of Syria, as well as its political influence in Lebanon, Gaza and Bahrain
If India desires any influence in the region, it must prepare to navigate these tricky geopolitical shoals. Even as India maintains its equities with the Gulf countries and Israel, it will have to forge a more strategic relationship with Iran.
At the same time, New Delhi must avoid any facile assumption that Mr. Modi's trip has already positioned us better vis-à-vis Pakistan or Afghanistan. Tehran has also reset its ties with Islamabad following a successful visit by President Hassan Rouhani. Iran will look for opportunities for connectivity and trade opened up by the Chinese 'One Belt, One Road' initiative. Chabahar is one of the several such avenues that it is currently exploring. Once the financial sanctions on Iran begin to ease properly, there is bound to be a spurt of European investment in the country.
As far as Afghanistan is concerned, it is clear that Iran does not share India's opposition to any attempt at reaching out to the Taliban. With increasing turbulence in Iraq and Syria and the possibility of the Islamic State expanding into Afghanistan, Iran wants to keep its northern frontiers stable
Iran has worked in the past with the Taliban and will have no compunction about doing so now. It is worth noting that the Taliban supremo, Mullah Akhtar Mansour, was felled by a drone strike while travelling from Iran to Pakistan. So, while the trilateral transit agreement showcases cooperation among India, Iran and Afghanistan, it is unlikely to translate into effective political cooperation between them. India's fundamental problems in Afghanistan persist: lack of strategic presence or leverage, and the absence of any regional partners. Hence, India will remain marginal to the evolving political situation in that country — unless we rethink our approach
Modi's trip, then, has given us another chance to craft a strategic relationship with Iran and to enhance India's influence in West Asia. But New Delhi has its work cut out for it
1. From plate to plough: A barren field
Topic: Governance
Category: Agriculture
Key Points:
In the two years (FY15 and FY16), while the economy grew at 7.2 per cent and 7.6 per cent respectively, agriculture and the allied sector grew at -0.2 per cent and 1.1 per cent. This implies an average growth rate of less than 0.5 per cent per annum of the sector that employs close to half the country's labour force
In most agri-commodities, profitability is down to less than 10 per cent, and in some others, even negative. This was mainly due to back-to-back droughts in 2014 and 2015, downswing in global agri-prices, and lower-than-anticipated increases in procurement prices
The government has declared that farmers' incomes will be doubled by 2022. The country awaits conceptual and operational clarifications on this new goal
On the promise of efficient utilisation of water, there have been no major initiatives except slogans like "harkhetkopaani" and "per drop, more crop". The Pradhan MantriKrishiSinchayeeYojana (PMKSY), under which these schemes are launched, lack the resources to fulfill any of these promises. The total expenditure budgeted under the PMKSY for FY17 is Rs 5,717 crore, which is far less than what is required to achieve the target of "harkhetkopaani". In all probability, this slogan is likely to remain a dream for at least a decade
However, the government can be lauded for at least three initiatives: Pradhan MantriFasalBimaYojana (PMFBY), Jan Dhan and Direct Benefits Transfers (DBT) and e-National Agricultural Market (NAM)
On April 1, 2016, the government launched a revised crop insurance scheme (PMFBY) to combat the farm crisis and agrarian distress. It is a commendable step in the right direction though it has come somewhat late. However, like with many schemes, this one too has been designed without sufficient groundwork, which will cripple its performance. For example, efficient and timely assessment of crop damage and payments needs installing automatic weather stations, digitisation of plots, linking them with Aadhaar and bank accounts, and using latest technologies ranging from drones and doves (low earth orbits) to satellites
As on May 4, about 22 crore Jan Dhan accounts had been opened with 61 per cent of them in rural areas. Here too, challenges like increasing dormancy of agents, falling first-time accounts, and operational hiccups like lack of connectivity mar the system. Close to 27 per cent of the accounts are zero-balance. More than half of these accounts have not been utilised to receive payment from the government's welfare schemes or food and fertiliser subsidies through direct benefits transfer (DBT)
The Shanta Kumar panel suggested moving to DBT in both food and fertiliser subsidies, with a view to plug leakages that hover between 30 and 40 per cent of expenditure. The budgeted amount on food and fertiliser schemes is Rs 2,05,000 crore for FY17, plus pending bills of more than Rs 1,00,000 crore. If one shifted to DBT and put the savings in water management, the shape of agriculture and the fortunes of Indian farmers can change for the better
Third, conceptualising and embarking on creating a unified electronic national-level farmers' market (e-NAM) is a bold step in the right direction. But if NAM is to succeed, one needs to streamline fees and taxes at state-level wholesale markets, reform agriculture produce market committees (APMCs), introduce grades and standards, etc. Further, encouraging commodity market trade will also help revive the price-discovery role of markets
Monsoon failure and collapse in global agri-prices are not in the hands of the government, but it is during such a crisis that a government's vision is tested.
Not surprisingly, farmers are unhappy and agriculture is stagnant. Farmer suicides are perversely high and rural indebtedness remains a grave issue. The government needs to move fast and deploy bold steps on the agri-front if it wants the farming community to benefit and poverty eliminated
An action-oriented mission-mode execution of agendas set by the well-meaning slogans, backed by sufficient resources may facilitate a turnaround
Topic: Polity
Category: liberty
Key Points
WITHIN A fortnight of his impassioned appeal to the prime minister on the paucity of judges, the chief justice publicly announced that the Indian legal system currently requires over 70,000 judges to clear the backlog of cases in the country
This figure is based on observations made in a 1987 Law Commission report, "Judicial Man Power Planning", which had recommended raising the strength of the judiciary to 50 judges per million people
The Law Commission had itself, however, admitted that this "judge-population ratio" reasoning it had adopted for the recommendation, was based on "a very poor substitute for sound scientific analysis"
The commission had lamented that even after four decades of independence, we had not been able to organise even the minimum level of information, which could be the basis for concrete proposals on judicial manpower planning. The situation, unfortunately, is no different almost three decades later, though present-day technology offers ways to collect real-time data
It has been repeatedly emphasised that timely disposal of cases is essential for maintaining the rule of law and good governance. It is also true that unless sufficient judicial resources are provided, the system cannot deliver timely justice. However, our policy makers have failed to devise an acceptable method to calculate the location-wise requirement of additional courts
According to governments at the Centre and in the states, the requirement of additional courts in a particular region should be based on the case-load of the existing courts there. For these reasons, the Supreme Court had in Imtiayaz Ahmad vs State of Uttar Pradesh (2012) directed the Law Commission to undertake another inquiry and submit recommendations regarding the immediate measures for the creation of additional courts.
The commission, while once again expressing helplessness on the data front as it did in 1987, examined six different probable methodologies, including the "judge-population ratio basis"
It found that filing of cases per capita varied across states and was associated with economic and social conditions. It, therefore, concluded that while population might be an appropriate metric to measure the availability of services like healthcare and nutrition, it was not the apt standard to determine requirement of judicial services
The commission, on the premise that it would be difficult to collect data for the "workload method", also suggested an ad-hoc mechanism — "rate-of-disposal method" — for a rough and ready calculation, based on current efficiency levels of the subordinate judiciary, to ascertain adequate judge strength. This means a fall in judicial efficiency will create higher demand of judicial resources, which may, however, be counterproductive for the institution
Ultimately, based on research in European and American courts, it was found that the "weighted caseload method" is the most appropriate measure for the purpose. Simply put, a weighted caseload system is used to convert the court caseload into the workload of the judge
Cases vary in complexity, and each of them requires different amounts of time and attention from the judges. A mere headcount of cases pending with the judges can offer little help in distributing the workload equitably among them
Workload in this context refers to the amount of a particular type of work, which a qualified person can handle within a determined time. The commission, though having felt that this is the most scientific method, still did not recommend its adoption on the ground that, "all information required to run this model for Indian courts is not available"
Undeniably, the system in India does not, at present, have any information about the time required by the judges to resolve each type of case. But with the government having invested over Rs 1,000 crore (with another Rs 1,600 crore in the pipeline) to equip the Indian judiciary with current technology, there cannot be any difficulty in collecting any type of data on a real-time basis
Others:
a) President Mukherjee Outlines Eight Steps for a People Centric Partnership Between India and China
enhanced political communication
more educational opportunities, youth festivals, sports exchanges, youth-oriented tourism and social media linkages et
re-invigorate intellectual and cultural exchanges (Yoga in India and Tai Chi in China as well as traditional medicine are part of cultural heritage)
travel can be a very important binding factor- Indians would like to have more opportunities to travel to their holy sites in China (the Kailash-Mansarovar pilgrimage)and, in turn, welcome more Chinese visits to Buddhist pilgrimage centres in India
pursuing sustainable solutions and sharing experiences, civil societies on both sides can collaborate
cooperation in multilateral fora including the G-20, BRICS, EAS, AIIB, SCO and the United Nations
2. The Economic Times: The variety of rail regulator India needs
Topic: Governance
Category: Railways
Key Points
The rail ministry's reported move to set up a rail regulator through an executive order is pragmatic, and a reform long overdue. It does not circumvent the parliamentary process as the railway board is empowered to revise passenger fares and freight tariffs outside the rail budget
The recommendations of the rail regulator have an advisory status but make it easier for the government to defend any revision in tariffs. There is a strong case to expand the regulator's remit once it gets the legal backing
But what the regulator should be doing is to ensure fair and open access, fix access charges on the rail track and set service and technical standards for a rail system reorganised and restructured from a wing of the government into a clutch of autonomous entities with a commercial structure and culture. Tariffs can be left to the market when the rules of competition are laid down.
From the Rakesh Mohan committee to the one headed by BibekDebroy, experts have counselled reorganisation of the Railways into separate companies competing with one another. That's eminently doable
The Konkan Railway Corporation was formed with equity participation by state governments, while the Dedicated Freight Corridor Corporation was created as a special purpose vehicle to build dedicated corridors. One or more companies can own the tracks, signalling and stations. Other companies can own and operate rolling stock, as in the UK
Once routes are transparently allocated to different operators, competition will drive them to deliver efficient service, make profits, raise resources and invest to make the railways a key element of globalising India's transport infrastructure
The success of corporatisation will hinge on a robust rail regulator to preside over this process
F. Concepts-in-News: Related Concepts to Revise/Learn:
G. Fun with Practice Questions 🙂
Question 1: Which of the following statements is/are correct about the Pradhan Mantri Fasal Bhima Yojana?
For Kharif crops, the premium charged would be up to 2% of the sum insured. For Rabi crops, the premium would be up to 1.5% of the sum insured
There is no upper cap on government subsidy, even if the balance premium is 90 percent
a) 1 only
b) 2 only
c) Both 1 and 2
d) Neither 1 nor 2
Question 2: Which of the following criteria was/were included for selecting cities for the Smart Cities Mission?
Institutional Systems and Capacities
Existing Service Levels
Self-financing
Past track record
a) 1 and 4
b) 2 and 3
c) 1,2 and 4
d) All the Above
Question 3: Which of the following statement(s) is/are correct?
Law Commission of India (LCI)is a statutory body
LCI functions independently and is not associated with any ministry of the Government of India
a) 1 only
b) 2 only
c) Both 1 and 2
d) Neither 1 nor 2
Question 4: Which of the following statements is/are true?
El Niño is accompanied by high air pressure in the western Pacific and low air pressure in the eastern Pacific
The low-level surface trade winds blows from west to east along the equator when La-Nina occurs
a) 1 only
b) 2 only
c) Both 1 and 2
d) Neither 1 nor 2
Question 5: Which of the following countries share land boundary with Iran?
Iraq
Turkey
Turkmenistan
Syria
a) 1 and 3 only
b) 1 ,2 and 4
c) 1 ,2 and 3
d) All the Above
"Proper Current Affairs preparation is the key to success in the UPSC- Civil Services Examination. We have now launched a comprehensive 'Online Current Affairs Crash Course'.
Limited seats available. Click here to Know More."