17 April 1952
First Lok Sabha was constituted
---
What happened?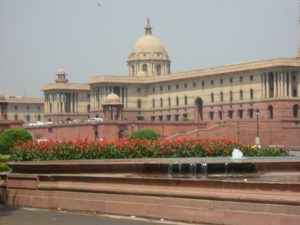 India's first Lok Sabha was constituted on 17 April, 1952.
First Lok Sabha
In this edition of This Day in History, you can read about India's first Lok Sabha and its constitution for IAS exam polity and modern Indian history.
India's first Parliament after independence was the Constituent Assembly which was constituted with the purpose of creating a constitution for the country.

The Constituent Assembly took nearly three years to draft a constitution for India. On 26

th

January 1950, the country adopted the Constitution and this day is celebrated as 'Republic Day' every year.
Lok Sabha Election
The country's first general elections were held from October 1951 to February 1952. The members of the Constituent Assembly were elected indirectly, i.e., by the members of the provincial assemblies by the method of a single transferable vote of proportional representation.

But in the general elections of 1951-52, voting was conducted on the basis of universal adult suffrage. At that point, anyone above the age of 21 could vote. There were about 17.3 crore voters in the first elections. The turnout was 45%.

There were 489 seats for which 53 political parties contested.

The elections were won by the

Indian National Congress

which emerged as the single largest party winning 364 seats. It secured 4 times as many votes as the second largest party which was the Communist Party of India with 16 seats.

The second highest number of seats was actually won by the independents who won a total of 37 seats. Bharatiya Jan Sangh, the forerunner of today's Bharatiya Janata Party won 3 seats.

Jawaharlal Nehru

was elected Prime Minister and also the 'Leader of the House'.

There was no formal leader of the opposition in the House at that time, this post getting recognition only in 1977.
First Speaker of Lok Sabha
The first Speaker of the Lok Sabha was

Ganesh Vasudev Mavalankar

. He was the Speaker till February 1956. The first Deputy Speaker was M A Ayyangar and the Secretary-General was M N Kaul.

The first Lok Sabha served for its full term of five years. It was dissolved on 4 April 1957.
Also on this day




---




1975: Death of India's second President Dr. S Radhakrishnan.
See previous 'This Day in History' here.
Related Links: