Table of Contents:
1.Article 377: Five-judge Constitution Bench to take a call
1.RBI Policy Rates: Status Quo for now
1.India: Getting Ready For Zika Virus!
1.MGNREGA: Digging holes, filling them up?
1. Mint: Monetary Fiscal Policy Coordination?
3.Financial Express: PPP for BharatNet
4.Financial Express: Clearing company code
5. Business Standard: What Budget 2016-17 should focus on
.
+++++++++++++++++++++++++++++++++++++++++++++++
Useful News Articles
A. GS1 Related:
— Nothing here today, folks! —
.
B. GS2 Related:
1. Article 377: Five-judge Constitution Bench to take a call
Topic: Constitution, Rights Issues
Category: Personal Freedom, Gay Rights
Location: Hindu, IE,  Headline news + Hindu Editorial
Key points:
– Provision denies gay adults rights to privacy and dignity, court told
– The Supreme Court referred a batch of curative petitions against Section 377 of the Indian Penal Code, a colonial-era provision criminalising consensual sexual acts of Lesbian, Gay, Bisexual and Transgender (LGBT) adults in private, to a five-judge Constitution Bench for a possible back-to-roots, in-depth hearing.
– As per the apex court's Rupa Hurra judgment in 2002, the Bench considering curative pleas should necessarily have the three top judges of the Supreme Court.
– In his opening argument to the Bench, senior advocate Kabil Sibal submitted that a person's sexuality was his or her most precious, most private of rights.
– Tharoor starts Change.org petition, asks Modi to decriminalise 377
– Legislature Vs Judiciary?
– On the global front, the United States Supreme Court held last year that the gay community was entitled to due process and equal protection in the matter of marriage, thus allowing same-sex marriages.
– In view of these developments, the time has come for an honest judicial evaluation of where India stands on the issue of homosexuality. Some may argue that it is up to the legislature to remedy the situation.
– In the backdrop of a provision that continues to have criminal and public health consequences for a section of society, the court has a duty to enforce their fundamental rights rather than wait for the political class to come up with a legislative remedy.
.
C. GS3 Related:
1. RBI holds off on Policy Rate Changes: Status Quo for now
Topic: Monetary Policy
Category: RBI Rates
Location: Hindu, Headline news + IE, page 19
Key points:
– Sixth bi-monthly monetary policy review: Rates on hold, RBI to wait for Budget, more data
– Rajan hinted that the RBI will have a close look at the fiscal path to be chartered by the Central government, especially the fiscal deficit targets, borrowing plan and structural reforms, including steps to boost training and skilling and services sector inflation in areas such as healthcare and education.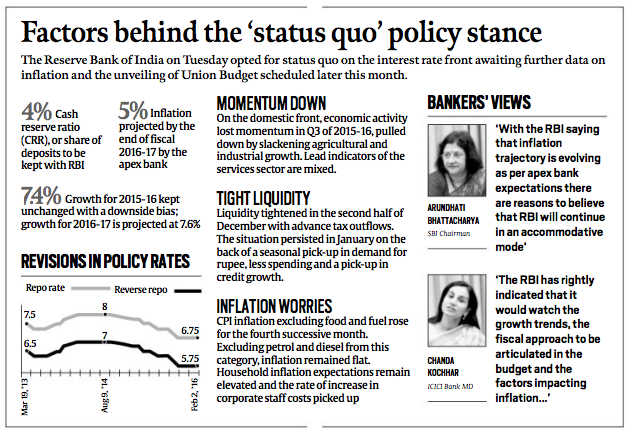 Technical Article: RBI Policy Analysis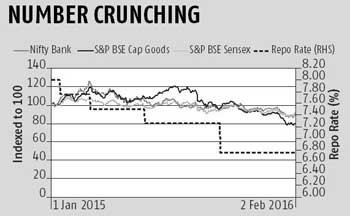 .
Topic: Poverty, Unemployment
Category: Unemployment, MGNREGA
Location: Hindu, Headline news + IE, page 7
Key points: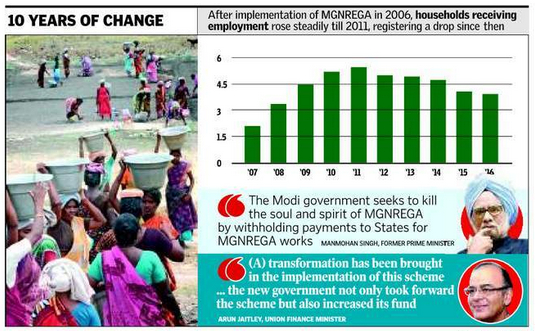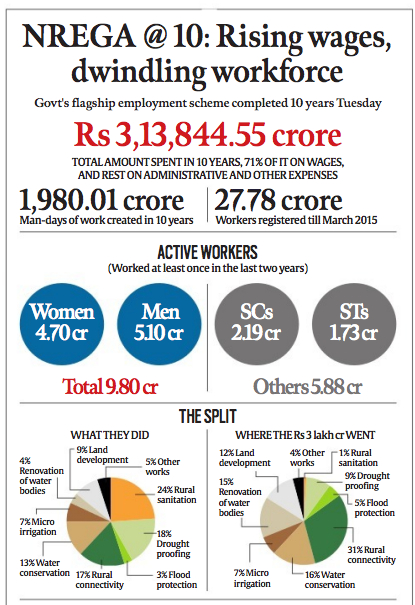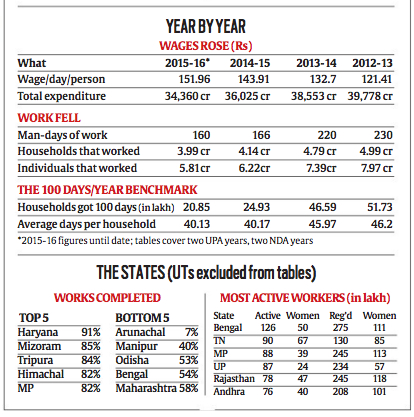 .
D. Important Editorials: A Quick Glance
1. India: Getting Ready For Zika Virus!
Topic: Health, Paper III
Category: Public Health
Key points:
– The World Health Organization has declared that the outbreak of Zika and congenital malformations and neurological disorders in newborns believed to be connected to the virus is a global public health emergency. Since the current outbreak began in Brazil in May 2015, nearly 1.5 million people are reported to have been affected.
– microcephaly — a foetal deformation where newborns have abnormally small heads
– As in the case of Ebola, no specific treatment or vaccine is currently available for the Zika virus; there are no rapid and reliable diagnostic tests either.
– Though there are stray hints of the Zika virus spreading through bodily fluids, the virus is normally spread by the Aedes mosquito. The WHO has urged all countries where dengue is endemic to be on high alert and look out for cases of Zika.
– Besides the Delhi-based National Centre for Disease Control (NCDC) and the Pune-based National Institute of Virology, which are equipped to confirm Zika diagnoses, 10 regional laboratories could assist in testing.
Related Article: http://www.scientificamerican.com/article/zika-virus-threatens-u-s-from-abroad1/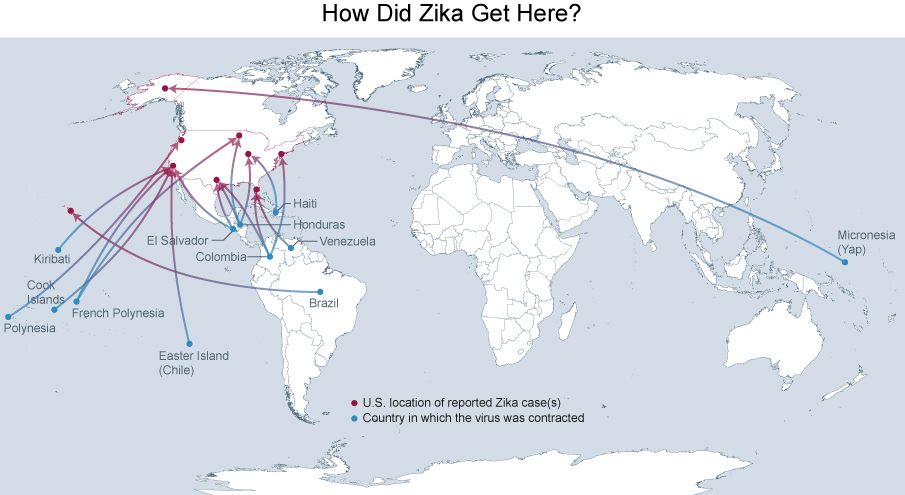 .
1. MGNREGA: Digging holes, filling them up?
Topic: Economy, Paper III
Category: Poverty, Unemployment, Corruption, etc
Key points:
– Article illustrates why many MGNREGA projects end up being failures
– Explains what is needed is more technical expertise, not scrapping of a good scheme!
– "Sadly, there is no largescale study focusing on the cost-benefit analysis of MGNREGA works. The positive experiences listed here demonstrate the potential of doing useful work through the MGNREGA — with and without material — especially if the labour has better technical support."
.
Topic: Economy, Paper III
Category: Infrastructure, Communications, S&T
Key points:
– Trai could help drive broadband penetration
– Telecom Regulatory Authority of India (Trai) has recommended a public-private-partnership (PPP) mode for the national broadband project, BharatNet, that aims to build a highly scalable network infrastructure to provide affordable broadband connectivity nationwide by 2017. It aims to provide 2-20 Mbps connections for all households and on-demand capacity to all institutions.
– Trai's decision comes after repeated delays in rolling out the National Optic Fibre Network (NOFN)—that aimed to connect 2.5 lakh gram panchayats—by state-owned Bharat Broadband Network Limited (BBNL).
– The regulator believes that since rural broadband provision is prone to market as well as government failures, employing a PPP-based model to expand broadband coverage is a viable option.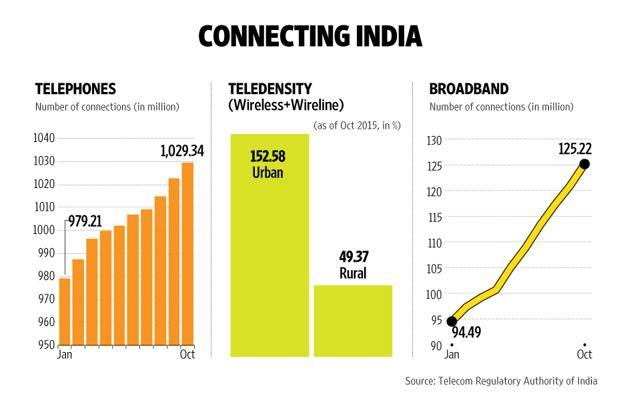 Topic: Economy, Paper III
Category: Budget, Fiscal Policy
Key points:
– Addressing the issue of banks' bad loans
– Boosting growth via FDI
– Empower people through education, skill development and better health, and create gainful employment/self-employment opportunities for them
– Honouring the commitment to fiscal consolidation
E. Concepts-in-News: Related Concepts to Revise/Learn:
i. Fiscal consolidation
ii. Indian company code
iii. Trai + Bharatnet + Fiber Optics
iv. MGNREGA
v. Article 377
.
F. Fun with Practice Questions 🙂
Question 1: Fiscal consolidation is one of the objectives of India's economic policy. Which of the following would help in fiscal consolidation ?
1. increasing taxes
2. reducing subsidies
3. getting more loans
Answer Choices
a) 1 and 2 only
b) 2 and 3 only
c) 1 and 3 only
d) 1, 2 and 3
Question 2:Article 21 declares that "No person shall be deprived of his life or personal liberty except according to procedure established by law."
The protection under article 21 is:
a) Against arbitrary legislative action
b) Against arbitrary executive action
c) Against LGBT
d) None
Question 3: Consider the statements below "BharatNet":
1. It is a national broadband project recommended by TRAI as Public-Private-Partnership (PPP).
2. It aims to provide 5-20 Mbps connections for all households only.
Which of the above statement is correct?
Answer choices
a) Only 1
b) Only 2
c) Both 1 & 2
d) None
Question 4: A Committee was constituted under the Chairmanship of Dr. Mihir Shah, Member, Planning Commission for suggesting revisions on whose operational guidelines.
a) JNNURM Operational Guidelines
b) SABLA Operational Guidelines
c) MGNREGA Operational Guidelines
d) Swavalamban Operational Guidelines
e) None
.
.