11 August 1908
Young revolutionary Khudiram Bose was hanged.
---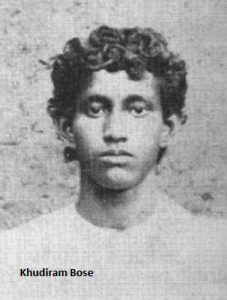 What happened?
On 11 August 1908, one of India's youngest revolutionary freedom fighters, Khudiram Bose was hanged by the British government. He was only 18 years old.
Background
Born in Midnapore District, Bengal Presidency in 1889, Khudiram Bose was raised by his elder sister after his parents died when he was only 6.
Even as a school student, Khudiram was attracted to the freedom movement.
He was inspired by Aurobindo and Sister Nivedita (Swami Vivekananda's disciple) when they held public lectures in his district in 1902 and 1903 respectively. The spirit of revolution had been ignited in him.
At the tender age of 16, he had placed bombs near police stations and targeted government officials.
He is reported to have said of the British domination of India, "Can there be a disease worse than slavery?"
The Muzaffarpur Bombing
Khudiram Bose, along with Prafulla Chaki decided to murder the Magistrate of Muzaffarpur, Bihar named Kingsford. Kingsford was very unpopular as he was known to pronounce harsh sentences even for mild offences.
Khudiram prepared for the bombing by observing the routine of the Magistrate and noting his court and club timings.
On 30th April, 1908, Khudiram was waiting for Kingsford's carriage outside the European Club.
On seeing the carriage, he was quick to act and threw the bomb at it. It blew up killing the passengers.
Unfortunately, the carriage was not occupied by Kingsford but by the wife and daughter of a barrister named Pringle Kennedy.
Khudiram and Prafulla Chaki escaped separately.
Khudiram walked on for 25 miles before reaching the Vaini Station (now renamed Khudiram Bose Pusa Station). At a tea stall, he was seen by two constables. News of the bombing had reached everywhere and the police were given a lookout notice for the two bombers.
Khudiram was caught and overpowered by the constables.
Prafulla Chaki, who had also escaped, was trapped by the police. He shot himself before the police could catch him.
Khudiram's trial began on 21 May 1908.
Even though the defence lawyers tried their best to acquire a lighter sentence for Khudiram, the British judge awarded him death. The lawyers had argued that there were others who could be plotting attacks and also asked the court to consider the defendant's young age.
The sentence was carried out on 11 August.
The whole of Calcutta erupted in protest against Khudiram's hanging.
After the boy-martyr's body was released from jail, the funeral procession was witnessed by thousands who had thronged the streets with flowers and garlands.
The Amrit Bazaar Patrika, a leading newspaper then, carried the headline, 'Khudiram's End: Died cheerful and smiling'.
Although he is one of India's youngest and earliest revolutionary leaders to have sacrificed his life for the cause of freedom, Khudiram Bose is relatively less known to people today.
Also on This Day 


---


1956: Lok Sabha passed the States Reorganisation Act.

1961: Dadra & Nagar Haveli given Union Territory status.

2000: Famous Gandhian Usha Mehta passed away.
See previous 'This Day in History' here.
Also read the biographies of: