28 October 1627
Death of Mughal Emperor Jahangir
---
What happened?
On 28 October 1627, Mughal Emperor and son of Akbar, Jahangir died at Rajauri, Kashmir.
Aspirants can find information on the structure and other important details related to the IAS Exam, in the linked article.
Aspirants should begin their preparation by solving
UPSC Previous Year Question Papers
now!!
To complement your preparation for the upcoming exam, check the following links: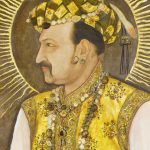 Jahangir Biography
Jahangir was born on 31 August 1569 at Fatehpur Sikri, present Uttar Pradesh to Mughal Emperor Akbar and his wife Mariam-uz-Zamani. Jahangir was named Mirza Nur-ud-din Beig Mohammad Khan Salim and was known simply as Prince Salim. He assumed the title of Jahangir (conqueror of the world) when he assumed the Mughal throne.
His mother was a Hindu Rajput princess whose original name is not known for certainty. She is sometimes referred to as Harkha Bai or Jodhabai. She was the daughter of Raja Bihari Mal.
Jahangir was the eldest son of Akbar. But the lack of primogeniture among the Mughals meant a tussle for the throne was bound to happen.
He revolted for power while his father was engaged in the Deccan in 1599. But Akbar returned to Agra and the rebellion was suppressed.
With the support of his stepmothers, he rose to power on Akbar's death. His reign started on 3rd November 1605 and continued till his death on 28 October 1627.
Early in his reign, he had to quell a rebellion by his son Khusrau. Khusrau was blinded by his father as punishment.
He also had to face a rebellion by his other son Khurram. But this was also settled. Prince Khurram later became the emperor on Jahangir's death and became known as Shah Jahan.
Jahangir's reign had political stability and a good economy thanks to the sound administration and policies of his father Akbar. He continued with the policy of expansion through conquest.
He was especially fond of art and architecture. He commissioned, catalogued and preserved many artworks. He also kept a zoo where he documented each species of animal. He was exposed to European artworks through the Jesuits who visited his court and encouraged his court painters to adopt European styles as well.
He was visited by Sir Thomas Roe, the first English ambassador to the Mughal court. Jahangir allowed the English the right to reside and establish factories in Surat. The first English factory in India came about in this way.
In the year 1594, while still a prince, Jahangir had commanded a force that defeated Vir Singh Deo of Bundela and captured the city of Orchha. He also acquired the suzerainty of Cooch Bihar, Mewar and Kistwar in Kashmir.
He had skirmishes with the Portuguese when they seized a Mughal ship off the coast of Surat in 1613. He retaliated by seizing Daman and confiscating their churches. He gave the English considerable concessions to gain advantage and favour against the Portuguese.
Jahangir is not considered in the same light as his illustrious father and is sometimes considered a weak king. He was said to be addicted to alcohol and opium. He married many times and one of his favourite wives was Nur Jahan who is thought to have influenced him in politics.
He died in Kashmir where he had gone to rejuvenate his health. He was 58.
He was succeeded by his son Khurram from his Rajput wife Jagat Gosaini.
Also on this day 
---
1867: Birth of Margaret Elizabeth Noble who later became Sister Nivedita, a disciple of Swami Vivekananda. 1900: Death of German-born orientalist and Indologist Max Muller. 1955: Birth of Indra Nooyi, CEO of PepsiCo in Chennai. 1955: Birth of Bill Gates, founder of Microsoft, in Seattle, USA.
Candidates can find the general pattern of the UPSC Exams by visiting the UPSC Syllabus page.
Related Links