Explore The Difference Between CBSE and ICSE: ICSE Vs CBSE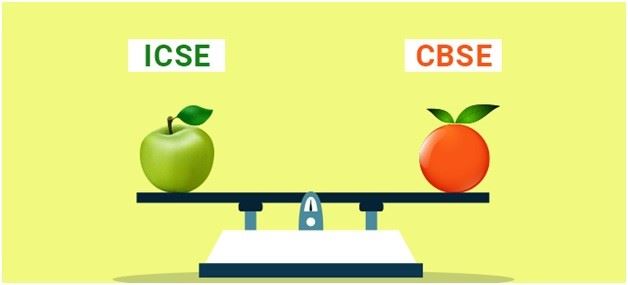 ICSE Vs CBSE: Where should I admit my child? Which school? Especially which board should I prefer for my kids? CBSE or ICSE or any State Board? Will it help them in future to prepare for competitive exams like JEE or AIPMT? What is the difference between CBSE and ICSE board?
Every parent faces the same dilemma when it comes to admitting their child in school. In India, primarily, on a national level, there are two important boards, which cater education to the academic sector – CBSE (Central Board of Secondary Education) and ICSE (Indian Certificate of Secondary Education). Other than these two boards, most of the states have their own State Boards.
ICSE Vs CBSE: Know the Difference Between CBSE and ICSE
The education system has three segments namely – Primary, Secondary and Senior Secondary Levels. Each of these levels plays a different and crucial role in building a child's career goals and achievement. Both CBSE and ICSE cater to the development and growth of a child. However, both these boards have both pros and cons. Hence, it is recommended by BYJU'S Educational Experts that before admitting your child in any boards, do proper homework. We have gathered here a few characteristics and features of these boards to help you decide on one. Also, by going through this article, you will get to know the difference between CBSE and ICSE board.
Overview of CBSE Board
CBSE or the Central Board of Secondary Education is a board in charge of promoting education for public and private schools, that come under the Union Government of India. Meanwhile, the schools affiliated with CBSE also include all the Kendriya Vidyalayas, Jawahar Navodaya Vidyalayas and private schools. Now, the CBSE Class 10 and Class 12 final exams usually fall every year in the month of March. The main aim of the CBSE board was the all round development of a child's personality and intellect. CBSE education was in charge of laying the foundation for cultural growth of a child, as well.
Overview of ICSE Board
A national level private board of Education in India that was established in 1958, the Council for the Indian School Certificate Examinations (CISCE), normally is in charge of conducting the Class 10 and Class 12 examinations. Also, if you go back to its origin in`1952, an All India Certificate Examinations Conference was held and the main agenda discussed in it was the idea to replace the overseas Cambridge School Certificate Examination with an All India Examination. The main mission of the council was to serve the children of India, by providing them with good quality of education.
Difference Between CBSE and ICSE (ICSE Vs CBSE)
So, now that you have seen a general overview of both the boards ICSE Vs CBSE, here we will now take a look at the various differences between these two boards. Analyzing both the boards, on the basis of their pros and cons will help the students as well as the parents to make a more informed decision as regards to the school. Also, they get to know the difference between CBSE and ICSE board.
CBSE Vs ICSE Pedagogy
How about a comparison between the CBSE pedagogy and ICSE pedagogy?  Both the boards are rigid in accepting children into its fold and switching over from ICSE to CBSE is allowed, only if the parent has moved to a new place, recently. Otherwise, they prefer to take in children for 12th only if they have previously done the `1-10 under CBSE board itself. However, if you do get in, competitive exams become easier for you, as the focus of CBSE board is to give you a strong foundation. Now, with ICSE on the other hand, focus is more on project and lab work, this is the reason why 20% of the marks allotted are from internal assessment. Meanwhile, the curriculum also differs in that CBSE curriculum is more organized going in a flow, while ICSE syllabus is focused more on details and application based learning. Therefore, parents can compare and see what works best for their child.
CBSE Vs ICSE Syllabus
CBSE board follows the all India curriculum with some additions. The NCERT (National Council of Educational Research and Training) recognize the CBSE syllabus. Alternatively, the Council for the Indian School Certificate Examination (CISCE) is responsible for creating ICSE syllabus. Students of CBSE schools are more inclined towards Science and Mathematics. The board also tries to balance between science, arts and humanities. Meanwhile, ICSE  focus is more on language, arts and science subjects. CBSE students are more prepared to tread the traditional path, as they are well- equipped to tackle competitive exams like for engineering, medical or banks and so on. ICSE, in the meanwhile, guides the students more towards management, literature or arts subjects. Scoring in TOEFL or scholarship exams become easier for them. In CBSE board, till Class 10 students study Science subject which includes Physics, Chemistry and Biology. The sub division of Science starts from Class 11. Whereas in ICSE board, separate Physics, Chemistry, Maths and Biology subjects get introduced before Class 10.
CBSE Vs ICSE Marking Scheme
The marking scheme for ICSE Class 10 board exams is based on actually three groups. They are Group 1- all the subjects under it are compulsory, then there is Group 2- students can choose any two subjects and finally Group 3- from which a student needs to select only one subject. The marking scheme for the board also goes around 80% from externals for both Group 1 and 2 subjects, while 20% is from internals. However, for Group 3, the marking scheme is 50% from both externals and internals. Meanwhile, according to the CBSE system, there is only grading system. For example, students under the mark range of 91-100 is granted A1 grade and a 10.0 grade point. Have a glimpse of the CBSE grading system here:
| | | |
| --- | --- | --- |
| Mark Range | Grades | Grade Point |
| 91-100 | A1 | 10.0 |
| 81-90 | A2 | 9.0 |
| 71-80 | B1 | 8.0 |
| 61-70 | B2 | 7.0 |
| 51-60 | C1 | 6.0 |
| 41 -50 | C2 | 5.0 |
| 33-40 | D | 4.0 |
| 21-30 | E1 | |
| 0-20 | E2 | |
CBSE Vs ICSE Exam Pattern
According to the ICSE exam pattern, the ICSE Class 10 math question paper is given 2.5 hours to solve. The math paper will have Part A-carrying short compulsory questions with 40 marks allotted to it. While Part B will have 7 questions, out of which if 4 are solved correctly you could get 40 marks. Meanwhile for Science subjects, Physics, Chemistry and Biology, each paper is of 2 hours, which has part A – which carries one compulsory short question of 40 marks and then 6 questions in Part B, out of which the student needs to answer at least 4 to get another 40 marks.
For the CBSE board, students will have two types of assessment- formative and summative. For formative assessment – each term end there will be an exam. According to the CBSE Class 10 exam pattern, each paper is of 100 marks; in which 80 marks are for theory paper and 20 marks are for internal assessment, practicals and project works. The theory paper for each Maths, Science, Social Science, English and Hindi subject is of 3 hours of time duration.
CBSE Vs ICSE Syllabus and Exam Pattern Changes During COVID-19 Pandemic
Due to the COVID-19 pandemic, both CBSE and ICSE schools were remained closed for a long time. Both boards have cut down the syllabus last year i.e, for 2020-21 academic year. Moreover, annual and board exams have been delayed. This year too for 2021-22 session, the board has reduced the syllabus. CBSE has also divided the exams in two terms i.e term 1 and term 2. Students can get the complete information related to the special scheme of assessment for the CBSE board. The CBSE and ICSE students are continuing their studies through online mode at home safely. The health and well being of students is the primary aim of both the boards. So, CBSE and ICSE boards are now focussing more on building a strong online education system for students.
We hope this article on ICSE Vs CBSE must have provided helpful information for students, parents and teachers. Keep learning and stay tuned for further updates on CBSE and ICSE Exams. Download the BYJU'S App and subscribe to YouTube Channel to access interactive study videos.