Selina solutions for Class 9 at BYJU'S provides students with solutions to all the questions in ICSE Class 9 textbook which is on the lines of ICSE board. This article provides students with the study source material that is crafted by a team of experts with in-depth knowledge of the subject.
The language used while preparing solutions by our experts at BYJU'S is proficient and to the understanding of the students thereby assisting the students in understanding the concept better which is established on the concept-based approach. While preparation of solutions, the answering method that is adapted is promoted by the CISCE.
Marks allotment in examinations is considered here to answer solutions in order for students to score maximum marks. The textbook provided by the board is designed by the panel and revised in accordance with the latest in the field of science and technology. Solving selina solutions would enable students to score optimum marks at the exam.
Access Answers of Biology Selina class 9 Chapter 1 – Introducing Biology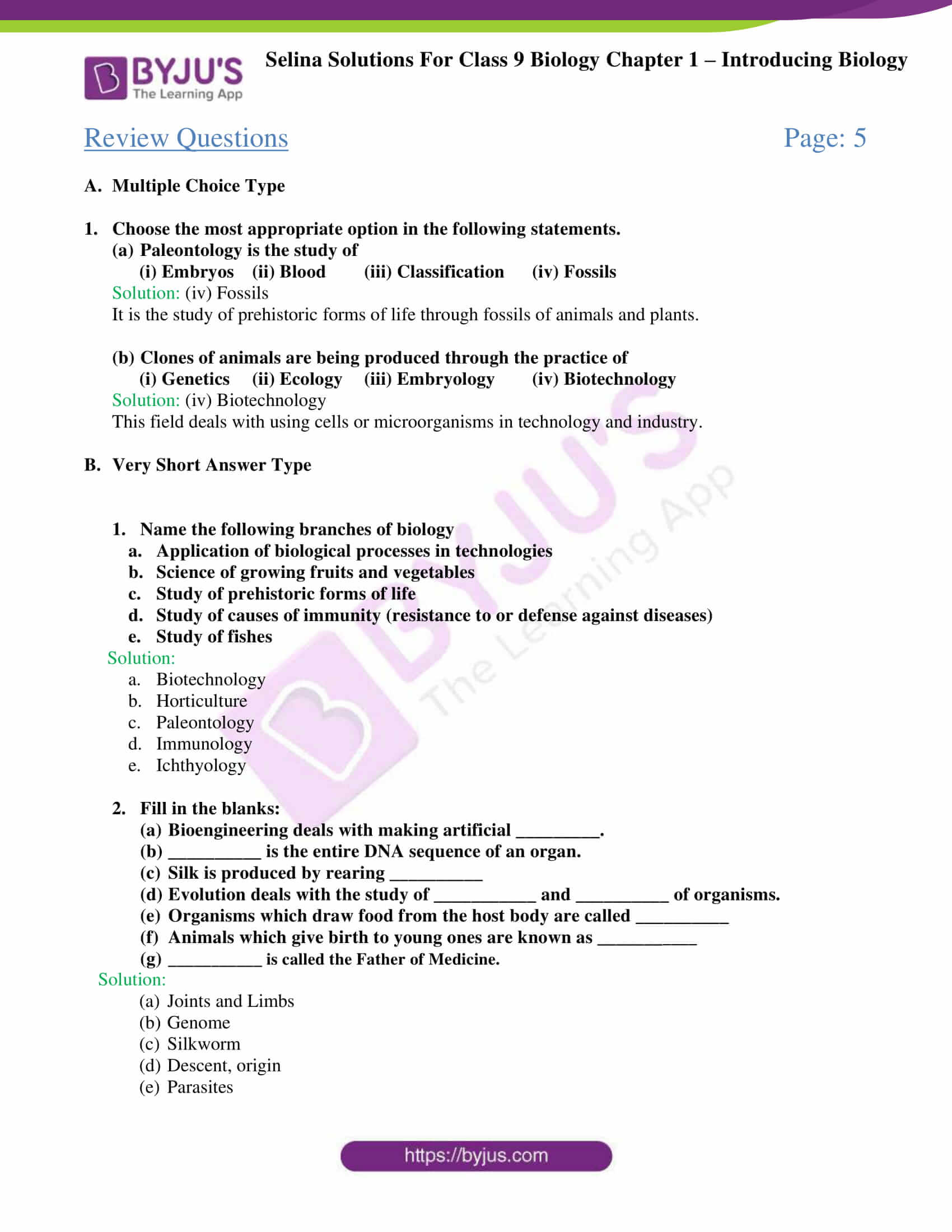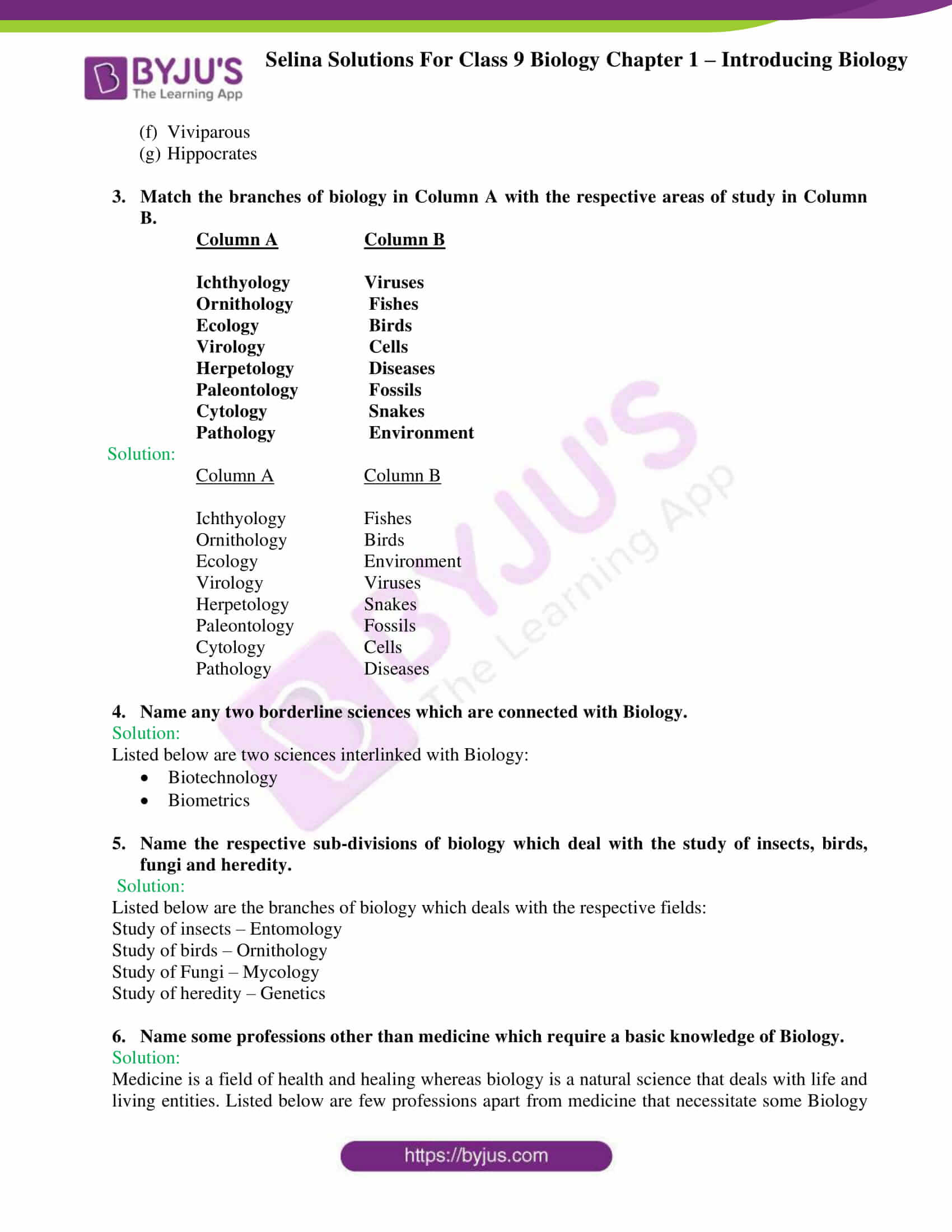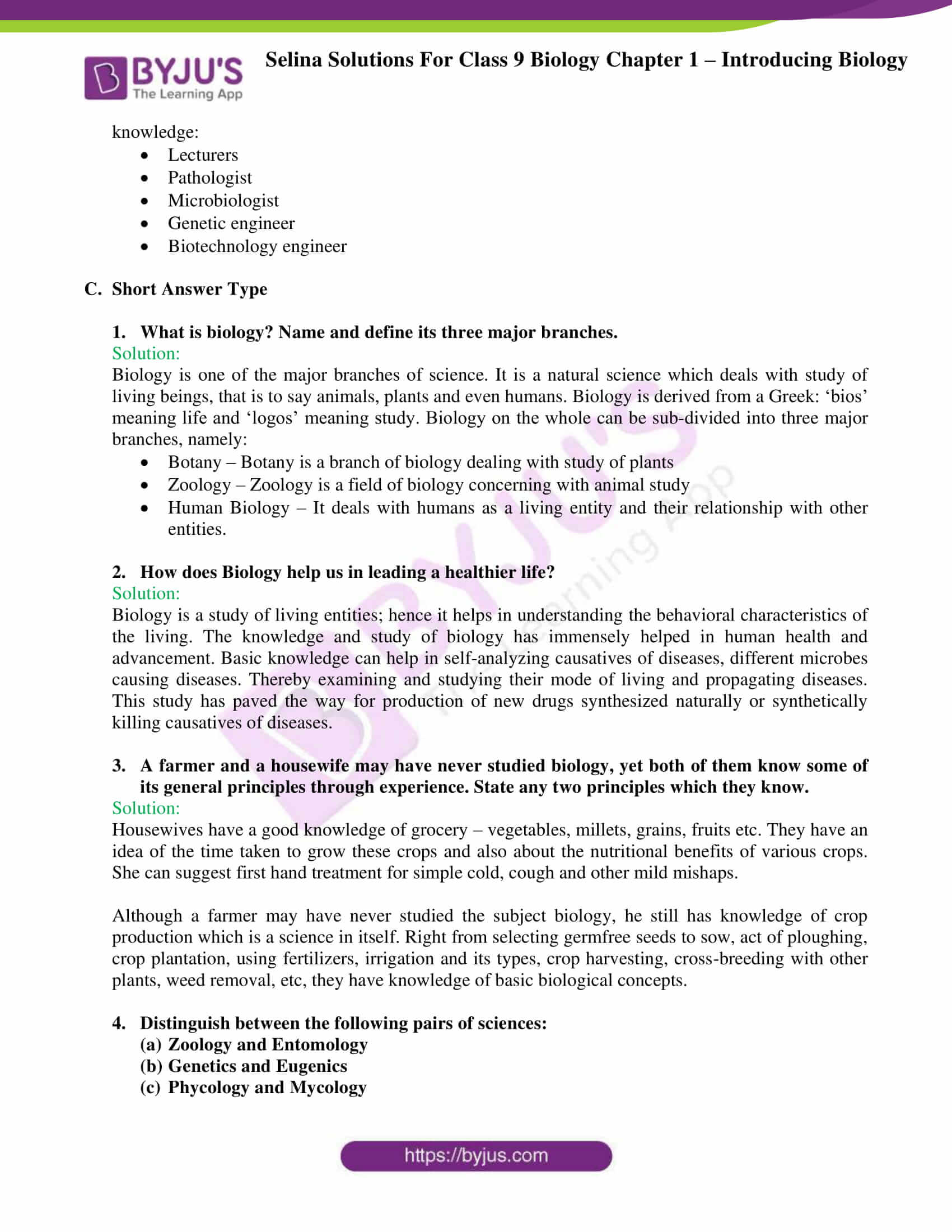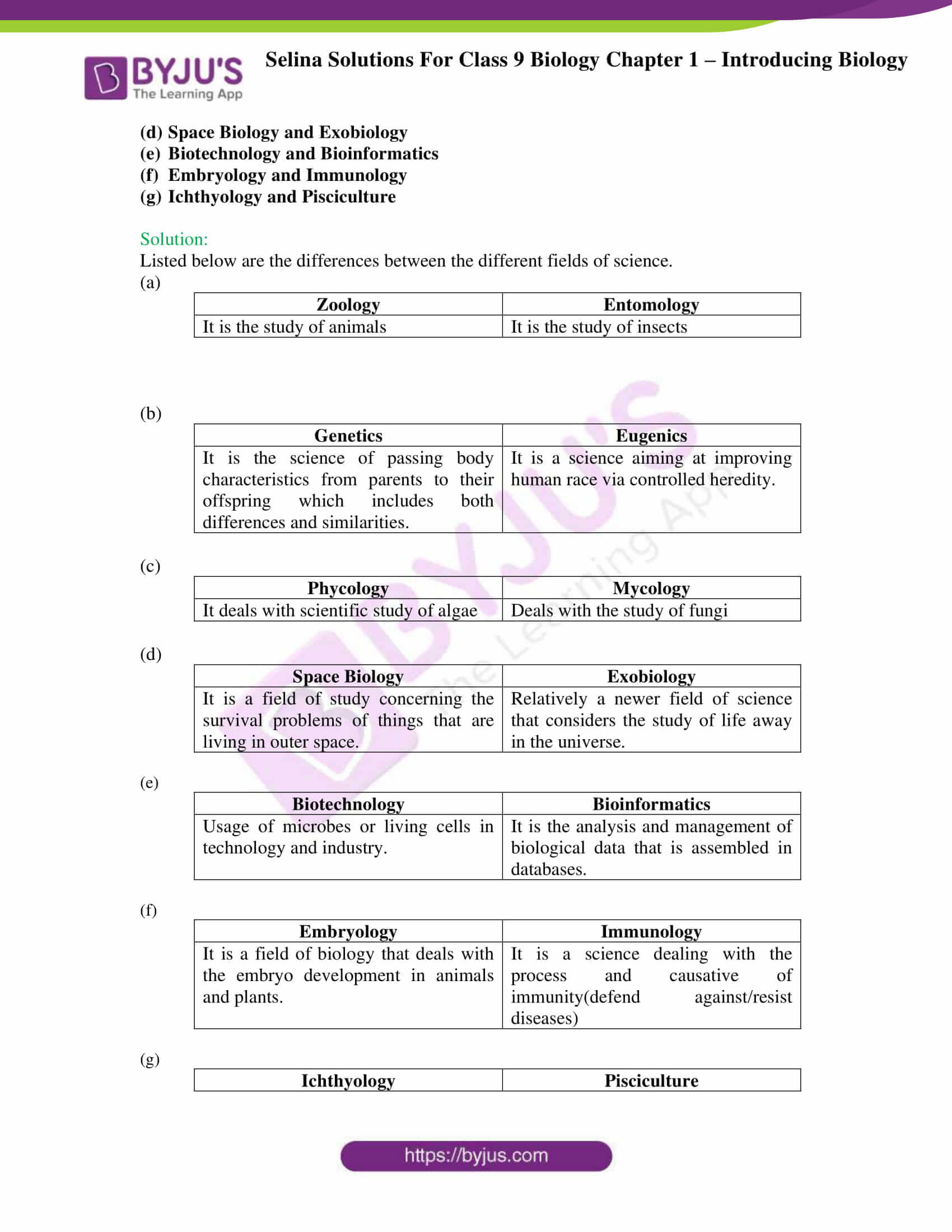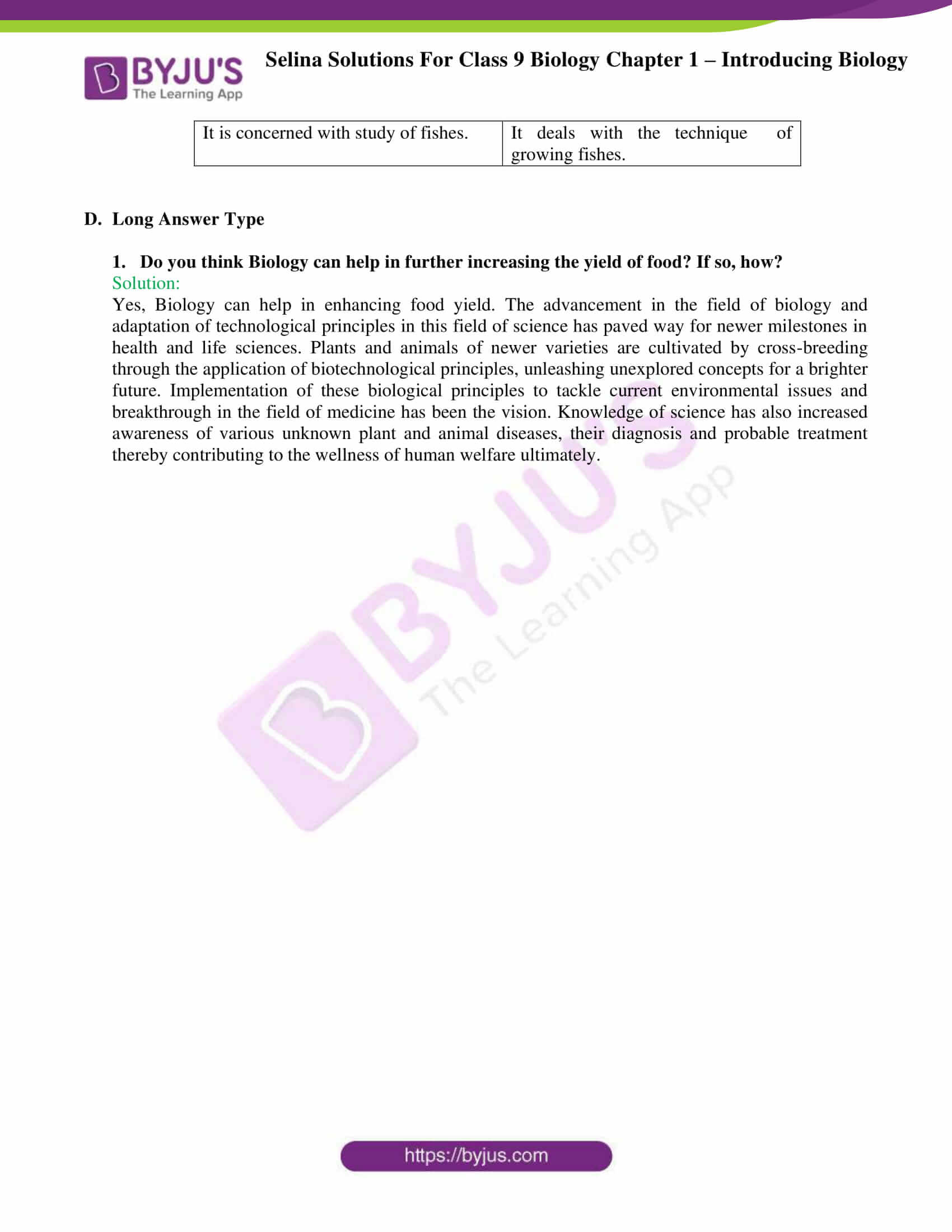 Selina Solutions for class 9 Biology Chapter 1 – Introducing Biology
ICSE Class 9 Biology Chapter 1 – Introducing Biology gives an overview of the branch of science – biology. Science is an organized body of knowledge supported by experimentation and observation that is derived from the study of natural phenomena of the whole material universe.
Biology deals with the study of living entities – animals, plants and humans. In this chapter, we learn about the fundamentals of biology, growth of biology, the diverse branches of biology that are flourishing today and the applications of biological principles in various fields.
Over the academic years, students have seen quite a few questions appearing from this chapter in the examinations which are usually the short type of questions or MCQs or in some cases, log questions have also appeared.
List of subtopics covered in Chapter 1 – Introducing Biology:
| | |
| --- | --- |
| Number | Subtopic |
| 1.1 | Growth of biology |
| 1.2 | Branches of biology |
| 1.3 | Applied biology |
| 1.4 | Study of biology helps us in many ways |
List of Exercise
Name of the exercise

Number of questions

Question Type

Page number

Progress Check

2

short

4

Review questions

1

MCQ

5

6 + 3

short

5 & 6

2

long

6
Selina Solutions for class 9 Biology Chapter 1 – Introducing Biology
In this chapter, we get enlightened about the branch of biology – science. The evolution of various concepts of biology is discussed in this chapter. Pioneers in the field that organized the study of biology is also detailed.
Biology offers three major branches – botany, zoology, and human biology. The other fields of study offered by biology can also be learnt in this chapter.
The chapter finally lays out the importance and applications of various biological concepts in different fields and how the face of biology is changing with the advancement in the field of science and technology.
Key Features of Selina Solutions for class 9 Biology Chapter 1 – Introducing Biology
Selina solutions enable students for the preparation of class 9 examinations stress-free
Solutions have been framed from the textbook thereby aligning to the standard study material
Tables are used wherever necessary so that students are able to remember and learn easily
MCQs have be answered along with explanations
True or false statements are answered along with justifications
Solutions are answered with the help of relevant analogies