Selina solutions at BYJU'S strives to provide step by step and detailed solutions for students of ICSE Class 9. It serves as an effective and valuable resource tool, preferred by students. It is a perfect prep tool for students and reliable enough even from examination point of view.
Solutions are created by the team of experts at BYJU'S adhering to the information provided in the textbook. The main objective of Selina solutions is to make concepts clearer and much more interesting for the students.
With these solutions, an attempt has been made for a careful and comprehensible organization of content in the simplest language possible, thereby considering the needs of average students as well.
Diagrams are included, consciously aiming at providing lucid and unambiguous content even through diagrams so that students get the best version of the content available.
Access Answers of Biology Selina class 9 Chapter 8 – Five Kingdom Classification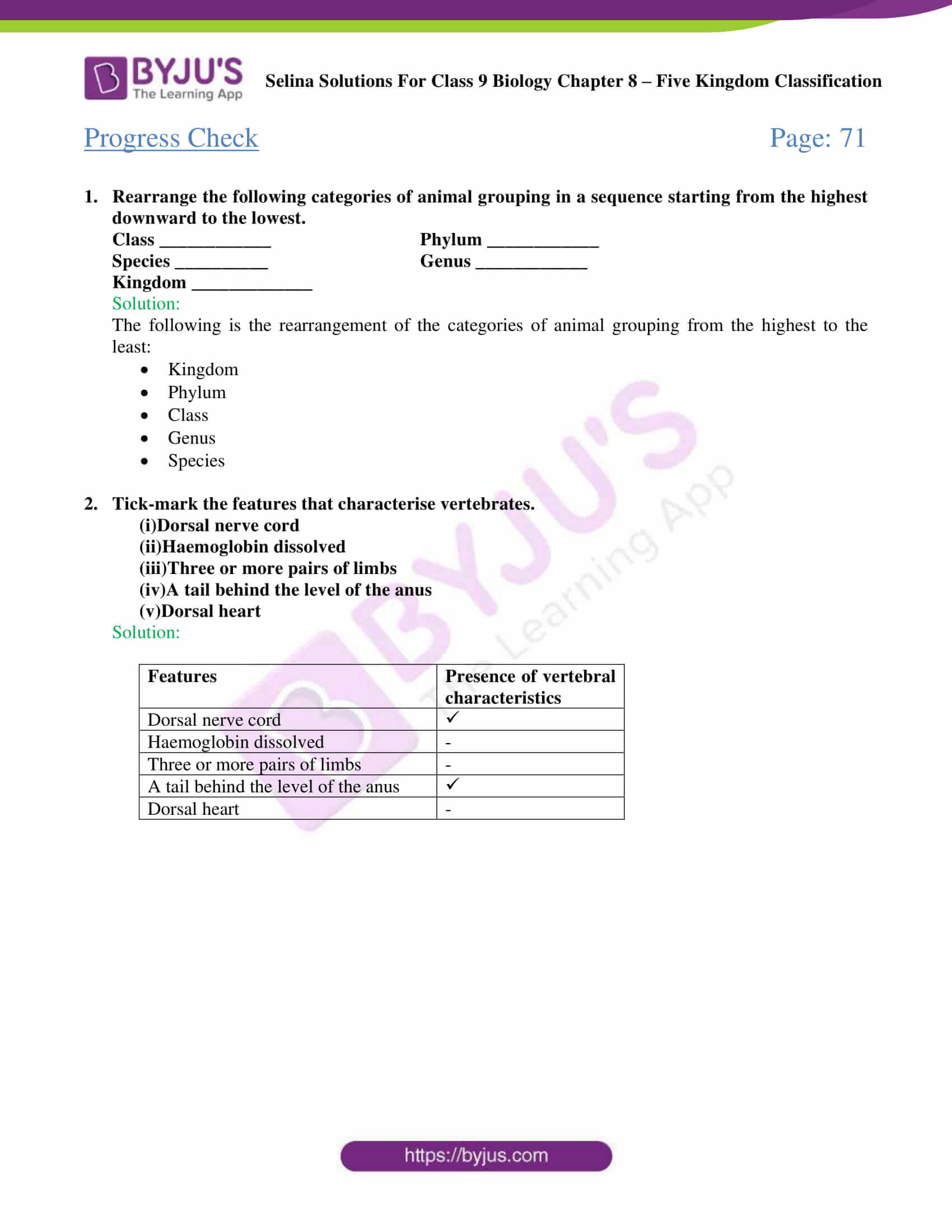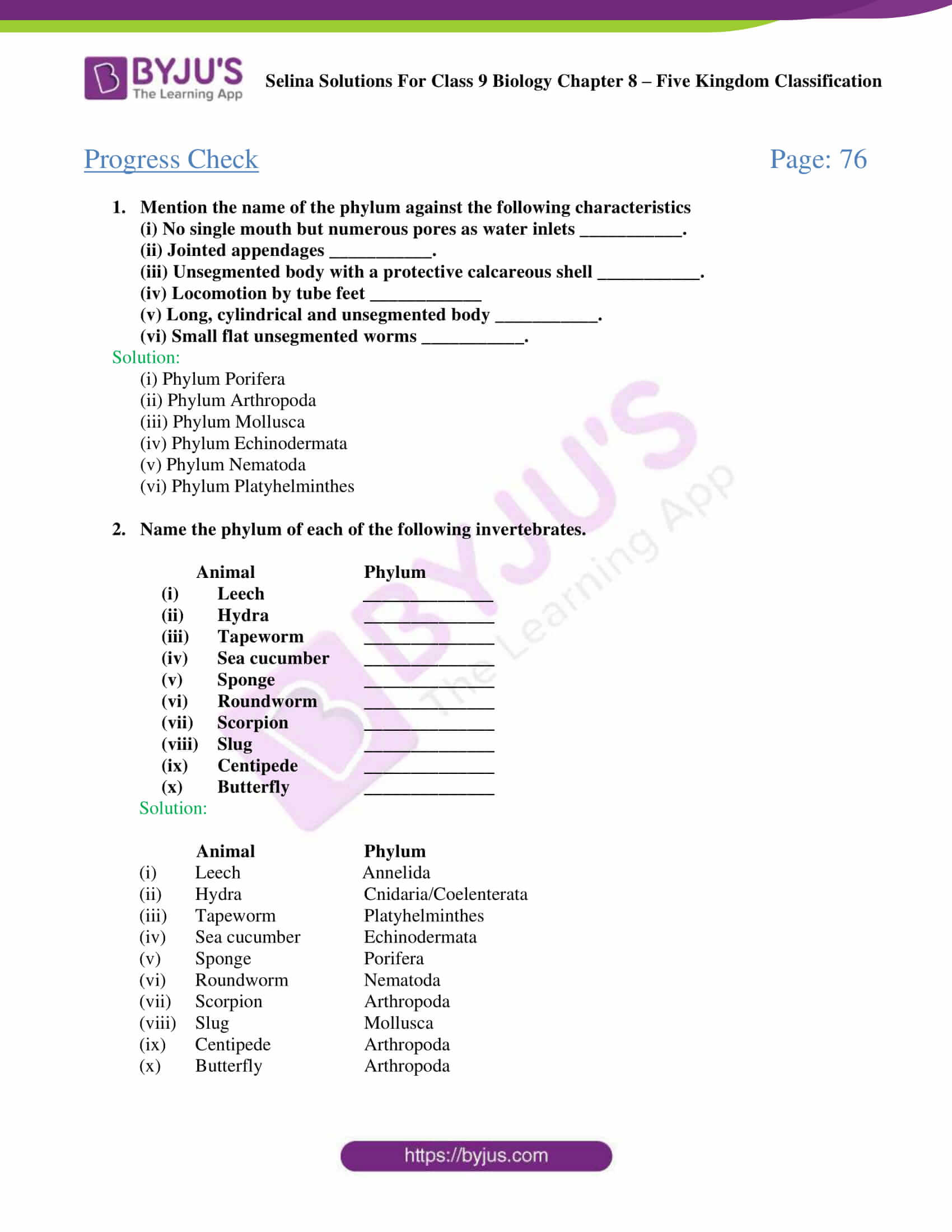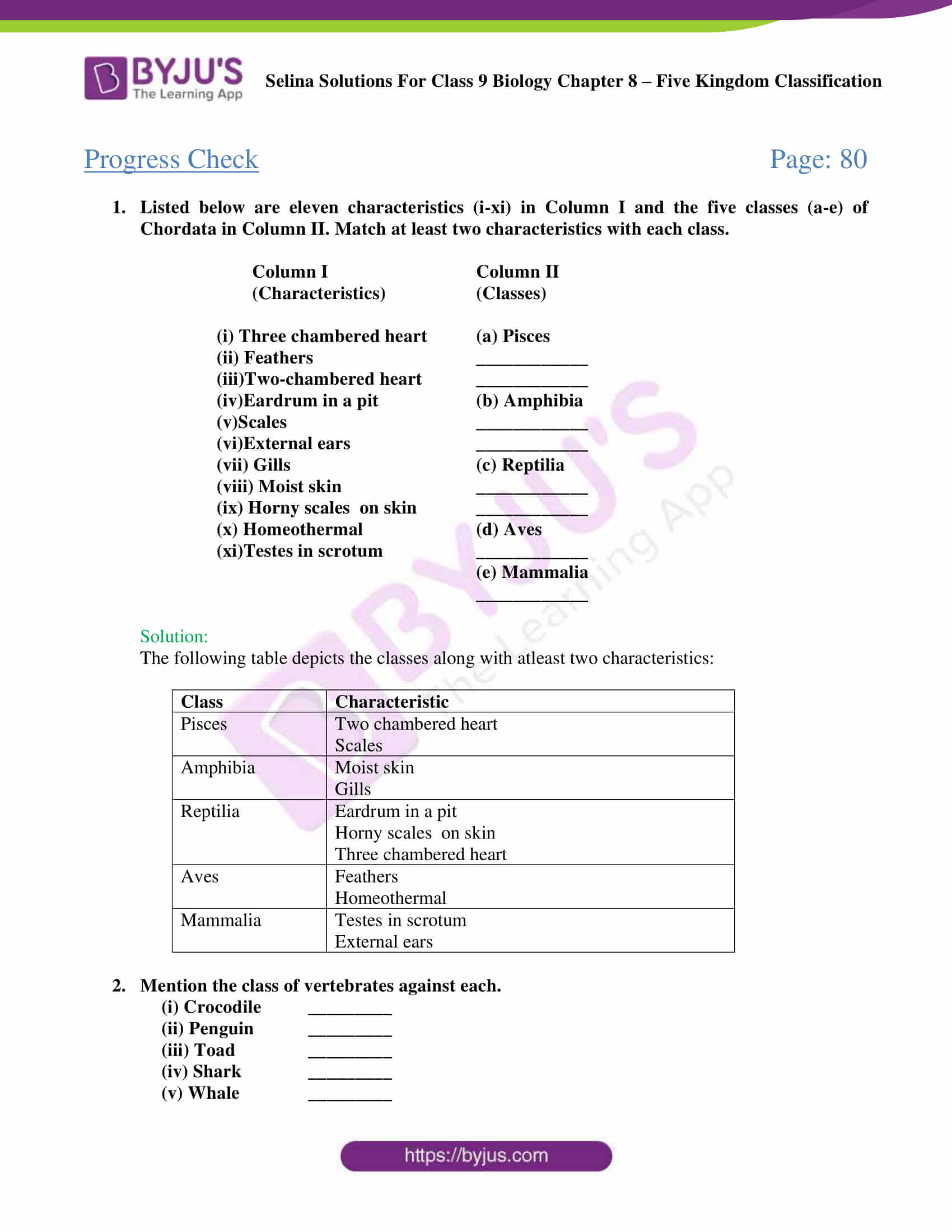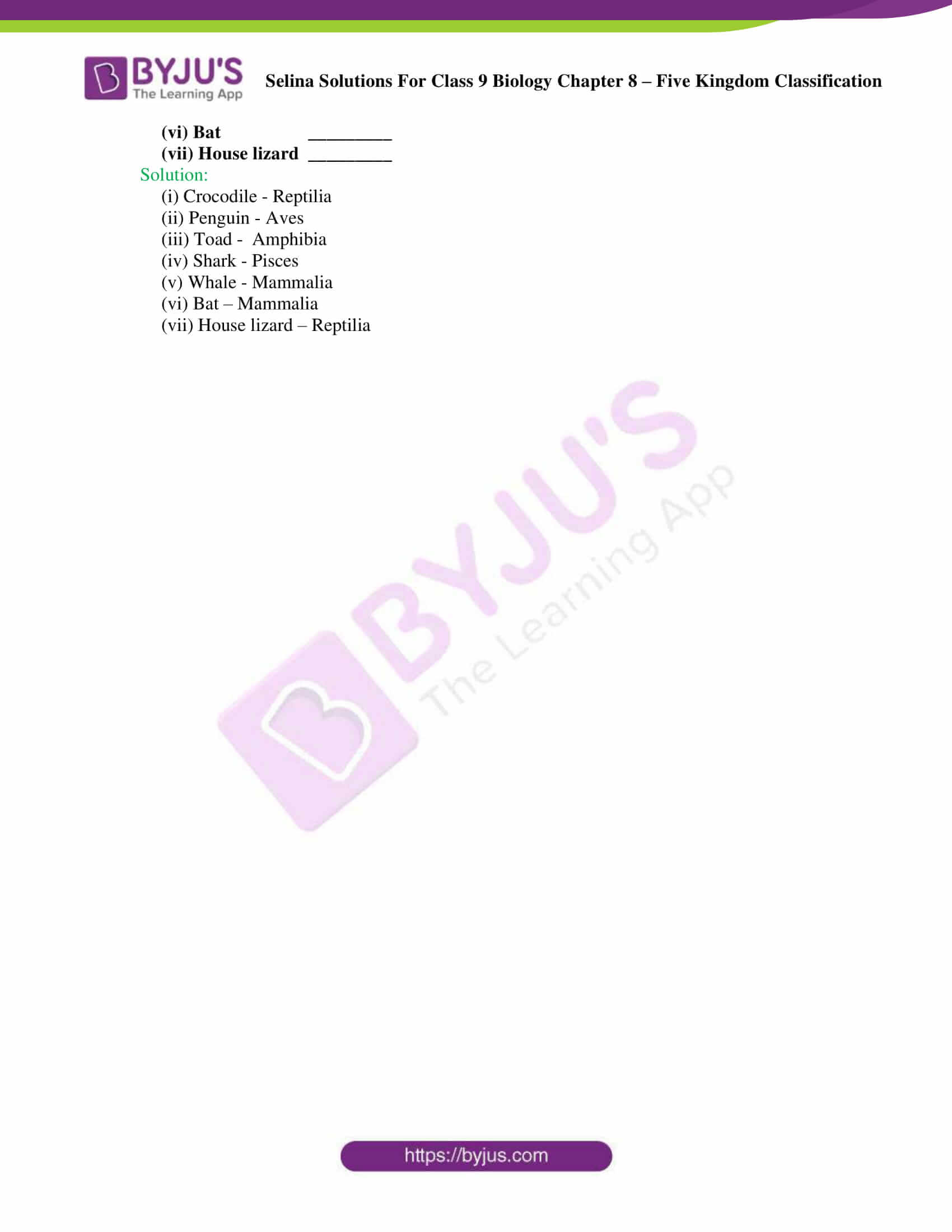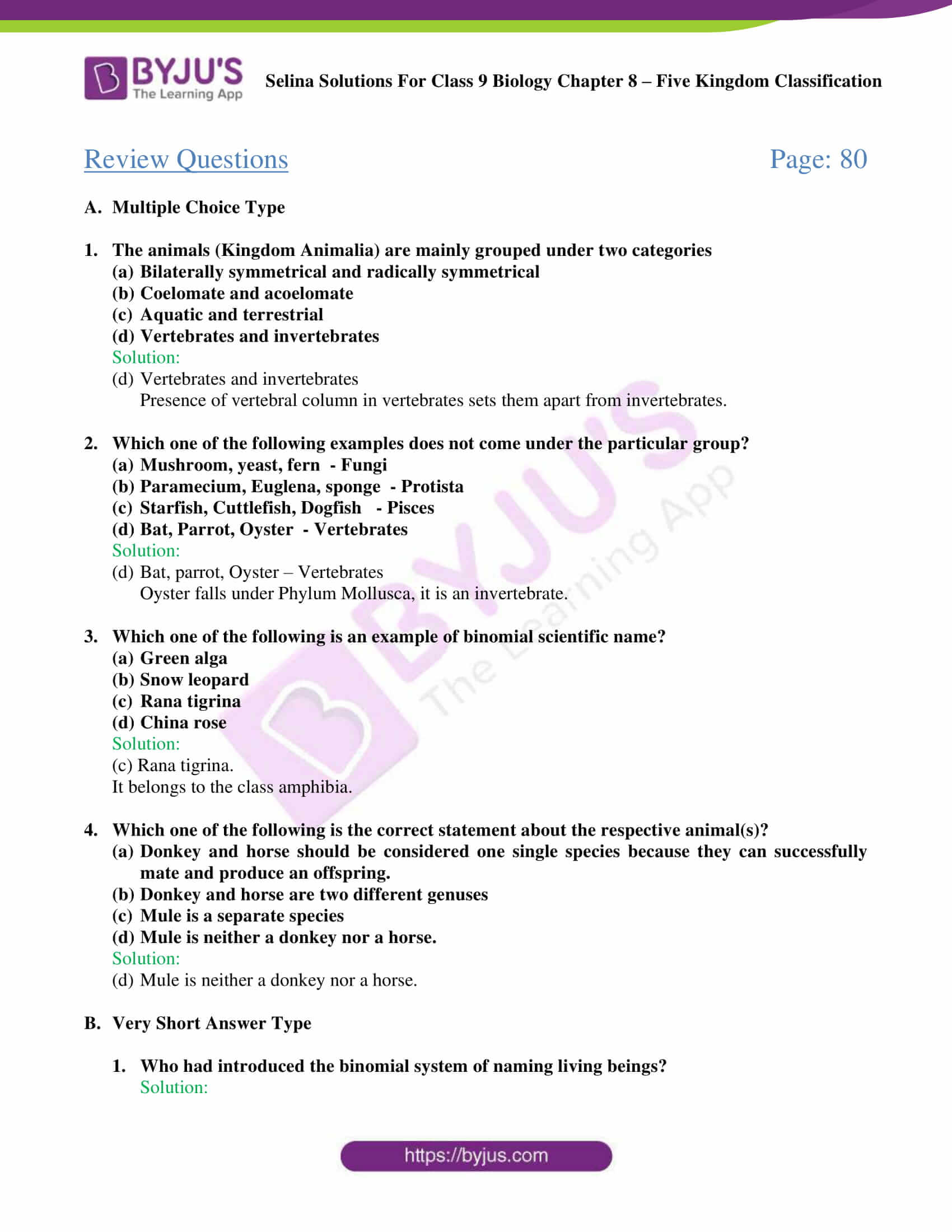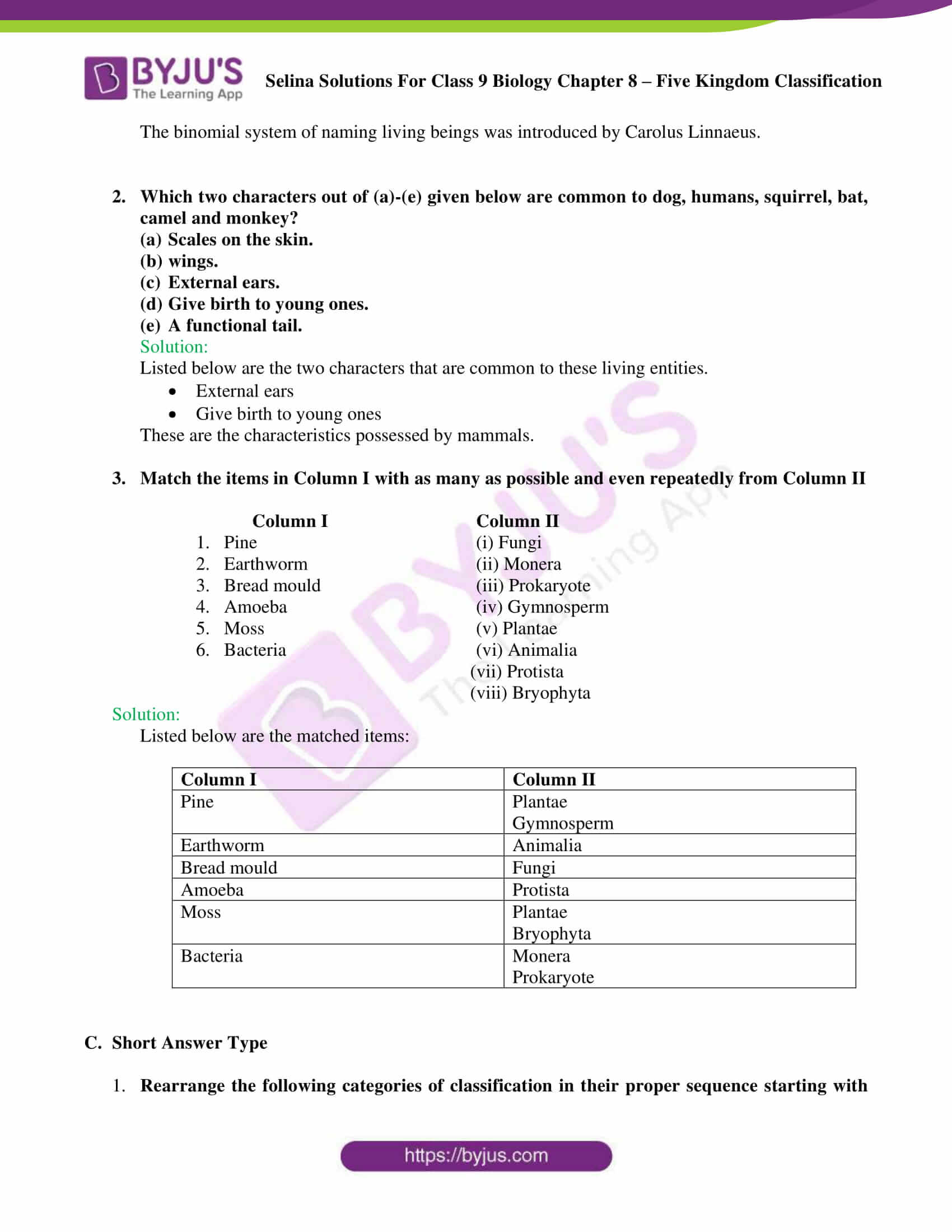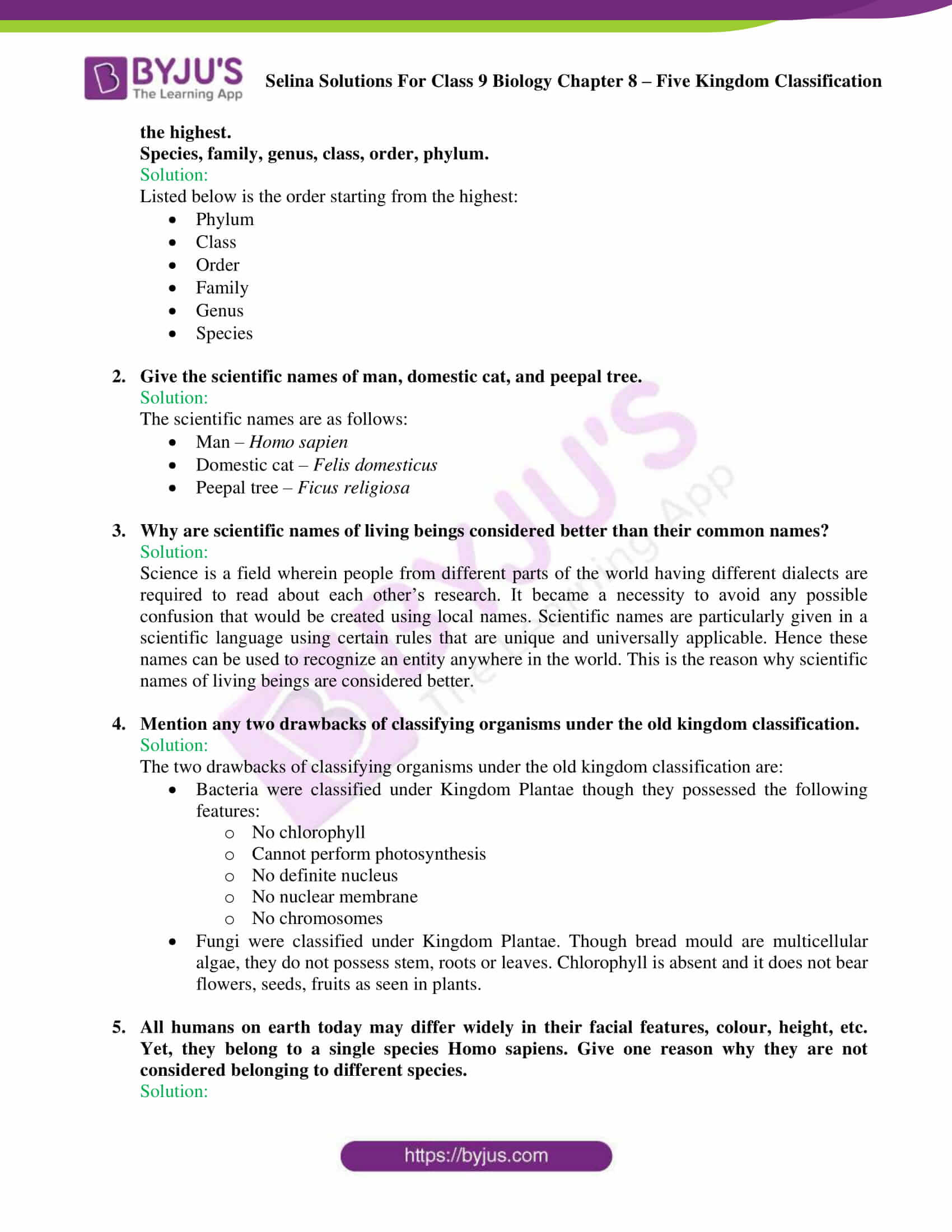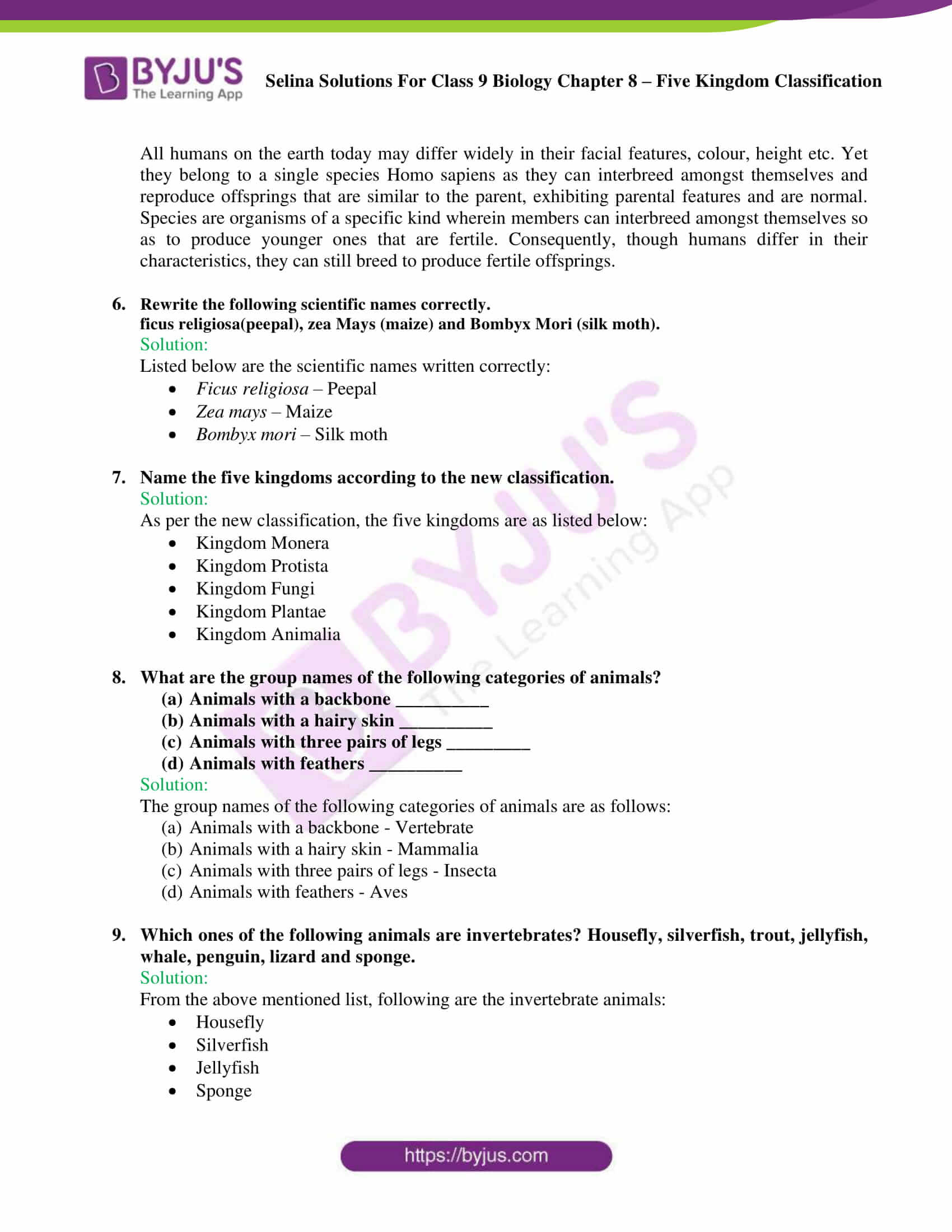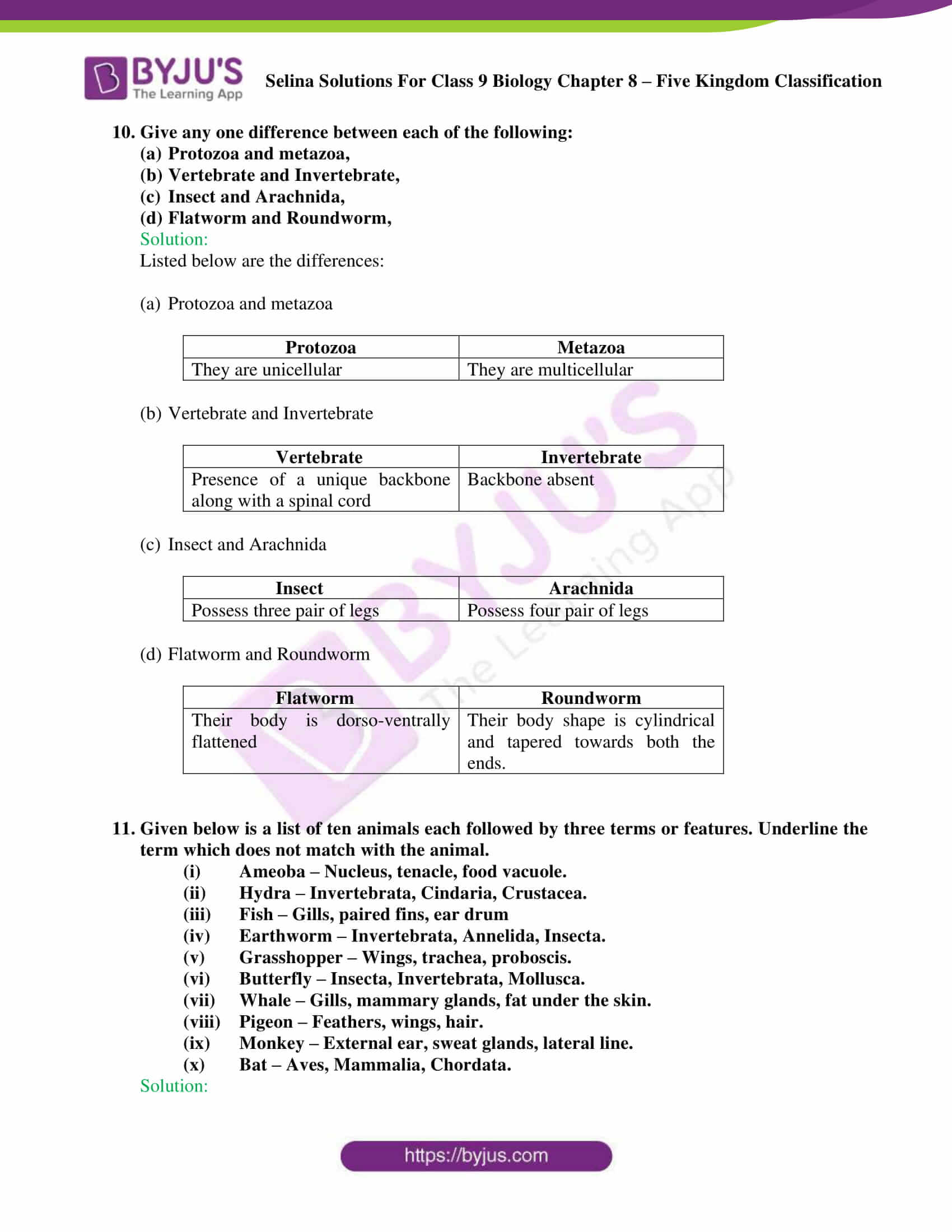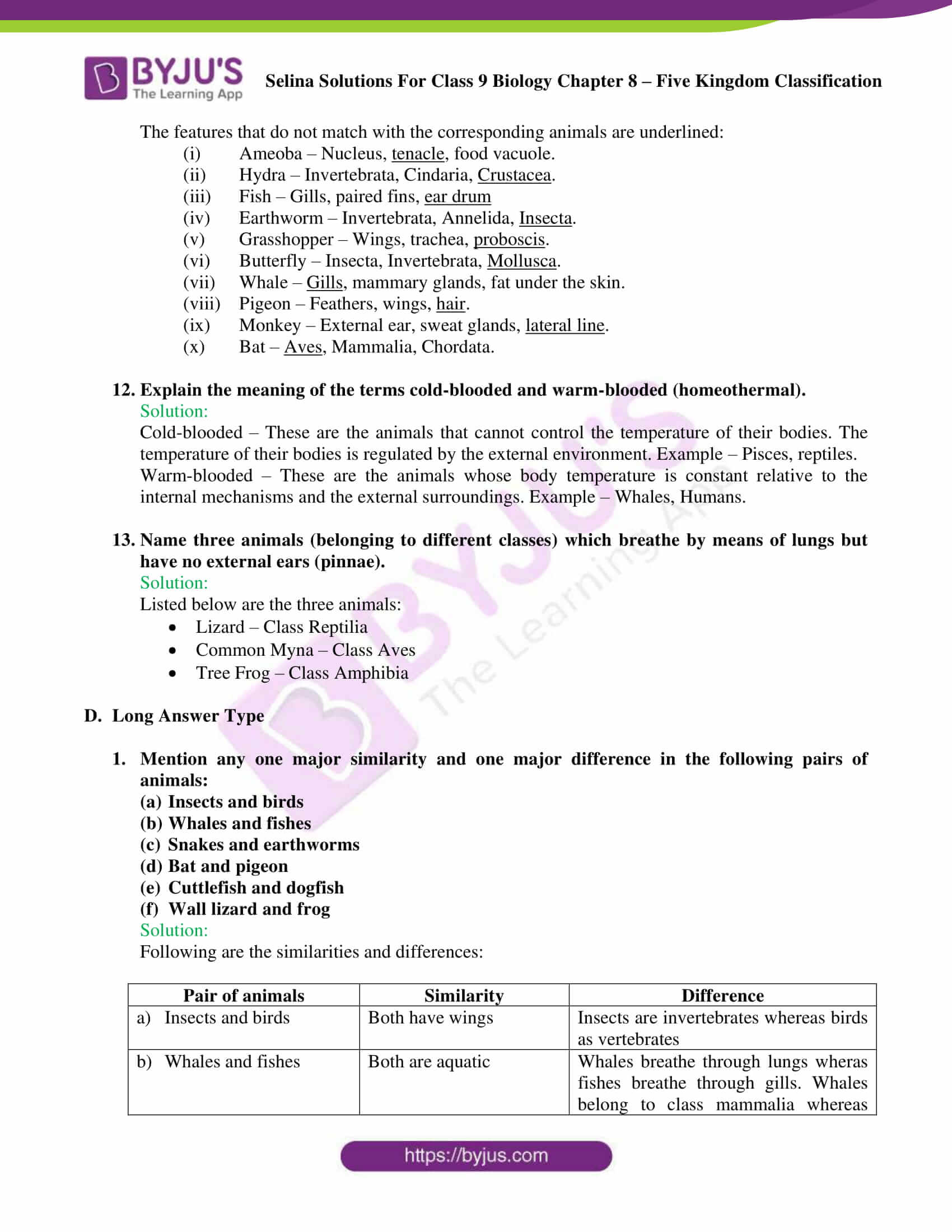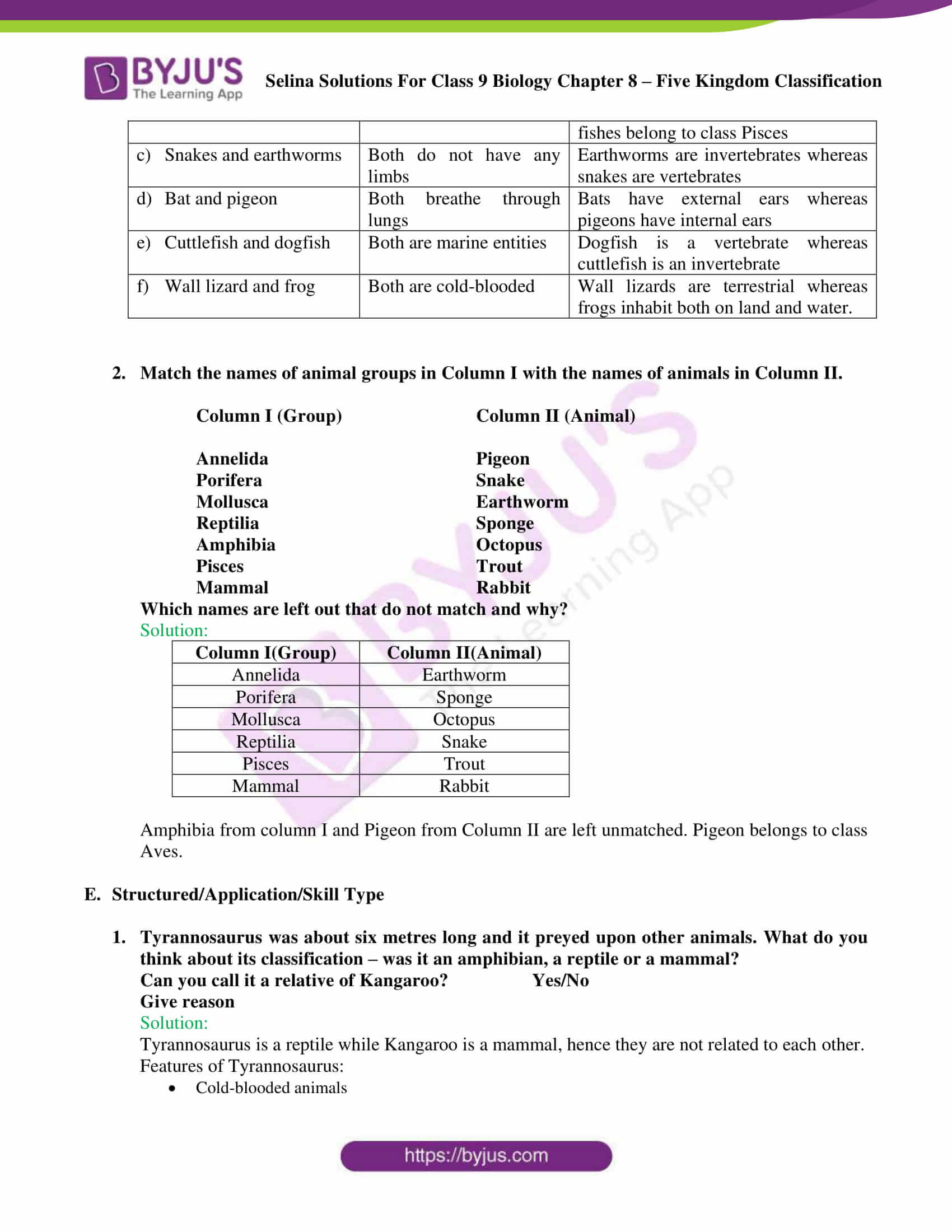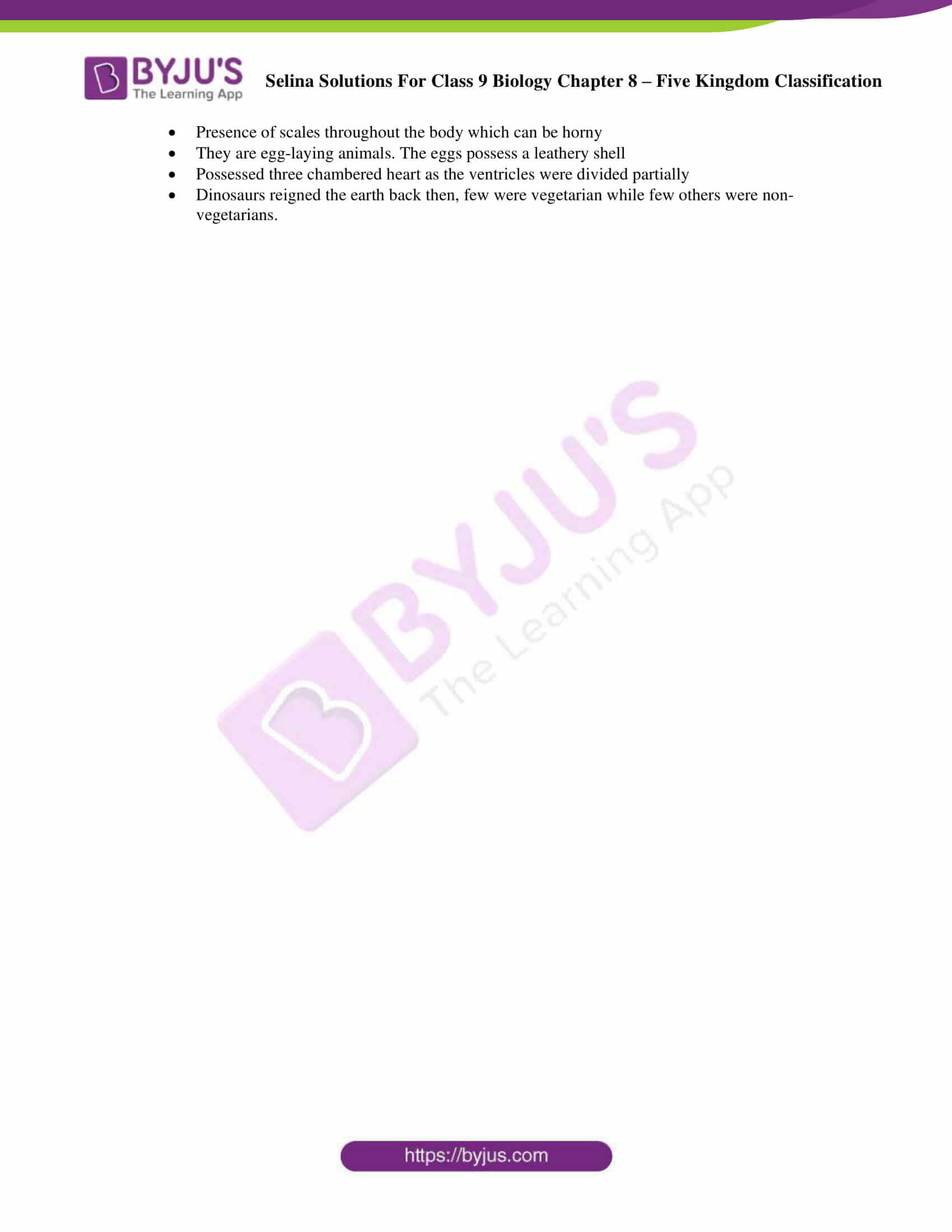 Selina Solutions for class 9 Biology Chapter 8 – Five Kingdom Classification
ICSE Class 9 Biology Chapter 8 – Five Kingdom Classification chapter is classified under Unit – IV – Diversity In Living Organisms. The unit on the whole concerns with the diversity observed in living organisms based on a particular region of land.
The variety of life on earth is often referred to as Biodiversity. The number of species of animals, plants and microorganisms, the gigantic diversity of genes in these species, the various ecosystems on the planet such as rainforests, coral reefs, deserts etc constitute for the biological diversity on the earth.
This chapter in particular deals with the categorization of species into different kingdoms. The hierarchy of classification is as follows:
Kingdom
Phylum
Class
Order
Family
Genus
Species
The different types of questions that are covered in this chapter are:
Multiple-choice questions
Fill ups
Matching items from columns
Short answer type questions
Long answer type questions
Application/Structured type of questions
List of subtopics covered in Chapter 8 – Five Kingdom Classification
| | |
| --- | --- |
| Number | Subtopic |
| 8.1 | What is species? |
| 8.2 | Categories higher than species |
| 8.3 | Drawbacks of the old two-kingdom classification |
| 8.4 | Five kingdom Classification |
| 8.5 | Naming an organism |
| 8.6 | Major groups of animals |
| 8.7 | Invertebrata and Vertebrata |
| 8.8 | Invertebrate Phyla – Porifera to Echinodermata |
| 8.9 | Phylum Chordata |
| 8.9.1 | Vertebrate Classes |
List of Exercise
Name of the exercise

Number of questions

Question Type

Page number

Progress Check

6

short

71,76,80

Review questions

4

MCQ

80, 81

16

short

81

3

long

82
Selina Solutions for class 9 Biology Chapter 8 – Five Kingdom Classification
The chapter provides a brief outline of the five kingdoms of classification. In detail, the unit summarises through the main characteristics of each kingdom with suitable examples.
It takes the reader briefly through the five kingdoms of classifcation, they are:
Kingdom Monera
Kingdom Protista
Kingdom Fungi
Kingdom Plantae
Kingdom Animalia
Differences between plant and animal kingdom provides a clear idea about the distinguishing factors between both the kingdoms. Also, binomial nomenclature is briefed stating its importance, rules along with certain examples.
The major classification of invertebrates and vertebrates into different phyla takes the reader through characteristic features of each phyla, explained through examples and differences.
Key Features of Selina Solutions for class 9 Biology Chapter 8 – Five Kingdom Classification
Selina solutions is a readily accessible and free tool.
Use of simple, coherent terminologies and language
Crisp and to-the-point solutions to the questions
Solutions are developed with the textbook content
Diagrams are labelled and neat
Use of tabular columns wherever necessary
Usage of pointers