Selina solutions at BYJU'S for ICSE Class 9 proposes at supplying students with an all-round resource tool to learn and remember topics. Solutions are framed in such a way that students pick up the topics in one go thereby facilitating a smooth learning experience.
Selina solutions are developed exclusively from the textbook prescribed by the C.I.S.C.E. Students can subsequently refer to these solutions without any apprehensions of missing out on any significant information.
One of the key traits of Selina solutions is the use of student-friendly language and framework. The terminologies are as per the requirements and calibre of class 9 students. These serve as a complete guide for students to refer and learn from. All concepts are explained in detail along with diagrammatic explanation where ever necessary to remember concepts for a longer time, serving as a useful tactic to crack examinations.
Access Answers of Biology Selina class 9 Chapter 7 – Respiration In Plants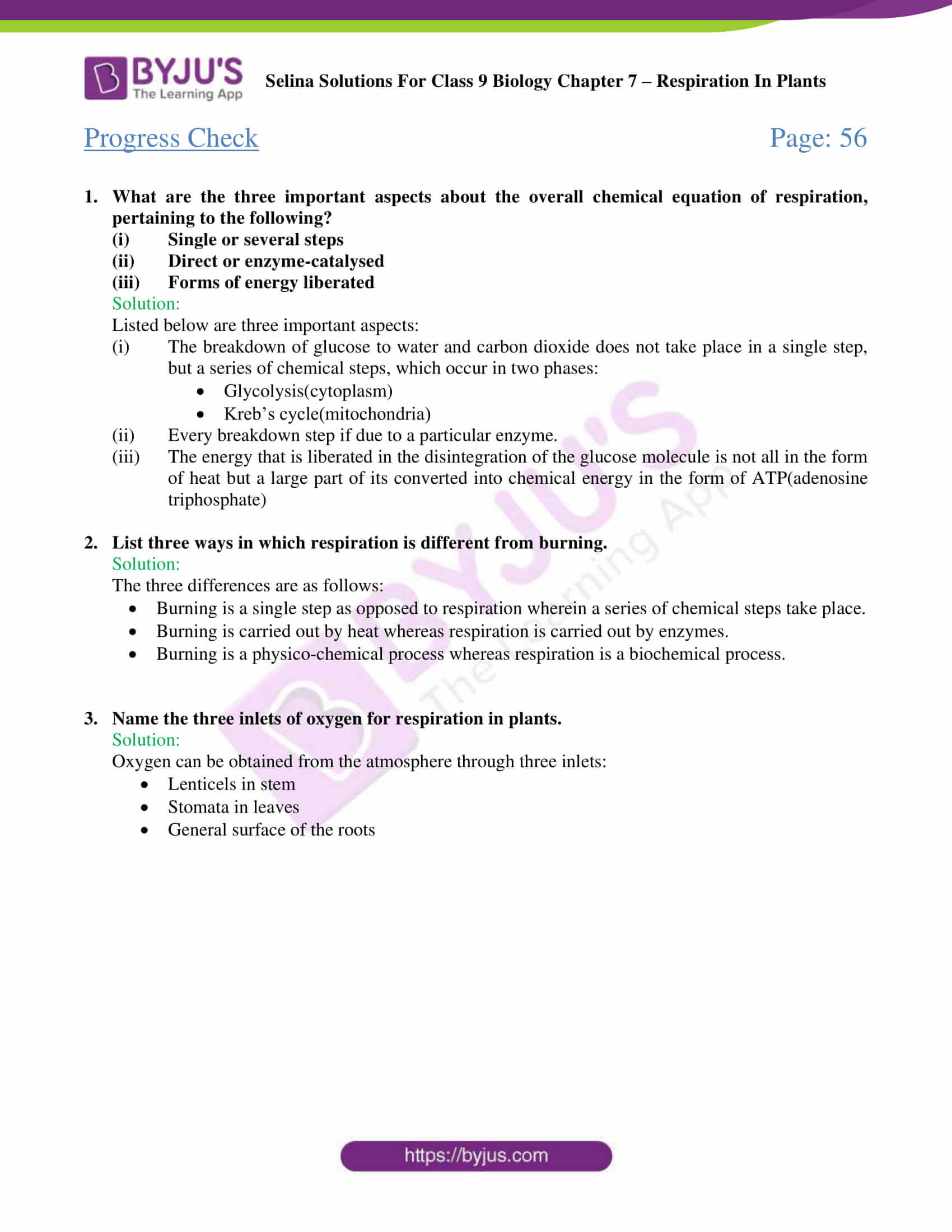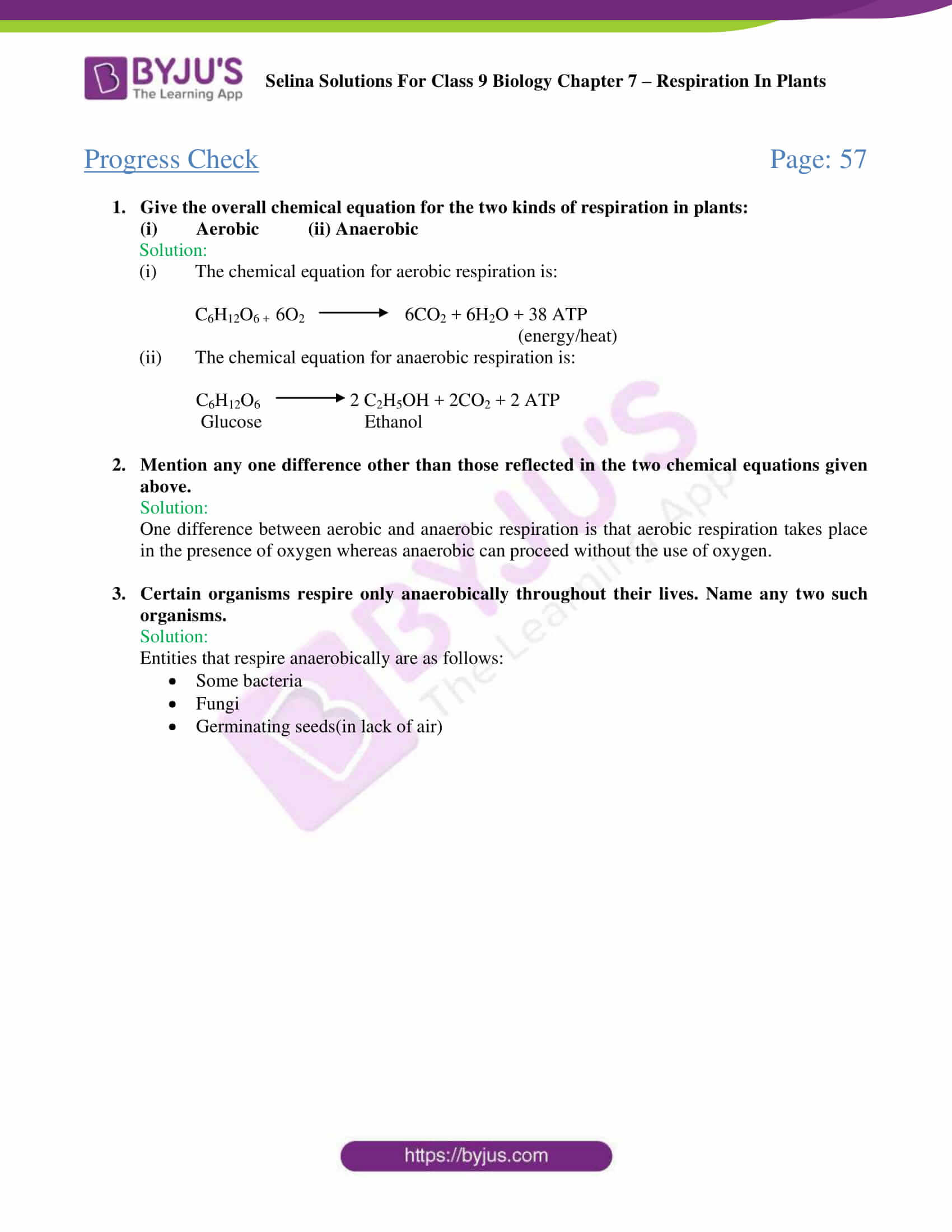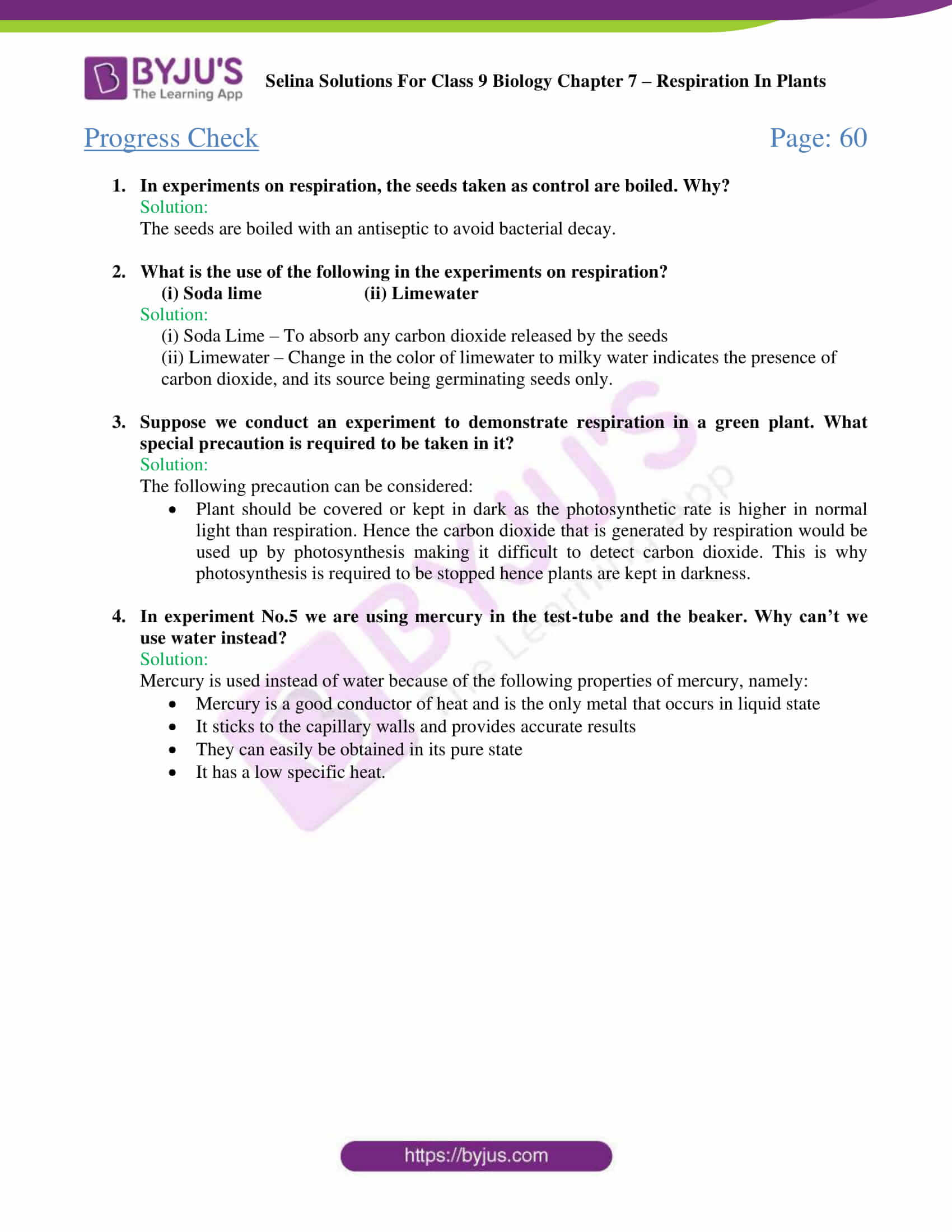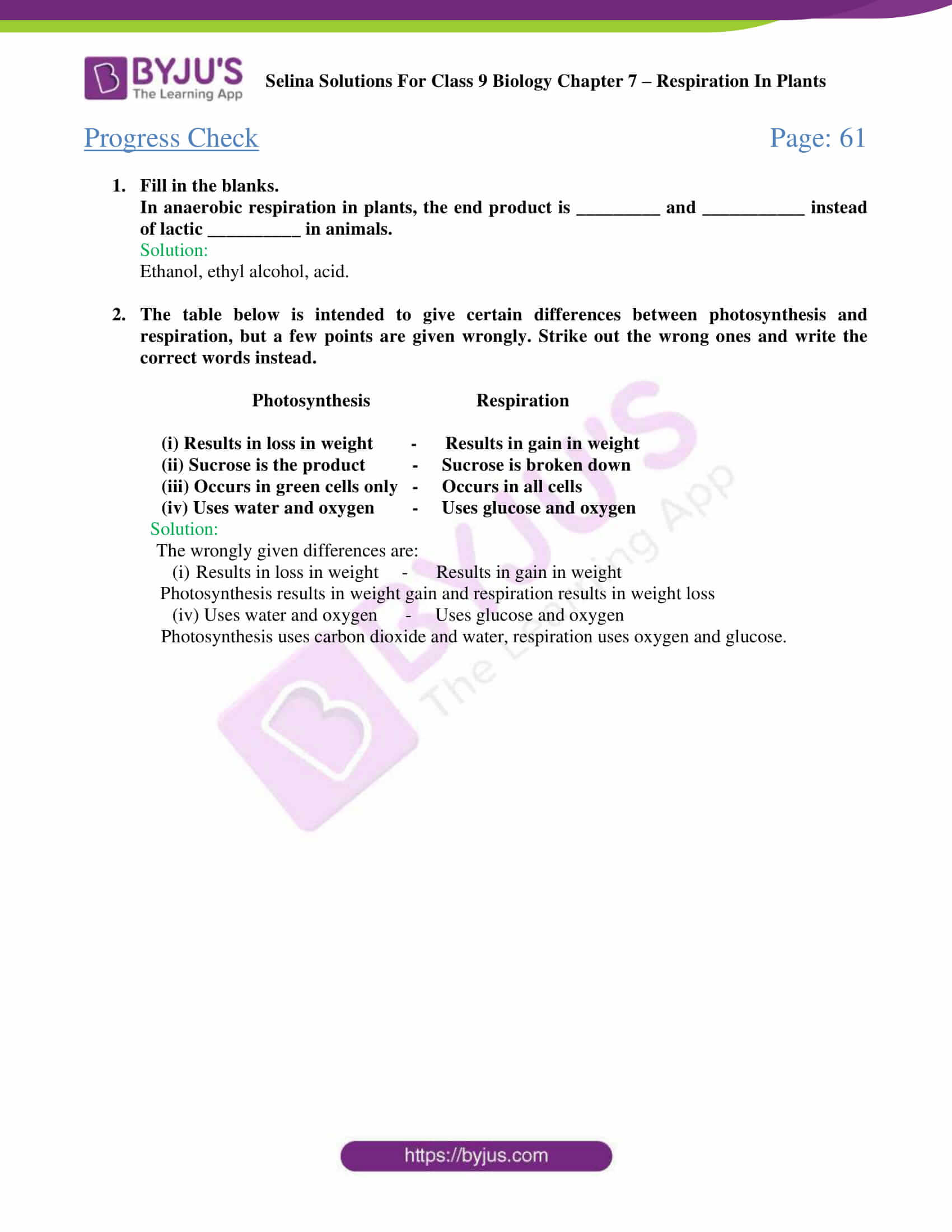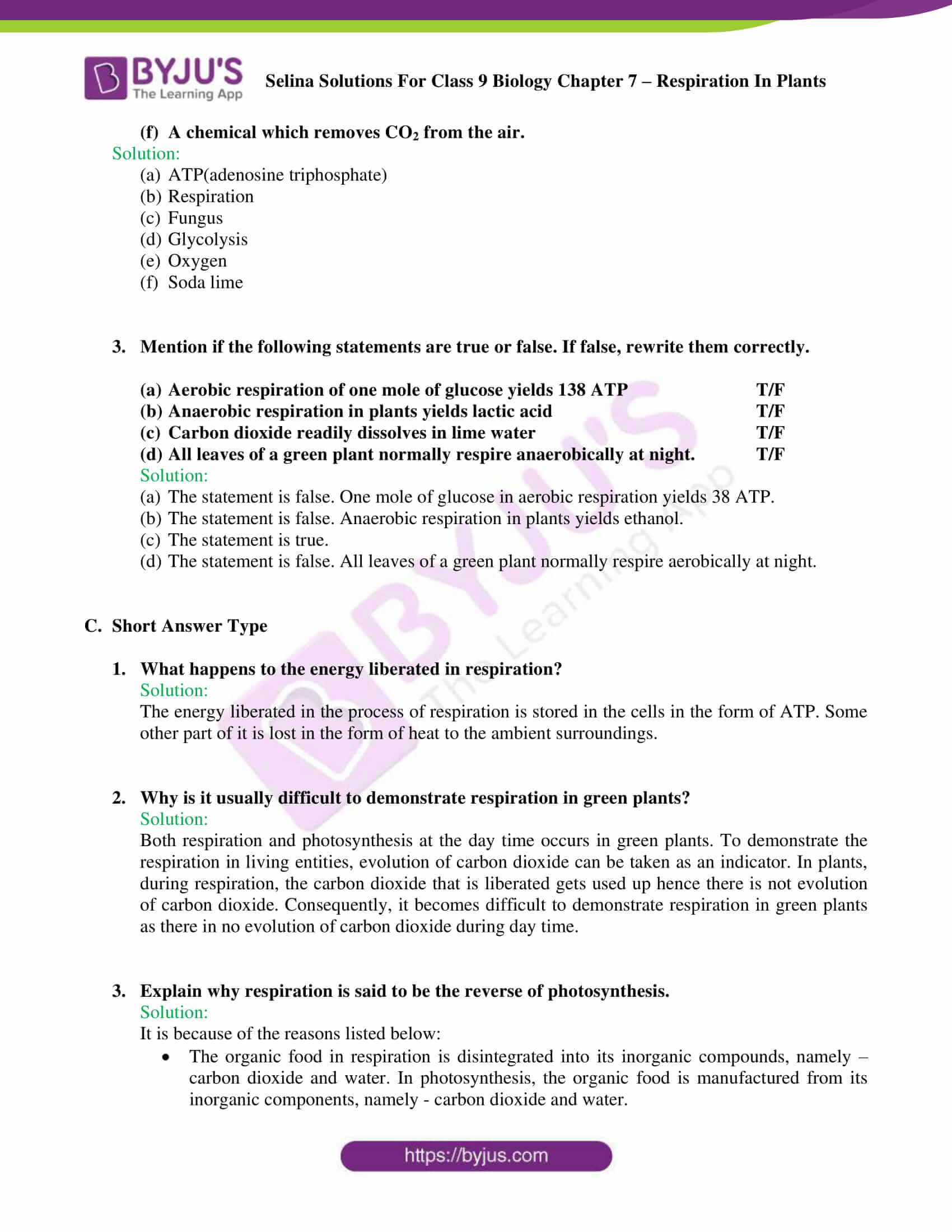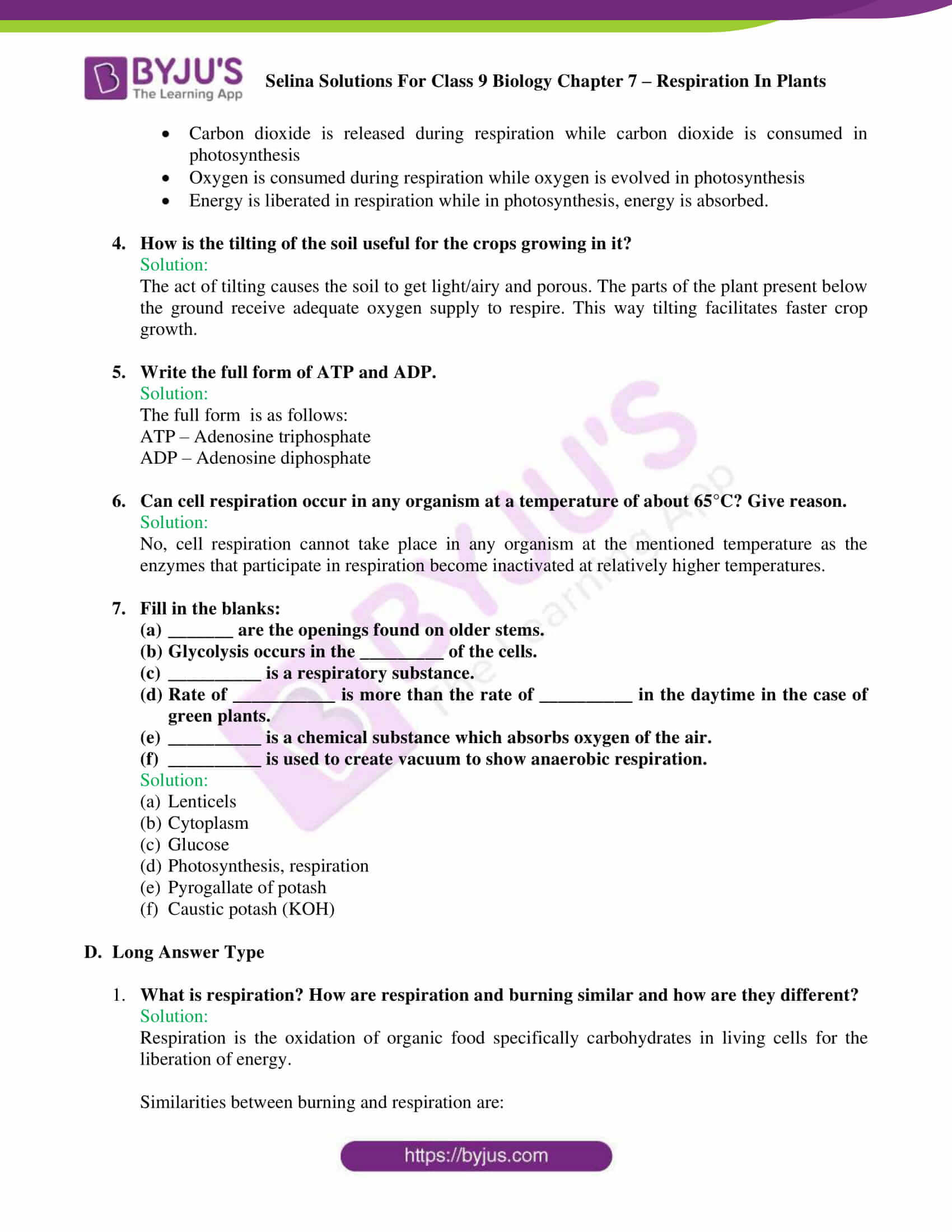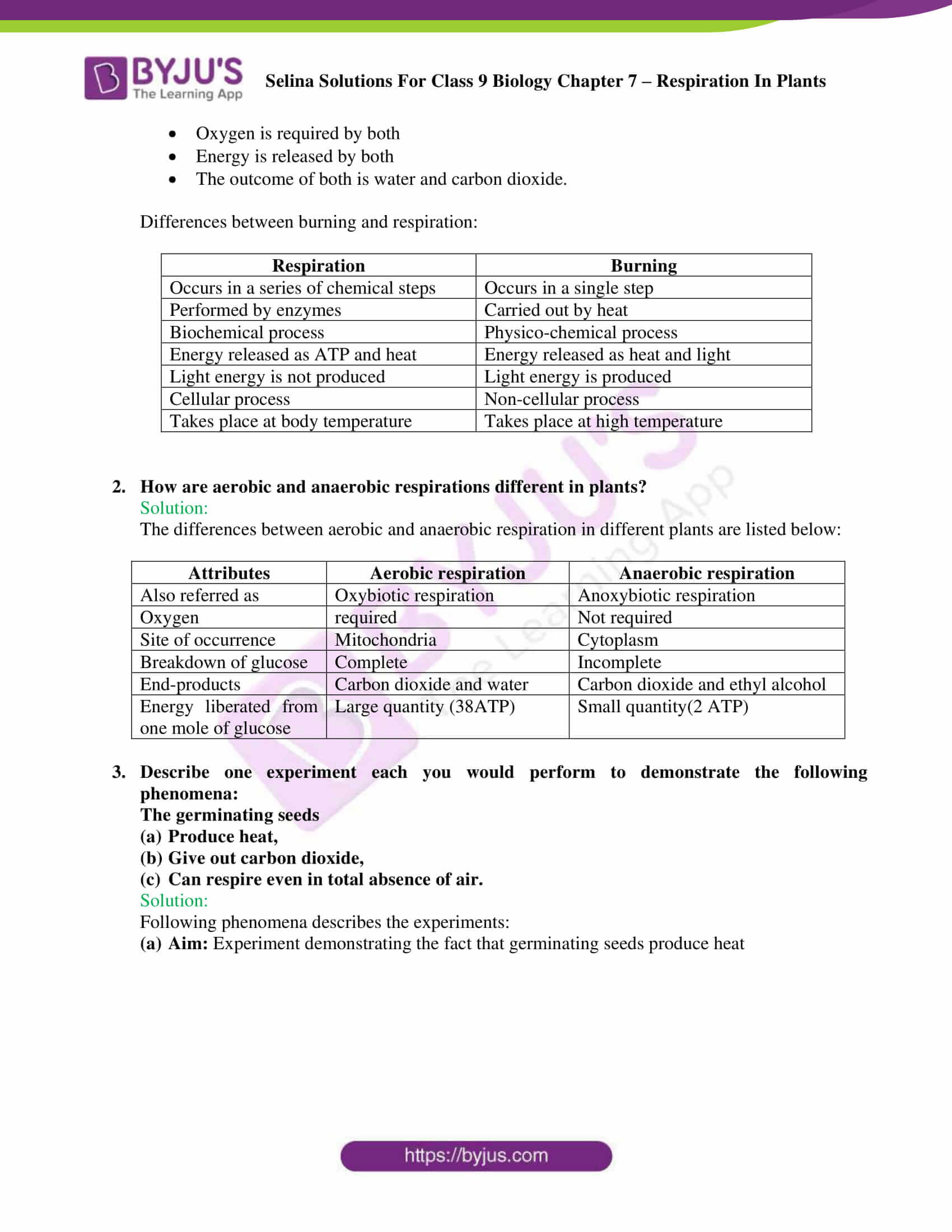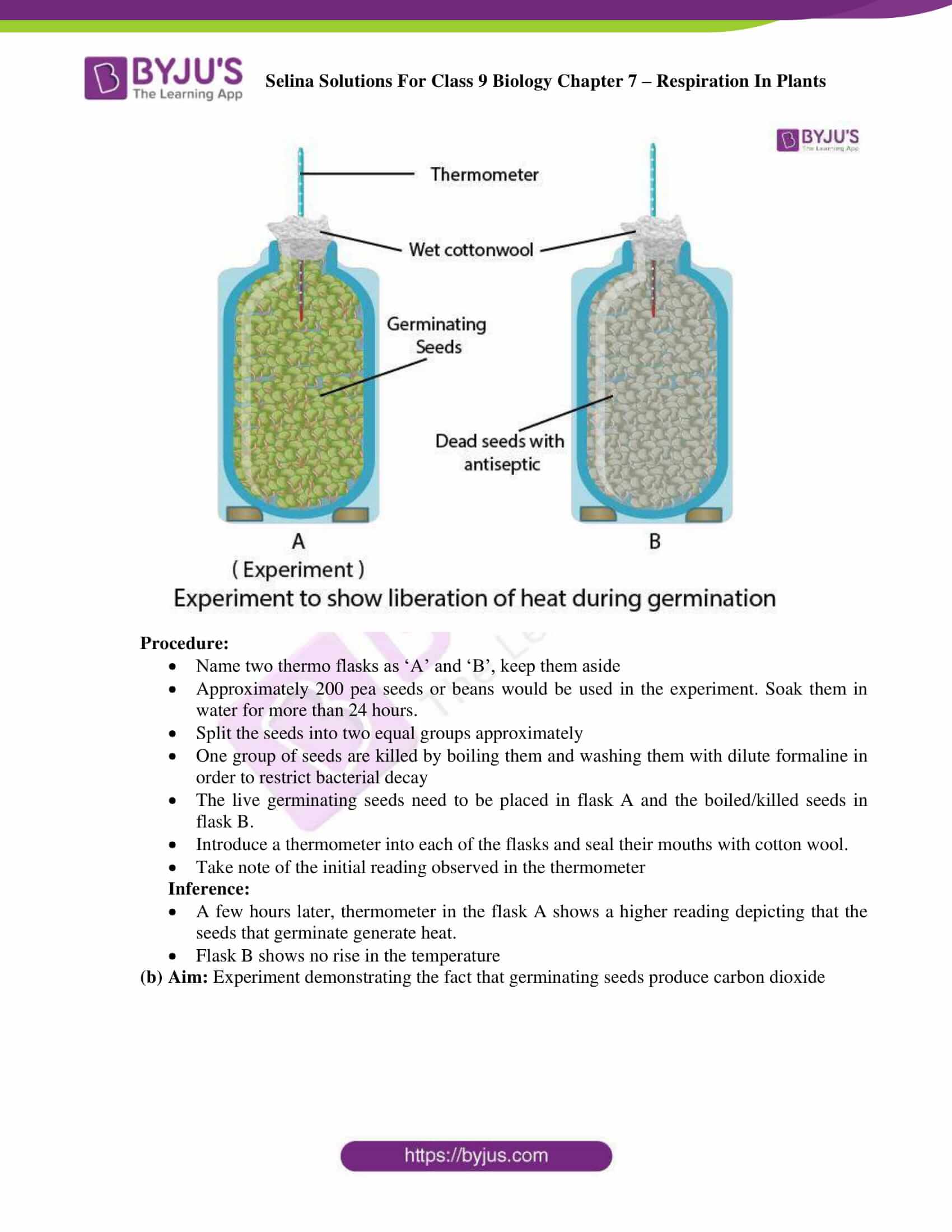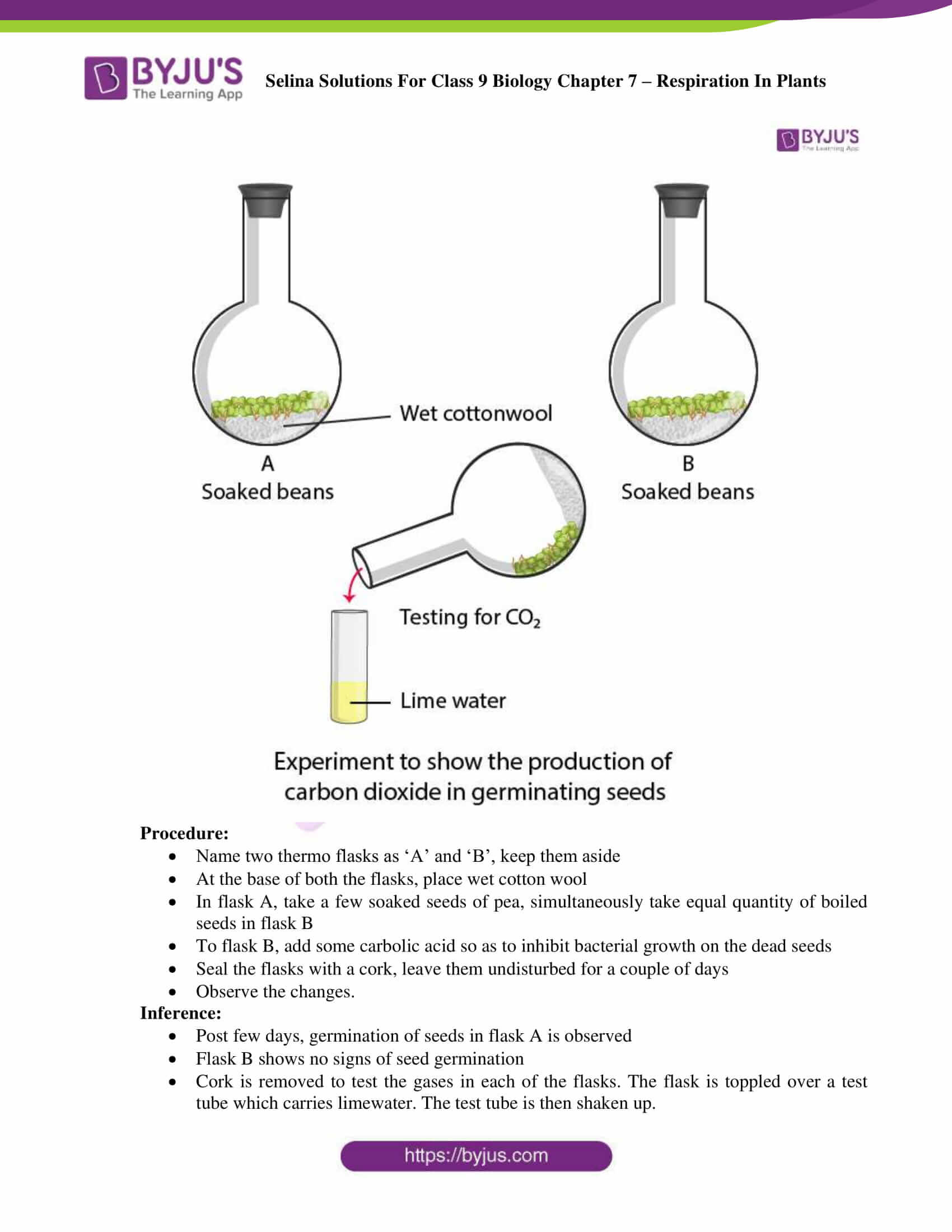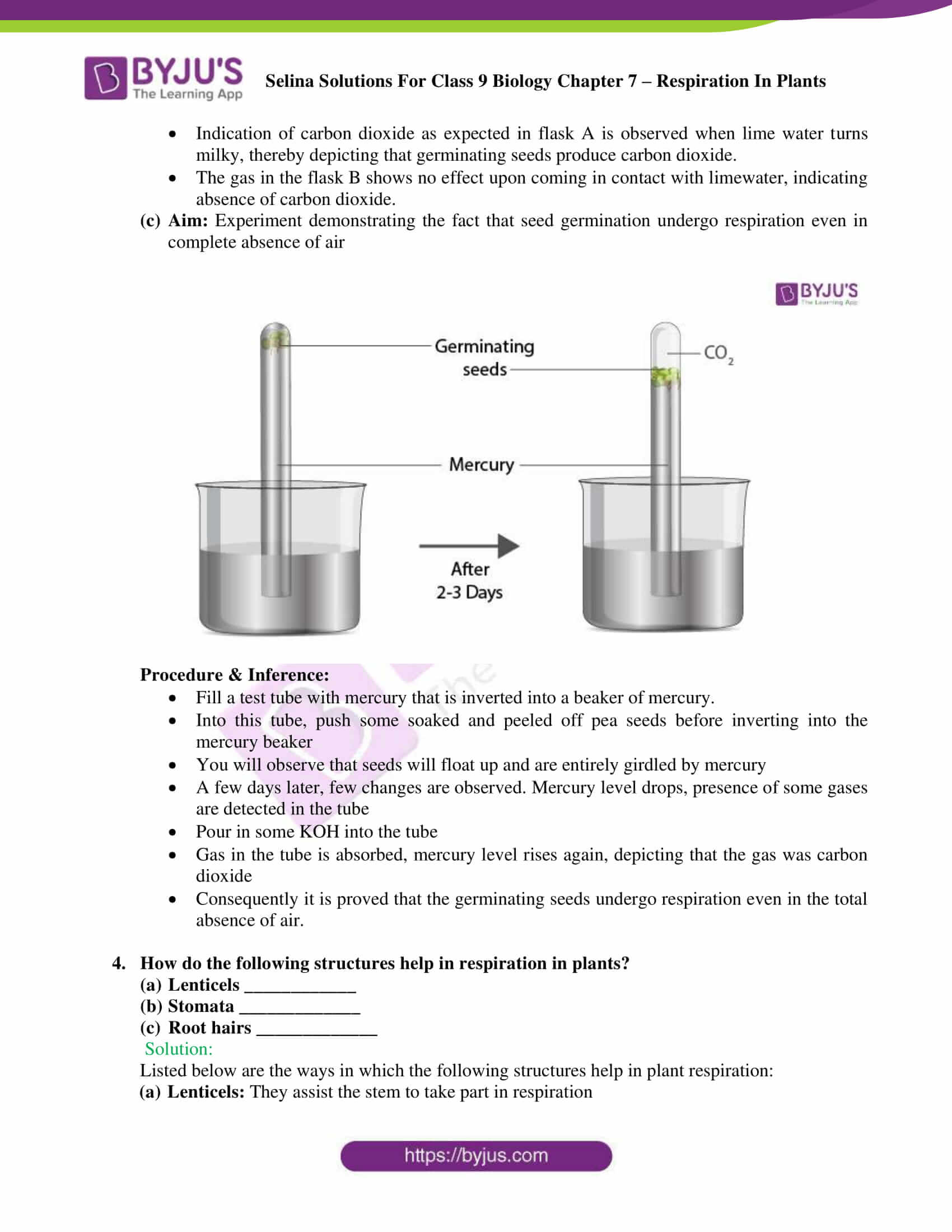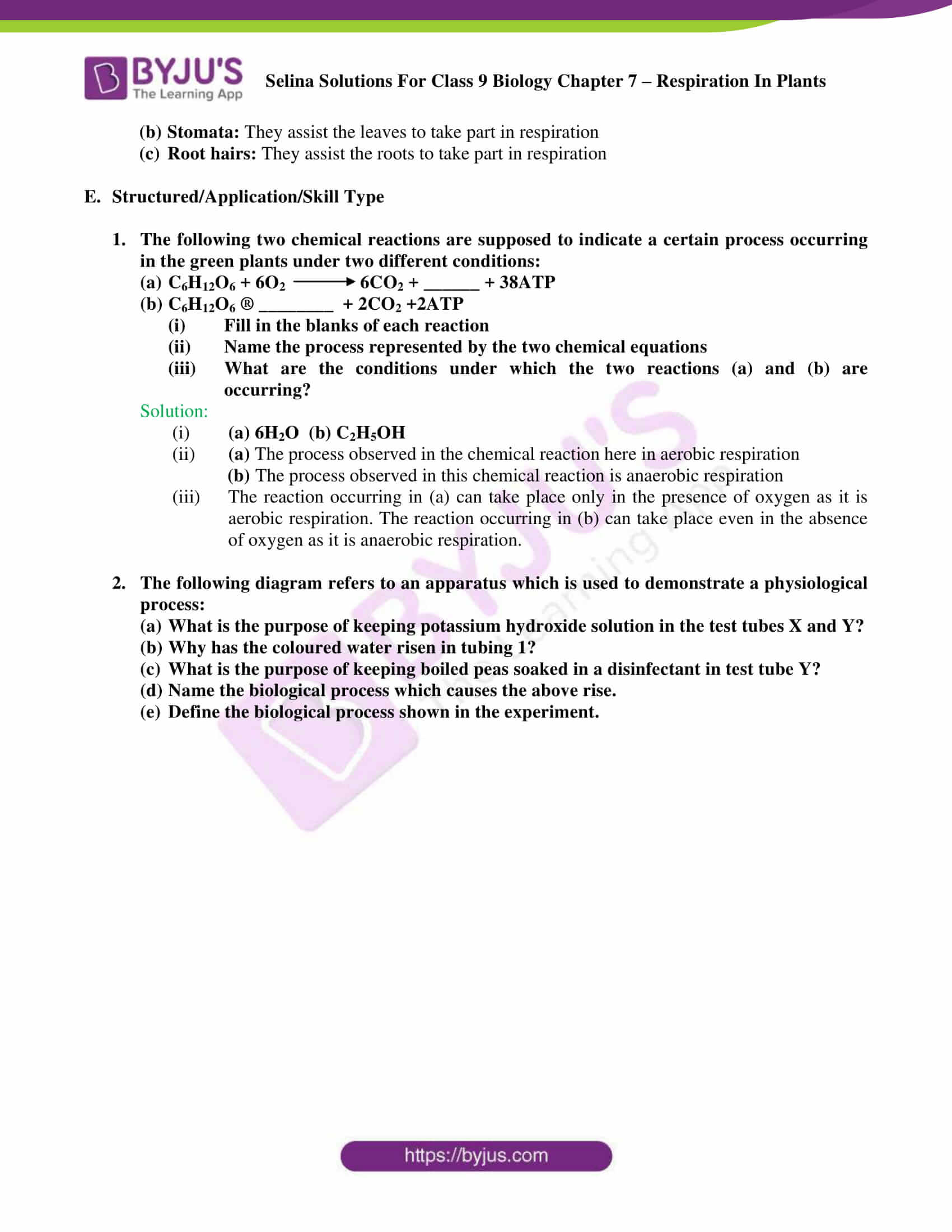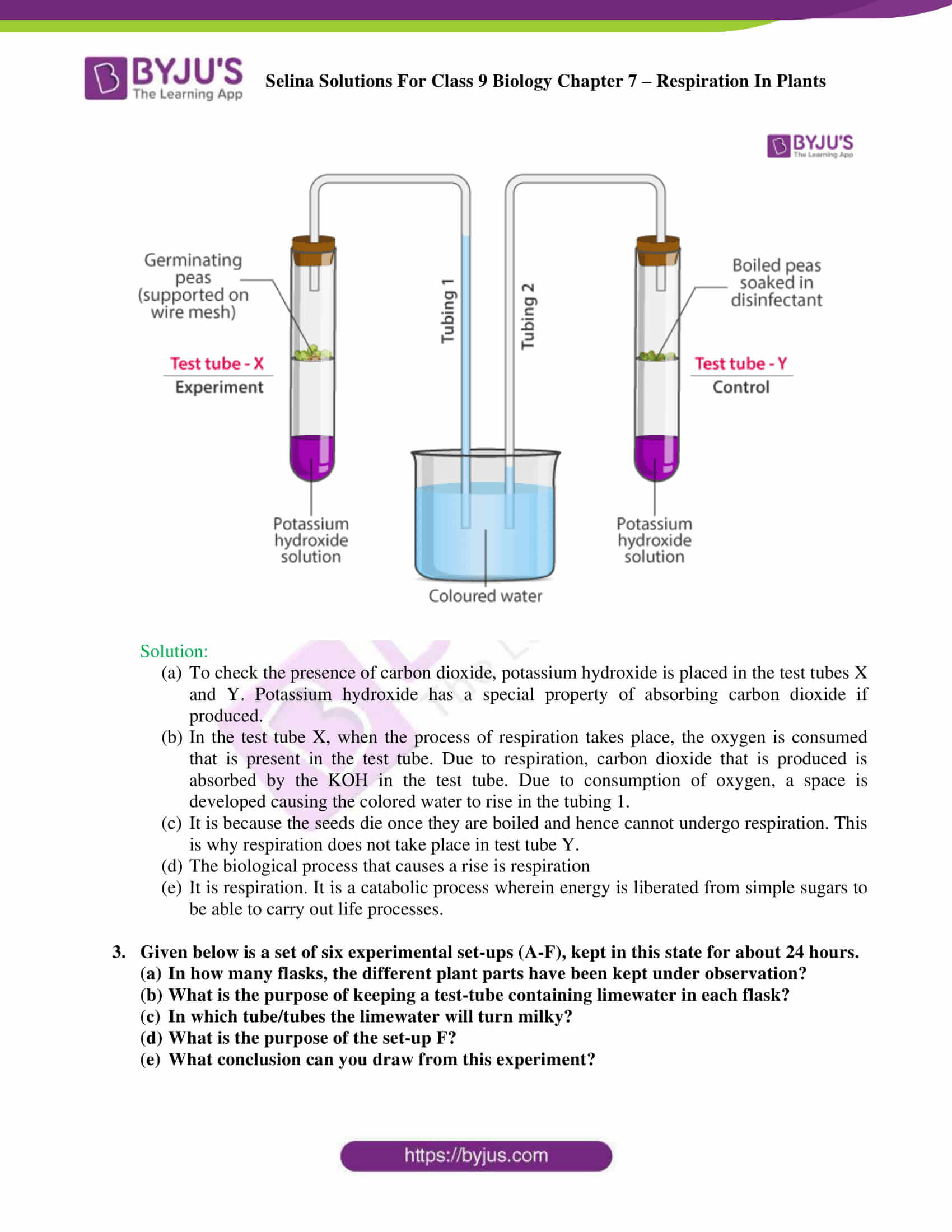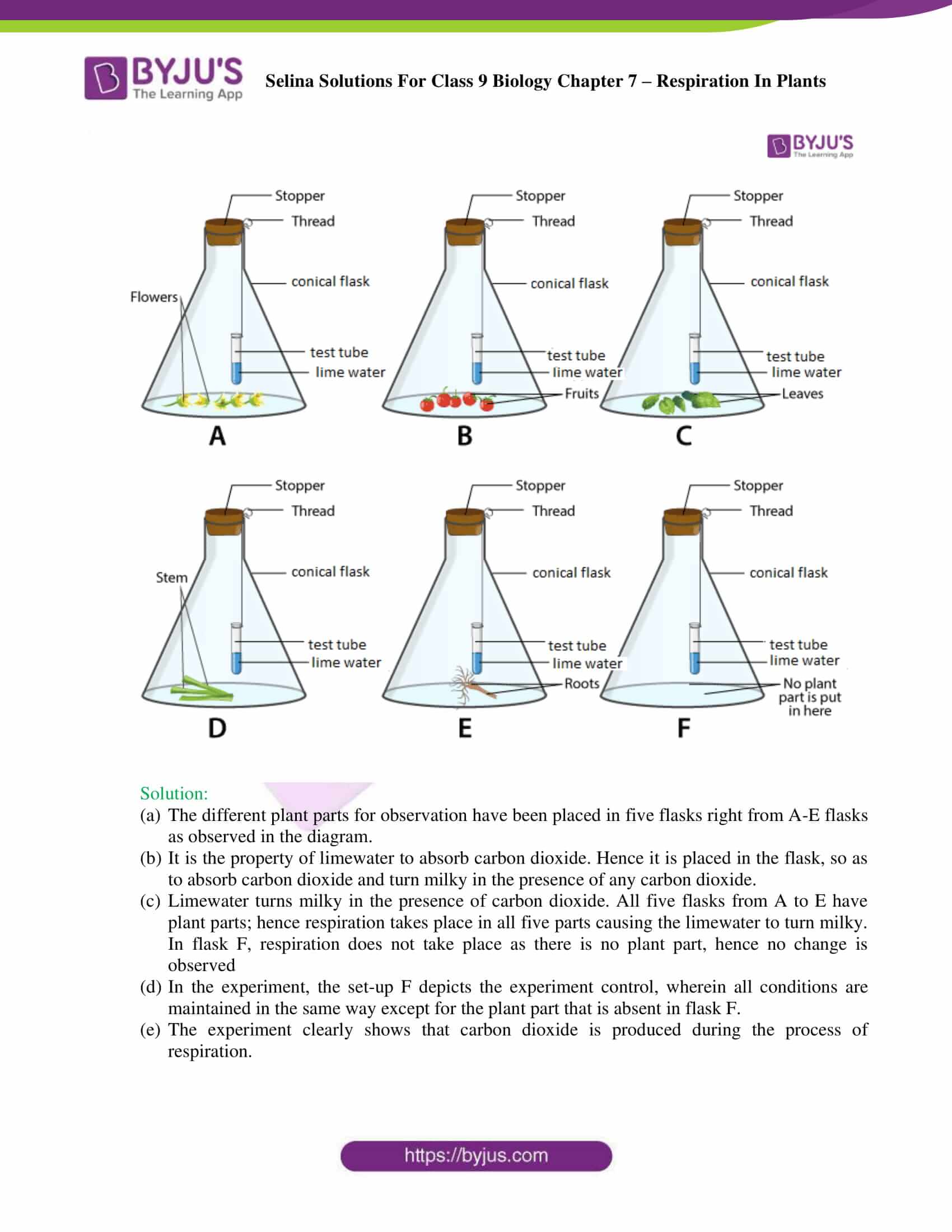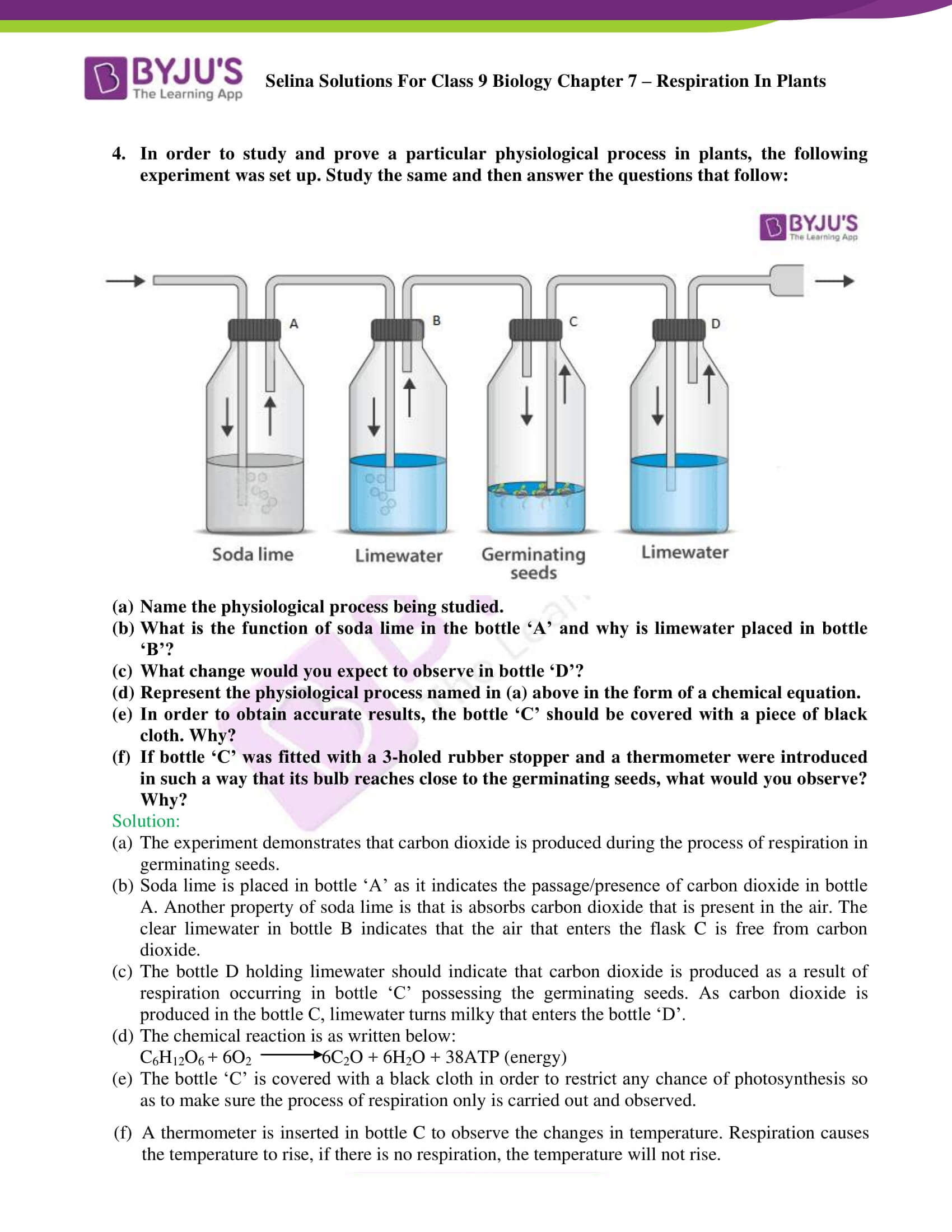 Selina Solutions for class 9 Biology Chapter 7 – Respiration In Plants
ICSE Class 9 Biology Chapter 7 – Respiration in plants chapter is classified under Unit – III – Plant Physiology. Plant physiology is a sub-discipline of botany branch of biology that concerns with the functioning or physiology of different plant structures. This chapter, in particular, deals with the process of respiration in plants. A brief outline of the respiration process, the gaseous exchange is discussed and summarized.
A brief outline of the process mentioning the terminologies such as Kbreb's cycle and Glycolysis, their significance is discussed. The chapter also draws the attention of the students towards concepts such as aerobic and anaerobic respiration along with a discussion on the chemical equations in each of the cases.
For a better understanding of the students, experiments have been demonstrated along with a diagrammatic explanation clearly depicting various apparatus used, the procedure of the experiment along with the inference of the experiment.
The various types of questions that are covered in this chapter are as listed below:
Multiple-choice questions
Fill ups
true/false statements
Short answer type questions
Long answer type questions
Application/Structured type of questions
List of subtopics covered in Chapter 7 – Respiration in Plants
| | |
| --- | --- |
| Number | Subtopic |
| 7.1 | What is respiration? |
| 7.2 | Respiration vs Burning(combustion) |
| 7.3 | The entire plant respires |
| 7.4 | Two kinds of respiration – aerobic and anaerobic |
| 7.5 | Experiments on respiration in plants |
| 7.6 | Respiration contrasted with photosynthesis |
List of Exercise
Name of the exercise
Number of questions
Question Type
Page number
Progress Check
6
short
56 & 57
Progress Check
6
Short
60 & 61
Review questions
3
MCQ
61
10
short
61 & 62
8
long
62 & 63
Selina Solutions for class 9 Biology Chapter 7 – Respiration In Plants
The chapter briefs about the respiration process that takes place in plants. All living cells take part in respiration, it is, therefore, necessary to understand the process of gaseous exchange that occurs within cells and hence the living entity ultimately.
Often, comparisons are drawn between burning and respiration process, this chapter lays out the differences. The different types of respiration such as aerobic and anaerobic respiration are also discussed along with their differences. Various experiments demonstrating the gaseous presence, the evolution of gases, different types of respiration etc are briefly covered in this chapter so that the reader gets a clear idea of all the important concepts.
Key Features of Selina Solutions for class 9 Biology Chapter 7 – Respiration in Plants
Selina solutions equip students with a free, easy to understand and readily accessible resource tool
To-the-point and crisp solutions to the questions
Easily understandable, student-friendly resource
Solutions are prepared by extracting information from the prescribed textbook
Use of tabular columns wherever necessary
Diagrams are clear and neatly labelled
Use of pointers to save time and remember concepts easily