Selina solutions at BYJU'S envisions at equipping students with a robust and intelligible tool for the academic requirements of ICSE Class 9 students. The solutions have been designed in a way that makes the learning of complicated topics interesting and smooth.
Selina solutions have been formulated basis the guidelines rendered by the C.I.S.C.E. It has proven to be completely reliable and serves as an excellent prep tool for students. The main objective is to make concepts clear enough to students thereby causing them to stay gripped to the process of learning and welcoming new schools of thoughts.
The solutions are documented by a panel of experts with extensive knowledge in their respective fields. Students are required to adapt and inculcate the writing strategies used in the Selina solutions to score maximum marks as the solutions have been framed primarily with the examination perspective.
Access Answers of Biology Selina class 9 Chapter 10 – Nutrition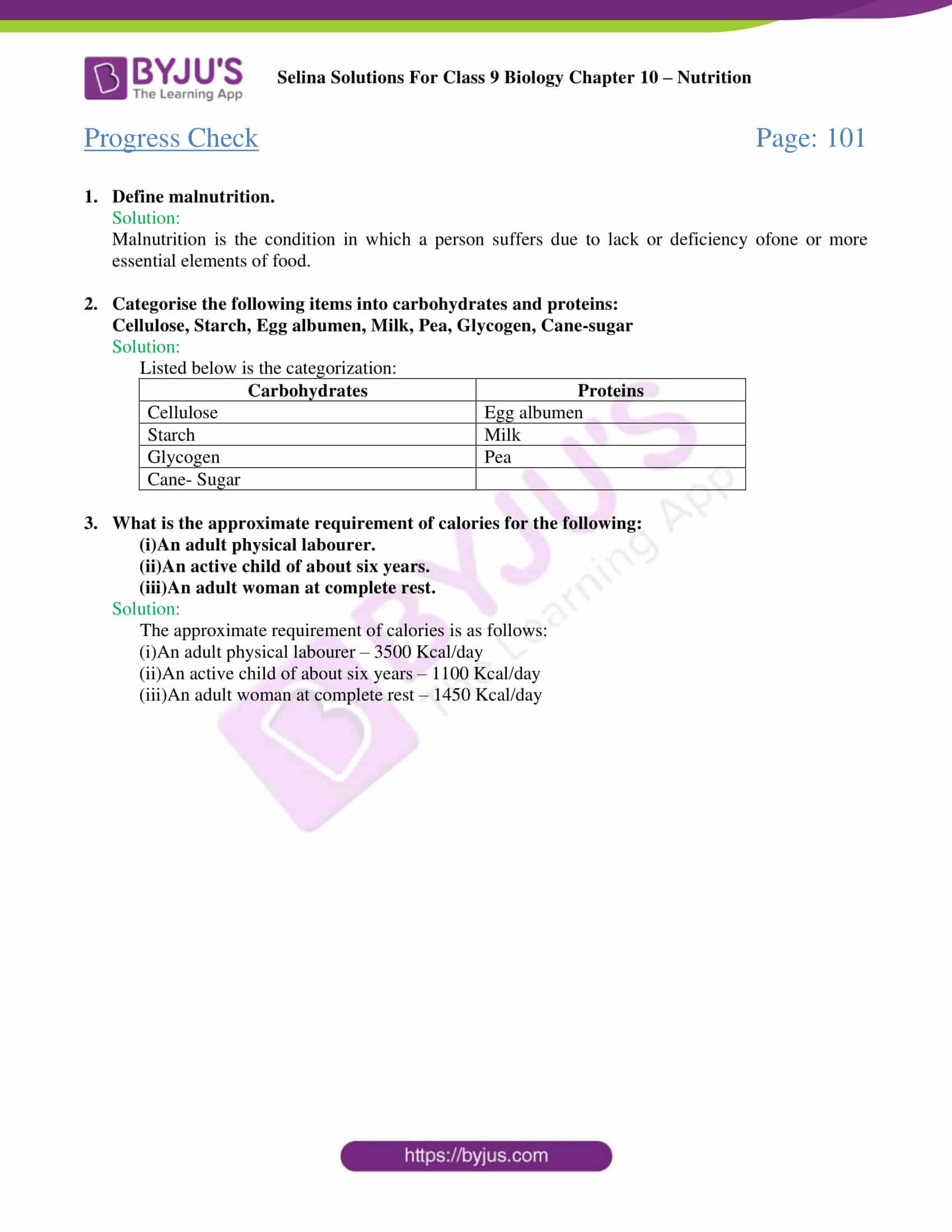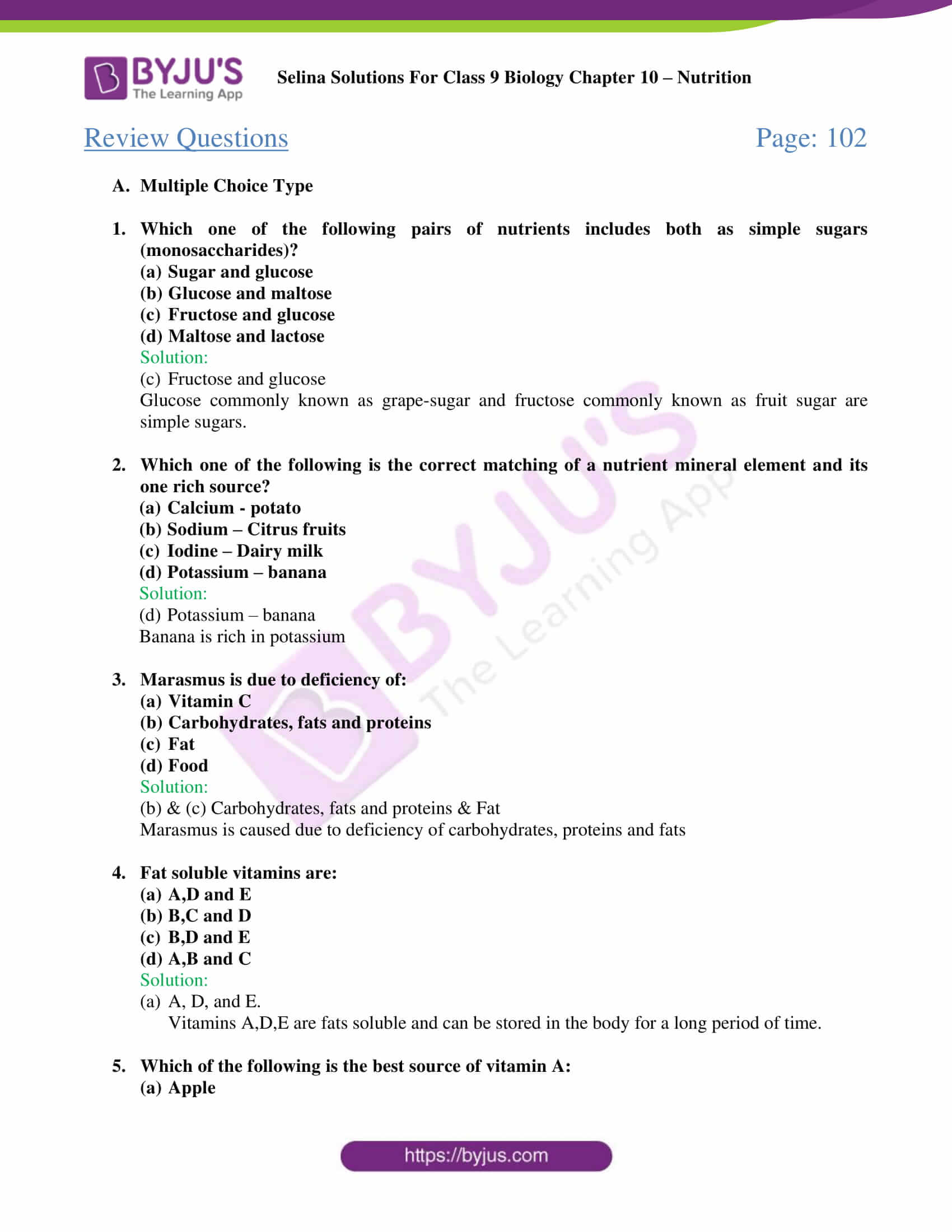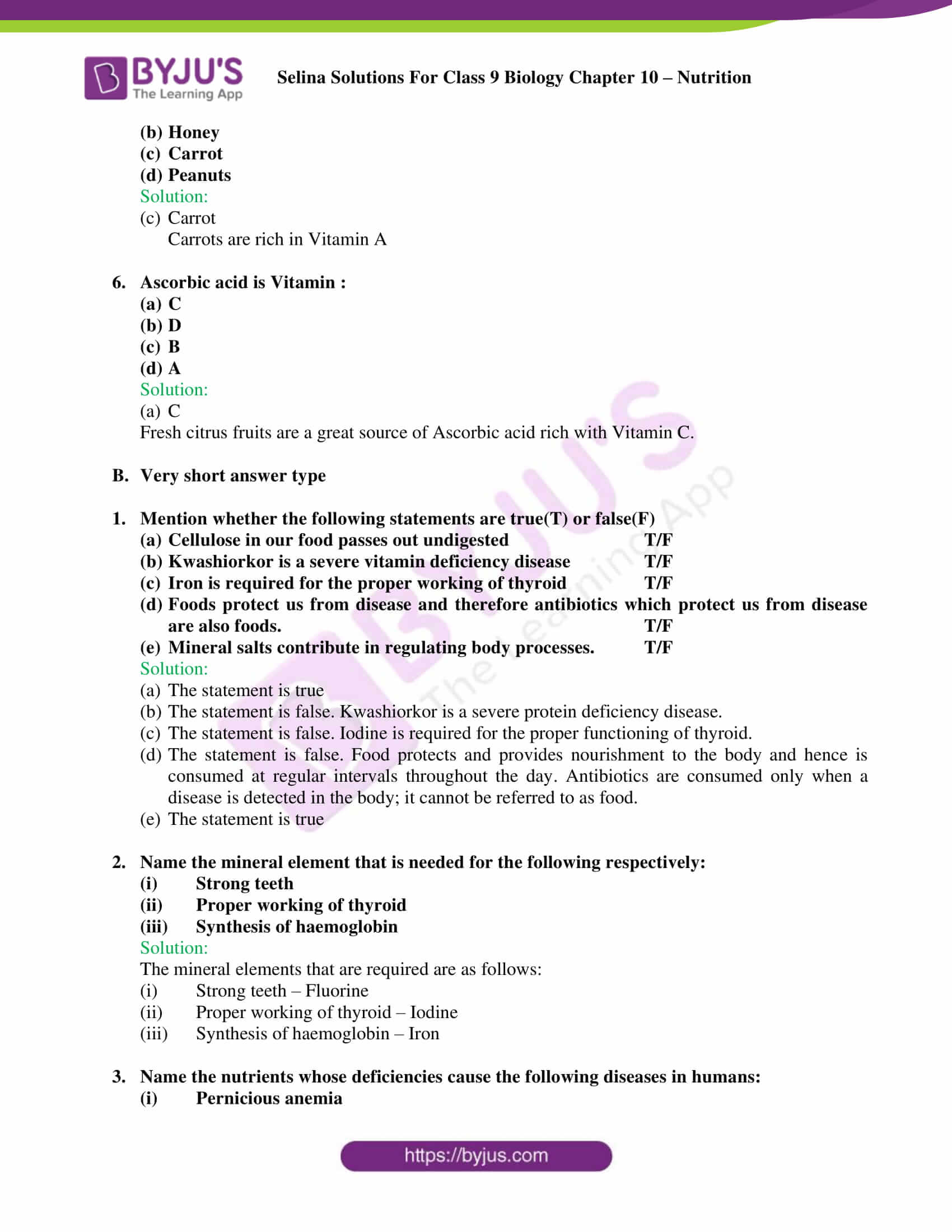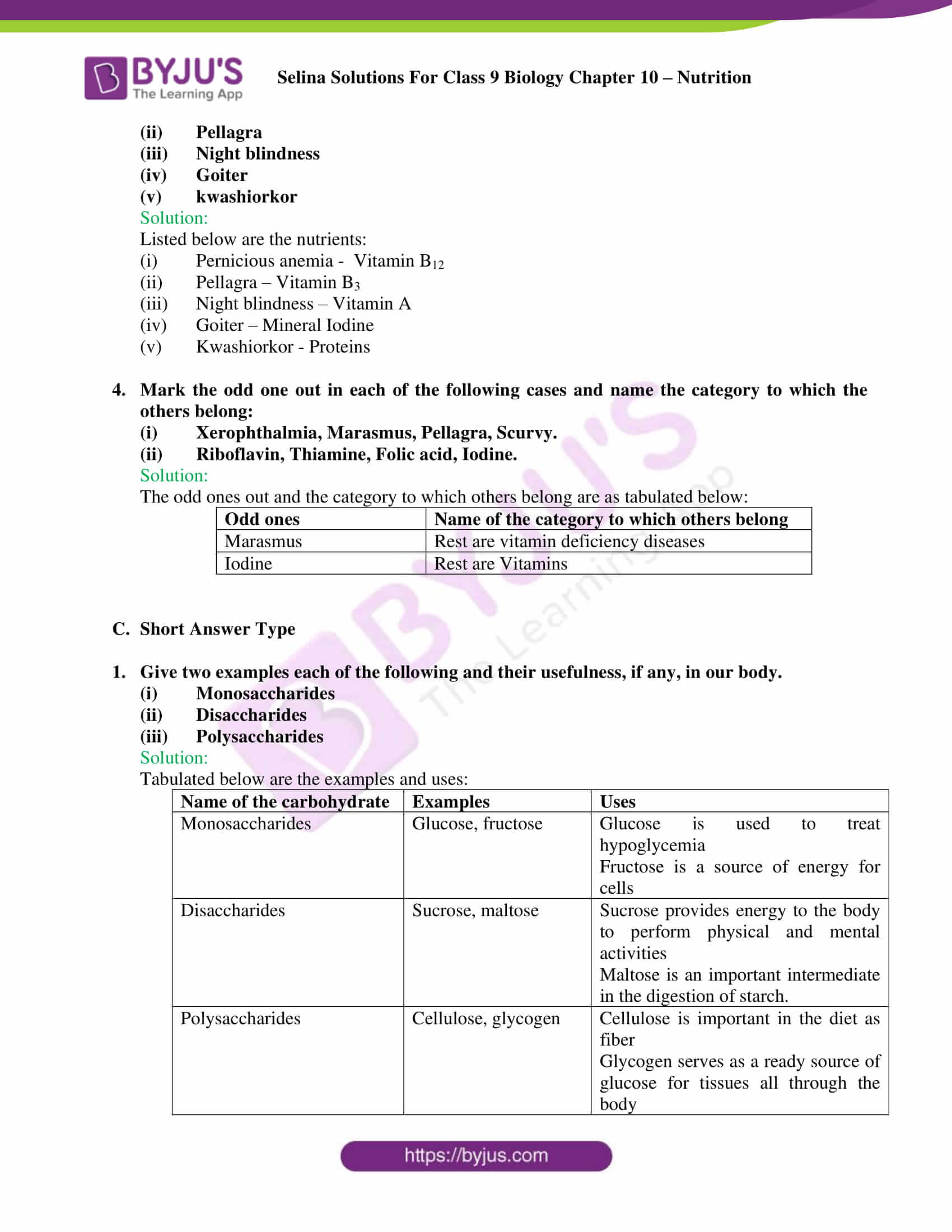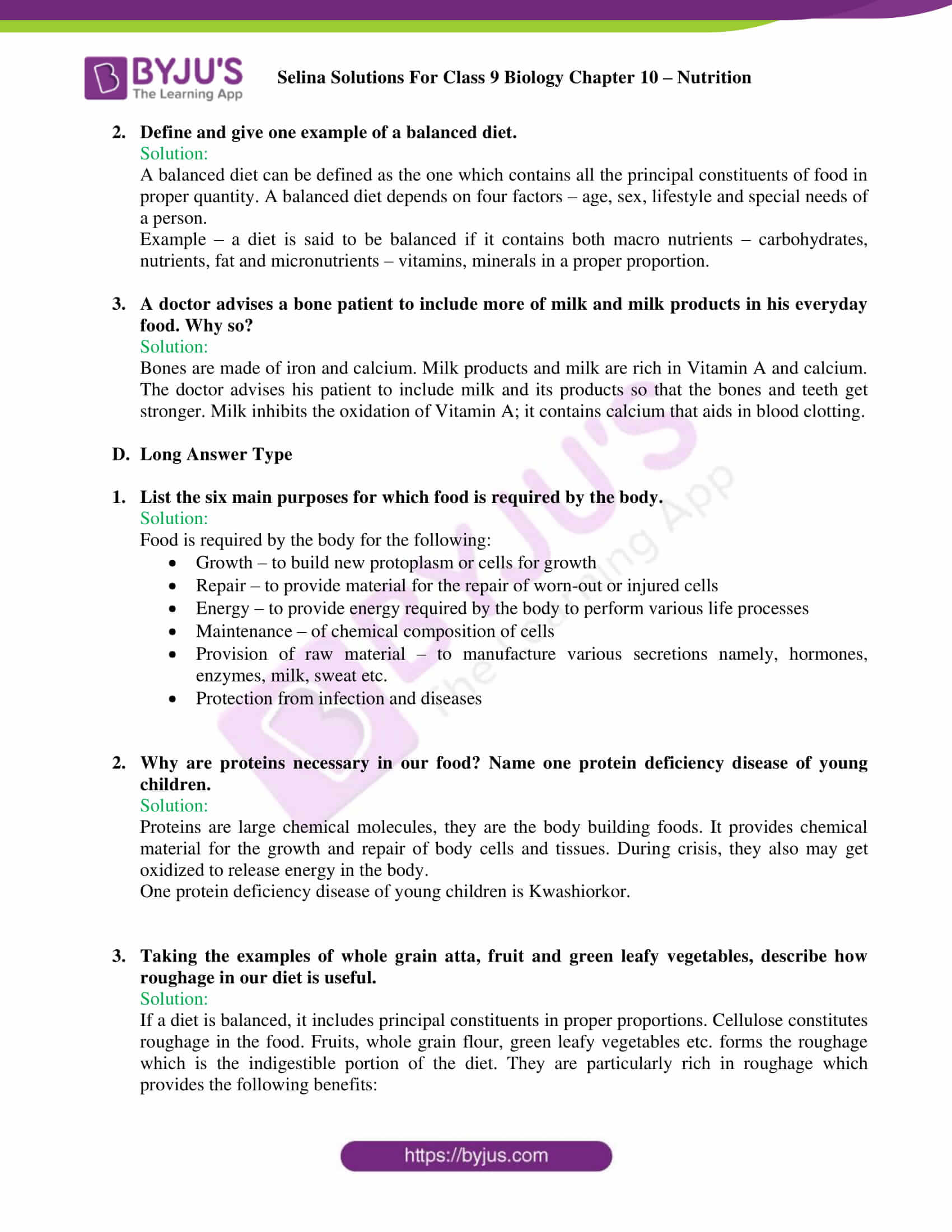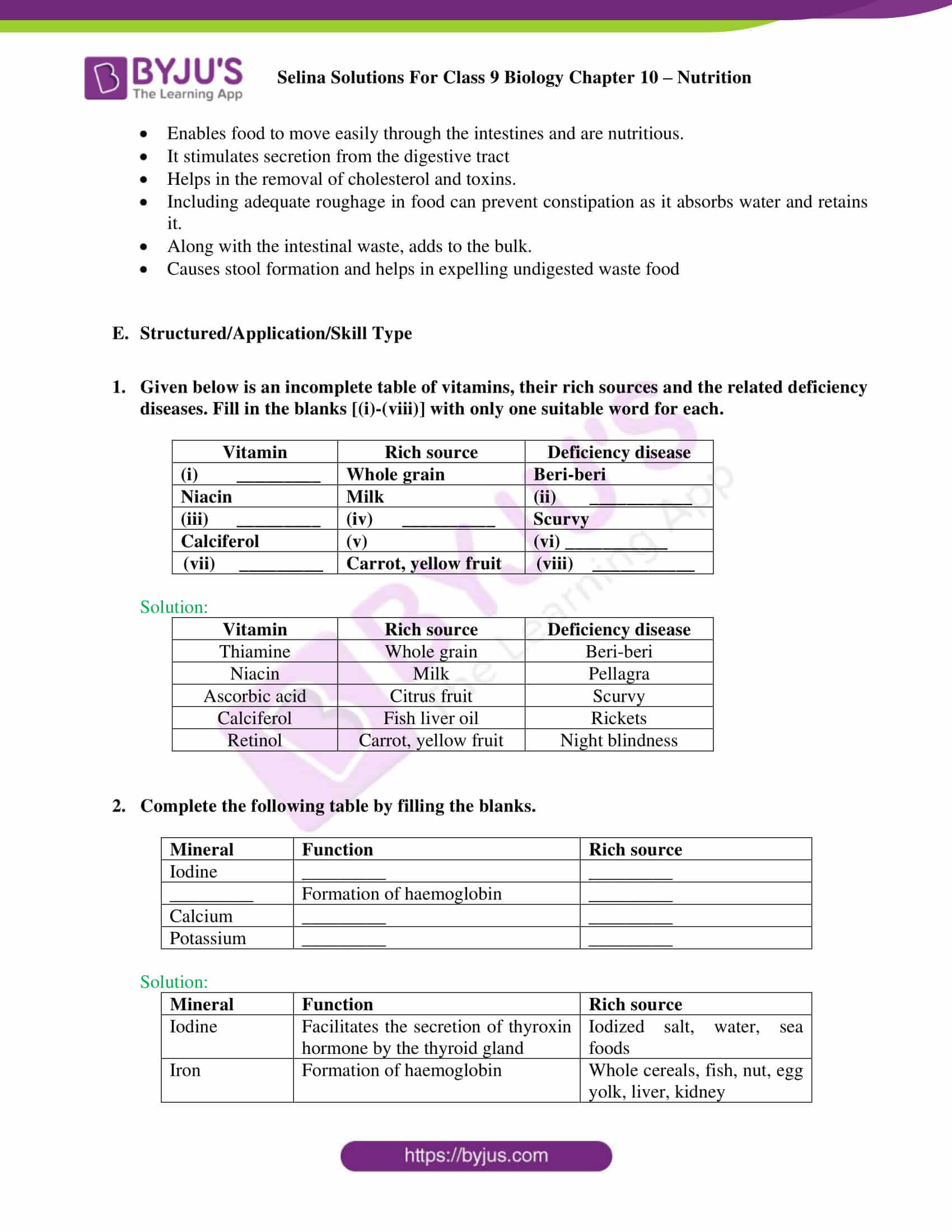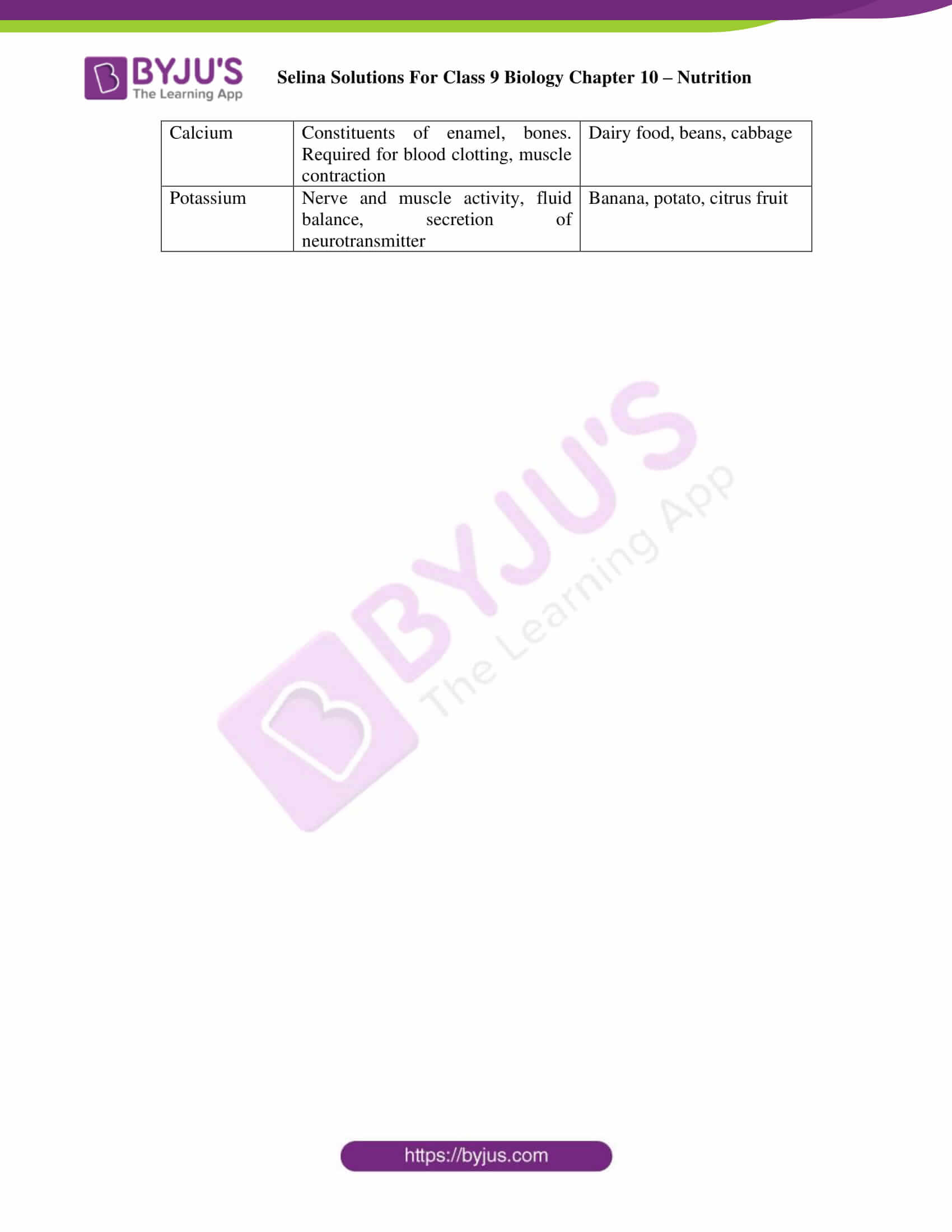 Selina Solutions for class 9 Biology Chapter 10 – Nutrition
ICSE Class 9 Biology Chapter 10 – Nutrition chapter is classified under Unit – V – Human anatomy and physiology. The unit provides insights into the general roadmap to the body. Human anatomy is the study of the body's structures. Few of these body structures are very tiny, microscopic hence requires careful analysis. Some other structures are large enough to be examined.
Human Physiology deals with different parts of the body and their functioning hence deducing the working mechanisms of different parts.
The unit, in particular, covers the essentials of nutrition, the different classes of nutrition the diseases caused due to deficiencies of nutrients, balanced diet and its importance etc.
The different types of questions that are covered in this chapter are:
Multiple-choice questions
Fill in the missing blanks
Short answer type questions
Long answer type questions
Application/Structured type of questions
List of subtopics covered in Chapter 10 – Nutrition
| | |
| --- | --- |
| Number | Subtopic |
| 10.1 | Need Of Nutrition |
| 10.2 | Classes Of Nutrients |
| 10.3 | Balanced Diet |
List of Exercise
Name of the exercise
Number of questions
Question Type
Page number
Progress Check
3
short
101
Review questions
6
MCQ
102
7
short
102,103
5
long
103
Selina Solutions for class 9 Biology Chapter 10 – Nutrition
The chapter gives a brief into the term "nutrition" and its importance. The six classes of nutrition, namely – carbohydrates, fats, proteins, mineral salts, vitamins, water etc are discussed in detail along with examples. A summary of vitamins their sources, functions and the corresponding deficiency diseases are also outlined.
An overall view of the role of nutrients in our body along with a balanced diet menu for an adult performing moderate physical work, calorie requirement of different people, balanced diet and its importance is also presented.
Key Features of Selina Solutions for class 9 Biology Chapter 10 – Nutrition
Selina solution is a free tool that is quickly accessible
The language used for solution making is logical and easy.
Solutions are expressed to the point
Solutions are in accordance with the data presented in the textbook
Neatly labelled diagrams are used to explain concepts
Use of tabular columns wherever necessary
Use of pointers