Flashcards for NEET Chemistry are designed to boost your NEET preparation. Find below flashcards for the chapter "The p-Block Elements ". These flashcards are prepared as per the NEET syllabus. These are helpful for aspirants of NEET and other exams during last-minute revision. It covers all the important points that are frequently asked in the exam. Check BYJU'S for the full set of Flashcards and Study material for NEET Chemistry.
| | | |
| --- | --- | --- |
| Name of the NEET Sub-section | Topic | Flashcards Helpful for |
| Chemistry | The p-Block Elements | NEET Exams |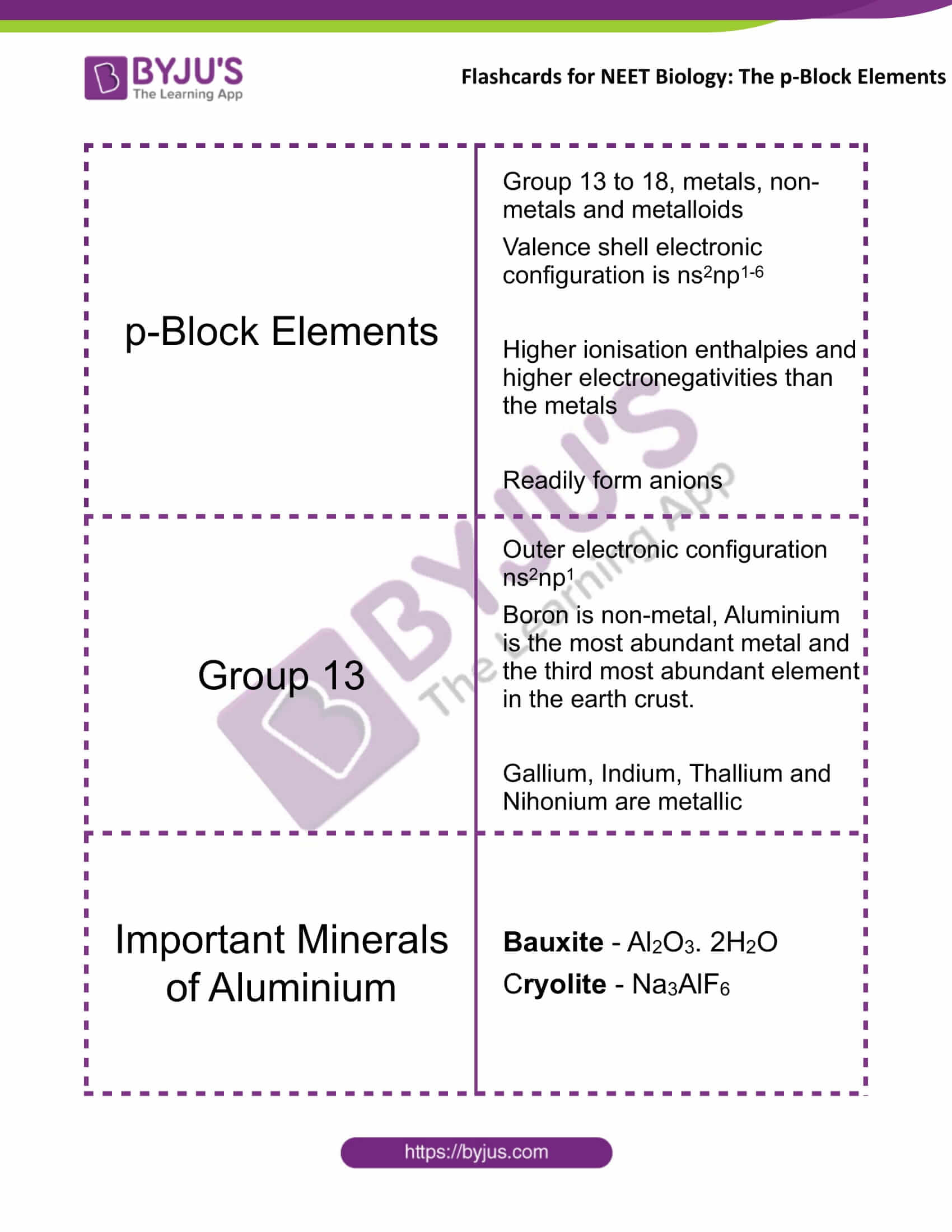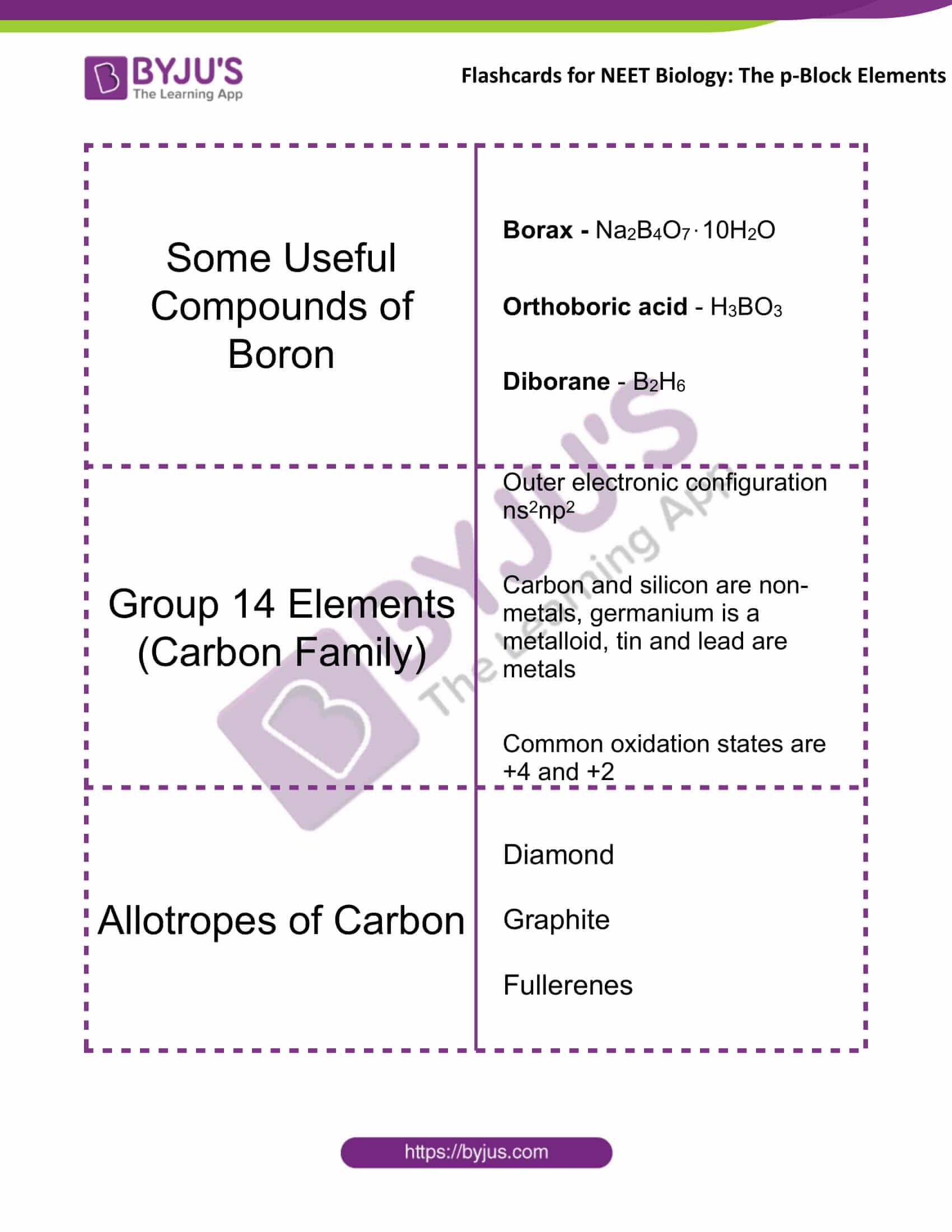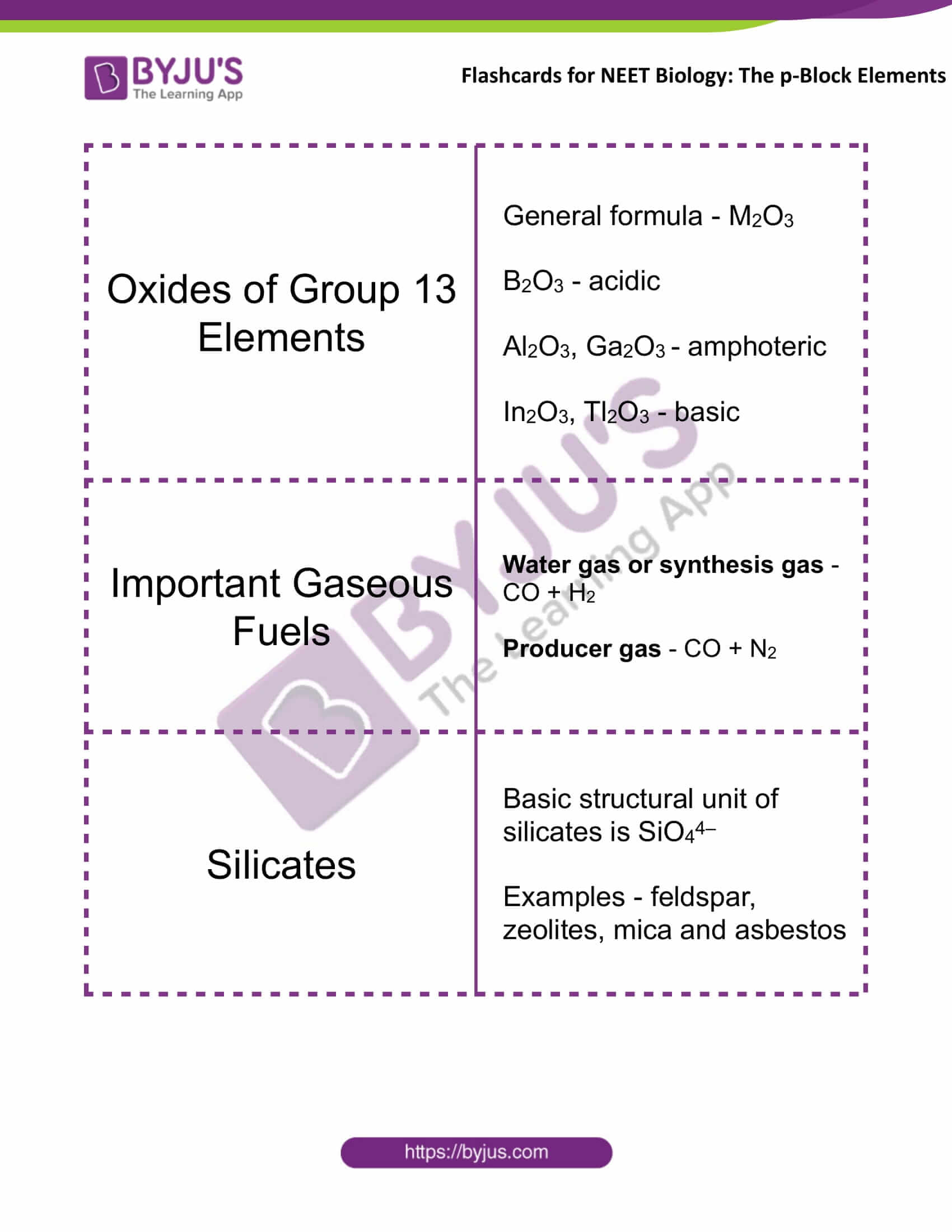 The p-Block Elements
p-Block Elements
Group 13 to 18, metals, non-metals and metalloids

Valence shell electronic configuration is ns2np1-6

Higher ionisation enthalpies and higher electronegativities than the metals

Readily form anions

Group 13
Outer electronic configuration ns2np1

Boron is non-metal, Aluminium is the most abundant metal and the third most abundant element in the earth crust.

Gallium, Indium, Thallium and Nihonium are metallic

Important Minerals of Aluminium
Bauxite – Al2O3. 2H2O

Cryolite – Na3AlF6

Some Useful Compounds of Boron
Borax – Na2B4O7⋅10H2O

Orthoboric acid – H3BO3

Diborane – B2H6

Group 14 Elements

(Carbon Family)

Outer electronic configuration ns2np2

Carbon and silicon are non-metals, germanium is a metalloid, tin and lead are metals

Common oxidation states are +4 and +2

Allotropes of Carbon
Diamond

Graphite

Fullerenes

Oxides of Group 13 Elements
General formula – M2O3

B2O3– acidic

Al2O3, Ga2O3 – amphoteric

In2O3, Tl2O3 – basic

Important Gaseous Fuels
Water gas or synthesis gas – CO + H2

Producer gas – CO + N2

Silicates
Basic structural unit of silicates is SiO34–

Examples – feldspar, zeolites, mica and asbestos
Get access to the full set of flashcards for NEET Chemistry, only at BYJU'S.
Recommended Video: