Flashcards for NEET Chemistry are designed to boost your NEET preparation. Find below flashcards for the chapter "General Principles and Processes of Isolation of Elements". These flashcards are prepared as per the NEET syllabus. These are helpful for aspirants of NEET and other exams, during last-minute revision. It covers all the important points that are frequently asked in the exam. Check BYJU'S for the full set of Flashcards and Study material for NEET Chemistry.
| | | |
| --- | --- | --- |
| Name of the NEET Sub-section | Topic | Flashcards Helpful for |
| Chemistry | General Principles and Processes of Isolation of Elements | NEET Exams |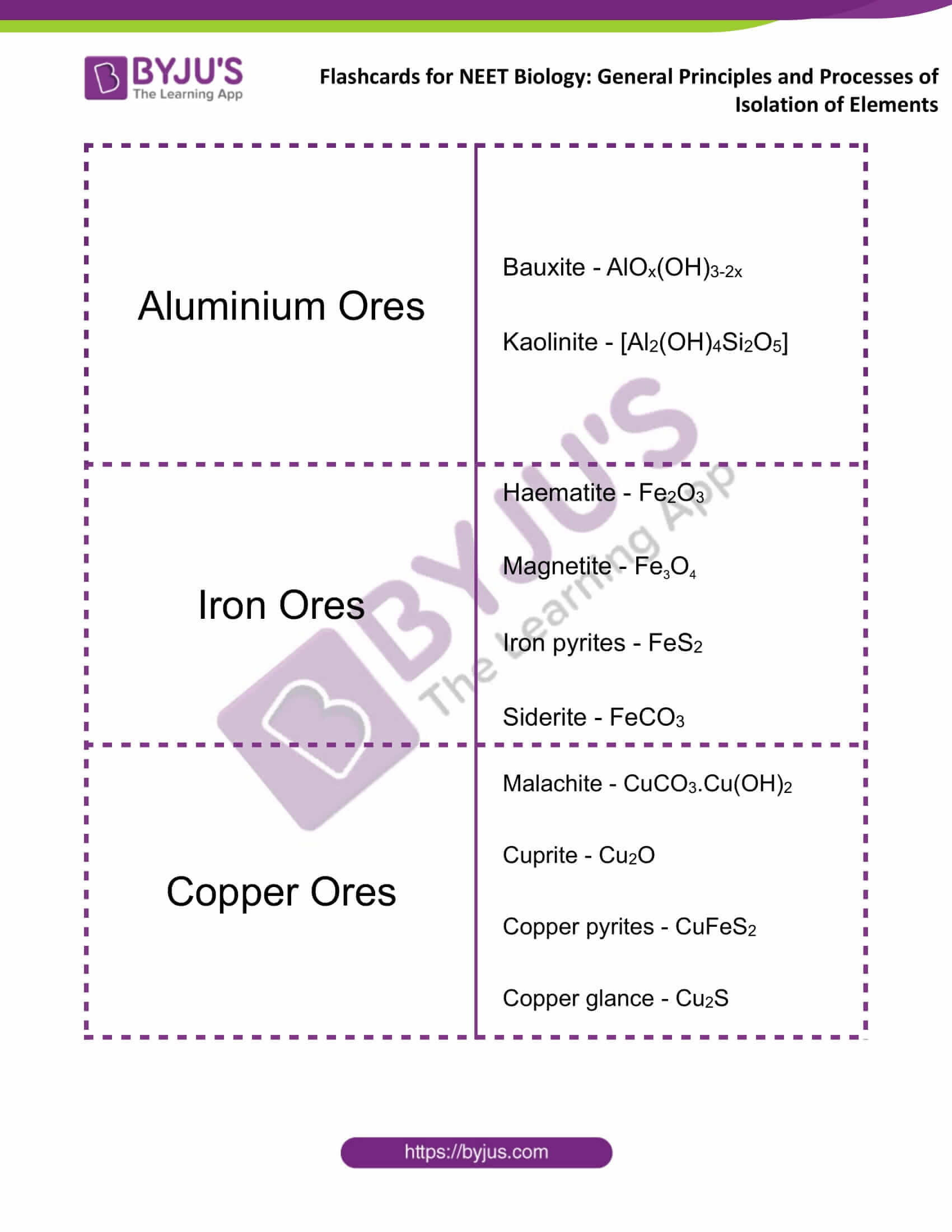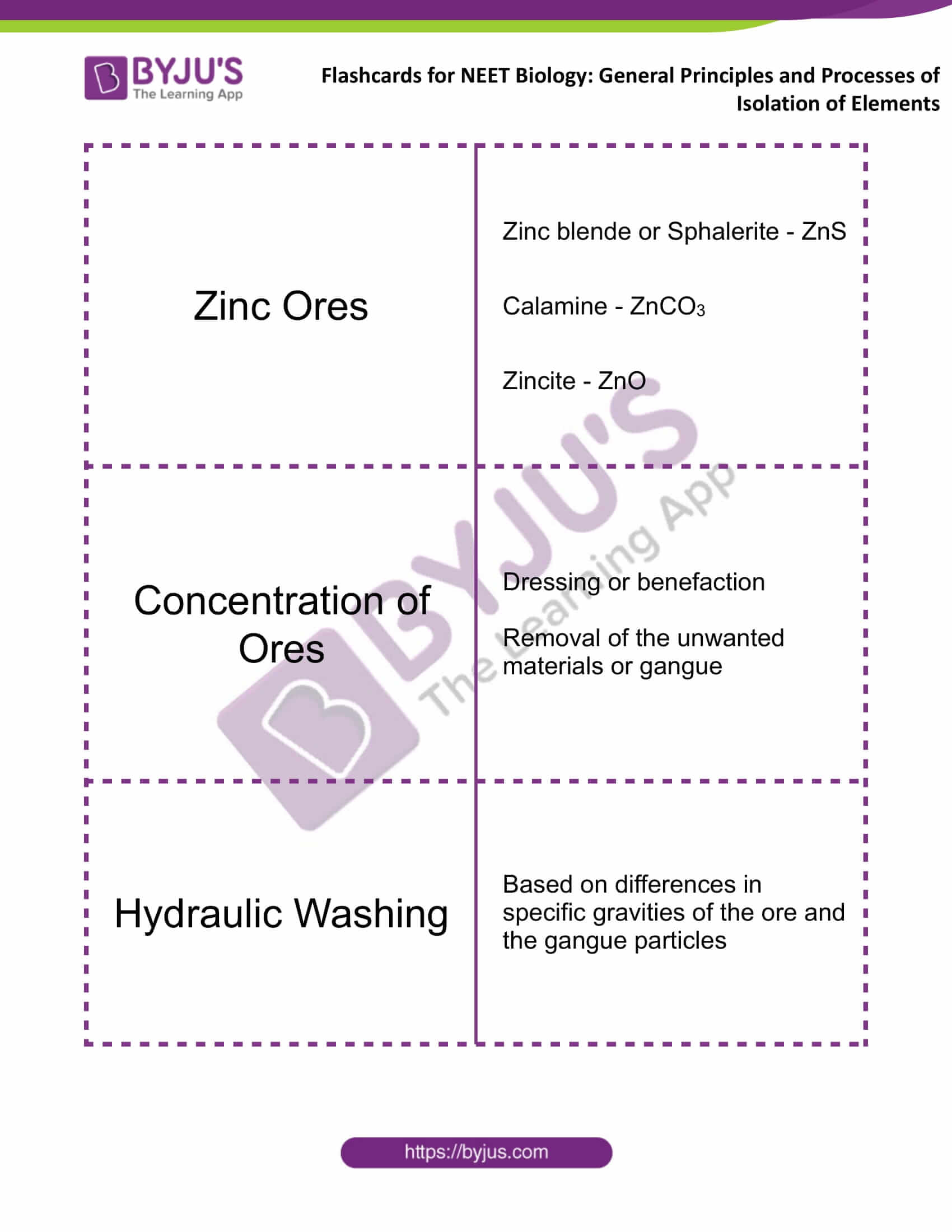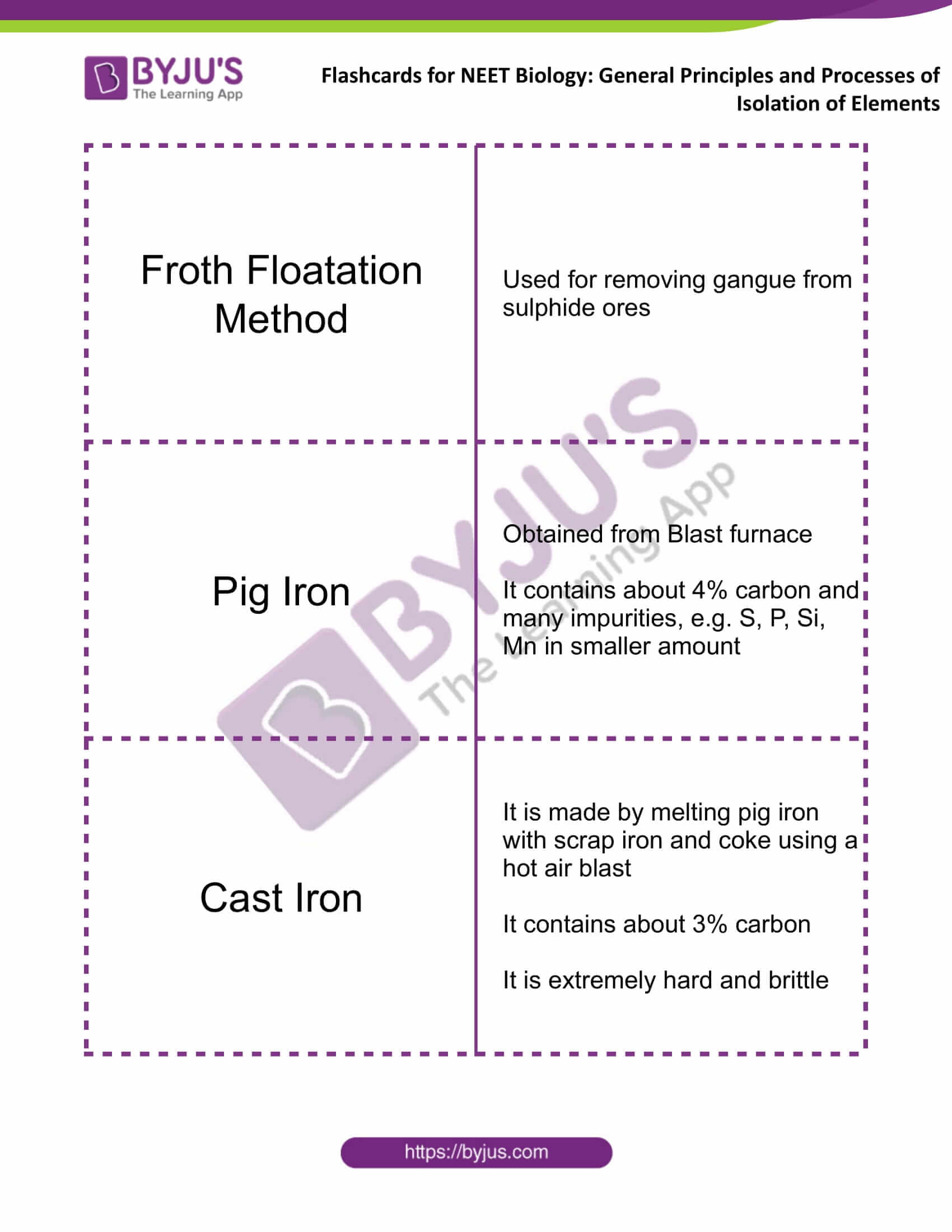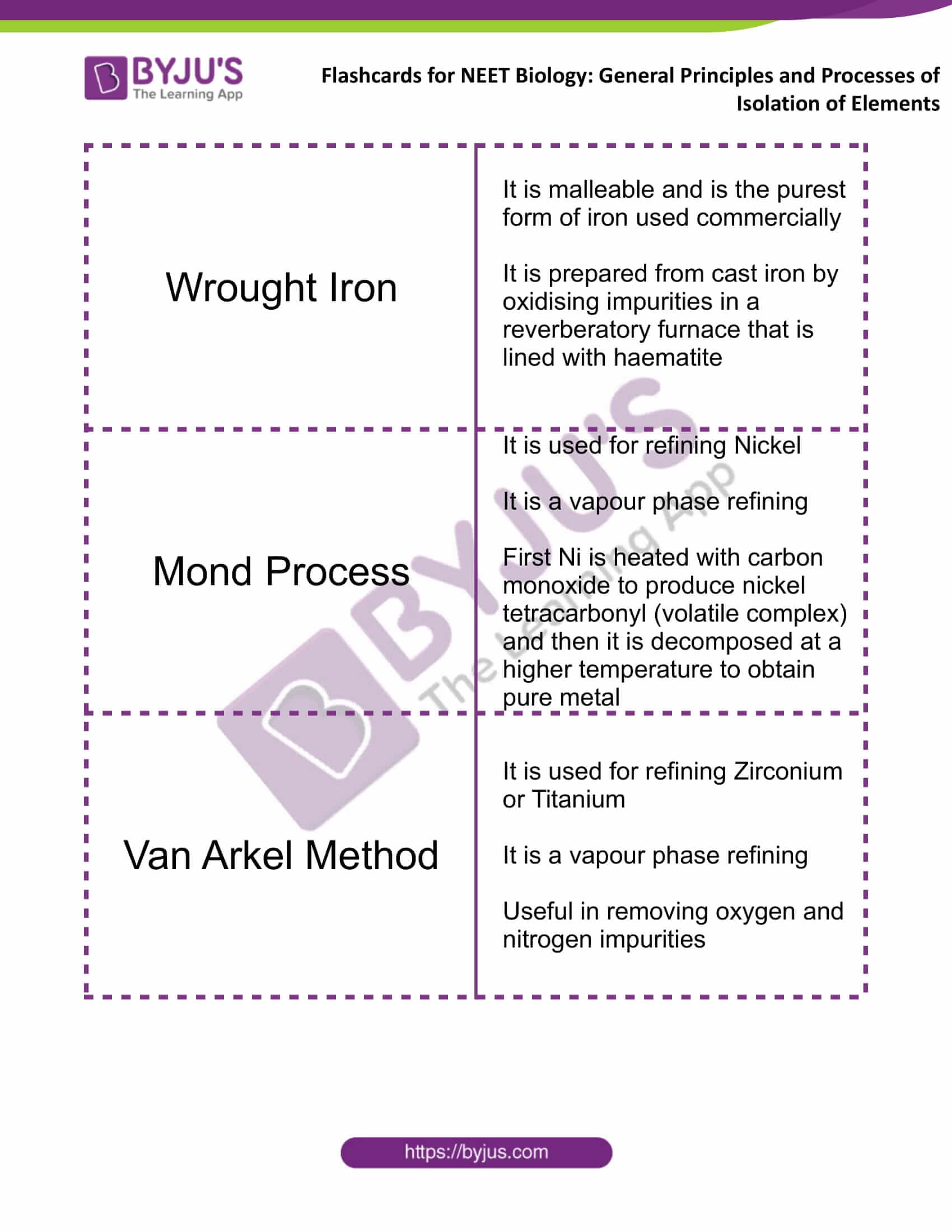 General Principles and Processes of Isolation of Elements

Aluminium Ores

Bauxite – AlOx(OH)3-2x

Kaolinite – [Al2(OH)4Si2O5]

Iron Ores

Haematite – Fe2O3

Magnetite – Fe3O4

Iron pyrites – FeS2

Siderite – FeCO3

Copper Ores

Malachite – CuCO3.Cu(OH)2

Cuprite – Cu2O

Copper pyrites – CuFeS2

Copper glance – Cu2S

Zinc Ores

Zinc blende or Sphalerite – ZnS

Calamine – ZnCO3

Zincite – ZnO

Concentration of Ores

Dressing or benefaction

Removal of the unwanted materials or gangue

Hydraulic Washing

Based on differences in specific gravities of the ore and the gangue particles

Froth Floatation

Method

Used for removing gangue from sulphide ores

Pig Iron

Obtained from Blast furnace

It contains about 4% carbon and many impurities, e.g. S, P, Si, Mn in a smaller amount

Cast Iron

It is made by melting pig iron with scrap iron and coke using a hot air blast

It contains about 3% carbon

It is extremely hard and brittle

Wrought Iron

It is malleable and is the purest form of iron used commercially

It is prepared from cast iron by oxidising impurities in a reverberatory furnace that is lined with haematite

Mond Process

It is used for refining Nickel

It is a vapour phase refining

First Ni is heated with carbon monoxide to produce nickel tetracarbonyl (volatile complex) and then it is decomposed at a higher temperature to obtain pure metal

Van Arkel Method

It is used for refining Zirconium or Titanium

It is a vapour phase refining

Useful in removing oxygen and nitrogen impurities
Get access to the full set of flashcards for NEET Chemistry, only at BYJU'S.