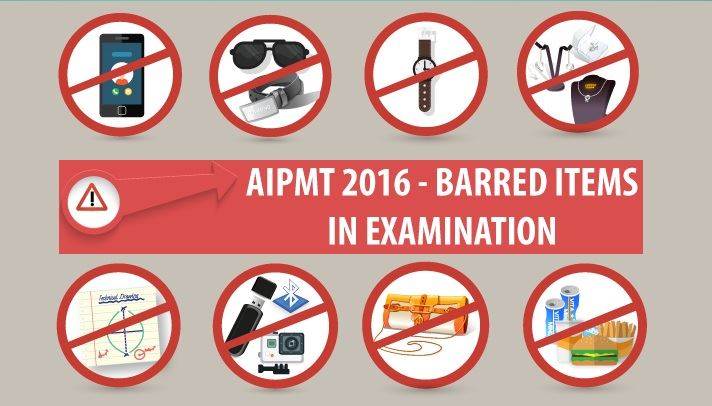 AIPMT (All India Pre-Medical Test) is scheduled on May 1, 2016 (Sunday). CBSE (Central Board of Secondary Education) has released a notification of all the items that should not be carried inside the AIPMT examination centres.
The candidates are suggested to go thoroughly through the list of restricted items for AIPMT 2016, to avoid any problems at the AIPMT examination centres. The AIPMT Admit Card is available for download on the official AIPMT website aipmt.nic.in
AIPMT 2016 – List of Barred items in the Examination Hall
The candidates are not permitted to carry any printed or written textual material inside the examination Hall. Stationeries like Geometry box, calculator, pens, pencils, erasers, scales, etc.
Medical aspirants must not carry any electronic devices like mobile phones, pen drives, Bluetooth devices, earphones/headphones, health bands, etc. If any candidate is found possessing any of these devices, the candidate gets disqualified.
Carrying of accessories like goggles, handbag, belt, scarf, cap etc. is not allowed into the examination hall.
Ornaments like earrings, bracelets, rings, pendants, brooch, badge and nose pins have been restricted as these could be used as a carrier for electronic chips.
Candidates are barred from bringing in, any metallic devices like a wrist watch, belts and button cameras.
Edible items are allowed only if it is sealed and packed/closed water bottle.
Electronic items like camera, Bluetooth devices which can be used for unfair communication are banned from AIPMT 2016 examination hall.
The candidates must note that AIPMT examination centres have no arrangements for keeping the items/devices belonging to the candidates. Hence, medical aspirants are strictly advised not to carry anything to the examination centre.
If in any case, a student is found in possession of any of these restricted items in the AIPMT examination centre, it will be considered as use of unfair means and relevant actions will be taken against them according to the provisions.
AIPMT 2016 – Dress code
CBSE has instructed the MBBS and BDS aspirants to follow a strict dress code while appearing for AIPMT 2016
Candidates should wear light coloured clothes with half sleeves either with salwar or trouser.
There should be no accessories like huge buttons, badge, brooch etc.
Only slippers are allowed to be worn and not shoes.
A quintessential part of AIPMT preparation involves solving sample papers and taking mock tests. Learn the cool tricks of AIPMT Preparation Tips and AIPMT Revision Tips from the experts at BYJU'S who will help you ace AIPMT 2016 with ease.