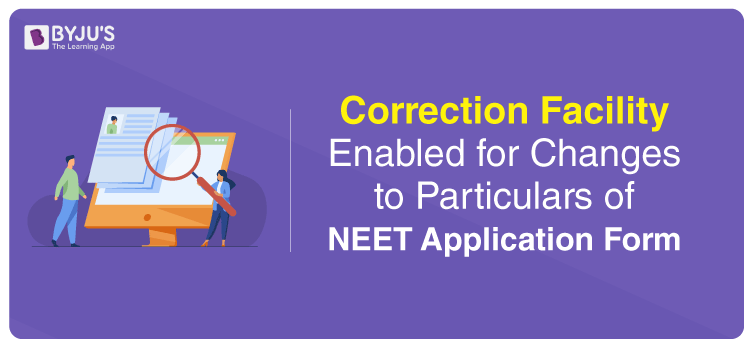 In its official notification released on 23rd September 2020, the NTA (National Testing Agency) stated the re-opening of the portal for corrections (if any) to particulars on the NEET UG 2020 Application form.
NEET 2020 which was concluded recently on 13th September 2020, witnessed the participation of more than 15 lakh students. Considering the inconvenience caused to participants of NEET 2020 in altering certain entries of the NEET Online Application form, the officials have once again provided an option to alter certain details. This is in the wake of COVID-19 Pandemic.
Changes to only these fields of the Online Application form is enabled:
Father's Name
Mother's Name
Nationality
Category
Gender
State Code of Eligibility
Person with Disability
Modifications (if any) to these particulars of the form is enabled on the official website of NEET, ntaneet.nic.in from 23rd September 2020 to 30th September 2020 only.
Consequently, all candidates are suggested to verify the same by visiting the official website and make changes where ever required to the mentioned fields only.
Time of acceptance:
Corrections to particulars in the form shall be accepted up till 5 pm only
Fee submission (if applicable) shall be accepted up till 11:50 pm only
The notification further stated that if the applicable surplus fee is due as a result of changes made, the additional fee transaction can be carried out via Debit/Credit Card, UPI/Net Banking and PAYTM modes. In such an event, the final updates in the application form shall be indicated once the payment is carried out.
Changes to the form via application/fax/emails or any such more shall not be accepted. It is therefore recommended to take on the correction facility provided cautiously as it is the last such opportunity for NEET-UG 2020 candidates.
In addition, those candidates who have sent out emails earlier for any corrections are required to check their updated forms for it may or may not have been considered. Such candidates are requested to verify the forms once again.
Lastly, candidates and parents are urged to regularly visit the official website of NEET for the latest updates.
For any further assistance on NEET 2020, you can reach out via the following contact details:
9650173668
8700028512
8178359845
9599676953
8882356803
Visit us at BYJU'S NEET for the latest updates on NEET.
Also see: NEET Notifications