NEET (National Eligibility cum Entrance Test) is conducted by the NTA (National Testing Agency). It is a single-level entrance exam for medical aspirants seeking admissions to medical/dental colleges across the country. Every year, the exam sees a sharp rise in the number of students applying and subsequently appearing for the exams.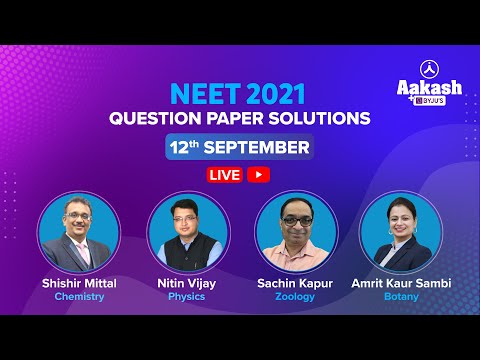 When an exam is carried out on such a colossal scale, it is imperative to expect and receive co-ordination from the students taking up the exam for smooth conduction. For this, the NTA has released certain instructions under the NEET Exam Day Guidelines section, which renders all the required information right from the documents to be carried along, the stern dress code, the barred items in the exam hall and much more. These standard guidelines will ensure uniformity and hence avoid any sort of confusion amongst students.
The NTA specifies certain do's and don'ts under the NEET exam day guidelines clause, which must be strictly followed. It also serves in assisting students with a detailed set of instructions to be followed in the exam hall to avoid any disruption.
Exam day guidelines for NEET exams cover the following important aspects:
Timeline – glance through a sequence of events and their timings on exam day
Exam pattern & marking scheme
Dress code
Barred items
Exam day instructions
Highlights
NEET Exam Day Guidelines – Timeline
Candidates must be well aware of the exact set of events occurring on the exam day before the exam day actually arrives. This helps students align with the instructions accordingly, avoiding any confusion on exam day. It is suggested to be present at the exam venue at least 45 minutes before the exam commences.
Look at the table below for details:
| | |
| --- | --- |
| Event | Corresponding Date and Time |
| NEET 2023 Exam date | May 7, 2023 |
| NEET 2023 Exam timing | 02.00 pm to 05.20 pm  |
| NEET 2023 Exam Duration |  3 hours 20 minutes |
| Occupying seats in the exam hall by | 1:15 pm onwards |
| Last entry time to the exam hall | 1:30 pm |
| Invigilator verifies admit cards and makes important announcements | 1:30 pm to 1:45 pm |
| Distribution of exam booklets | 1:45 pm |
| Candidates fill out particulars in the booklet | 1:50 pm – 2 pm |
| Commencement of exams | 2 pm |
| Conclusion of exams | 5.20 pm |
NEET Marking Scheme & Exam Pattern
NEET 2023 Highlights
Number of Questions
200 MCQs out of which 180 MCQs must be answered
Total marks
720 marks
Exam Mode
Offline mode only (pen and paper-based mode)
Type of questions
Objective type questions with 4 options having 1 correct option
Duration of Exam
The exam duration is 200 minutes (3 hours 20 minutes)
Subjects
Questions are asked from Physics, Chemistry, and Biology (Botany & Zoology)
Language
The question paper is asked in 13 languages – English, Hindi, Assamese, Bengali, Gujarati, Malayalam, Kannada, Marathi, Odia, Tamil, Telugu, Urdu and Punjabi
Marking Scheme
4 marks are awarded for each correct answer.
Negative Marking
1 mark is deducted for each wrong answer
NEET Exam Day Guidelines – Dress Code
NEET 2019 witnessed a staggering 15 lakh odd aspirants taking up the exam, whereas NEET 2020 registered close to 15.97 lakh applications, NEET 2021 recorded close to 16.14 lakh registrations. Registrations for NEET 2023, too are expected to be over 16 lakhs.
With limited seats and cut-throat competition to seek admissions, some recourse to illegitimate means for clearing exams. To subdue such activities, the NTA specifies a solid set of instructions under the NEET dress code. Candidates taking up the exam are expected to strictly adhere to the rules, failing which may lead to serious repercussions.
NEET Dress code for males:
Full-sleeves shirts/T-shirts are not permitted
Clothes should not have pockets, zips, big buttons, layers etc.
Try to wear simple pants/shirts
Kurtas and pyjamas should be avoided
Avoid layering your clothing
You can opt for light slippers/sandals
Footwear should be simple. Boots, shoes or any concealing/covered footwear are not permitted
NEET Dress code for females:
Keep it simple. Avoid embroidery, frills, layering with different pieces
Wear half-sleeved Kurtis/shirts
Long and fancy sleeves of any design are not allowed
Avoid all jewellery both metallic and non-metallic
Opt for slippers or open sandals
Fancy footwear is not permitted in the exam hall. Avoid boots, heels, stilettos, shoes
Aspirants who cannot follow these rules due to religious commitments are expected to mention the same while filling out the NEET application form, under the option "Customary dress". Such candidates are required to report at least one hour prior to getting through proper security and frisking procedures.
NEET Exam Day Guidelines – Barred Items
Candidates are forbidden from carrying these set of items on the exam day in the hall
Stationery items such as pencils/pens, geometry/pencil box, erasers, sharpeners, pouches, calculators, writing pad, textual material, log table etc. are not permitted
Mobile devices, pen drives, scanners, electronic pens, Bluetooth, earphones, microphones, pager, health bands and related accessories are not authorized.
Goggles, handbags, wallet, belt, cap, watch/wristwatch, camera, bracelet etc., is not permitted
Eatables – open or packed, water bottles etc. are not allowed
Please note the exam centre does not take responsibility for any of your belongings.
NEET Exam Day Guidelines – Exam Hall Instructions
Assemble in your exam room by 1 pm
Nothing aside from the NEET Admit card and a photograph will be allowed inside
Candidates' impressions of the finger will be taken on the attendance sheet
15-minutes before the exam commences, candidates will be rendered with the booklet to fill particulars
Invigilators, for the convenience of students, will announce timings at:

The beginning
Half-time
Towards the end of the exam

Candidates will be asked to sign the answer sheet twice – first at the beginning and then after the exam concludes
Invigilator provides candidates with a ballpoint pen
Around 5 minutes are provided to the candidates to unseal the booklet, check the number of pages
Ensure the same code is mentioned in the test booklet as the answer sheet enclosed in the test booklet
Both sides of the OMR answer sheet must be filled
Before leaving the exam hall, submit the OMR sheet to the invigilator. It is mandatory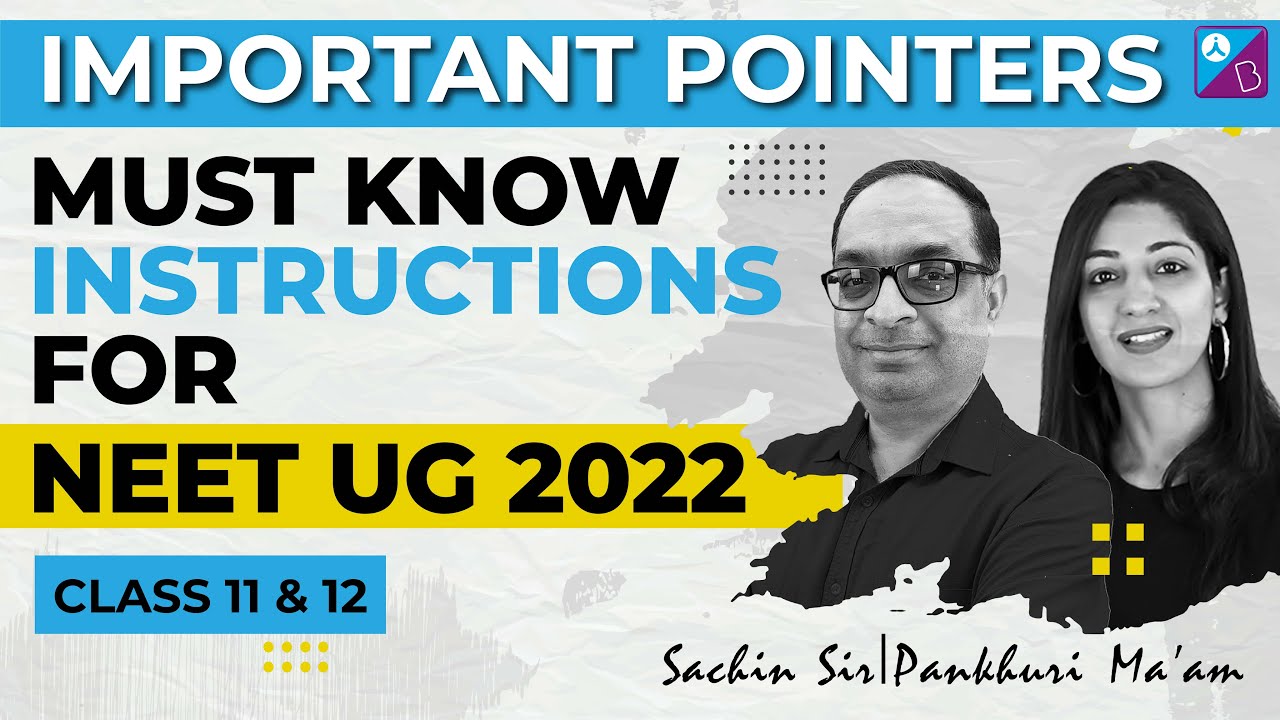 NEET Exam Day Guidelines – Highlights
Candidates must carry these documents to the exam centre:

NEET Admit Card
Passport size photo (same as the uploaded on NEET Application form)
Credible ID proof
PwD certificate (on whomever applicable)

Candidates must enter the exam hall by 1:30 pm which is the last reporting time. After 1:30 pm, candidates will not be allowed
Each candidate will be provided with a seat and roll number. Candidates must locate their seats and occupy them
It is suggested to maintain a firm, upright body posture and face the camera when it approaches as candidates will be video recorded
Care must be taken not to possess any of the barred items stated on this page, either intentionally or unintentionally
It is advised not to carry any additional items as the exam centre does not take charge of any of your belongings
Ensure the test booklet comprises the same number of pages as stated on the cover of the booklet
Any eatable/beverage is not allowed in the hall. However, candidates with a genuine medical condition will be allowed after supervision
Candidates cannot leave the exam hall before the conclusion of exams. Before leaving, the OMR sheet must be submitted to the invigilator.
Visit BYJU'S NEET section for more on NEET exams.
Further Reading: