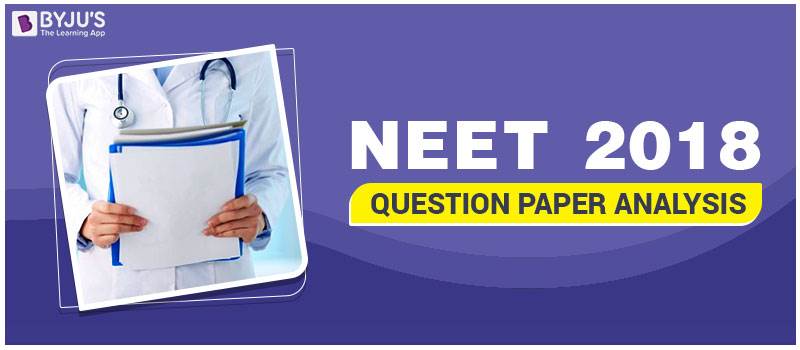 NEET 2018 Question paper Analysis – The Central Board of Secondary Education (CBSE) conducted NEET 2018 offline exam (Pen and Paper-based test) on Sunday 6th of May 2018. This year, approximately 1.34 million students appeared for this exam. NEET score is a qualifying factor for students aspiring for admissions in government and private medical institutes in India. Before starting NEET 2019 preparations, the students are advised to get well versed with NEET 2018 examination pattern. The paper was designed by CBSE in English, Urdu, Hindu, and 9 regional languages in 12 different codes, namely, WW, XX, YY, ZZ, AA, BB, CC, DD, PP, QQ, RR, SS, EE, FF, GG, HH, KK, LL, MM, NN.
Understanding NEET exam pattern can help the students to get an insight of question pattern, marks distribution, exam duration, marking scheme and more. In NEET 2018, there were a total of 180 questions barring 4 marks each. Physics and Chemistry had 45 questions and 90 questions were from Biology (45 questions each from botany and zoology). 4 marks were awarded for every correct answer and 1 mark was deducted for every incorrect option being marked. However, no marks were deducted for questions left unanswered. All the questions were single correct answer type multiple choice objective type questions. Soon after the examination NEET question paper, 2018 answer keys were made available on the website.
The detailed analysis of NEET 2018 question paper is discussed below.
NEET Exam Pattern 2018

Total Questions
180 questions, 4 marks each
Exam Mode
Offline (pen and paper-based Test)
Type of questions
Multiple choice objective type questions
Duration of Exam
The exam duration is 180 minutes (3 hours)
Subjects
Physics, Chemistry, Botany and Zoology
Language of paper
English, Bengali, Hindi, Telugu, Tamil, Marathi, Assamese and Gujarati.
Marking Scheme
+4 marks for every correct answer.
Negative Marking
-1 mark for every wrong answer
NEET Exam Pattern Subject Wise Distribution

Subject
Number of Questions
Marks
Physics
45 Questions
180 Marks
Chemistry
45 Questions
180 Marks
Zoology
45 Questions
180 Marks
Botany
45 Questions
180 Marks
Total
180 Questions
720 Marks