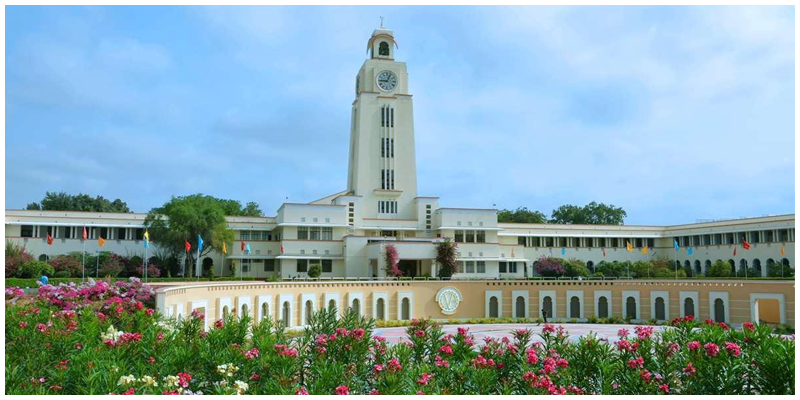 Established in 1956 BITS Pilani has set a landmark for private engineering colleges in India. Initially, BITS Pilani was a regional engineering college which transformed into a national level institute later because of the financial support from G.D Birla.
The motto of BITS Pilani is "jñānaṁ paramaṁ balam" which means "Knowledge is the supreme power." Presently BITS has campuses in Pilani, Hyderabad, Goa and Dubai.
Overview Of BITS
Campus
The area of the campus including the Birla Education Trust is around 990 acres. Though the area developed for engineering college is much lesser.
The campus is beautiful with a temple of Saraswati called "Birla Mandir" which lights up during the night.
The BITS Pilani campus also has India's first technological museum known as "Birla Museum" which showcases technological achievements. An auditorium, decorated with paintings by students from the department of art and decoration is also a part of the campus.
In addition to this BITS Pilani has eleven hostels for men and one for women. The hostels are named after saints, historical and religious figures. Males and females have separate dining areas. Students may also dine at the Institute Canteen, the All-Night Canteen, and the Student Activity Centre cafeteria.
Ranking
Bits Pilani ranks in top 5 colleges according to India Today, Outlook, NAAC and most other surveys that included government and private colleges.
Fests
There are many extracurricular activities and fests held in BITS Pilani all-round the year. Here are the major ones:
Apogee: APOGEE, i.e., "A Professions Oriented Gathering over Educational Experience" is the annual technical festival, held in BITS Pilani. The event witnesses more than 2,000 participants in workshops, project displays, paper presentations, online events and guest lectures.
Oasis: Oasis is a cultural festival conducted annually in BITS Pilani. More than 200 colleges take part in Oasis every year. Events include music, drama, dance, stage and fashion shows and treasure hunts. Professional shows involve singers and bands.
Eligibility
The candidate must have obtained an aggregate of 75% in Physics, Chemistry and Maths or Biology (whichever subject they appear for in BITSAT)  and should have passed with a minimum of 60% in Physics, Chemistry, and Maths/Biology. For the admissions taking place in 2016, the candidates that have passed 12th or any equivalent examination in 2014 are not eligible.
Branches And Cut-off
To be able to enrol in BITS Pilani candidates have to appear in BIT-SAT which is a merit-based computerized competitive examination.
| | |
| --- | --- |
| Degree Programme at Pilani Campus | Expected Cut-off BITSAT score |
| B.E.(Hons.): Chemical | 309 |
| B.E.(Hons.): Civil | 308 |
| B.E.(Hons.): Electrical & Electronics | 343 |
| B.E.(Hons.): Mechanical | 337 |
| B.E.(Hons.): Manufacturing | 300 |
| B.Pharm.(Hons.) | 266 |
| B.E.(Hons.): Computer Science | 354 |
| B.E.(Hons.): Electronics & Instrumentation | 332 |
| M.Sc.(Hons.): Biological Sciences | 284 |
| M.Sc.(Hons.): Chemistry | 295 |
| M.Sc.(Hons.): Economics | 308 |
| M.Sc.(Hons.): Mathematics | 304 |
| M.Sc.(Hons.): Physics | 303 |
Placements
The placements at BITS Pilani are as good as and sometimes better than some of the IIT and NIT. The average CTC is only 7.5 LPA whereas the highest usually goes up to 23 LPA and more. In the last couple of years, a few students have also managed to secure 1.4 and 1.44 crores per annum package from Google and Facebook respectively.