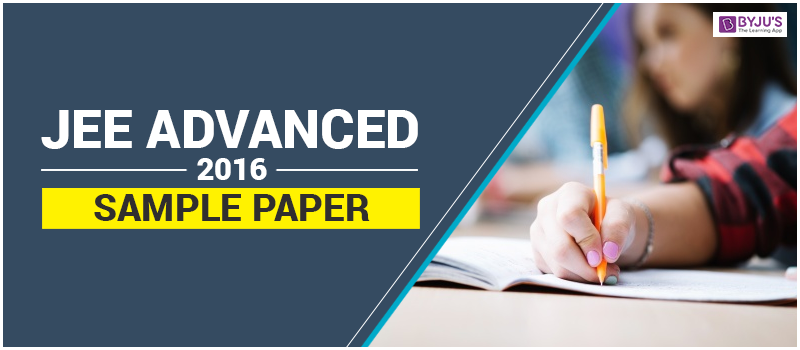 JEE is conducted in 2 phases i.e. Mains and Advanced. JEE Mains is conducted by CBSE and the top 2,24,000 students from JEE Mains are eligible to appear for the 2nd phase of the examination. JEE Advanced is one of the toughest competitive exam conducted by IITs on a rotation basis. Based on JEE Advanced ranks the students can opt for admissions into various IITs and ISM Dhanbad on the basis of ranks obtained in JEE Advanced.
Download JEE Advanced 2016 Sample Papers, Answer keys and Solutions by clicking the below mentioned links:
Advantages Of Solving JEE Advanced Sample Papers
Many IIT aspirants preparing for JEE Advanced should practice several sample papers before the main exam. Practising from sample papers have a multitude of advantages:
Gives an Idea about exam pattern: By solving sample papers, the students will be familiarized with the exam pattern which will Prepare them well for highly uncertain exams like IIT JEE.
Helps you to improve speed and accuracy: Solving sample papers will enable you to improve your speed and accuracy. Proper management of time is very important along with good speed and accuracy.
Helps you to solve the paper within the window of 3 hours: Solving sample papers helps you to manage your time well. Since the exam lasts only for 3 hours, effectively using that 180 minutes is very important.
You can analyze your strengths and weakness: By solving sample papers, it's easy to know which topics you are good at and what all topics need more focus.
Gain confidence: Solving sample papers will help you to garner confidence. Taking these tests will help you to experience real-time examination.
You can analyze your preparation level: By solving sample papers, you can know the level of learning and also concentrate more on topics in which you are weak at.
BYJU'S is one of the pioneers of video learning in India and we can help you to understand all the concepts with ease. Download BYJU'S the learning app to watch ample of videos related to JEE Mains and Advanced.

Frequently Asked Questions on JEE Advanced 2016 Sample Paper
Where can I get JEE Advanced sample question papers?
The sample papers for JEE Advanced can be easily accessed from the official website of the exam conducting authority. Students can further download these sample papers and solve them. This will enable them to practice efficiently and gain a better understanding of the concepts as well as the overall pattern of the exam, types of questions, and more. Students can also get a hold of the sample papers from different educational websites.
What type of questions are asked in JEE Advanced?
In JEE Advanced, there are questions which are multiple choice (objective) type, numerical and list match sets.
How many papers are there in JEE Advanced?
There are two papers – Paper I and II in JEE Advanced. It is mandatory for candidates to write both the exams and clear them to make it to the merit list.
Are there any repetition of questions in JEE Advanced paper?
Well, in JEE Advanced, the concepts may be repeated but the questions are not repeated at all. The exam authorities do not prefer to repeat the questions and they always prepare a new set of questions.
How many questions are asked in JEE Advanced paper?
JEE Advanced paper mostly consists of 54 questions in total where 18 questions are asked from each section of Physics, Chemistry and Mathematics. The paper carries a maximum marks of 186.