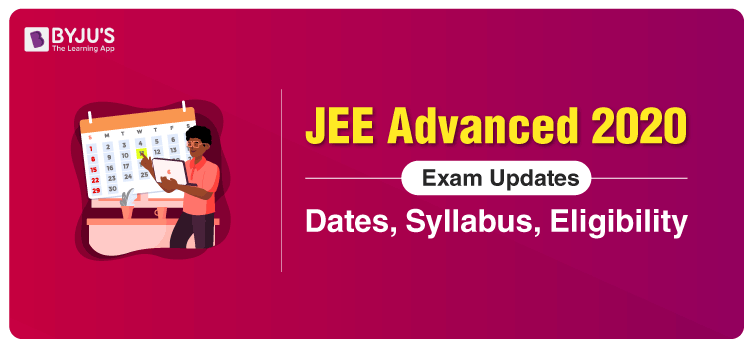 Amid the Coronovirus or Covid-19 outbreak and lockdown situation in the country uncertainty regarding the different level of exams is rampant among the students especially those who are appearing for entrance exams. While such is the scenario in the country, there has been a lot of information (sometimes fake) being circulated among the students. It has been the same with JEE Advanced. In recent reports, we heard that the JEE exam pattern and the syllabus could be changed. There were discussions about JEE syllabus being reduced amongst others.
However, this is not true and the official authorities have also confirmed the case. Here we will list out some of the recent updates regarding the JEE Advanced 2020.
JEE Advanced 2020 Changes
Syllabus and Exam Pattern
Firstly, the syllabus for the upcoming JEE Advanced 2020 will remain the same. No reduction in the syllabus has been announced by the exam authority.
As per the official notice it states, "In reference to a news report published in the media that JEE (Advanced) 2020 could see some changes in the examination pattern, IIT Delhi, the organising institute, would like to clarify that there are no plans to change the syllabus of the entrance examination."
Furthermore, IIT Delhi has stated that there will be no more discussion regarding this matter with the Joint Admission Board (JAB).
Admission Criteria
Next, we will talk about what has changed for JEE Advanced 2020. For this year, the Joint Admission Board (JAB) has decided to relax the admission criterion for the qualified candidates. Candidates who qualify JEE Advanced will now be eligible for admissions irrespective of marks obtained in the class 12th board exams.
Union HRD Minister Ramesh Pokhriyal "Nishank" also revealed in a series of tweets that this move was initiated due to the partial cancellation of class XII exams by several Boards. 
Earlier for seeking admissions in IITs, candidates had to secure either minimum score of 75 per cent marks in class 12 board exams or rank among the top 20 percentile in their qualifying examinations.
Exam Dates
In addition to this, the recent change in JEE Advanced 2020 has been the dates for the exam. The exam dates have been revised for the second time due to the Covid-19 situation in the country. As per the official notice, JEE (Advanced) 2020 has been scheduled to be held on Sunday, September 27, 2020.