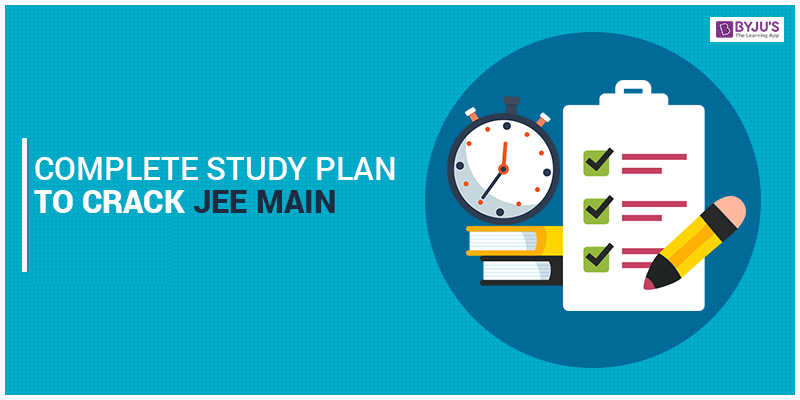 With JEE Main just around the corner, there are just a few days left for one of the most challenging and popular engineering entrance examinations in the country. Lakhs of candidates are set to appear for the Joint Entrance Exam in which we will see some of the brightest minds in the country pitted against each other in this fiercely competitive examination.
Cracking JEE Main is not an easy task. It sometimes requires months or even years of hard work and preparation. Most of the aspirants usually start their preparations at least a year ahead while some tend to start a month or two before the scheduled examination date. While everybody has their own strategy and study plans for exam preparation but they end up cracking under pressure or when anxiety kicks in.
If you're one of those who is coming under immense pressure due to depleting time for preparation, we have a complete study plan for you to prepare better for the JEE Mains exam. This will not only give you great tips but also increase your chances of cracking the examination.
The aim is to follow the study plan for as long as possible. While it's impossible to maintain such high levels of efficiency, at least 8 hours of study is possible in a day. Waking up early in the morning would be the preferred way to start the ritual and avoid late-night studies as it will only create havoc in your preparation. Utilize 7 days for revising and practising necessary drawings and charts and focus more on important class 12th topics as they feature majorly in the exam. Allot the remaining 3 days for relaxing so that any sort of anxiety could be avoided.
JEE 2022 Study Plan
Candidates can check the detailed IIT JEE 2022 study plan to prepare effectively and productively for the exam.
Date
Subject
Chapters for Revision
Formula Sheet
Chapter-wise Past year paper questions PDFs 
Solutions

30 Mar, 2022

Physics

Unit and Dimension, Kinematics, Laws of Motion

Download PDF

Download PDF

Download PDF

30 Mar, 2022

Chemistry

Some Basic Concepts in Chemistry

Atomic structure

Chemical bonding and molecular structure

Download PDF

Download PDF

Download PDF

30 Mar, 2022

Mathematics

Sets

Inequalities, Modulus and Logarithms

Quadratic Equation

Relations and Functions

Download PDF

Download PDF

Download PDF

31 Mar, 2022

Physics

Work, Energy and Power, System of Particles

Download PDF

Download PDF

Download PDF

31 Mar, 2022

Chemistry

Gaseous State

Equilibrium

Download PDF

Download PDF

Download PDF

31 Mar, 2022

Mathematics

Trigonometric Functions

Trigonometric Equations

Download PDF

Download PDF

Download PDF

1 Apr, 2022

Physics

Rotational Motion

Download PDF

Download PDF

Download PDF

1 Apr, 2022

Chemistry

Chemical Thermodynamics

Redox reactions

Download PDF

Download PDF

Download PDF

1 Apr, 2022

Mathematics

Sequence and Series

Binomial Theorem

Permutations and Combinations

Download PDF

Download PDF

Download PDF

2 Apr, 2022

Physics

JEE Main Part Test 1

(Syllabus: 30th march till 1st April)

2 Apr, 2022

Chemistry

2 Apr, 2022

Mathematics
Get the complete study plan and PDFs by visiting the link given below:
JEE Main Preparation Tips
In this section, we will look at some of the important JEE preparation tips that will help you study effectively and be well prepared to face the exam.
Use The Right Books
You should get hold of the books that are actually useful and add to your preparation. Normally, NCERT books are recommended by many but there are other good books to which you can refer and gain proper knowledge about certain concepts and topics. Click here to know the best books for IIT JEE.
Understand The JEE Main Exam Pattern
This is one of the first and most important tasks that you should do before the final exams. During your JEE Main preparation, you should find out about the exam pattern, understand it thoroughly and plan accordingly to achieve your desired result. Get detailed information about the JEE Main exam pattern by clicking the given link.
Know The Syllabus
It is wrong to completely ignore the syllabus. Knowing the JEE Main syllabus has a lot of benefits. By getting a complete overview of the syllabus you will gain valuable insights and information about important chapters and topics that you should focus on, the objectives of the authors and question setters and a lot of other meaningful details. This will also help you in developing a well-organized preparation strategy for JEE Main exam.
Solve JEE Main Question Papers
During your JEE Main preparation, you should also solve question papers whether they are sample papers or previous year papers. As you keep engaging yourself in solving question papers you will slowly get familiar with the question pattern, types of questions, duration of the exam, and marking scheme. You can access all the JEE Main question paper by following the given link.
Attempt Mock Tests To Get Familiar With The Real Exam Scenario
In addition to solving the question papers, you should practice often by taking mock tests in order to succeed in the exams. Mock tests will help you get familiar with the real exam scenario where JEE Main is usually conducted in computer-based mode. Further, mock tests will help you to significantly enhance your exam-taking and time management abilities. You can take the JEE Main mock test by visiting the link.
Subject-Wise Preparation Tips For JEE Main
When we talk about subject-wise preparation, we advise you to give proper time and attention to each, Physics, Chemistry and Mathematics.
Math
Math is one subject that requires both theoretical and problem-solving skills. You have to be efficient at both. You should first understand the theory completely and then apply it to solve various problems. The only way to master maths and develop better math fluency is by practising. You can get a comprehensive set of IIT JEE Maths Study Material by simply following the link.
Physics
Physics is another subject that requires a deep understanding of the concept and applying it in various scenarios (real-world) as well as in solving different mathematical problems. Develop a clear understanding of all the core concepts and try to avoid rote learning. You can get better at the subject by making use of the right IIT JEE Physics Study Material which we have already prepared for you.
Chemistry
Chemistry usually involves a lot of reactions, their mechanisms and equations. Furthermore, you should get familiar and be thorough with all the names, symbols and diagrams while learning chemistry for JEE. Normally, for this section, you can prepare well from the NCERT books. For other IIT JEE Chemistry Study materials, you can visit the given link.
General Preparation Tips For JEE Main
Below we have mentioned general preparation tips for JEE Main.
Spend more time on areas that you're weak in. To get a hold of the concept, practice regularly and stay updated.
Do not skip any topic that you feel is not up to your task or is unnecessary.
Make short notes of formulas, concepts, pointers and important chapters.
Self-evaluate regularly as per your comfort.
Have a positive mindset and stay motivated.
Stay healthy and fit both mentally and physically. Eat good food, rest well and remove any stress by engaging yourself in some fun activities.
Related Links
Related Videos
How tough Is JEE?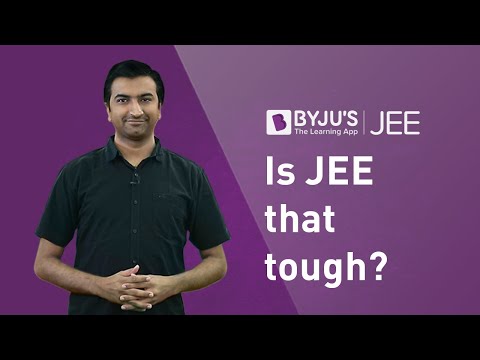 JEE Main 2022 Preparation Tips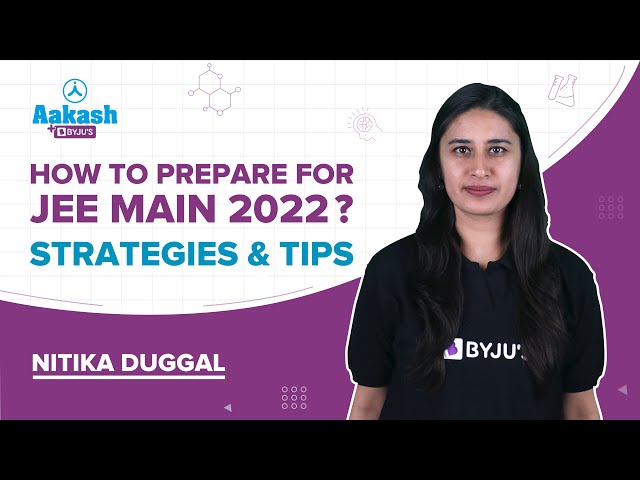 Best and Proven Strategies to Crack JEE Physics Exam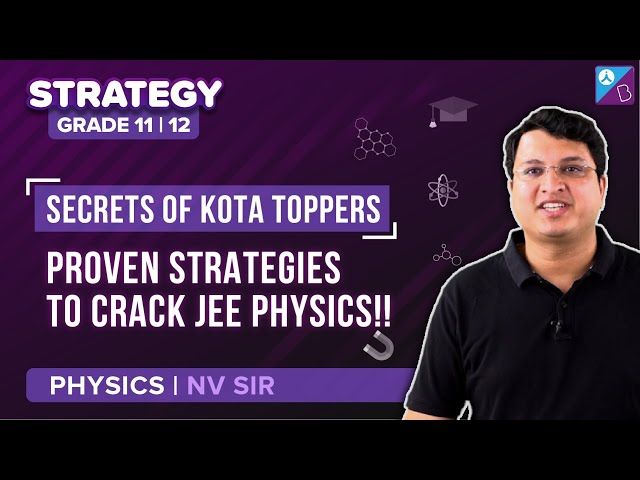 To know more about JEE Main or JEE Advanced, eligibility criteria, admit cards, exam schedule, and stay updated with the latest notifications keep visiting BYJU'S.