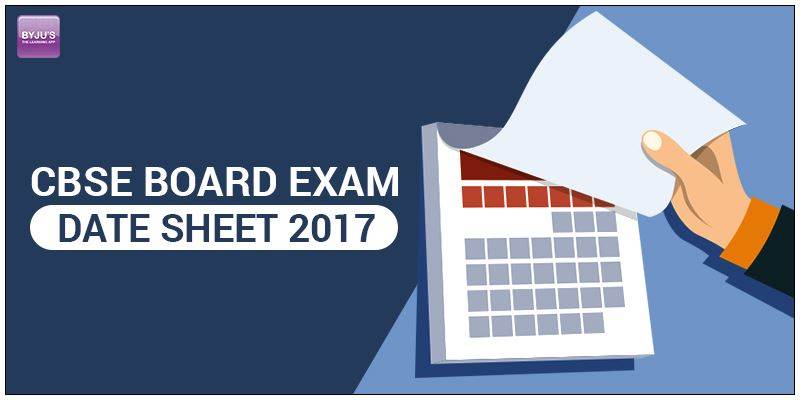 CBSE Class X and Class XII board exams will start from 9th of March the next day after the assembly elections in their final phase of five states as per the official statement of the board released recently.
Majority of students have given preference above school based assessments to the CBSE board exams. In comparison to the last year where there used to be a difference between school assessments and board exams above 24,000, at least above one lakh students have joined the stream of students.the board exams had been favored by the students even then.
Approximately about 16.67 lakh candidates would write the board exams that would finish by April 10 and April 29 for X and XII standard respectively.
In spite of the exams being postponed, the chairman of CBSE has confirmed that they are quite sure of releasing the exam result on time. Most commonly, the exams start on the 1st of March with the release of results by May third week.
As per the words of a  CBSE official, there are enough time gaps provided between all the major papers so that students would get enough time to prepare for the JEE and NEET exams once the board exams are over.
The students have to register on the CBSE Digilocker using their mobile numbers as the admit cards would be provided in them and they would receive an email in this regard. Also, there would be no physical admit card.
CBSE EXAMINATION DATE SHEET  For CLASS 10 – 2017
DAY,DATE AND TIME
SUBJECT CODE
SUBJECT
Thursday, 9 th March, 2017 10.30 A.M. TO 11.30 A.M.
401

402

403

404

405

406

407

461

462

463

464

465

466

467

DYNAMICS OF RETAILING (O)

INFORMATION TECHNOLOGY(O)

SECURITY (O)

AUTOMOBILE TECHNOLOGY (O)

INTRODUCTION TO FINANCIAL MARKET(O)

INTRODUCTION TO TOURISM(O)

BEAUTY & WELLNESS (O)

DYNAMICS OF RETAILING (C)

INFORMATION TECHNOLOGY(C)

SECURITY(C)

AUTOMOBILE TECHNOLOGY (C)

INTRODUCTION TO FINANCIAL MARKET(C)

INTRODUCTION TO TOURISM(C)

BEAUTY & WELLNESS (C)

Friday, 10th March, 2017

10.30 A.M. TO 1.30 P.M.

002

006

085

HINDI COURSE-A

TAMIL

HINDI COURSE-B

Wednesday,15th March, 2017

10.30 A.M. TO 1.30 P.M

007

018

076

089

166

TELUGU

FRENCH

NATIONAL CADET CORPS

TELUGU-TELANGANA

INFORMATION & COMMUNICATION TECHNOLOGY (ICT)

Thursday,16th March, 2017

10.30 A.M. TO 12.30 P.M

031

032

033

034

035

036

CARNATIC MUSIC (VOCAL)

CARNATIC MUSIC (MELODIC INSTRUMENTS)

CARNATIC MUSIC (PERCUSSION INSTRUMENTS)

HINDUSTANI MUSIC (VOCAL)

HINDUSTANI MUSIC (INSTRUMENTS MELODIC)

HINDUSTANI MUSIC (PERCUSSION INSTRUMENTS)

Saturday,18th March, 2017

10.30 A.M. TO 1.30 P.M

 

10.30 A.M. TO 12.30 P.M.

154

254

354

454

ELEMENTS OF BUSINESS

ELEMENTS OF BOOK-KEEPING & ACCOUNTANCY

e-PUBLISHING & e-OFFICE(ENG.)

e-PUBLISHING & e-OFFICE(HINDI)

Monday, 20th March, 2017

10.30 A.M. TO 1.30 P.M.

049

096

021

PAINTING

SPANISH

RUSSIAN

Wednesday, 22nd March, 2017

10.30 A.M. TO 1.30 P.M

086

090

SCIENCE -THEORY

SCIENCE W/o PRACTICAL

Thursday, 23rd March,2017

10.30 A.M. TO 1.30 P.M.

003

010

011

017

023

024

025

026

092

093

094

095

098

131

132

133

134

303

URDU COURSE A

GUJARATI

MANIPURI

TIBETAN

PERSIAN

NEPALI

LIMBOO

LEPCHA

BODO

TANGKHUL

JAPANESE

BHUTIA

MIZO

RAI

GURUNG

TAMANG

SHERPA

URDU COURSE B

Saturday, 25th March, 2017

10.30 A.M. TO 1.30 P.M.

008

122

SINDHI

SANSKRIT

Monday, 27th March,2017

10.30 A.M. TO 1.30 P.M.

004

005

009

012

013

014

015

016

020

PUNJABI

BENGALI

MARATHI

MALAYALAM

ODIA

ASSAMESE

KANNADA

ARABIC

GERMAN

Thursday, 30th March,2017

10.30 A.M. TO 1.30 P.M.

101

184

ENGLISH COMMUNICATIVE

ENGLISH LANGUAGE & LITERATURE

Monday, 03rd April,2017

10.30 A.M. TO 1.30 P.M.

041
MATHEMATICS
Wednesday, 5th April,2017

10.30 A.M. TO 1.30 P.M.

165
FOUNDATION OF INFORMATION TECHNOLOGY
Saturday, 8th April,2017

10.30 A.M. TO 1.30 P.M.

087
SOCIAL SCIENCE
Monday, 10th April, 2017

10.30 A.M. TO 1.30 P.M.

064
HOME SCIENCE
CBSE BOARD EXAMINATION DATE SHEET For CLASS 12 – 2017
DAY,DATE AND TIME
SUBJECT CODE
SUBJECT
Thursday, 09th March, 2017

10.30 A.M. TO 1.30 P.M.

001

101

301

ENGLISH ELECTIVE –NCERT

ENGLISH ELECTIVE-CBSE(FUNCTIONAL ENGLISH)

ENGLISH CORE

Friday, 10th March, 2017

10.30 A.M. To 1.30 P.M.

056

057

059

061

069

108

606

748

749

753

757

784

793

785

DANCE –KATHAK

DANCE-BHARATNATYAM

DANCE –ODISSI

DANCE-KATHKALI

CREATIVE WRITING & TRANSLATION STUDIES

SINDHI

OFFICE COMMUNICATION

INFORMATION STORAGE & RETRIVAL

INTEGRATED TRANSPORT OPERATION

FRONT OFFICE OPERATIONS

TRAVEL AGENCY & TOUR OPERATIONS BUSINESS (NSQF)

SALESMANSHIP-II

CAPITAL MARKET OPERATIONS

BANKING-II

Wednesday, 15th March, 2017

10.30 A.M. TO 1.30 P.M

10.30.A.M. TO 12.30 P.M.

10.30.A.M. TO 1.00 P.M.

042

123

605

632

658

667

787

661

731

776

777

PHYSICS

PERSIAN

SECRETARIAL PRACTICE & ACCOUNTING

AIR CONDITIONING & REFRIGERATION – III

OPTICS –II

RADIOGRAPHY-I GENERAL

ELECTRICAL MACHINE

CLINICAL BIO-CHEMISTRY (MLT)

CHILD HEALTH NURSING

GARMENT CONSTRUCTION –II

TRADITIONAL INDIAN TEXTILE

Thursday, 16th March, 2017

10.30 A.M. TO 1.30 P.M.

10.30 A.M. TO 1.00 P.M.

054

762

745

789

BUSINESS STUDIES

BASIC HORTICULTURE-II

BEAUTY & HAIR -II

OPERATION & MAINTENANCE OF COMMUNICATION DEVICES

Saturday, 18th March,2017

10.30 A.M. TO 1.30 P.M.

003

104

106

111

112

114

115

303

URDU ELECTIVE

PUNJABI

TAMIL

MANIPURI

MALAYALAM

ASSAMESE

KANNADA

URDU CORE

Monday, 20th March, 2017

10.30 A.M. TO 1.30 P.M.

10.30 A.M. TO 1.00 P.M.

10.30 A.M. TO 12.30 P.M.

041

730

742

662

733

659

668

MATHEMATICS

FIRST AID & EMERGENCY MEDICAL CARE

CLINICAL BIO-CHEMISTRY & MICROBIOLOGY-II

MICROBIOLOGY (MLT)

HEALTH CENTRE MANAGEMENT

OPTHALMIC TECHNIQUES-II

RADIOGRAPHY-II (SPECIAL INVESTIGATION IMAGING

RADIOGRAPHY)

Tuesday, 21st March, 2017

10.30 AM TO 12.30 PM.

10.30 A.M. TO 1.30 P.M.

10.30 A.M. TO 1.00 P.M.

608

610

053

068

113

120

121

622

795

SHORTHAND ENGLISH

SHORTHAND HINDI

FASHION STUDIES

AGRICULTURE

ODIA

GERMAN

RUSSIAN

ENGINEERING SCIENCE

DATABASE MANAGEMENT APPLICATION (NSQF)

Thursday, 23rd, March,2017

10.30 A.M. TO 1.30 P.M.

10.30 A.M. TO 1.00 P.M.

027

744

750

766

660

HISTORY

RETAIL SERVICES-II(NSQF)-

LOGISTICE OPERATION & SUPPLY CHAIN MANAGEMENT –II

BUSINESS OPERATION & ADMINISTRATION –II

LABORATORY MEDICINES (CLINICAL PATHOLOGY

HEMATOLOGY & HISTOPATHOLOGY –II (MLT)

Friday, 24th March, 2017

10.30 A.M. TO 1.30 P.M.

734

756

FOOD PRODUCTION III

INTRODUCTION TO HOSPITALITY MANAGEMENT(NSQF)

Saturday, 25th March, 2017

10.30 A.M. To 1.30 P.M.

10.30 A.M. To 12.30 P.M.

043

625

737

765

781

657

666

CHEMISTRY

APPLIED PHYSICS

FOOD & BEVERAGE  COST & CONTROL

FLORICULTURE

COST ACCOUNTING

BIOLOGY OPTHALMIC-II

RADIATION PHYSICS

Monday, 27th March, 2017

10.30 A.M. TO 1.30 P.M.

10.30 A.M. TO 1.00 P.M.

065

083

754

763

786

775

INFORMATICS PRACTICES

COMPUTER SCIENCE

ADVANCED FRONT OFFICE OPERATIONS

OLERICULTURE – II

INSURANCE -II

BASIC PATTERN DEVELOPMENT

Wednesday, 29th March, 2017

10.30 A.M. TO 1.30 P.M.

10.30 A.M. TO 1.00 P.M.   

055

751

746

800

ACCOUNTANCY

BAKERY-II

HOLISTIC HEALTH -II

SECURITY(NSQF)

Thursday, 30th March, 2017

10.30 A.M. TO 1.30 P.M.

735
FOOD PRODUCTION -IV
Friday, 31st March, 2017

10.30 A.M. TO 1.30 P.M.

10.30 A.M. TO 1.00 P.M.

046

070

075

079

117

194

196

626

783

779

796

ENGINEERING GRAPHICS

HERITAGE CRAFTS

HUMAN RIGHTS & GENDER STUDIES

LIBRARY AND INFORMATION SCIENCE

TIBETAN

JAPANESE

SPANISH

MECHANICAL ENGINEERING

MARKETING- II

TEXTILE CHEMICAL PROCESSING

WEB APPLICATION – II (NSQF)

Saturday, 1st April,2017

10.30 A.M. TO 1.30 P.M.

10.30 A.M. TO 1.00 P.M.

10.30 A.M. TO 12.30 P.M.

073

074

071

728

739

778

607

KNOWLEDGE TRADITIONS & PRACTICE OF INDIA

LEGAL STUDIES

GRAPHIC DESIGN

HEALTH EDUCATION, COMMUNICATION AND PUBLIC

RELATIONS & PUBLIC HEALTH

THE CREATIVE & COMMERCIAL PROCESS IN MASS MEDIA-II

PRINTED TEXTILE

TYPOGRAPHY & COMPUTER APPLICATION(ENG.)

Monday, 3rd April, 2017

10.30 A.M. To 1.30 P.M.

028

741

743

780

POLITICAL SCIENCE

LABORATORY MEDICINE-II

RETAIL OPERATIONS-II(NSQF)

FINANCIAL ACCOUNTING-II

Wednesday, 5th April, 2017

10.30 A.M. TO 1.30 P.M.

10.30 AM TO 12.30 PM/td>

044

782

794

633

BIOLOGY

TAXATION-II

DERIVATIVE MARKET OPERATIONS

AIR CONDITIONING & REFRIGERATION-IV

Thursday, 06th April, 2017

10.30 A.M. TO 1.30 P.M.

029

045

747

GEOGRAPHY

BIOTECHNOLOGY

LIBRARY SYSTEMS & RESOURCE MANAGEMENT

Monday, 10th April, 2017

10.30 A.M. TO 1.30 P.M

048
PHYSICAL EDUCATION
Wednesday, 12th April, 2017

10.30 A.M. TO 1.30 P.M.

039
SOCIOLOGY
Monday, 17th April, 2017

10.30 A.M. TO 1.30 P.M.

10.30 A.M. TO 1.00 P.M.

030

790

ECONOMICS

TROUBLE SHOOTING & MAINTENANCE OF

ELECTRONIC EQUIPMENT

Tuesday, 18th April, 2017

10.30 A.M. TO 1.30 P.M.

064
HOME SCIENCE
Wednesday, 19TH April, 2017

10.30 AM TO 12.30 PM

10.30 AM TO 1.30 PM

049

050

051

052

788

752

PAINTING

GRAPHICS

SCULPTURE

APPLIED ARTS-COMMERCIAL ARTS

ELECTRICAL APPLIANCES

CONFECTIONERY

Thursday, 20th April,2017

10.30 AM to 1.30 PM

078

193

THEATRE STUDIES

TANGKHUL

Saturday, 22nd April, 2017

10.30 A.M. TO 1.30 P.M.

002

110

124

125

126

195

302

HINDI ELECTIVE

GUJARATI

NEPALI

LIMBOO

LEPCHA

BHUTIA

HINDI CORE

Tuesday, 25th April, 2017

10.30 A.M. To 1.30 P.M.

031

032

034

035

036

MUSIC KARANATAKA (VOCAL)

MUSIC KARANATAKA INSTRUMENTAL (MELODIC)

MUSIC HINDUSTANI VOCAL

MUSIC HINDUSTANI INSTRUMENTAL MELODIC

MUSIC HINDUSTANI INSTRUMENTAL PERCUSSION

Wednesday, 26th April, 2017

10.30 A.M. To 1.30 P.M.

072
MASS MEDIA STUDIES
Thursday, 27th April, 2017

10.30 A.M. TO 1.30 P.M.

10.30 A.M. TO 1.00 P.M.

022

105

107

109

116

118

189

198

322

738

627

SANSKRIT ELECTIVE

BENGALI

TELUGU

MARATHI

ARABIC

FRENCH

TELUGU-TELANGANA

MIZO

SANSKRIT CORE

UNDERSTANDING THE EVOLUTION AND FORMS OF

MASS MEDIA-II

AUTO ENGINEERING-II(NSQF)

Friday, 28th April, 2017

10.30 AM TO 1.30 PM

10.30 A.M. TO 1.00 P.M.

10.30 A.M. TO 12.30 P.M.

076

067

628

774

609

NATIONAL CADET CORPS(NCC)

MULTIMEDIA & WEB TECHNOLOGY

AUTOSHOP REPAIR & PRACTICE-II NSQF
FABRIC STUDY

TYPOGRAPHY & COMPUTER APPLICATION(HINDI)

Saturday, 29th April, 2017

10.30 A.M. TO 1.30 P.M.

10.30 A.M. TO 1.00 P.M.

040

066

604

729

736

740

732

PHILOSOPHY

ENTERPRENEURSHIP

OFFICE PROCEDURE & PRACTICES

BASIC CONCEPT OF HEALTH AND DISEASE ANDMEDICAL TERMINOLOGY

FOOD SERVICE-II

GEOSPATIAL TECHNOLOGY

MIDWIFERY