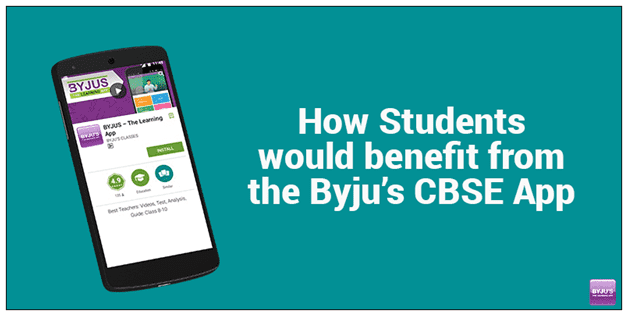 In the 21st century, Education has taken a new way of learning. Now, students prefer to learn from educational apps as they provide all the information in one place. To help CBSE Board students, BYJU'S CBSE App has been created. The app will provide a new way of learning to students with animated videos, graphics and images. CBSE App proves to be the right source of preparation as well as stress-busting material for students. In this article, students will find the link for downloading the CBSE App from Google play store and App store.
Benefits of Learning from BYJU'S CBSE App
We at BYJU'S provide the course at both online and offline modes using the best technology available like, video lectures with animations and much more for students studying under the CBSE Board. Let us look at how the students could gain immensely from using BYJU'S CBSE App.
Makes Learning Feel like Entertainment
Modern-day education has changed to a level that the word education would be soon replaced by the word edutainment which is a combination of both education and entertainment. The CBSE App of BYJU'S is designed in such a way that subjects belonging to the CBSE Syllabus from class 1 to class 12 would have their concepts (simple or complex) cleared in an exciting manner as the video lectures combined with graphics and animation engages the imagination power of students as the app contains various student-friendly features. Students would feel as if they are watching a movie or playing a game while they are learning new subjects right from the comfort of their homes.
Appeals to Students of All Age Range
It is a well-known fact that the learning needs for students at various levels would be different. The BYJU'S CBSE App caters to students at all levels, right from class 1 to class 12, with attention to subjects that sounds challenging, like Maths and Science subjects in particular. The classes are delivered by the top experts in the country in their own domains with the main focus on NCERT textbooks.
Availability of a Lot of Learning Options Based on Subjects
The modern way of learning with apps consists of subject learning with plenty of choices with options to choose the subject as per the student's convenience. Hence, we at BYJU'S have designed the app in such a way that the subjects coming under Science like Physics, Chemistry and so on customised in such a way that students could study the subjects as per convenience and their own pace.
Creates a pool of skill-based resources to learn
Education with developing the necessary skills is the necessity of modern-day education. We at BYJU'S focuses on creating activities that rely on building skills. It includes making a working model using diagrams, pictures that is useful for practical application. It also includes making of model of machines, aircraft while explaining the working principle and inner mechanism concepts in an interactive manner.
Helps to develop confidence
One of the untapped ways where students could develop their confidence is by learning from their comfort of their homes where they could resort to alternative styles of learning where the could participate actively, unlike the classrooms where they would be judged wrongly for asking illogical questions, particularly when they are introverted or shy in nature and thus dents their confidence and learning motivation.
CBSE (Central Board of Secondary Education) is one of the most prestigious educational boards that hold exams at the secondary and senior secondary level, viz. class 10 and class 12 levels across the country. Most of us are aware that class XII paves the foundation for students' professional lives, and to achieve this, students are expected to begin their preparations right from class IX itself, which is unknown to most of us. This is where BYJU'S stands apart from its peers by imparting training in a way that appeals to the students.
The points mentioned above gives a clear outline of how the CBSE App of BYJU'S makes the right impact on student lives owing to the merits we had explained.
App Launched by CBSE
CBSE has also launched few apps for students to help in their exam preparation. So, far the CBSE board has launched the following Apps. These CBSE Apps will help students to study at their home during the lockdown period.
DIKSHA – Platform for School Education
ePathashala
CBSE Dost
e-Pareeksha
Students can download these apps through Google play store or Apple store. For more information on CBSE App keep visiting BYJU'S.