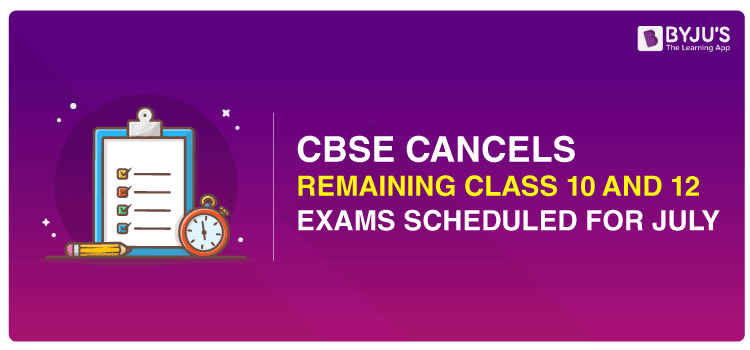 The Central Board of Secondary Education (CBSE) has today informed the Supreme Court that it has decided to cancel the remaining board exams for class 10 and 12 students. The board has taken this decision by seeing the current outbreak of coronavirus and the rising number of cases due to COVID-19 in India. Students who were eagerly waiting for the CBSE Board hearing on the remaining 2020 board exams have news for them as the board exams stand cancelled due to COVID-19 situation. Students can find the complete details regarding the cancellation of CBSE Board Exams 2020 on this page.
Latest Update: CBSE Board Exam 2020 Stands Cancelled
CBSE Board has informed the Supreme court that "exams for CBSE Class 10 and 12 Scheduled for 1st July to 15th July 2020 have been cancelled". This decision is given by court today, i.e. on 25th June 2020.
Download the official CBSE notification regarding the board exam 2020 cancellation from the link above.
SC Decision on CBSE Class 10 Board Exam
The board has decided to cancel CBSE Class 10 board exam completely. CBSE Class 10 Result 2020 will be announced on the basis of Internal Assessment. Students can expect the results to be out by 15th July 2020.
SC Decision on CBSE Class 12 Board Exam
CBSE Board has confirmed that for class 12 students, the remaining board exams will be optional. Those who want to appear for the exam can sit for it, or they can also choose not to appear for the exam. Students alternatively will have the option to opt not to appear for the exam. For students choosing not to appear for the exam, marks will be given based on the past exam performance and assessment.
We hope this information must have removed all the doubts of students, teachers and parents regarding the conduct of 2020 remaining board exams. Now, students have got free time which they should use wisely in learning new things. We at BYJU'S have provided the study material for students studies such as CBSE Sample Papers, Previous Years Question Papers, NCERT Solutions, Revision notes and much more. To access them, visit the BYJU'S website and download the App.