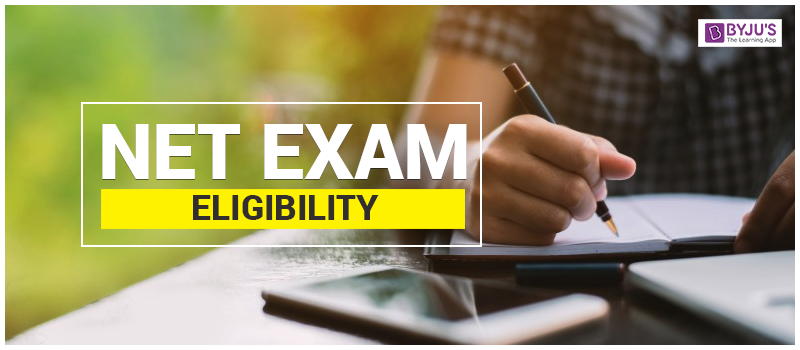 National Eligibility Test (NET) is a competitive exam conducted by the Central Board of Secondary Education (CBSE) to determine the eligibility of Indian nationals for Assistant Professors or both Junior Research Fellowship and Assistant Professor in Indian colleges and universities. Before applying for UGC NET exam and submission of the UGC NET online application form, aspiring candidates must know the NET exam eligibility criteria. Candidates should read the below points carefully to be fully aware of the UGC NET exam eligibility.
Conditions for NET Exam Eligibility
  To apply for UGC NET exam candidates will have to score at least 55% from a recognized university/college in their Master's degree exams (in departments such as Social Science, Humanities, Education, Computer Science, Electronic Science, etc.). It must be noted that candidates belonging to categories ST/SC/PwD/OBC will require a minimum 50% to apply for UGC NET exam.
  Candidates who are appearing for their final examination or appeared and waiting for their Master's degree final year exam results can also apply for UGC NET exam. However such candidates will be provisionally admitted and will be considered eligible for the award of JRF or Assistant Professor eligibility only after they will pass their Master's degree final year exam.
  The Ph.D. degree holders whose Master's degree exam had been completed on 19th September 1991 (regardless the date of result declaration) will be eligible for a relaxation of 5% in aggregate marks (that is, from 55% to 50%) to appear in UGC NET exam.
  It is advised that candidates appear on the subject of their Master's degree course only. Candidates are not required to send any documents or certificates in support of their eligibility to the Central Board of Secondary Education (CBSE).
Age Limit & Relaxation
Junior Research Fellowship (JRF): The upper age limit for appearing in JRF has also been raised by two years, i.e. from the existing upper age limit of 28 years to 30 years. A 5 years relaxation is given to ST/SC/PwD/OBC and women applicants. Applicants having research experience limited to the period spent on research in the relevant subject of Master's degree are also given relaxation. Candidates holding a degree in LLB are given a relaxation of 3 years.
Assistant Professors: According to the official website of CBSE NET no upper age limit is provided for the post of Associate Professors.
Exemption (For the post of Assistant Professor)
Applicants who have or are being awarded Ph.D. according to the GC Regulations, 2009 shall be exempted from the requirement to meet the minimum NET exam eligibility criteria.
Applicants who have already cleared UGC or CSIR JRF exam before the year 1989 are also exempted from UGC NET exam.
Also, the applicants who have cleared the Exam State's Eligibility Test (SET) before 1st June 2002 are exempted from UGC NET exam.
Stay tuned with Byju's to get the latest notification on UGC NET exam along with exam pattern, NET syllabus, NET exam details and more.