Democracy almost invariably involves conflict of interests and viewpoints. These differences are often expressed in organised ways. Those who are in power are required to balance these conflicting demands and pressures. Chapter 5 of CBSE Class 10 Political Science deals with a discussion of how struggles around conflicting demands and pressures shape democracy. This leads to an analysis of the different ways and organisations through which ordinary citizens can
play a role in democracy. From this chapter, students can explore the indirect ways of influencing politics, through pressure groups and movements. Solving the CBSE Class 10 Political Science Chapter 5 Popular Struggles and Movements Important Questions for practice also help them to revise the chapter more proficiently.
Find below the clickable downloadable link to access the PDF format of the CBSE Class 10 Political Science Important Questions of this chapter.
Popular Struggles and Movements
1. What are the differences between political parties and pressure groups? Mention three points.
2. Discuss the "Movement for Democracy in Nepal". What are the conditions that led to this movement?
3. Explain "Bolivia's Water War."
4. Governments initiate schemes and programmes to alleviate the suffering of the poor and meet their basic needs. But poverty remains in the country. What could be the reasons for such a situation?
5. Explain the term "Pressure Groups." Mention a few examples.
6. Can you identify the pressure groups functioning in the news clippings given below? What demand are they making?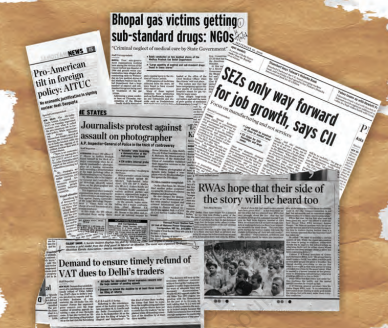 7. Explain the difference between pressure groups, interest groups and movement groups.
8. In what ways do pressure groups and movements exert influence on politics?
9. What is the difference between a pressure group and a political party?
10. Define the values that the Bolivian war reflects.
11. Explain how the activities of pressure groups are useful in the functioning of a democratic government.
12. Are sectional interest groups and public interest groups the same? Give examples.
13. Define the term "FEDECOR."
14. Organisations that undertake activities to promote the interests of specific social sections such as workers, employees, teachers, and lawyers are called _____________________ groups.
15. Elaborate on the term "movement groups." Mention any two kinds of movement groups.
16. Pressure groups are the organised expression of the interests and views of specific social sections. True or False?
17. Discuss "Maoists."
18. Explain the two stages of the democratic movement in Nepal.
19. Are there any similarities between the struggles of Nepal and Bolivia? What are they?
20. Explain about the movement called Kittiko-Hachchiko.