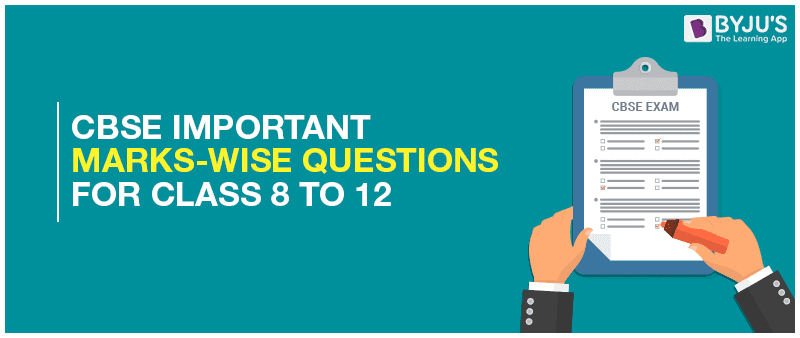 The Central Board of Secondary Education commonly known as CBSE is one of the most preferred educational board in the country. The renowned board was founded in the year 1952. CBSE is known for its well-structured question paper, its comprehensive syllabus and the quality of education it provides to all its learners. The board aims to provide a healthy education to its students so that they can develop both mentally and physically.
CBSE Board conducts the examination for different classes including 10th and 12th standard. The exams for class 10 and class 12 are usually conducted in the month of March every year and the results are declared in the month of May. The questions that are asked in the CBSE board exam are according to the pattern issued by the National Council of Educational Research and Training (NCERT). Students who are preparing for their CBSE exam must know the benefits of solving the CBSE important mark-wise questions. They questions are designed by subject experts according to the latest CBSE syllabus.
One of the best way to prepare for CBSE exam is by practicing the important questions. Students will get a complete idea about the exam pattern and the marking scheme of the exam. It will also make students familiar with the question weightage and the difficulty level of the questions asked in the exam. Some benefits of solving the CBSE Important Marks-Wise Questions are given in the points below.
Helps in brushing up the concepts more effectively.
Helps to overcome fear before the examination.
Develops time management skills.
Improves speed and accuracy.
Helps in rectifying weak areas and mistakes.
The CBSE Important Marks-Wise Questions For Class 8 To 12 for Science, Maths, Physics, Chemistry, and Biology is given in the table mentioned below.
CBSE Important Marks-Wise Question For Class 8 To 12
Stay tuned with BYJU'S and get the latest notification on CBSE Exam along with sample papers, previous year question papers, study notes and more.