To help your kid in getting braced up for the examinations, here we are providing you with the most reliable and accurate NCERT Solutions for Class 3 English Unit 7 Little Tiger, Big Tiger, with each and every question answered in detail.
Little Tiger, Big Tiger is a story about a tiger cub and his mother. The mother tiger is a ferocious animal whom everybody is afraid of. But no one is scared of the little tiger cub. The mother tiger always keeps him near herself. However, things take a twist when one day the little tiger goes hunting for a frog and falls into danger.
You can download the NCERT Solutions for Class 3 in PDF format so that your little one can learn and practice even when offline!
Unit 7 Little Tiger Big Tiger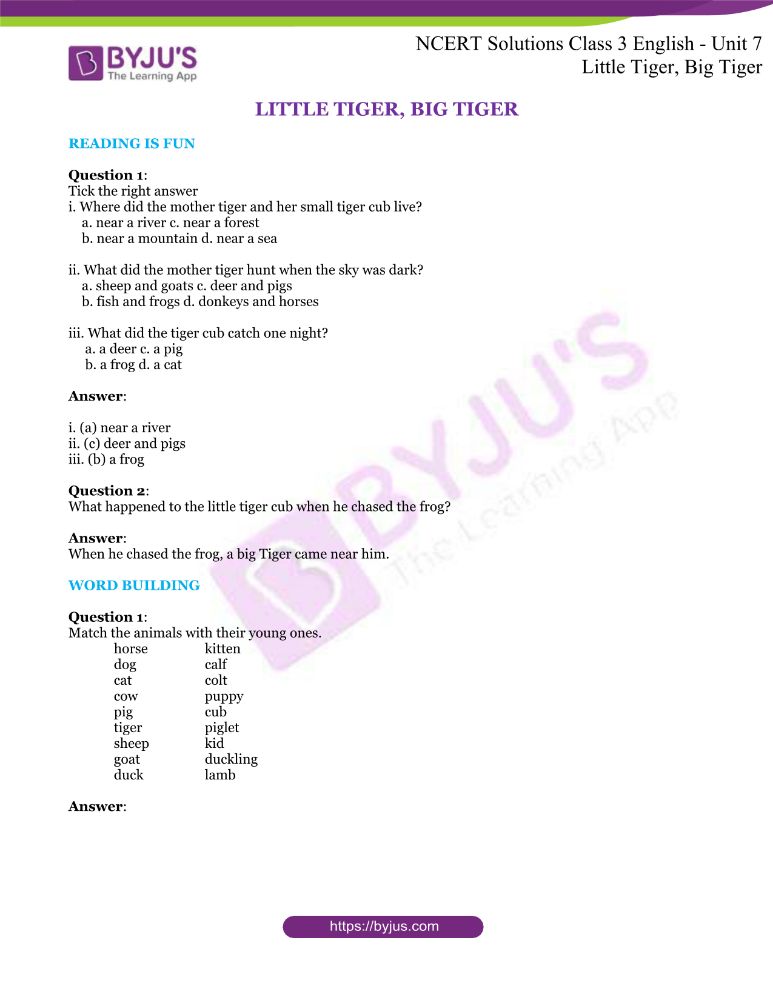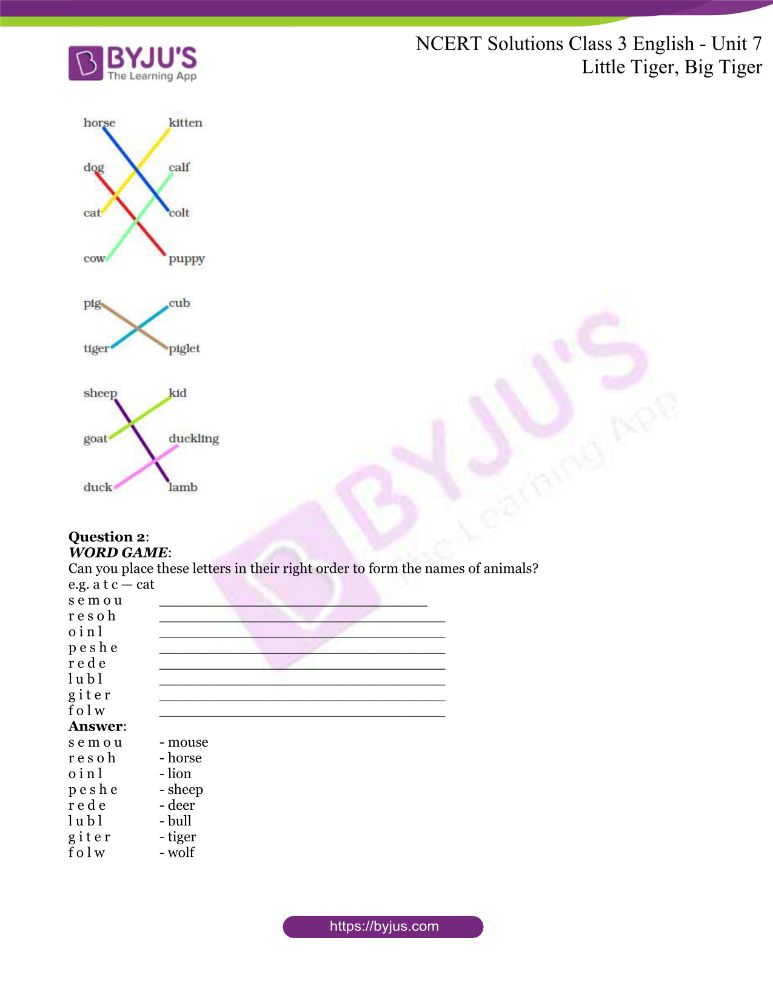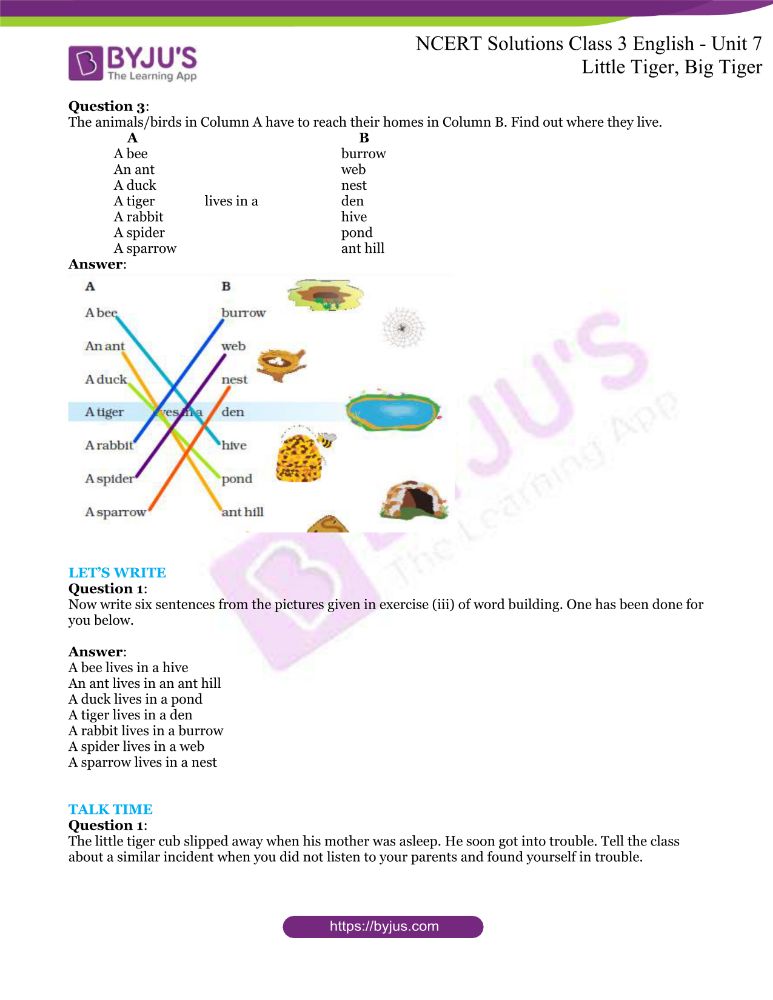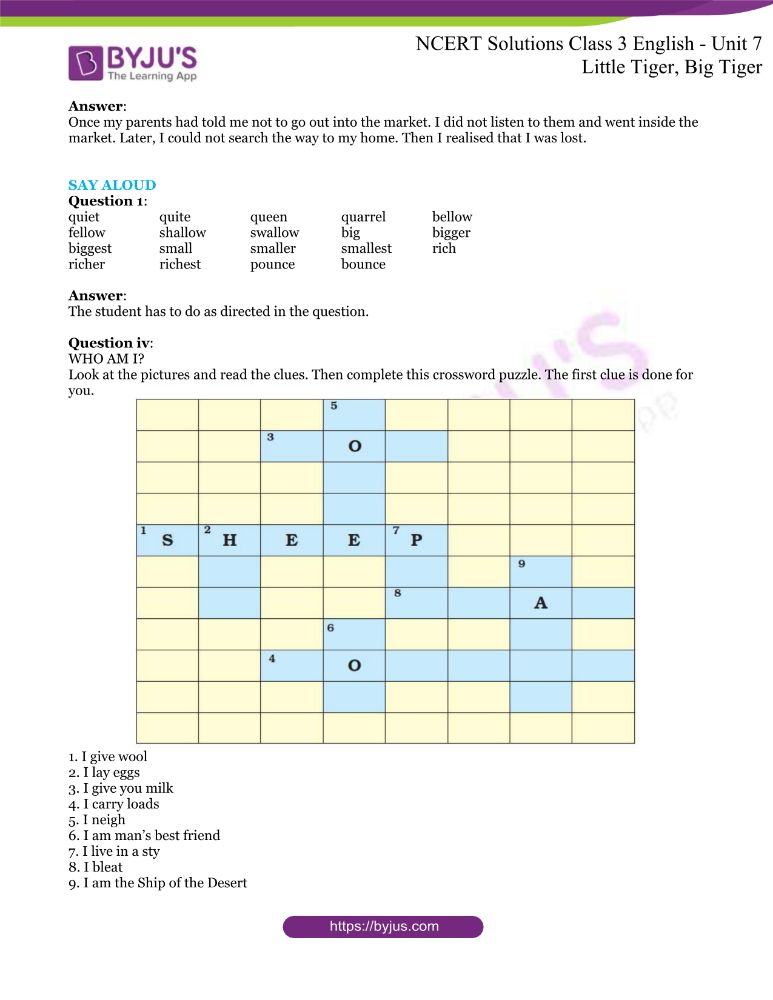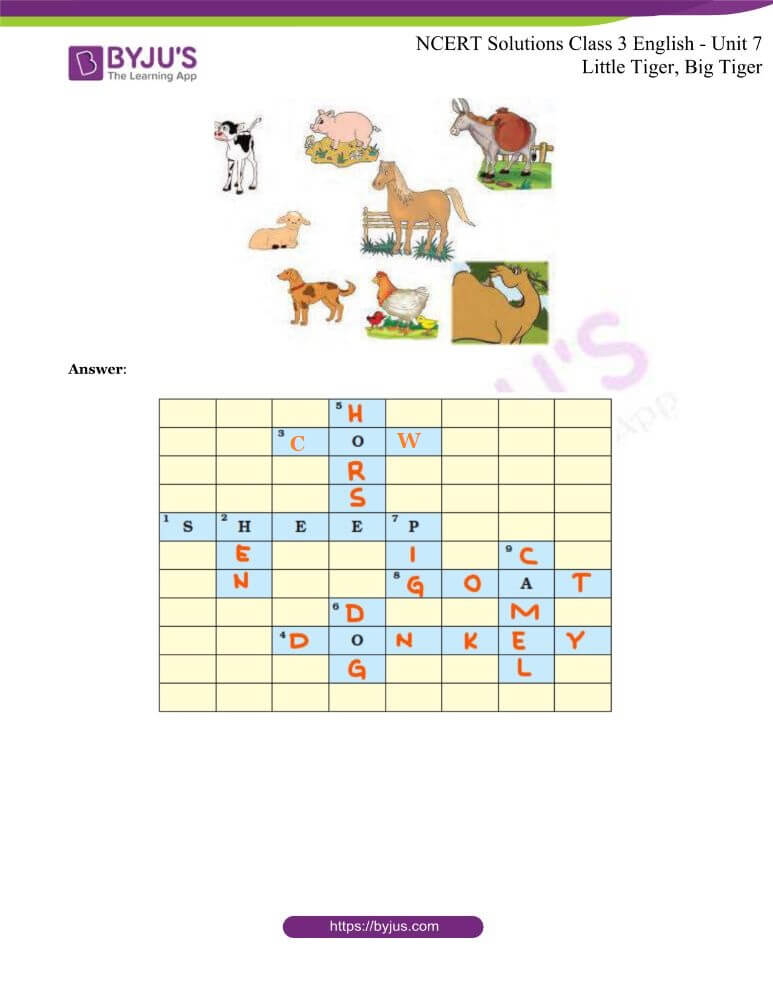 Access Answers to NCERT Class 3 English Unit 7 Little Tiger, Big Tiger
LITTLE TIGER, BIG TIGER
READING IS FUN
Question 1:
Tick the right answer
i. Where did the mother tiger and her small tiger cub live?
a. near a river c. near a forest
b. near a mountain d. near a sea
ii. What did the mother tiger hunt when the sky was dark?
a. sheep and goats c. deer and pigs
b. fish and frogs d. donkeys and horses
iii. What did the tiger cub catch one night?
a. a deer c. a pig
b. a frog d. a cat
Answer:
i. (a) near a river
ii. (c) deer and pigs
iii. (b) a frog
Question 2:
What happened to the little tiger cub when he chased the frog?
Answer:
When he chased the frog, a big Tiger came near him.
WORD BUILDING

Question 1:
Match the animals with their young ones.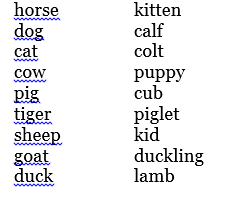 Answer:

Question 2:
WORD GAME:
Can you place these letters in their right order to form the names of animals?
e.g. a t c — cat
s e m o u ______________________________
r e s o h ________________________________
o i n l ________________________________
p e s h e ________________________________
r e d e ________________________________
l u b l ________________________________
g i t e r ________________________________
f o l w ________________________________
Answer:
s e m o u – mouse
r e s o h – horse
o i n l – lion
p e s h e – sheep
r e d e – deer
l u b l – bull
g i t e r – tiger
f o l w – wolf
Question 3:
The animals/birds in Column A have to reach their homes in Column B. Find out where they live.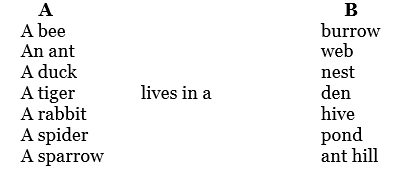 Answer: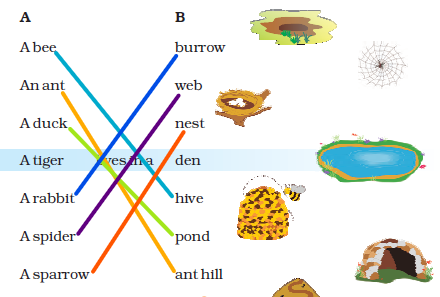 LET'S WRITE
Question 1:
Now write six sentences from the pictures given in exercise (iii) of word building. One has been done for you below.
Answer:
A bee lives in a hive
An ant lives in an ant hill
A duck lives in a pond
A tiger lives in a den
A rabbit lives in a burrow
A spider lives in a web
A sparrow lives in a nest
TALK TIME
Question 1:
The little tiger cub slipped away when his mother was asleep. He soon got into trouble. Tell the class about a similar incident when you did not listen to your parents and found yourself in trouble.
Answer:
Once my parents had told me not to go out into the market. I did not listen to them and went inside the market. Later, I could not search the way to my home. Then I realised that I was lost.
SAY ALOUD
Question 1:

Answer:
The student has to do as directed in the question.
Question iv:
WHO AM I?
Look at the pictures and read the clues. Then complete this crossword puzzle. The first clue is done for you.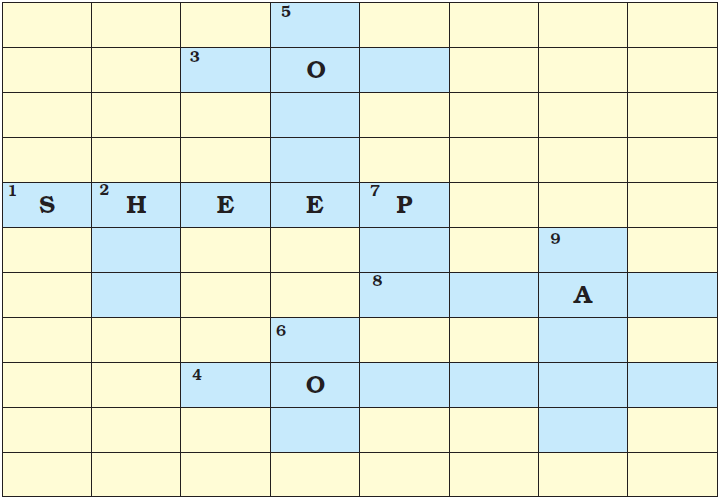 1. I give wool
2. I lay eggs
3. I give you milk
4. I carry loads
5. I neigh
6. I am man's best friend
7. I live in a sty
8. I bleat
9. I am the Ship of the Desert
Answer: