The NCERT solutions for the questions given in Chapter 10, Straight Lines, of the Class 11 NCERT textbooks are available here. In this chapter students learn about Straight Lines in detail. Students can easily score full marks in the questions from this chapter by solving all the questions present in the NCERT textbook.
The Class 11 NCERT solutions for Straight Lines are very easy to understand. These solutions cover all the exercise questions included in the book and are according to the latest guidelines of CBSE. Here, the PDF of the Class 11 maths Chapter 10 NCERT solutions is available which can be downloaded and referred in online mode. Students can also avail these NCERT solutions and download it for free to practice them offline as well.
Access Answers of Maths NCERT Class 11 Chapter 10- Straight Lines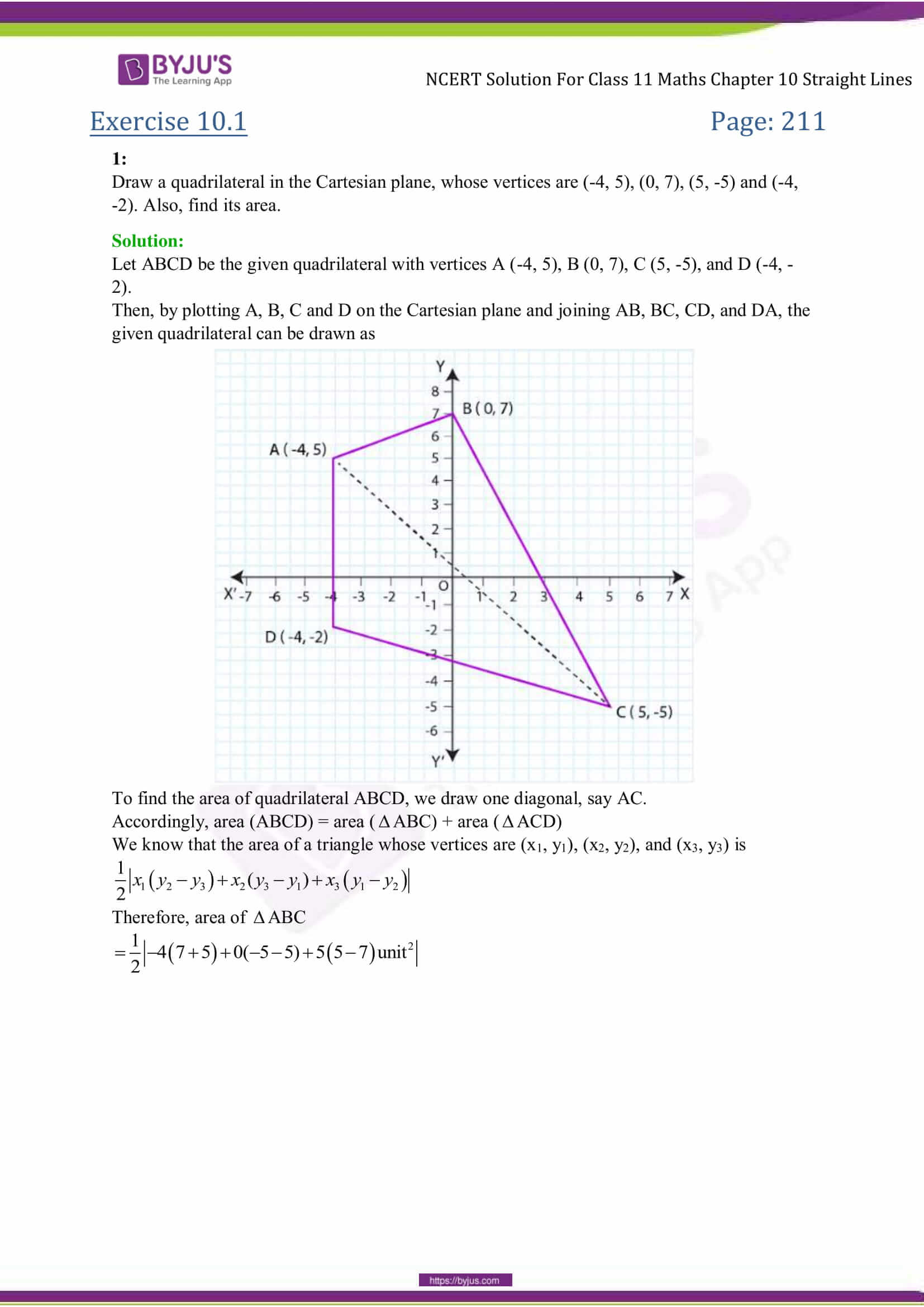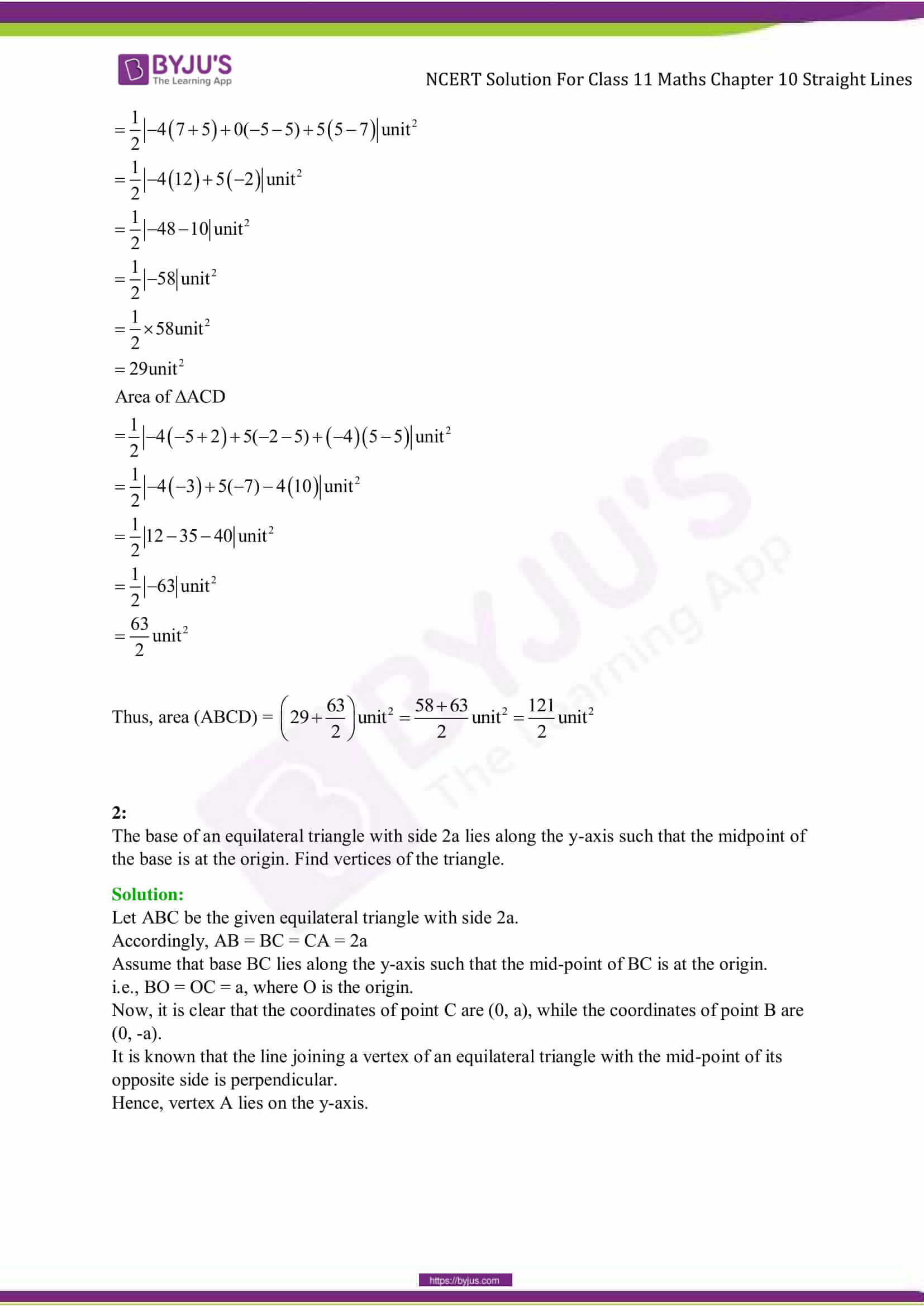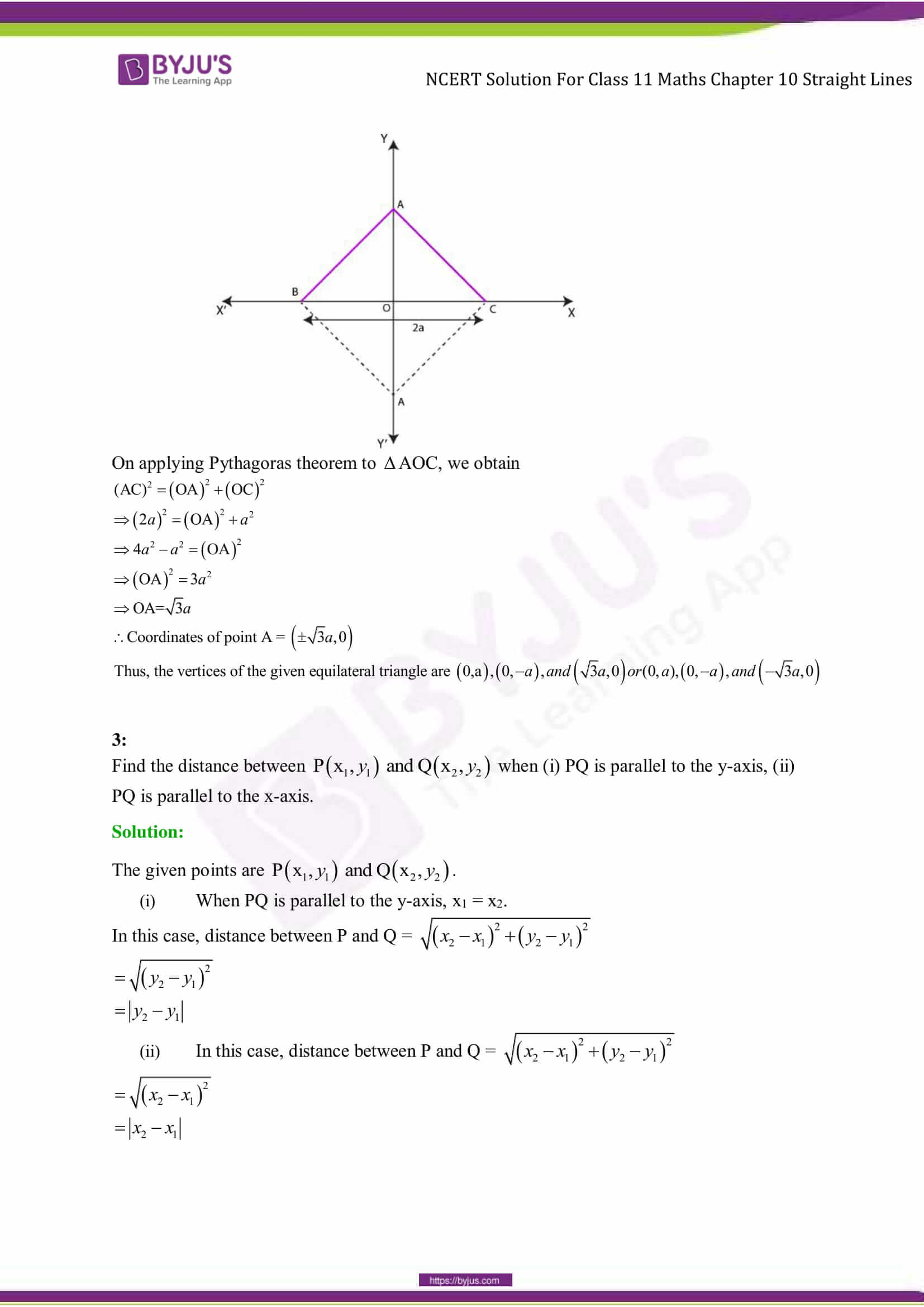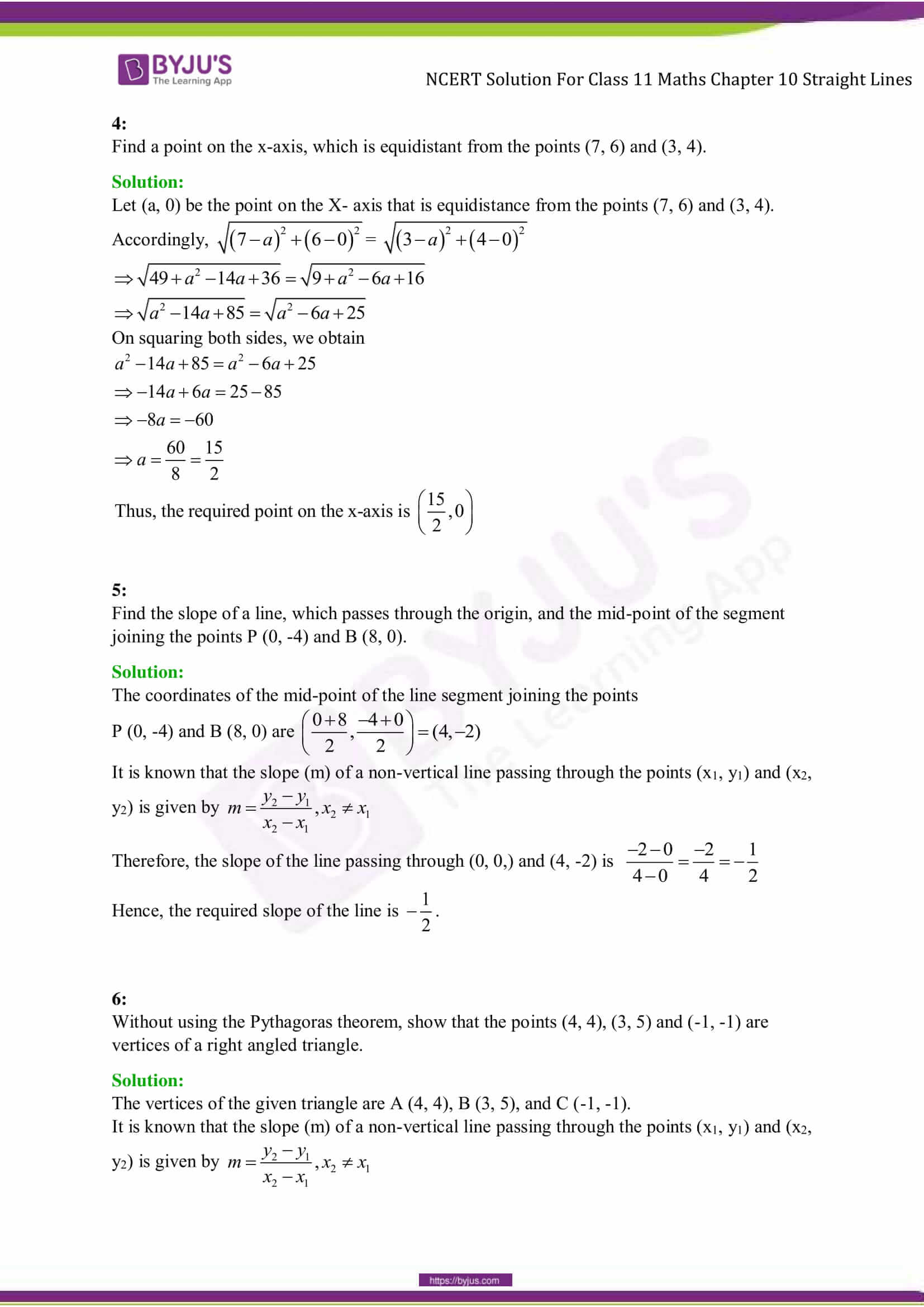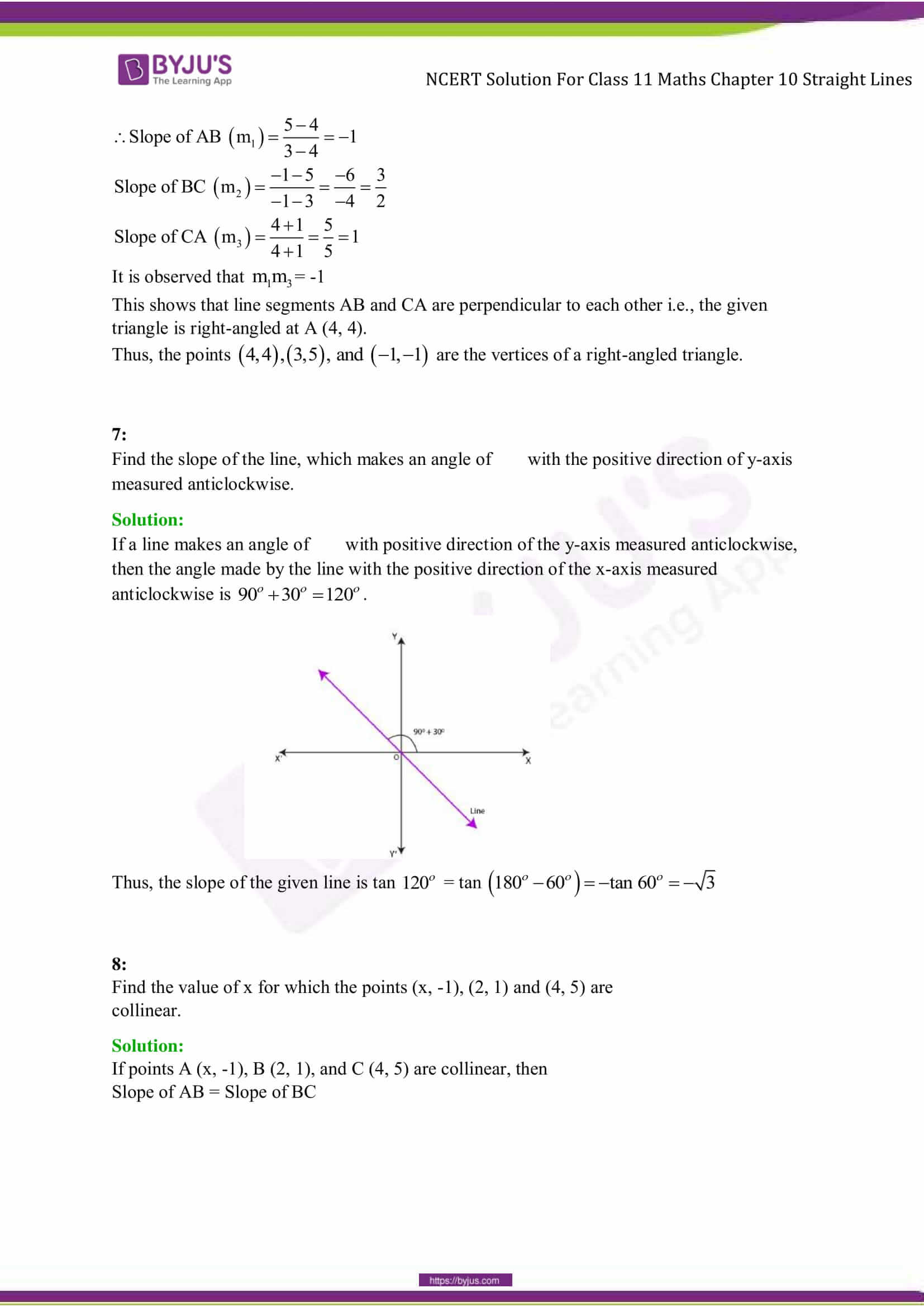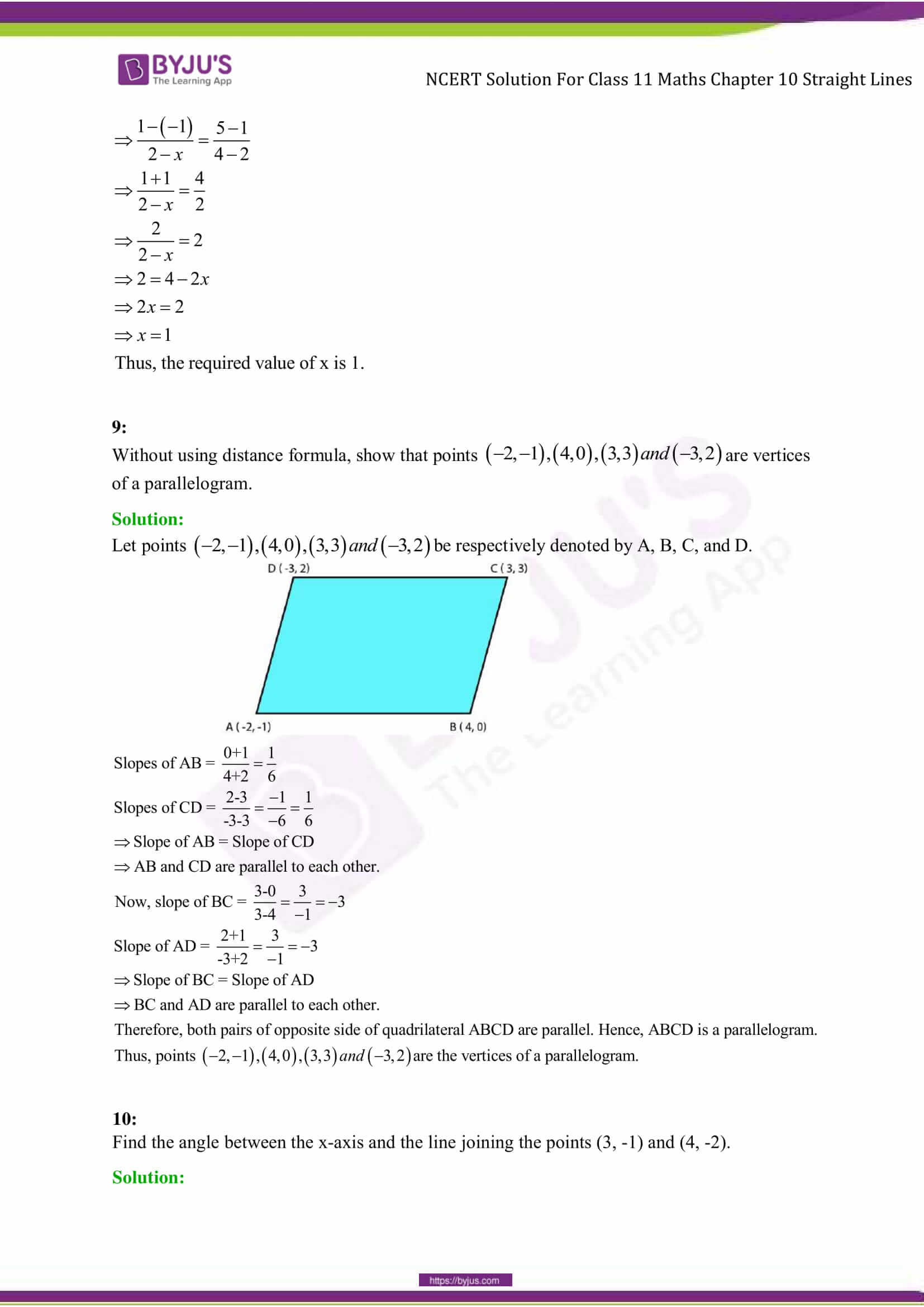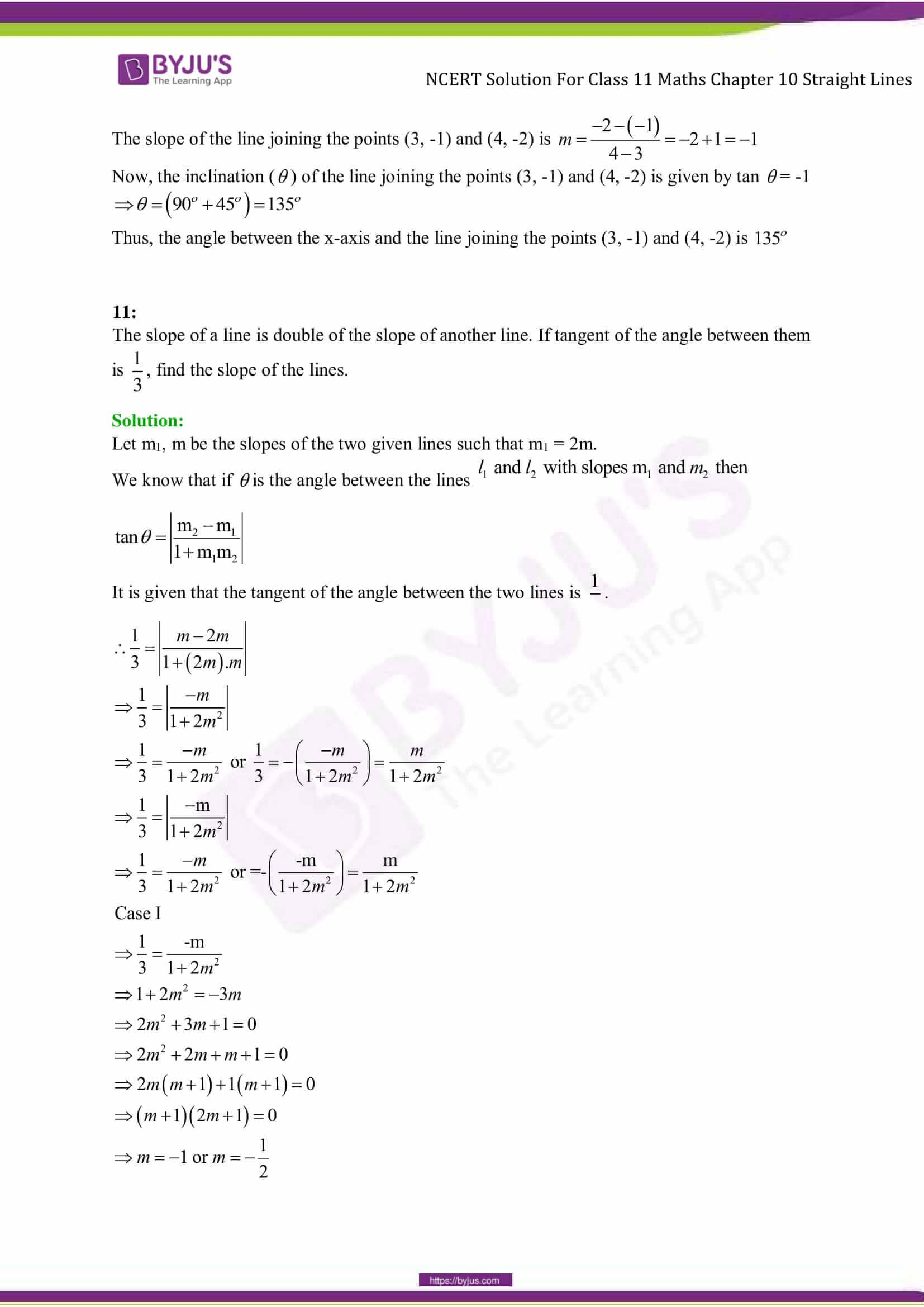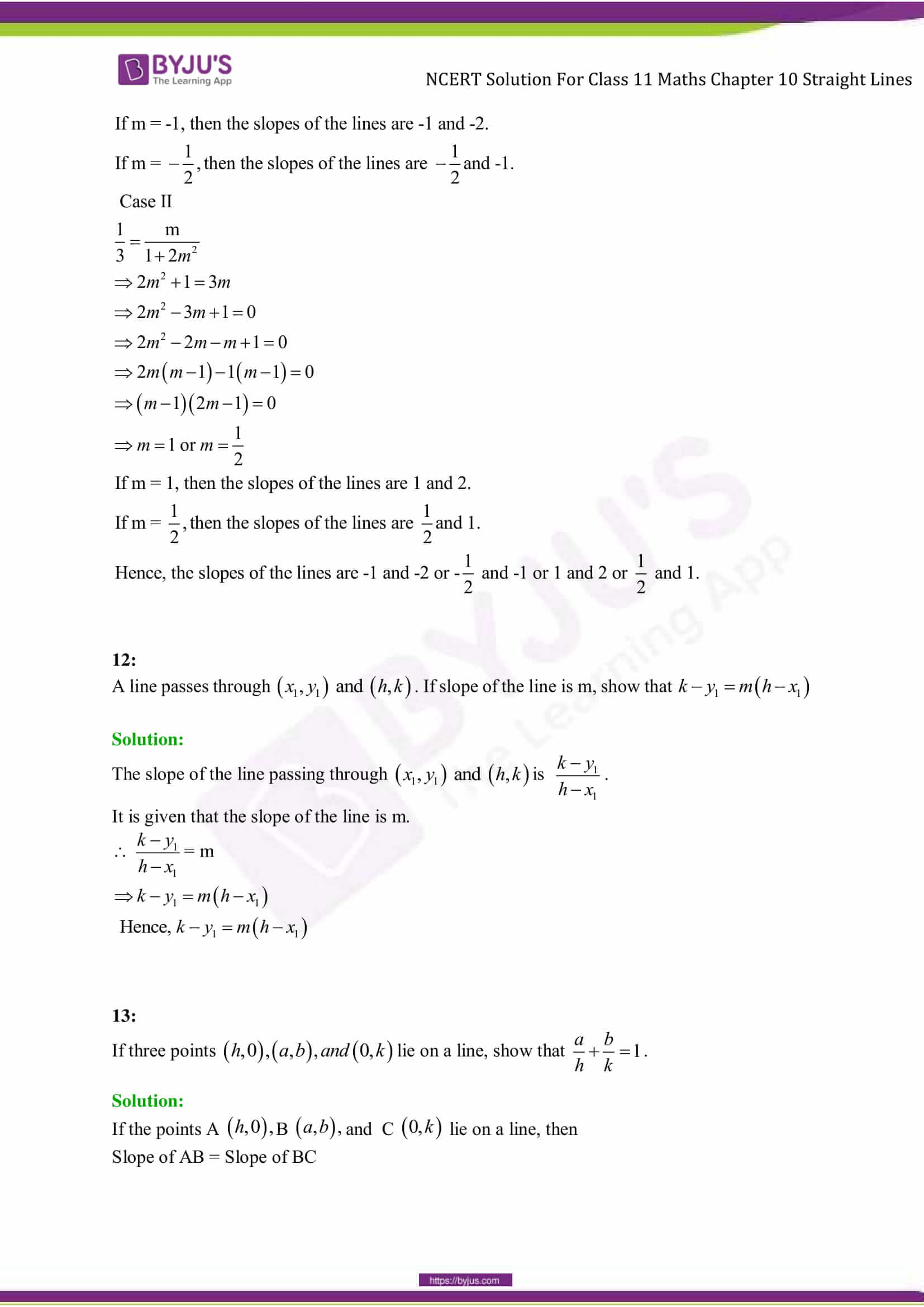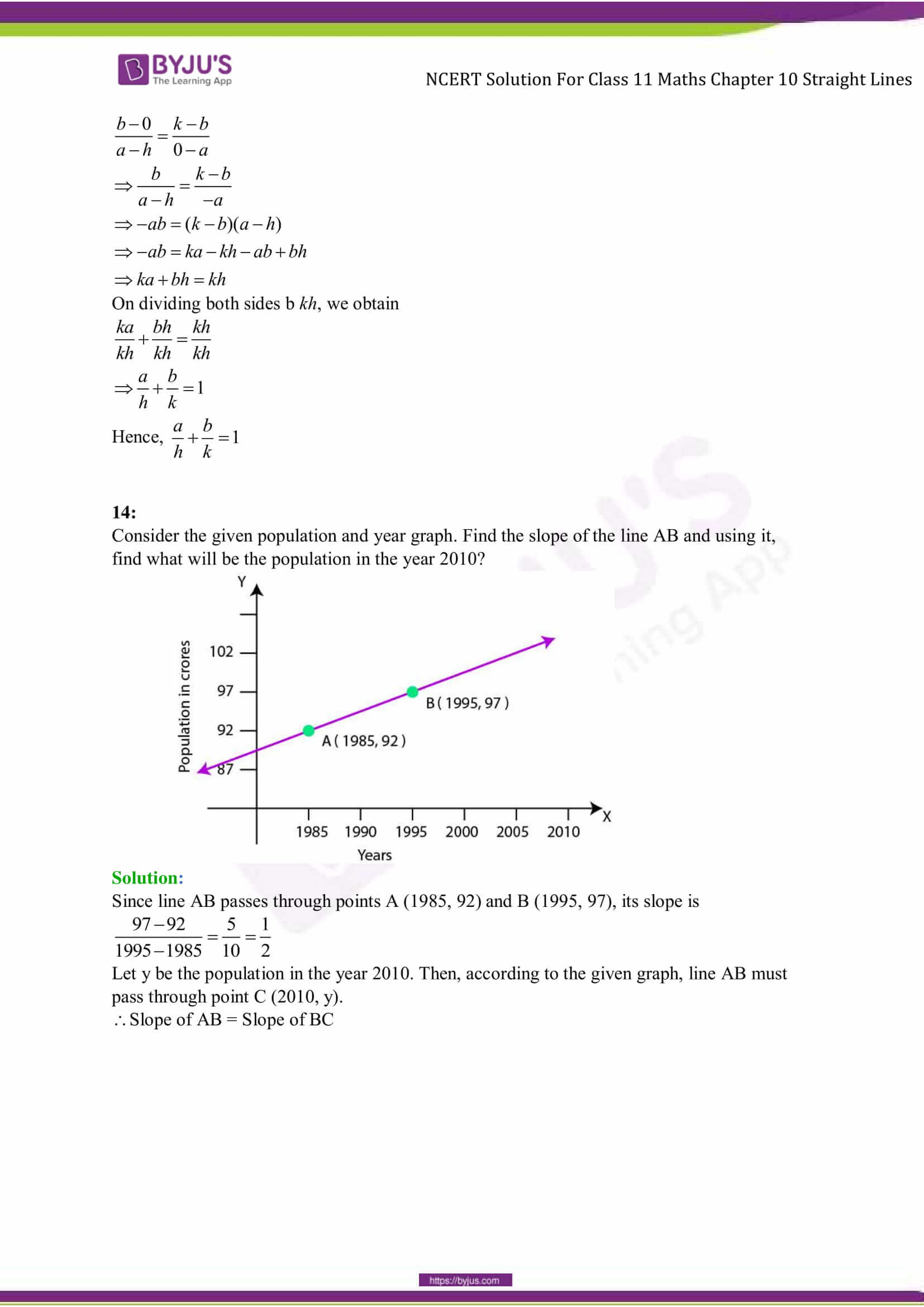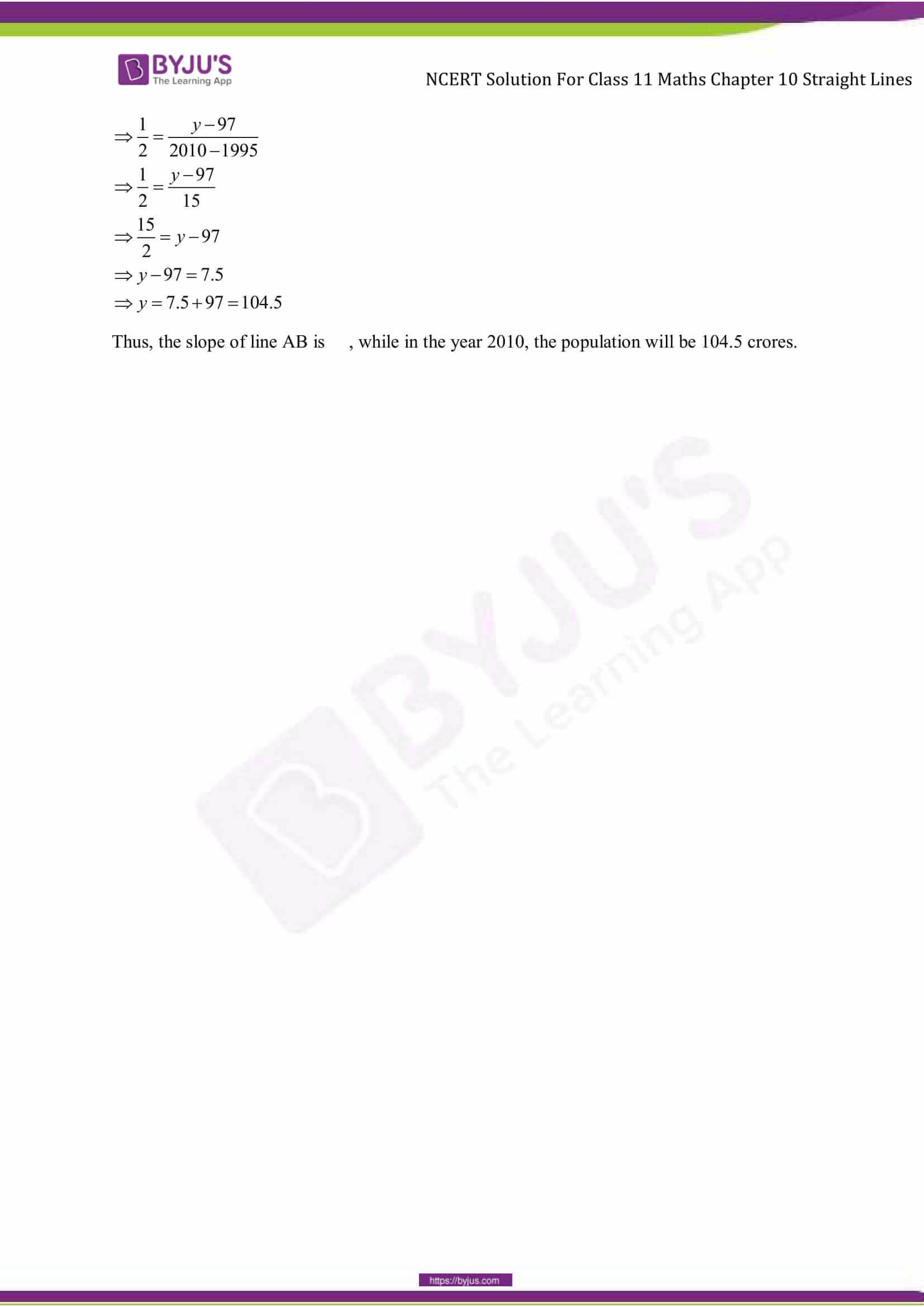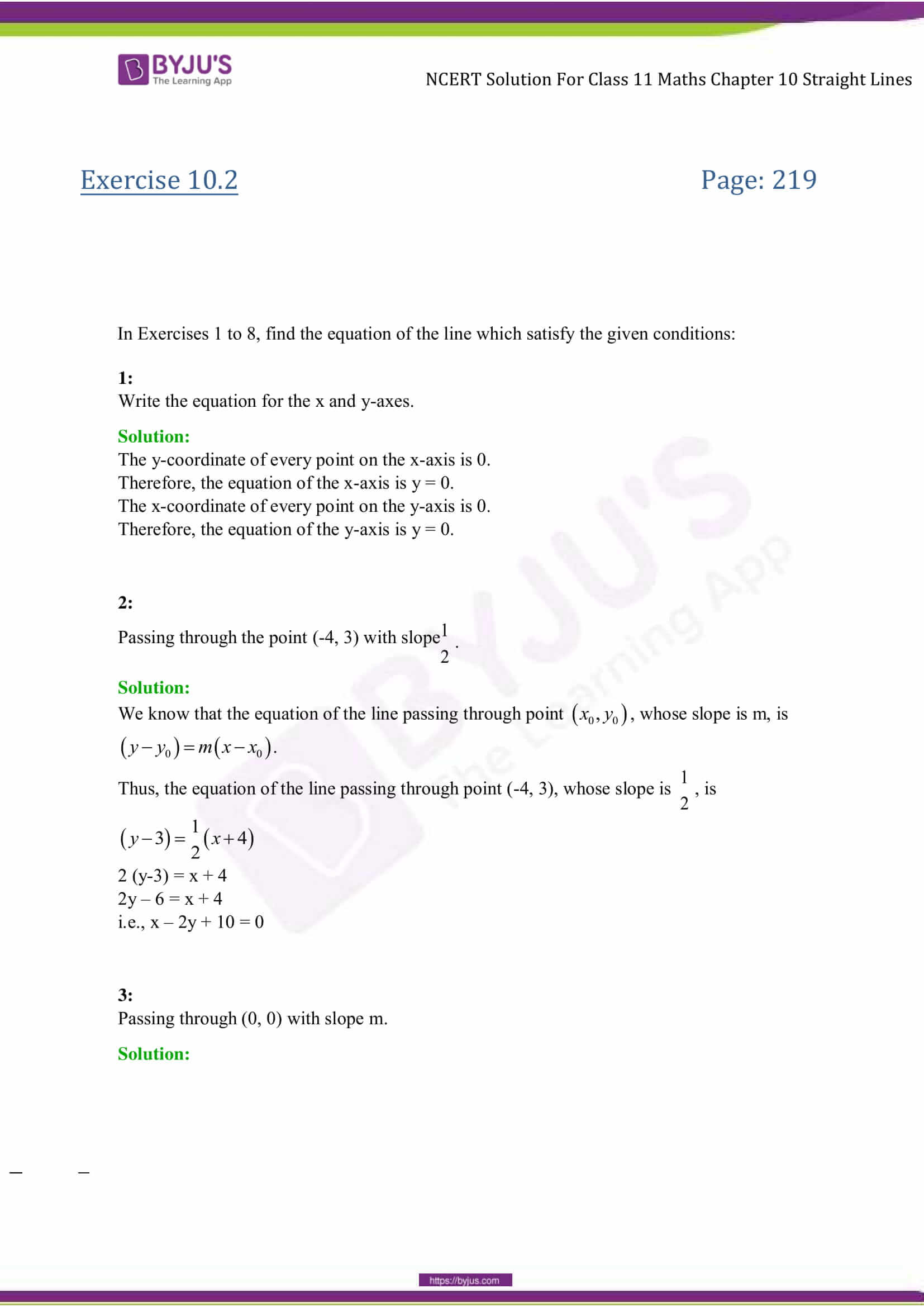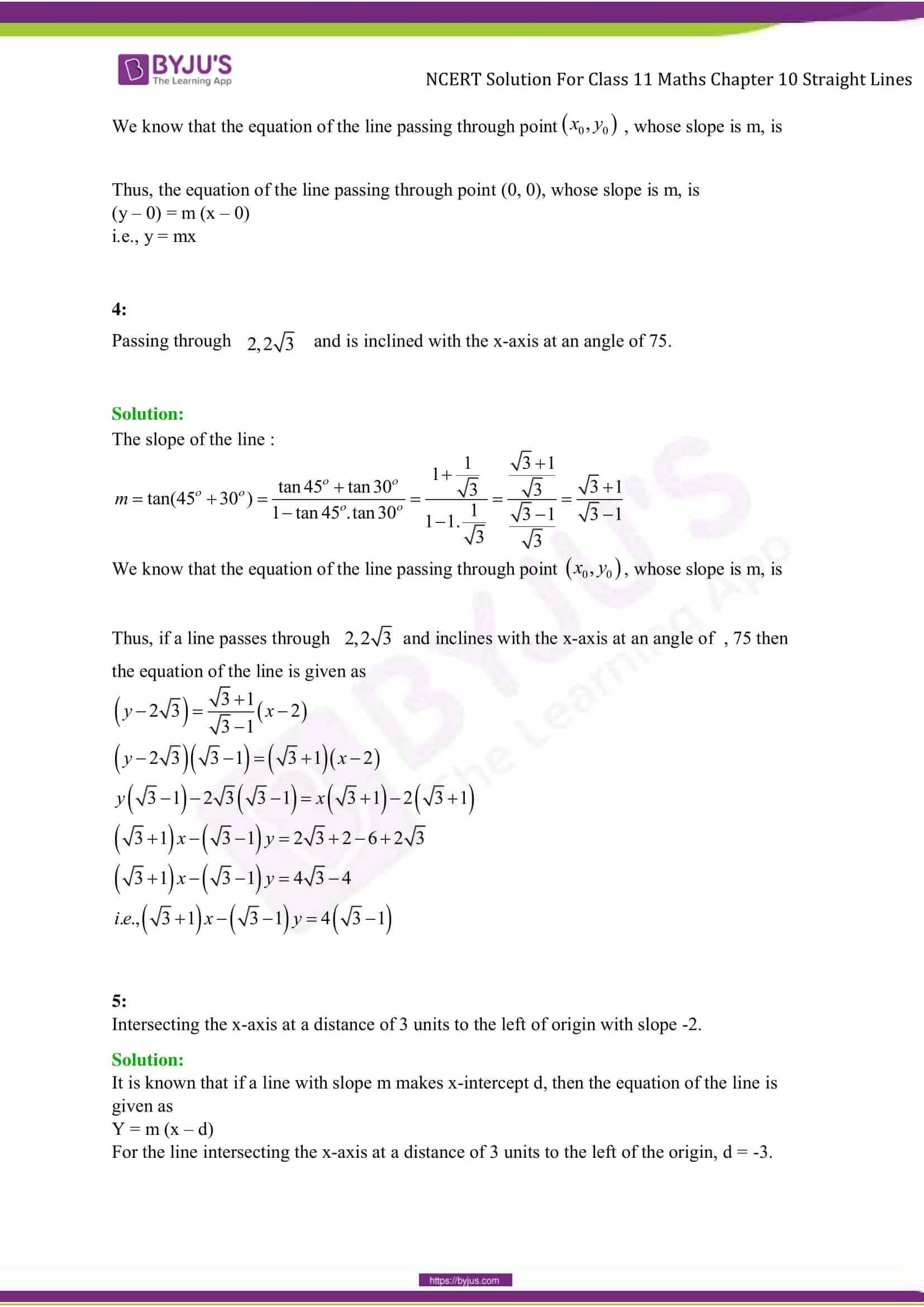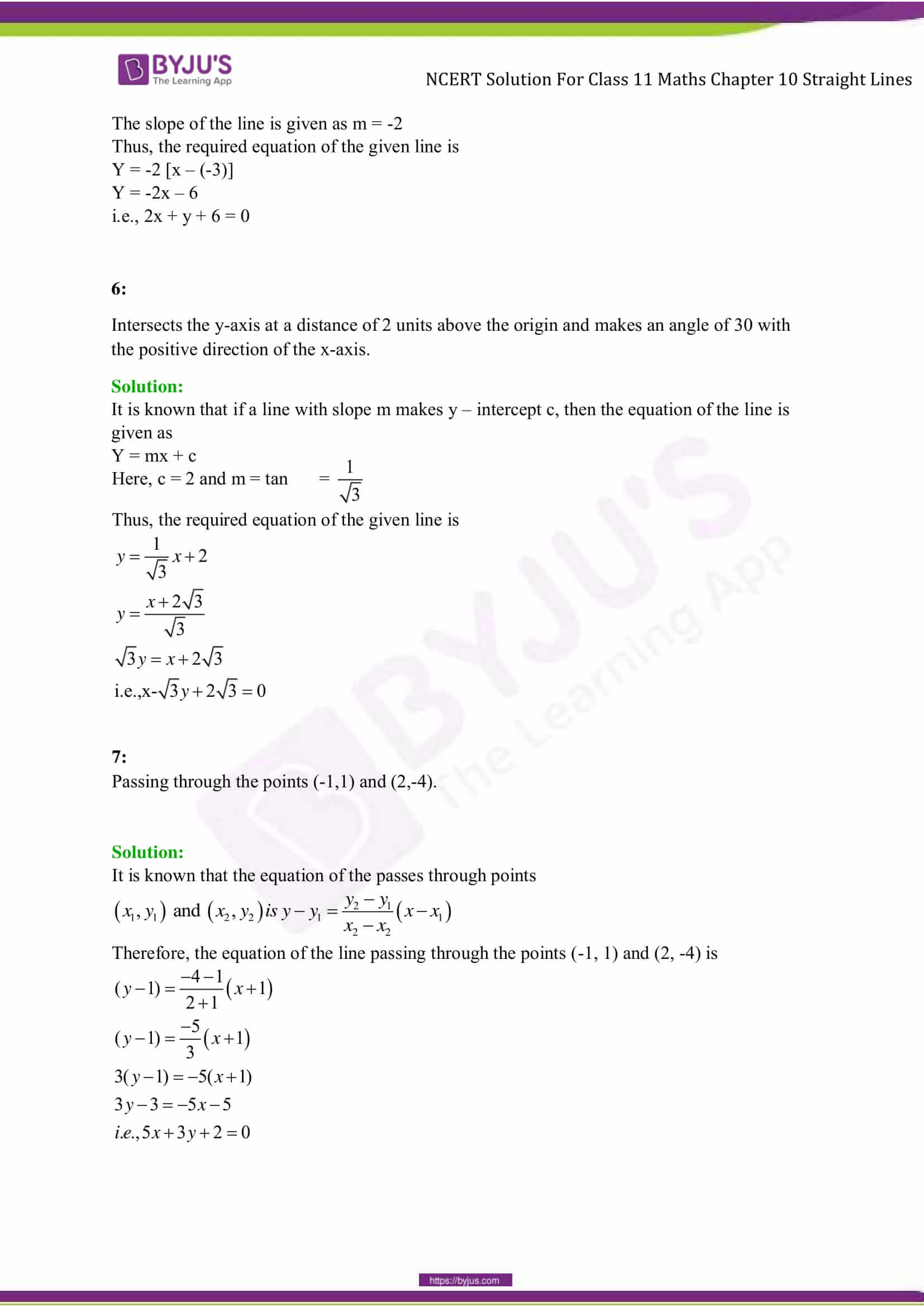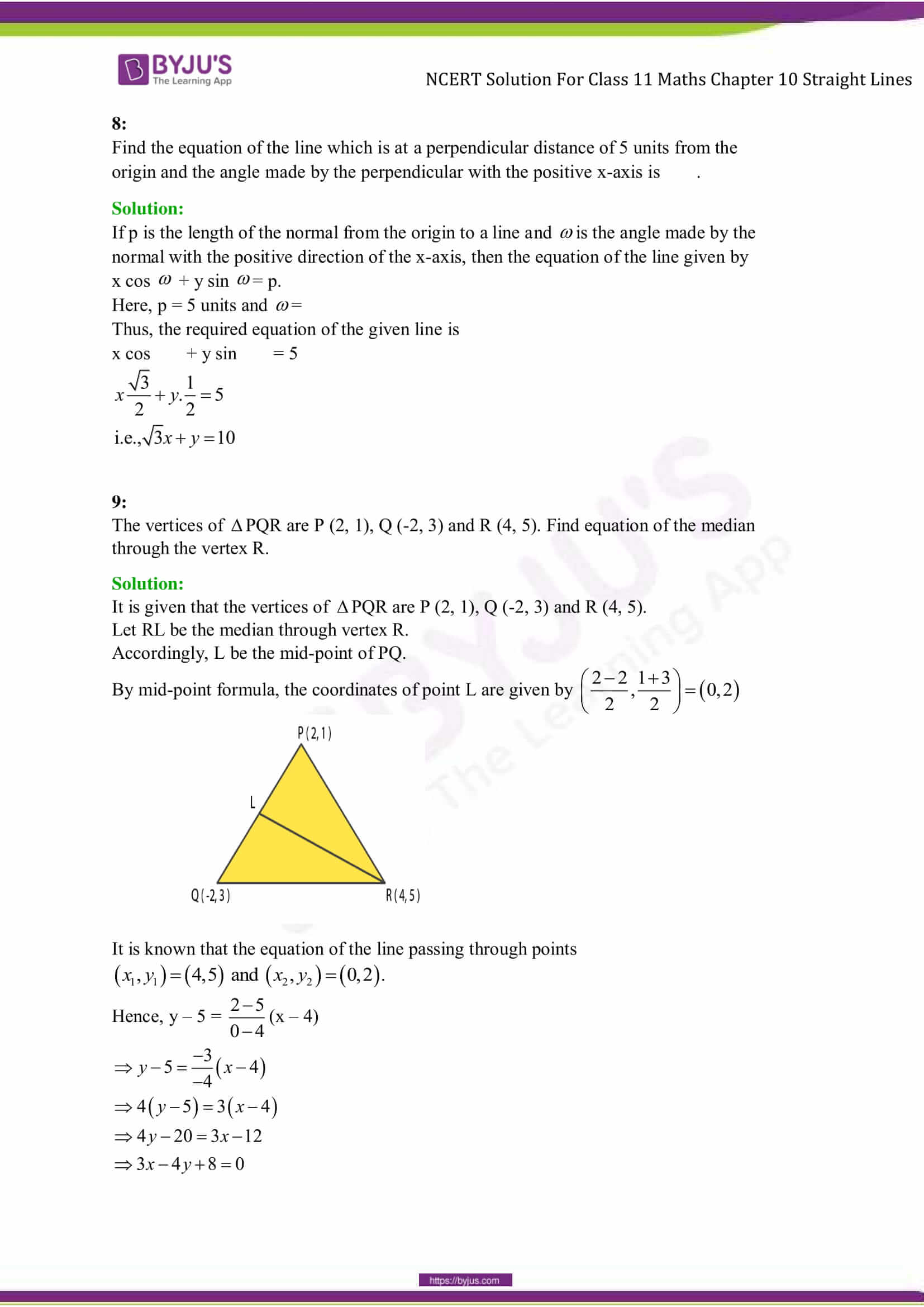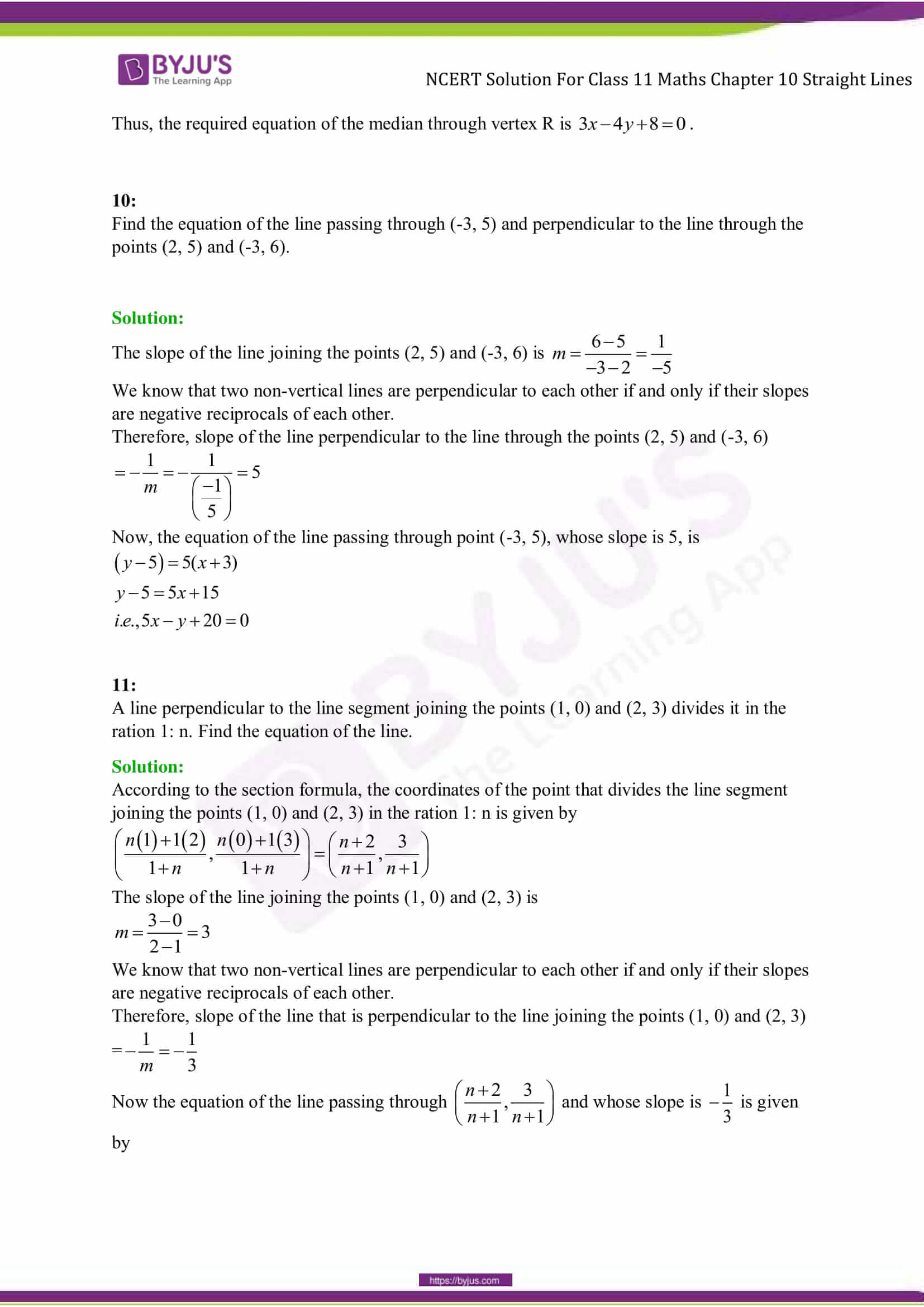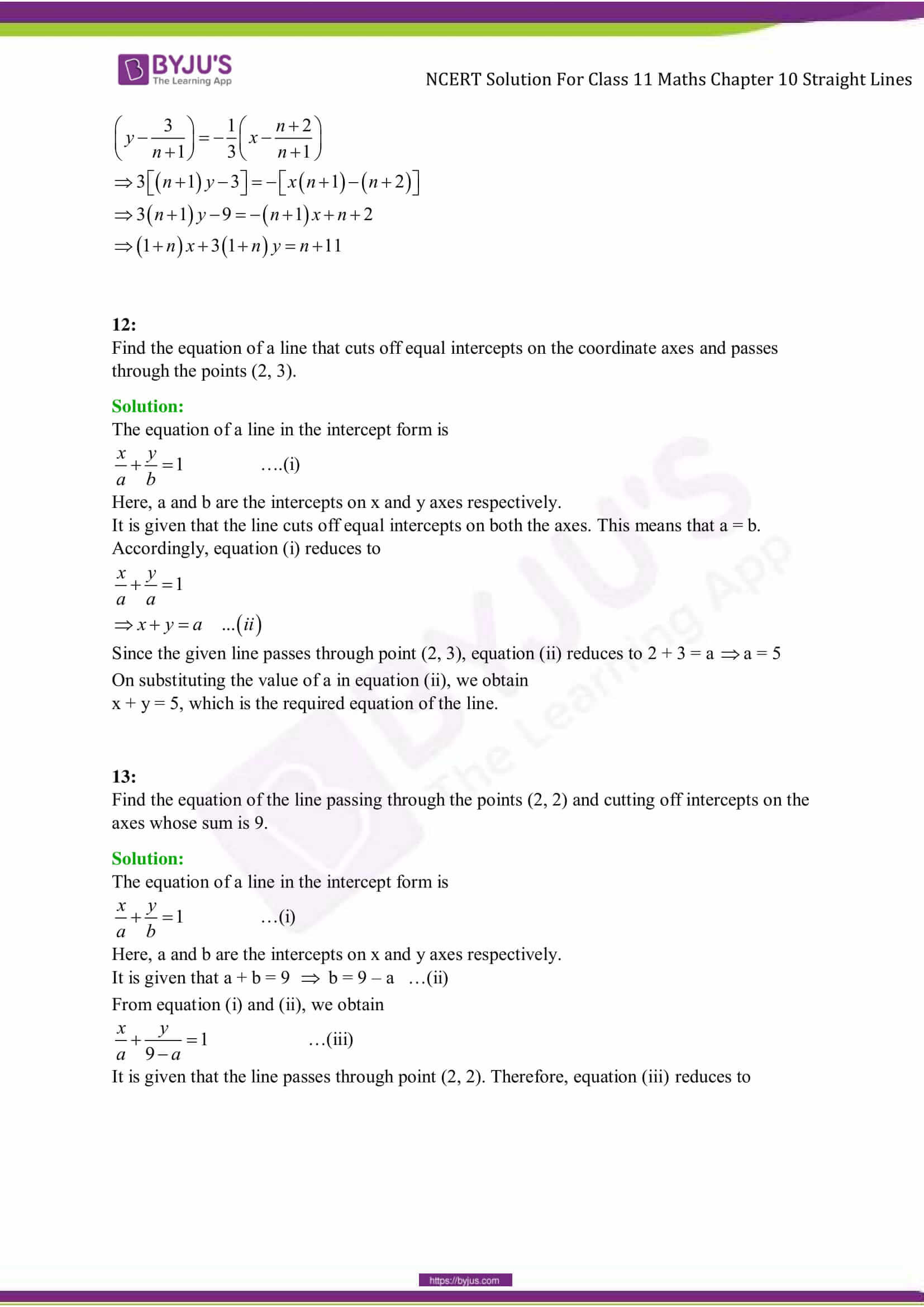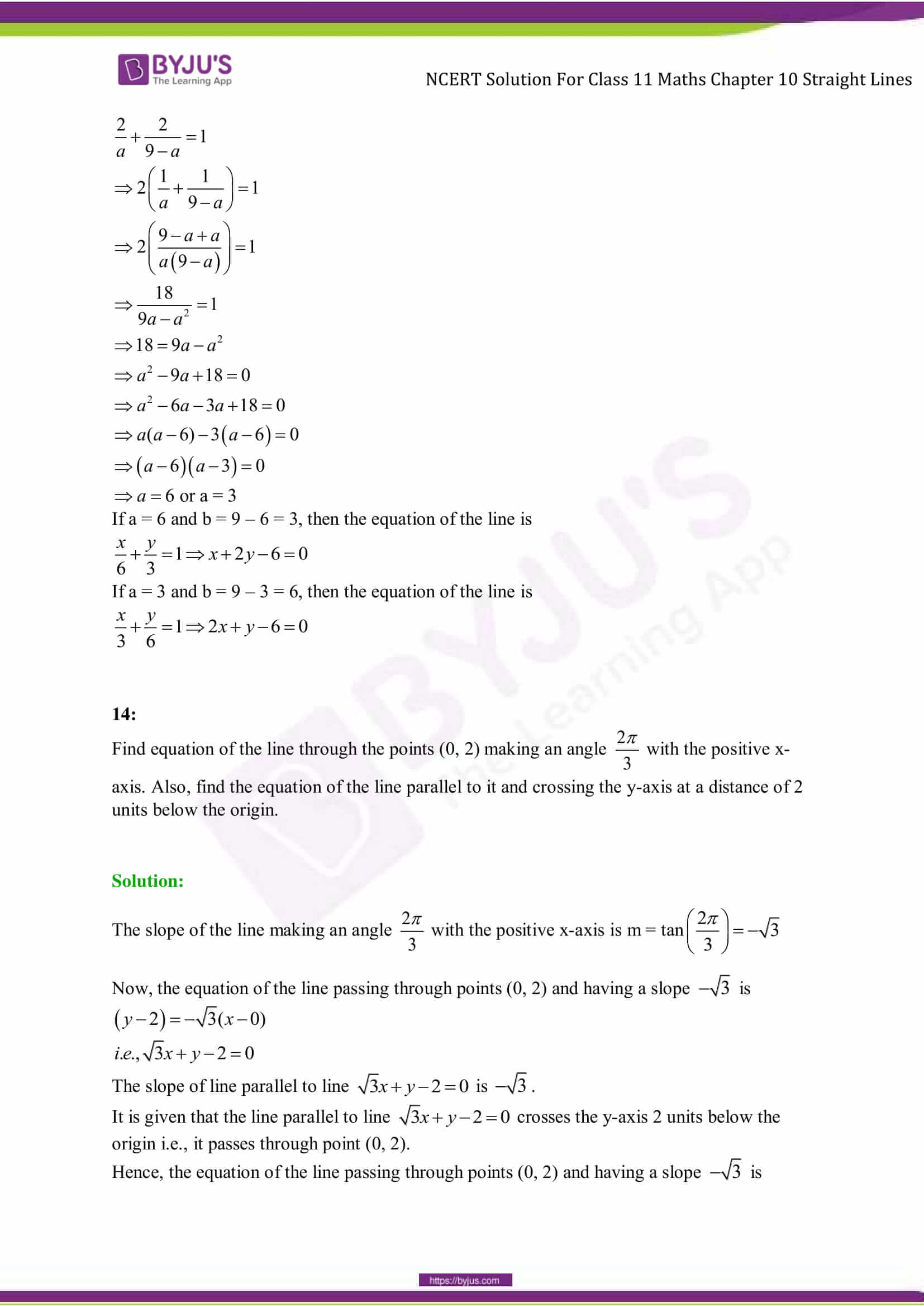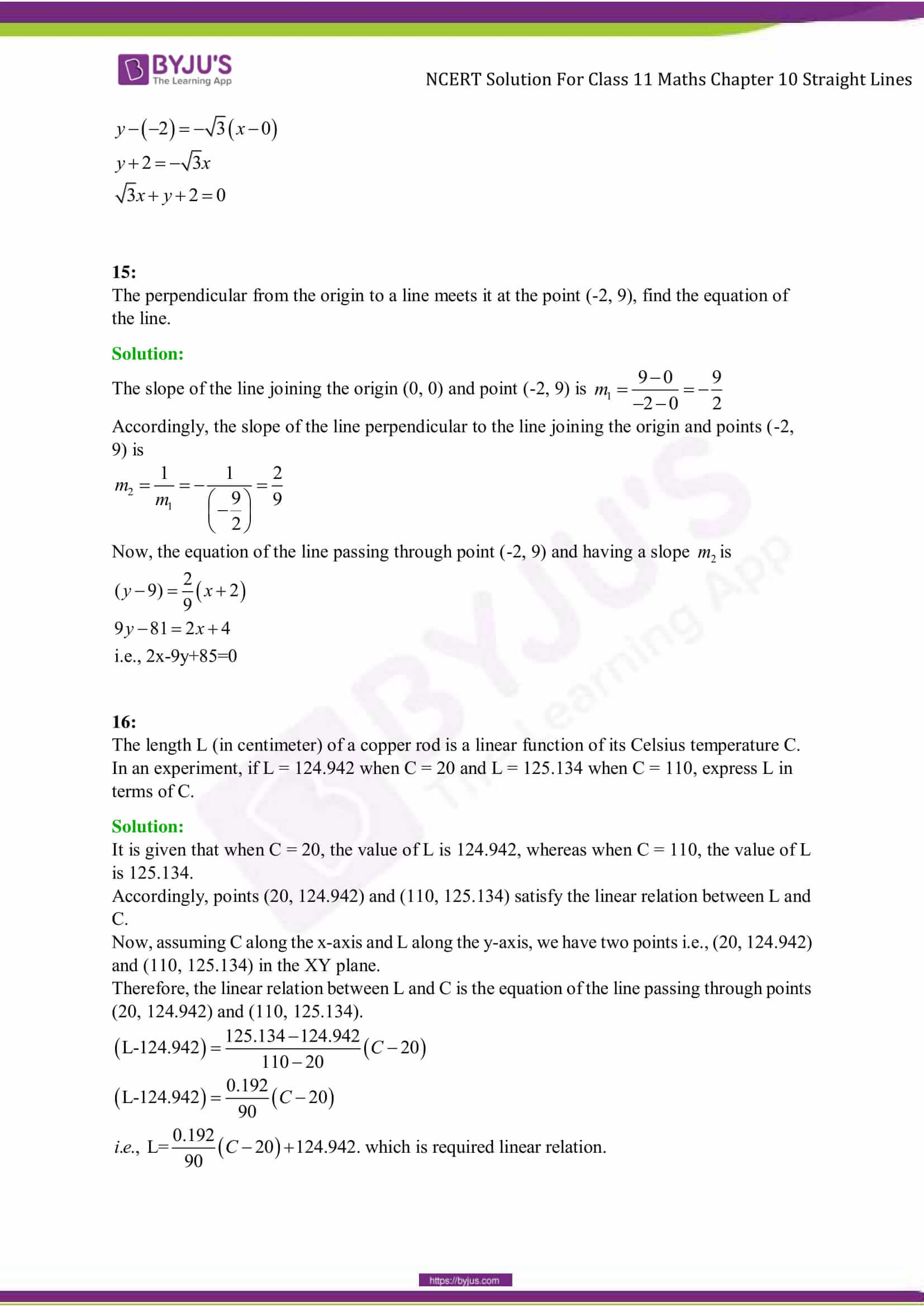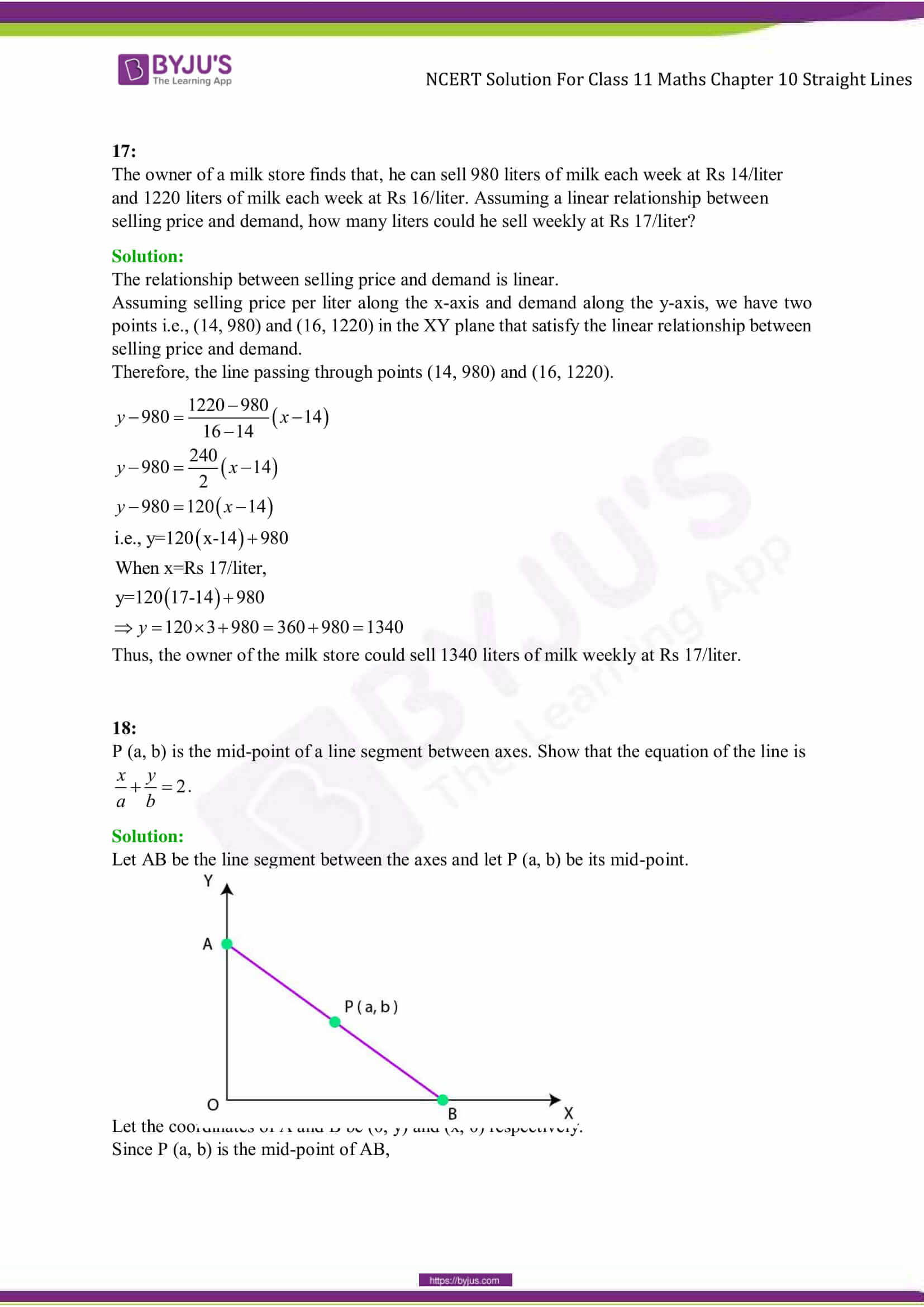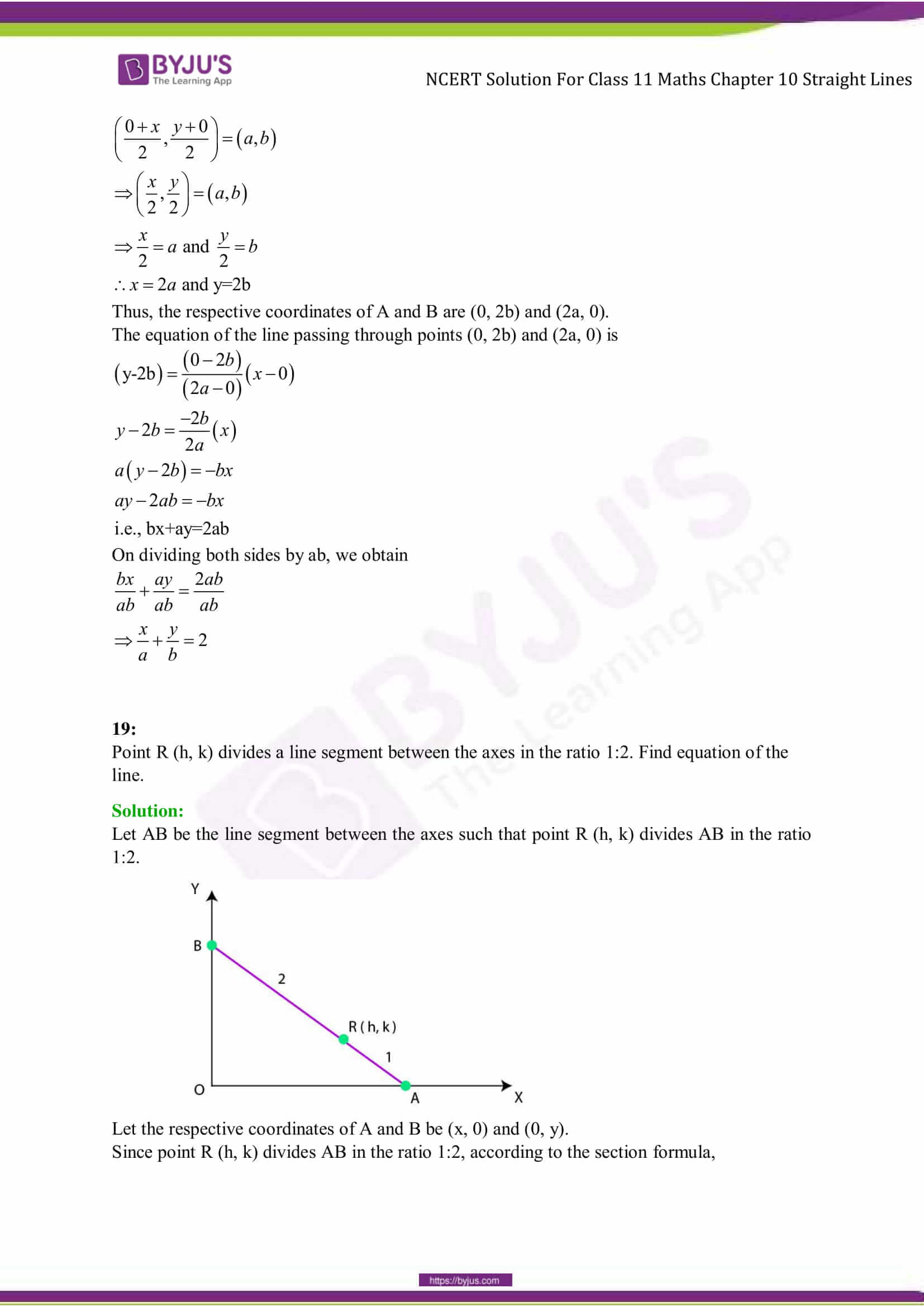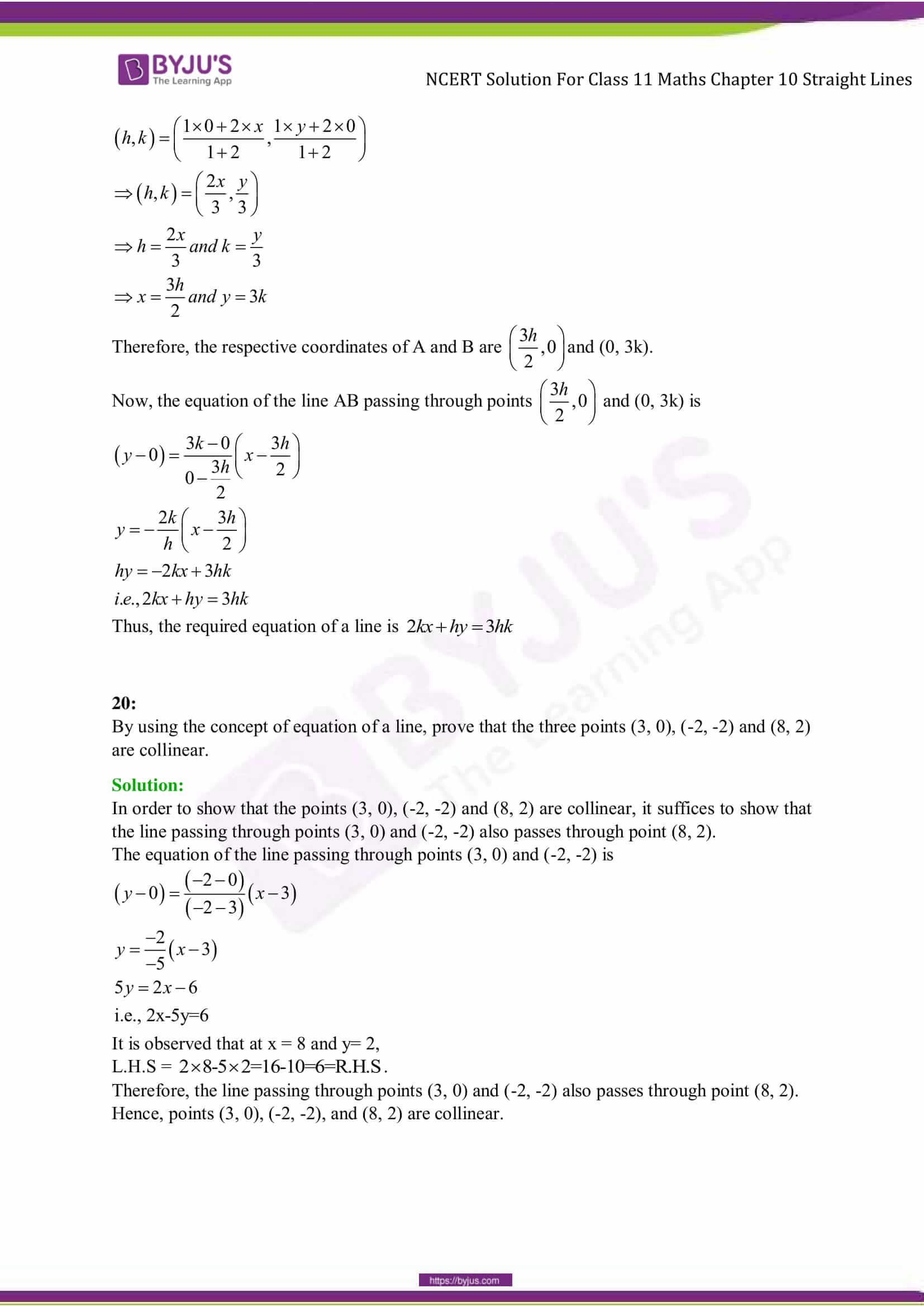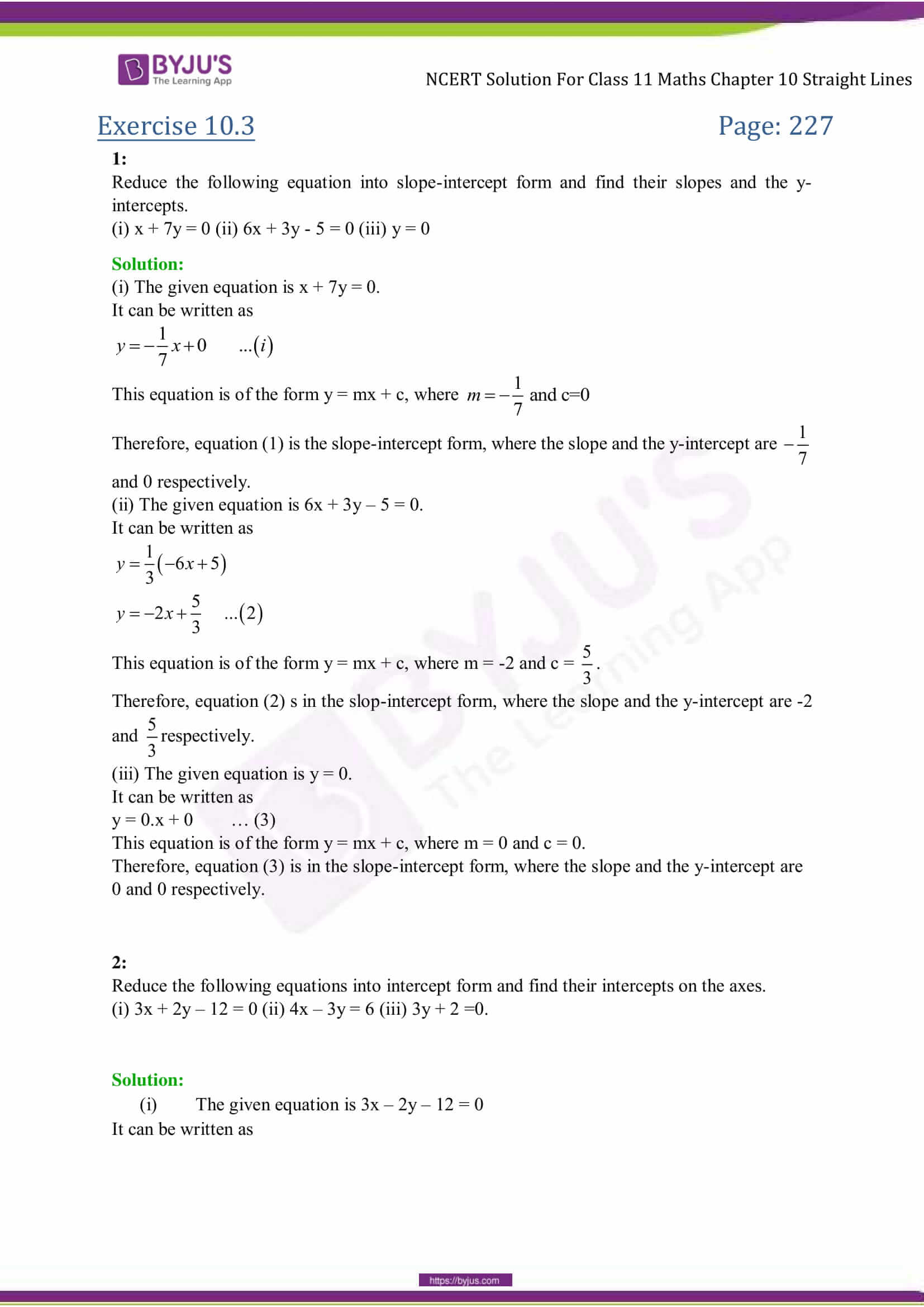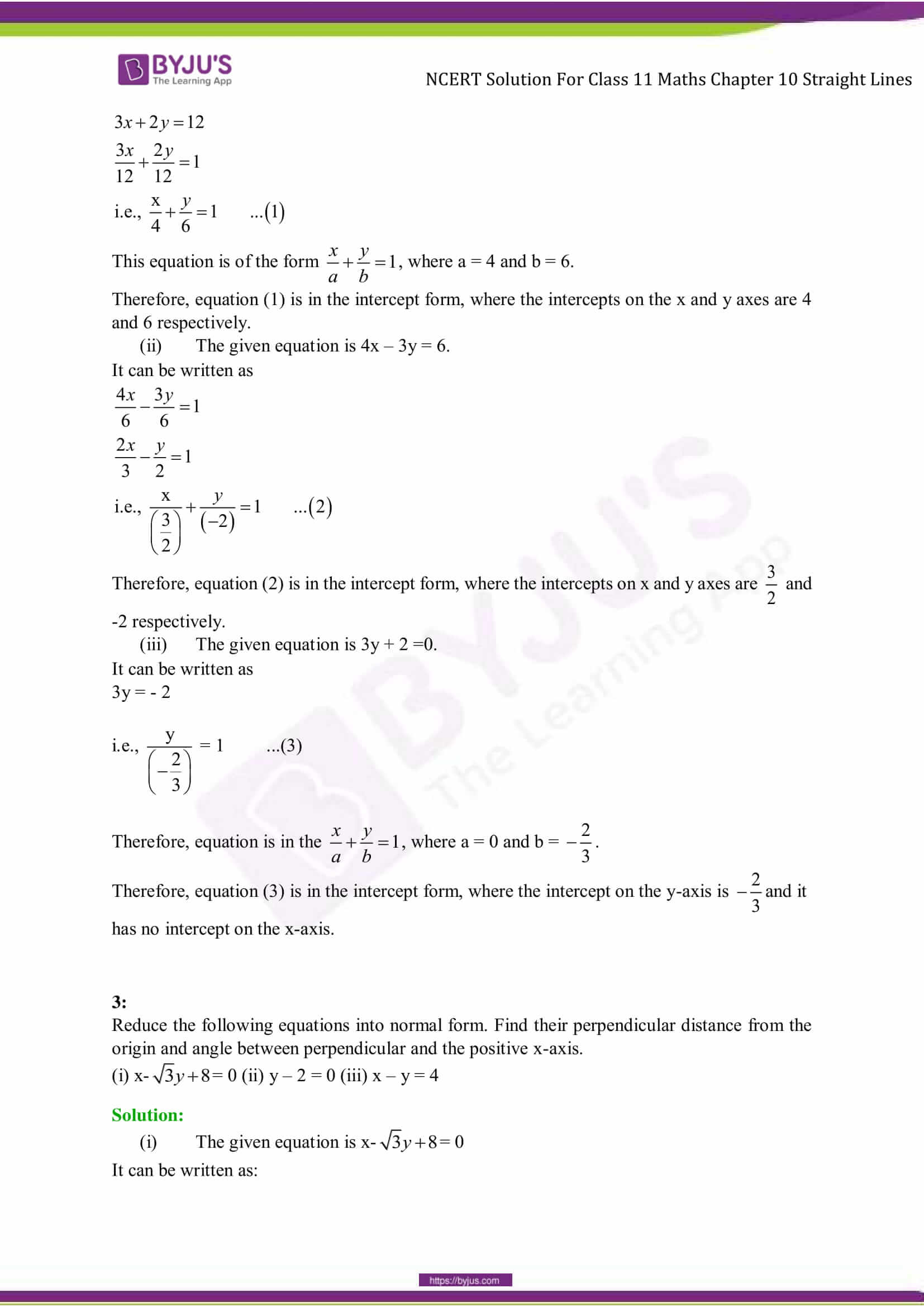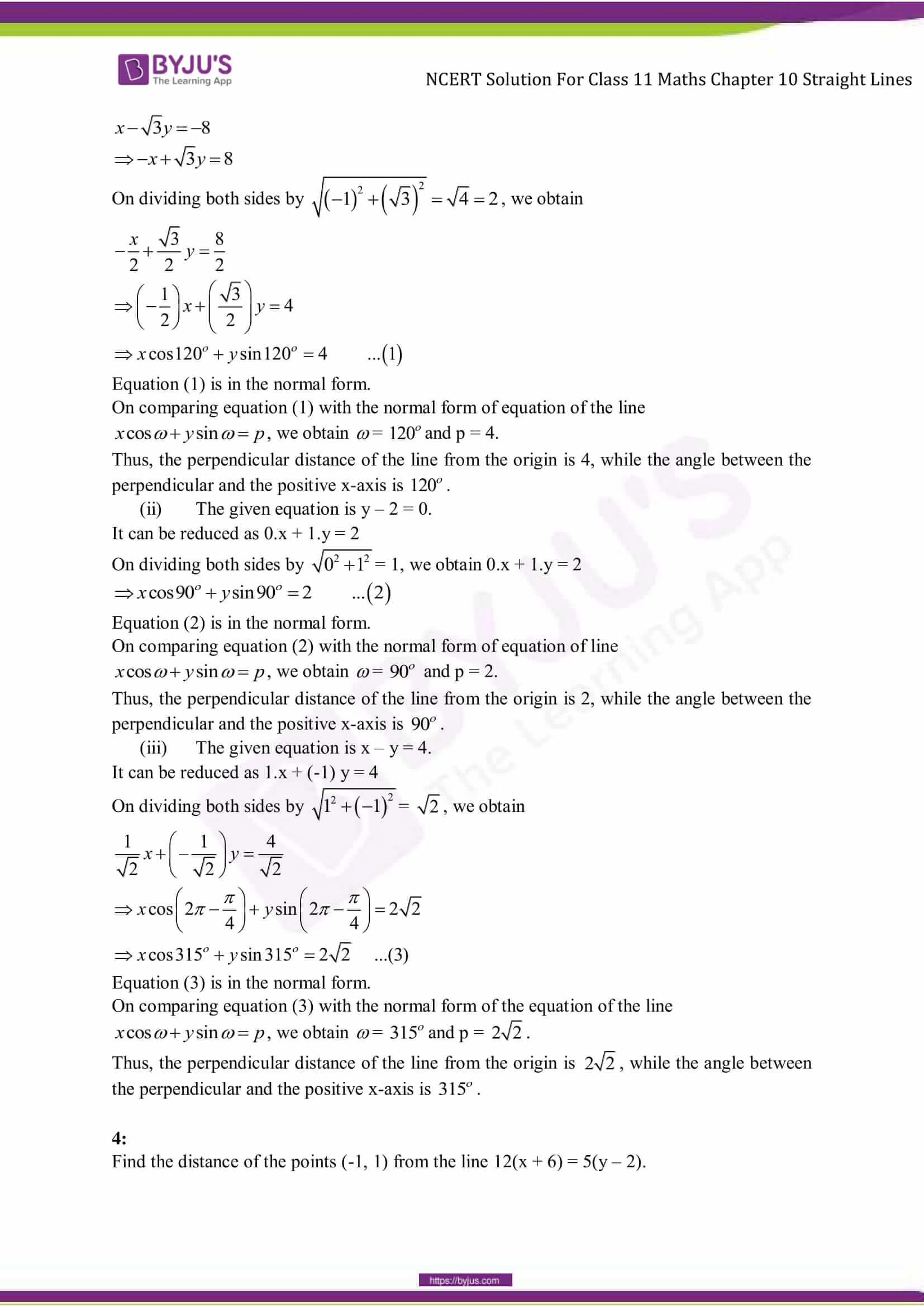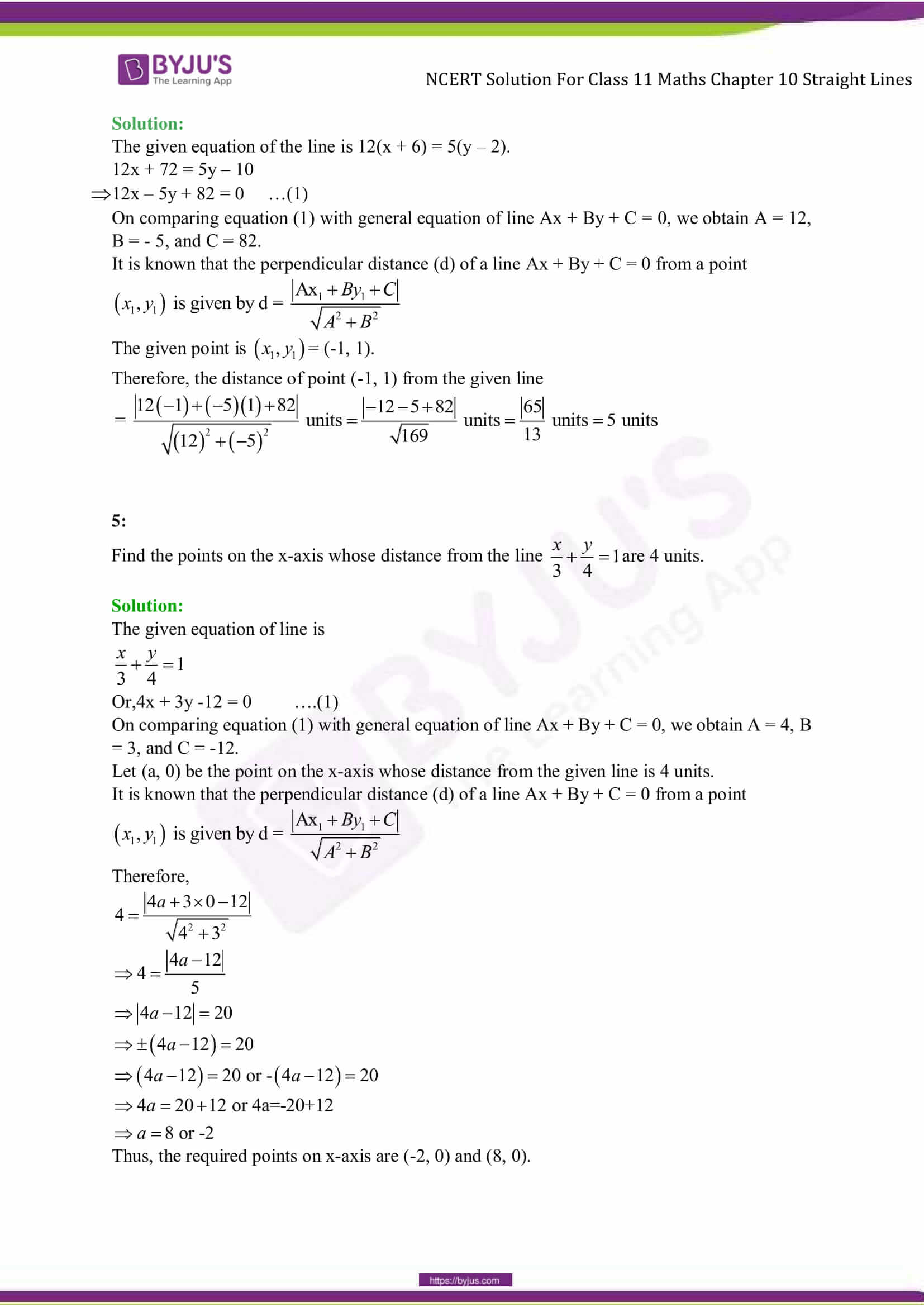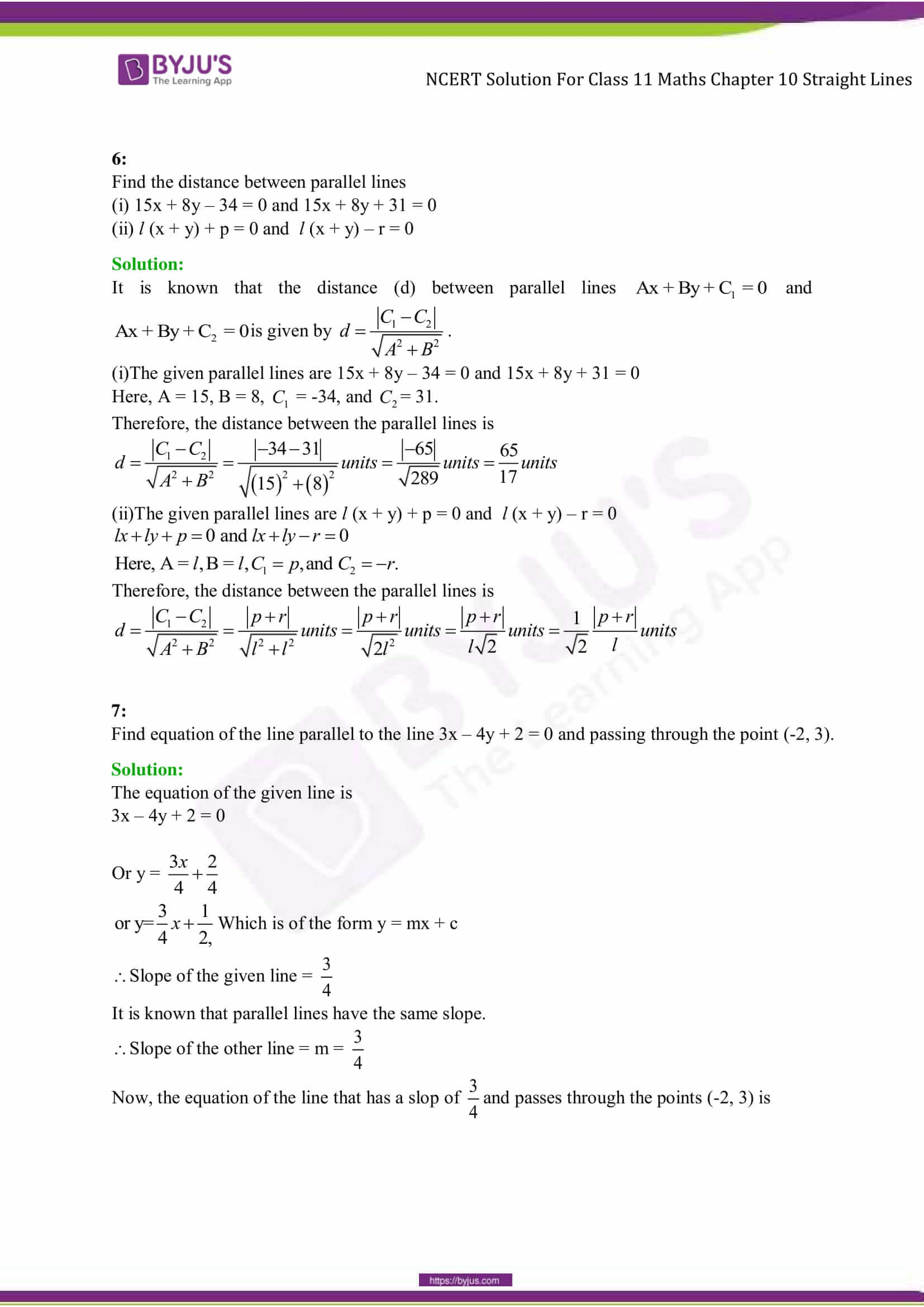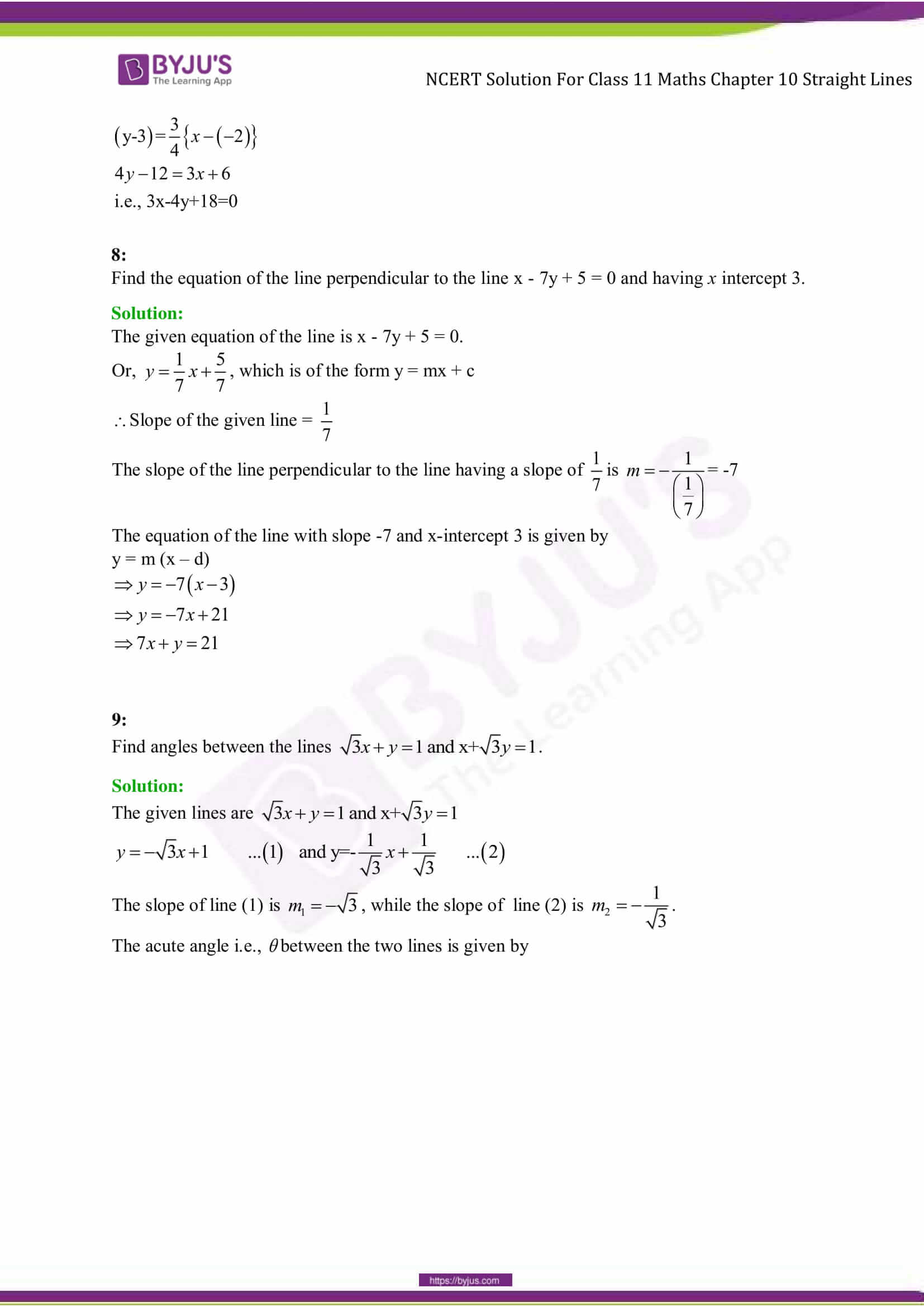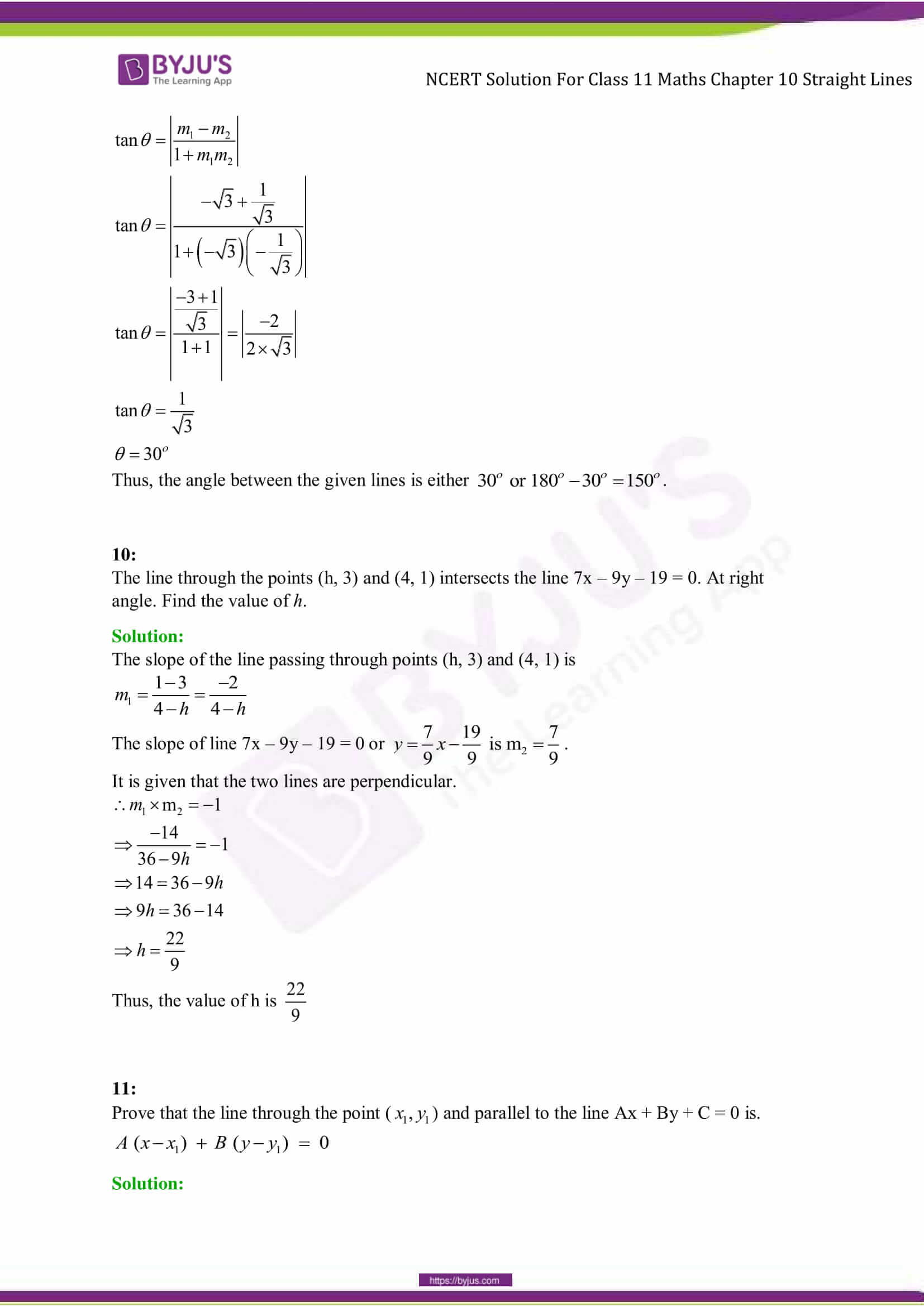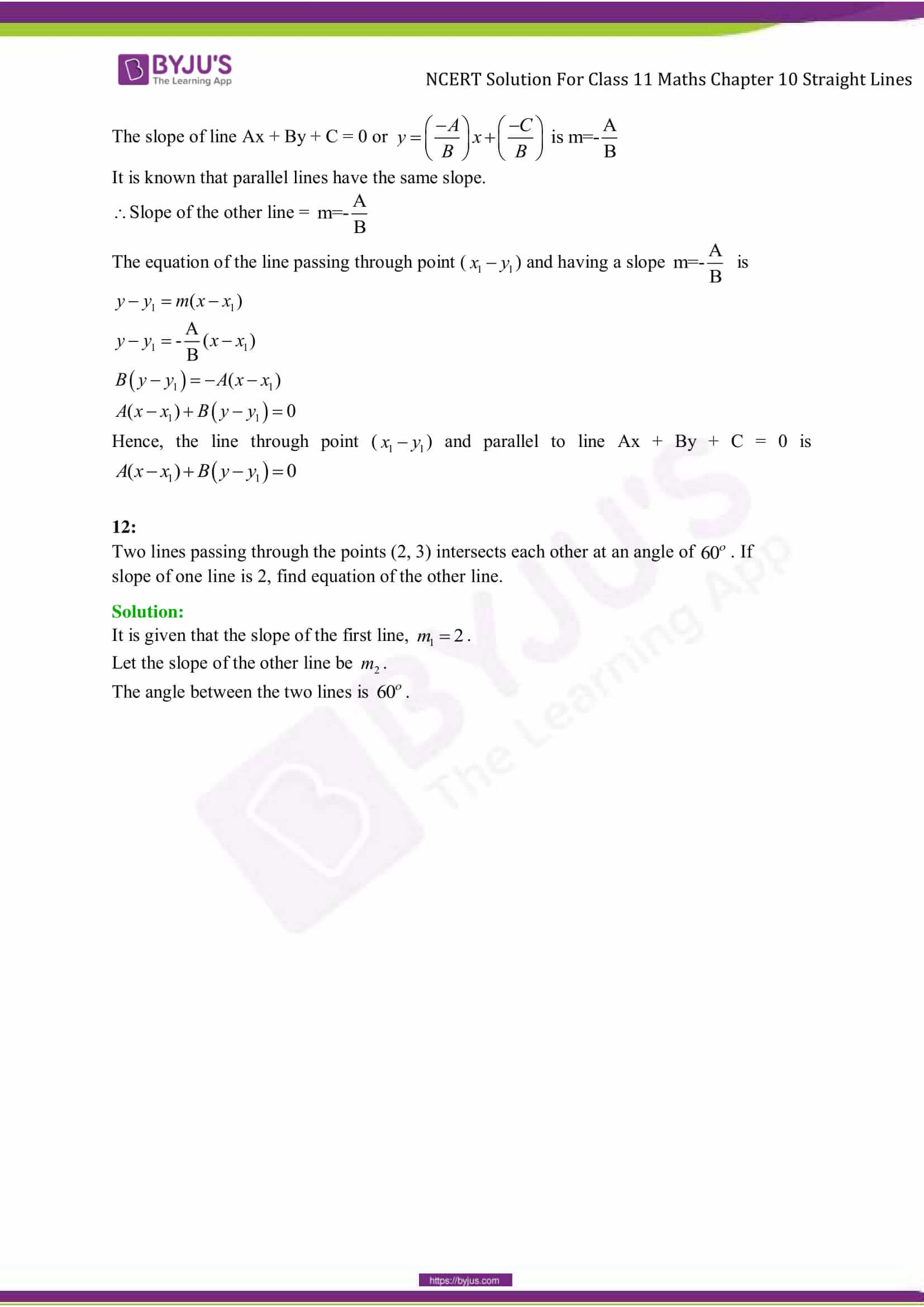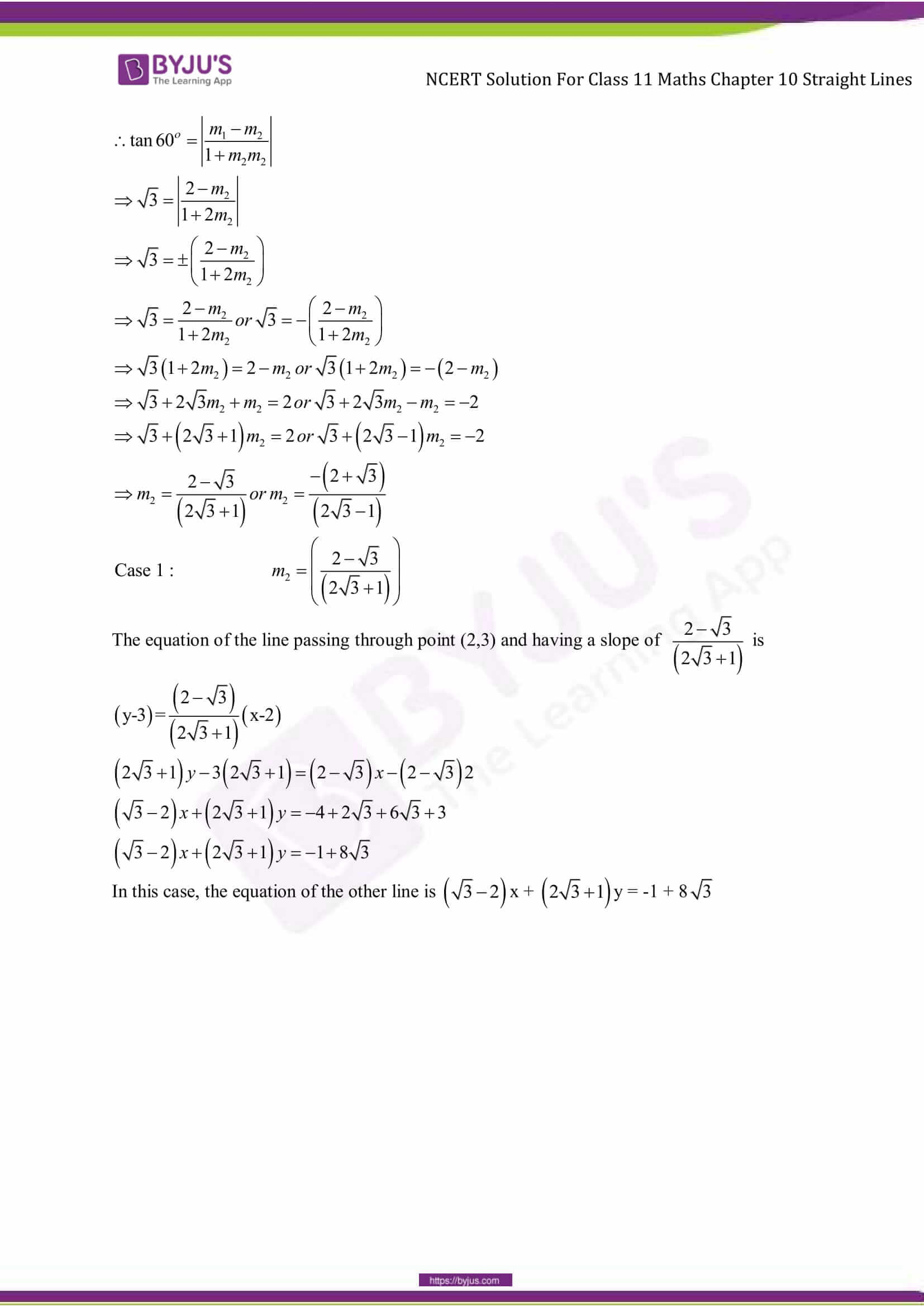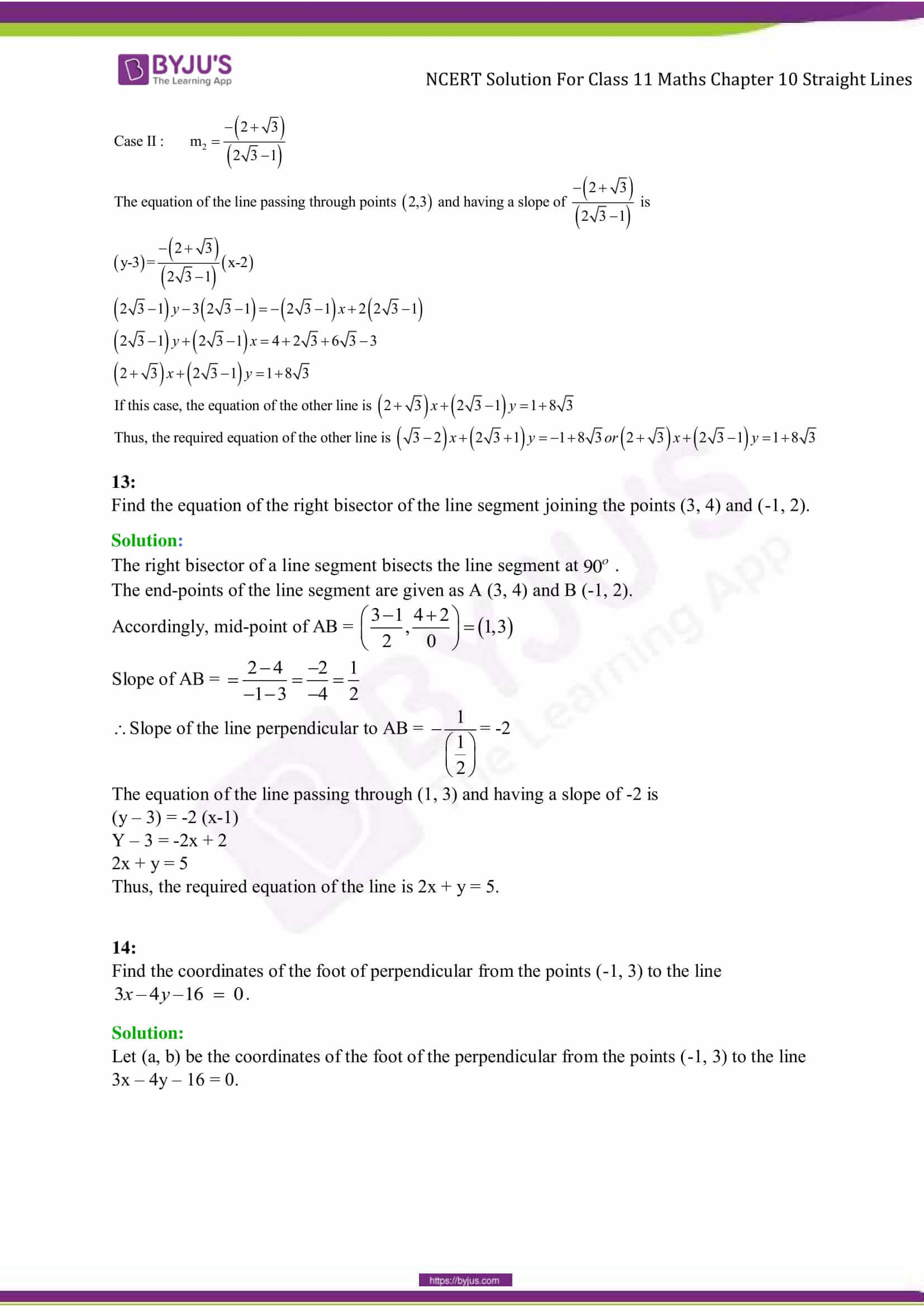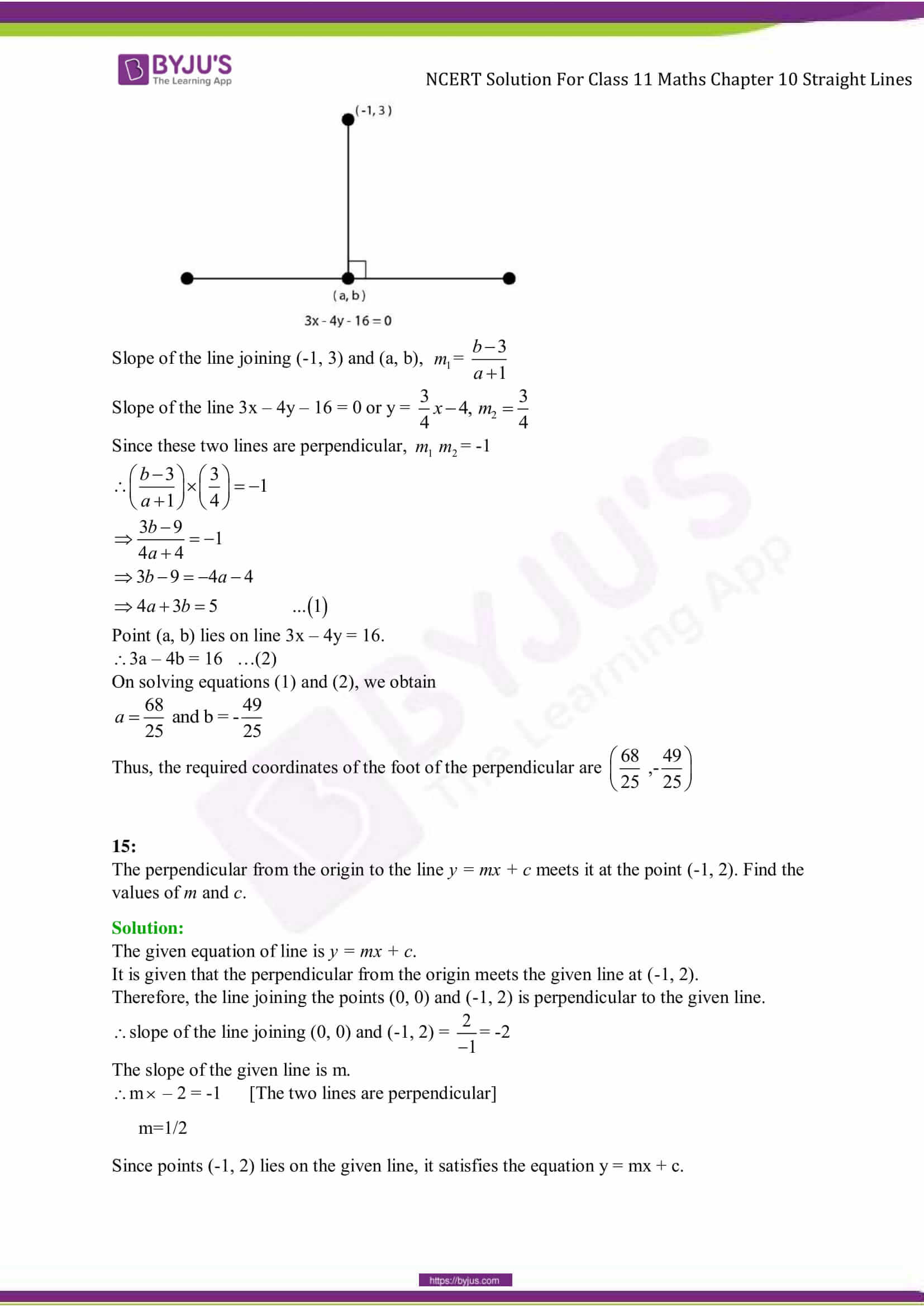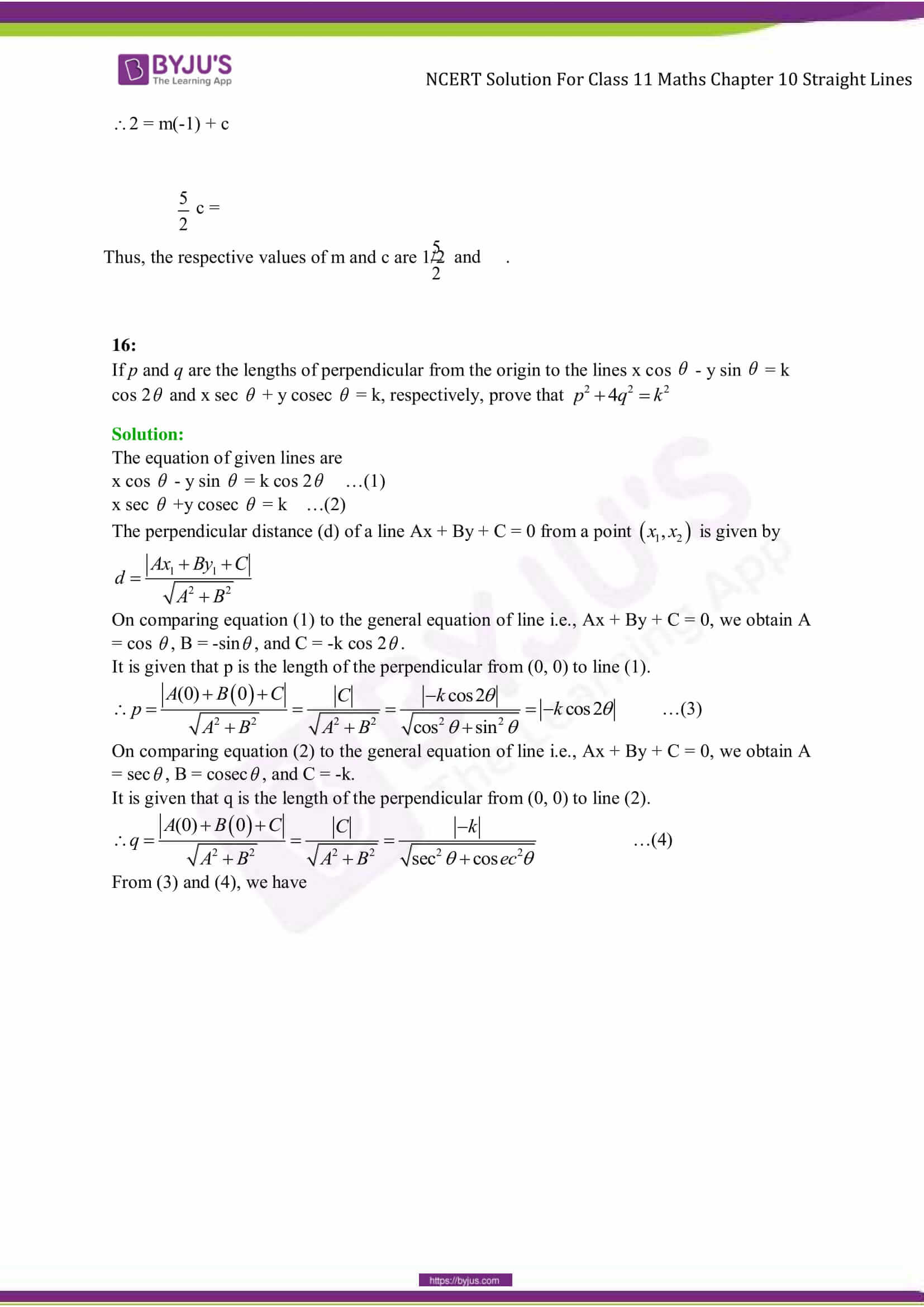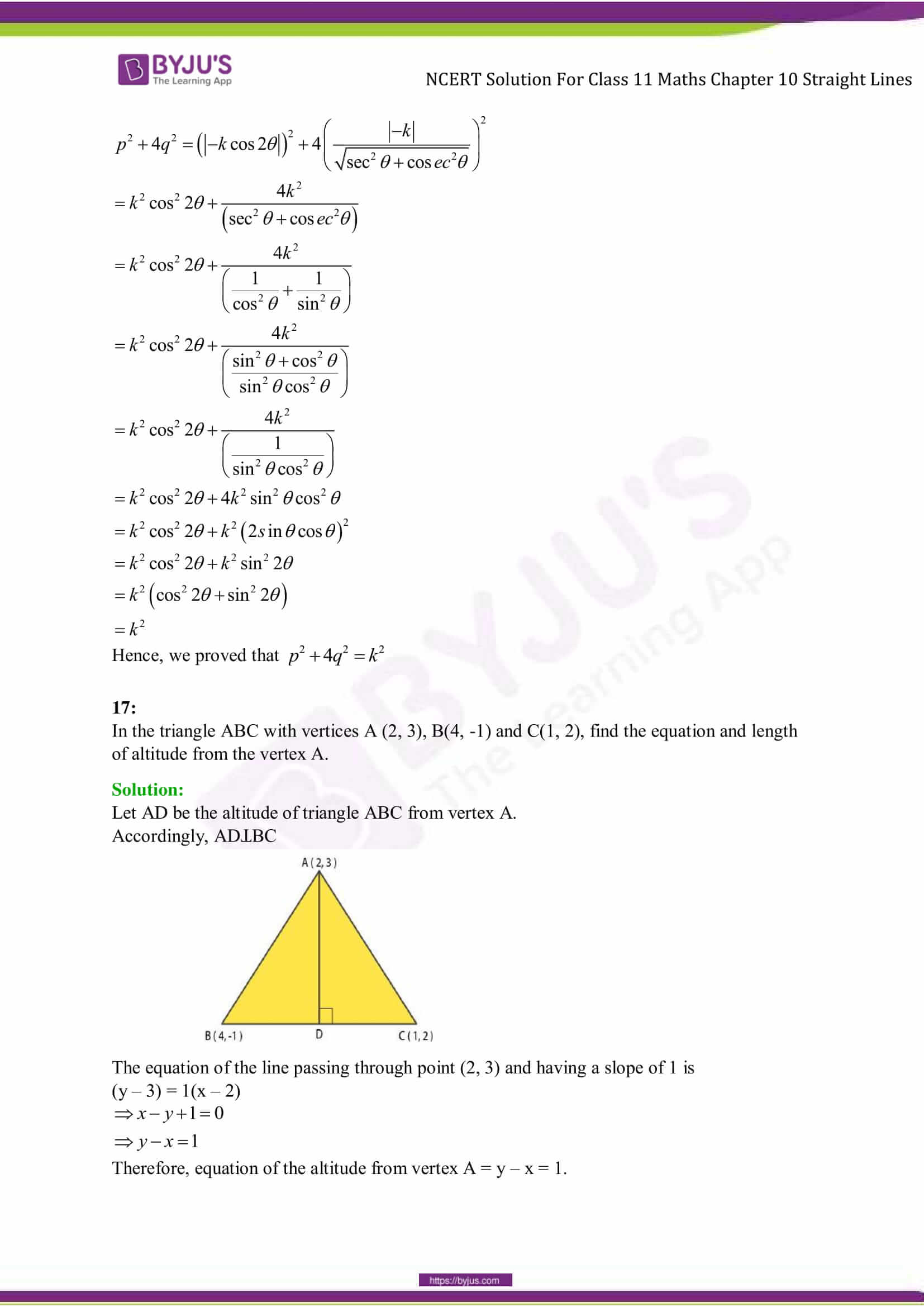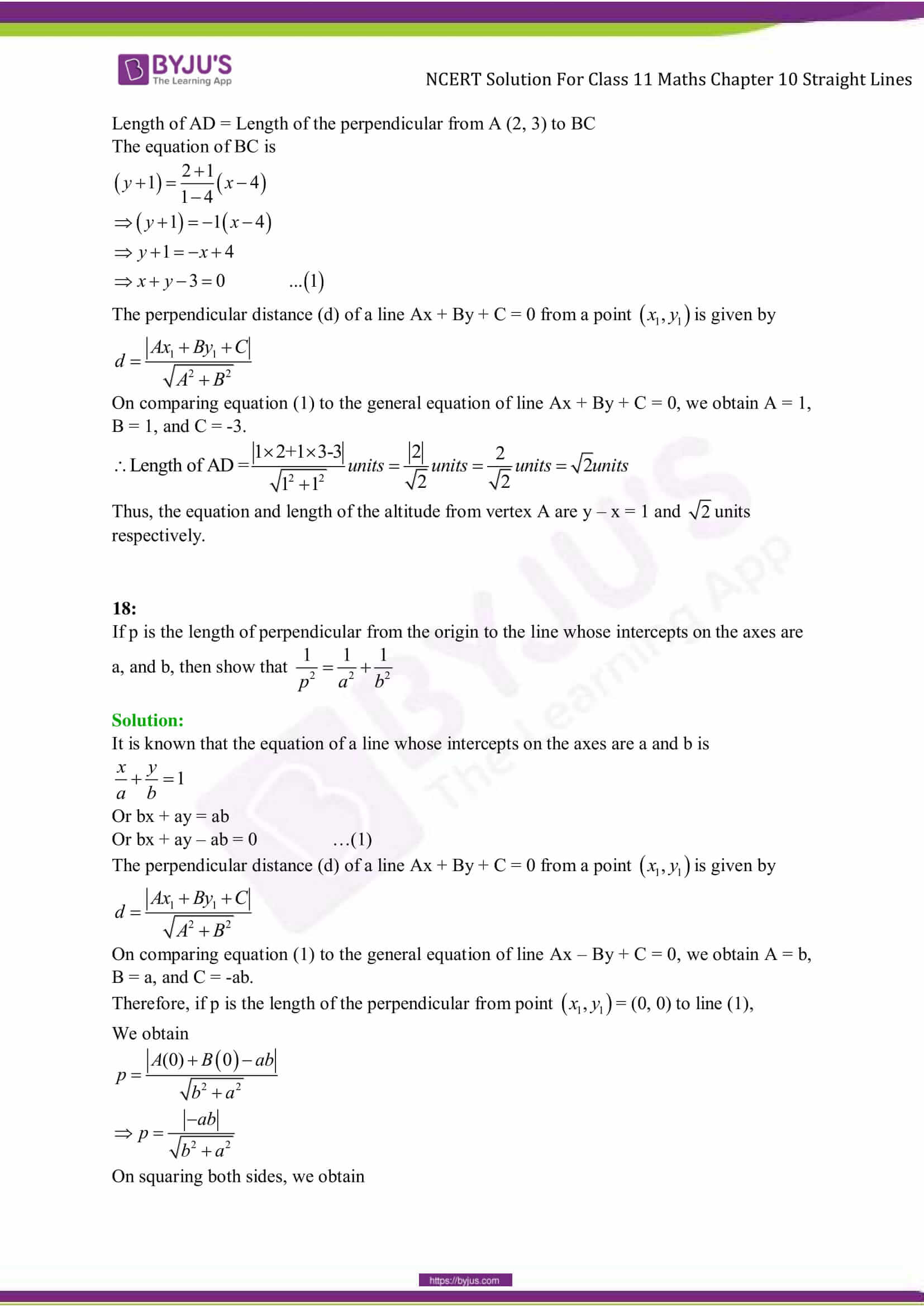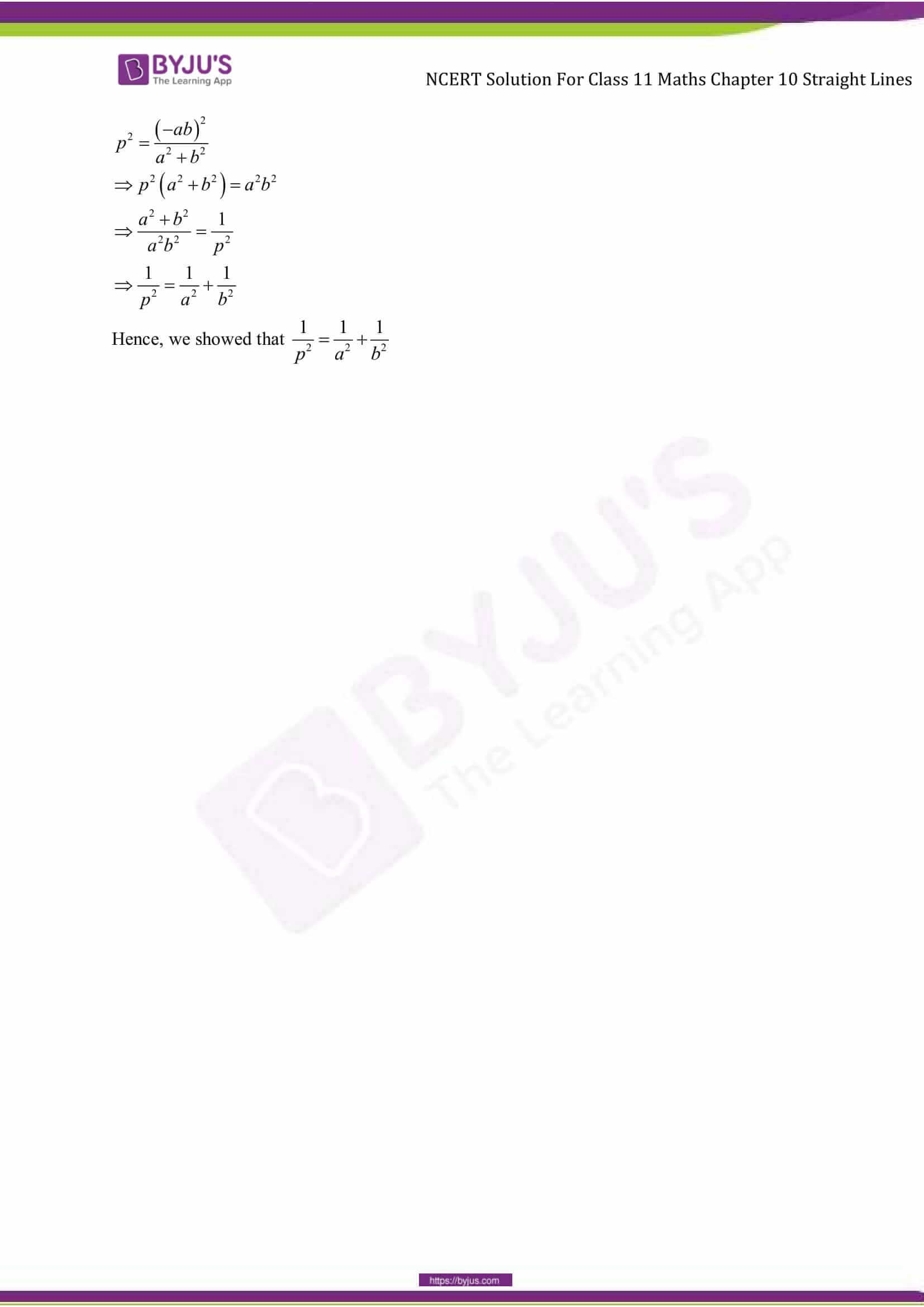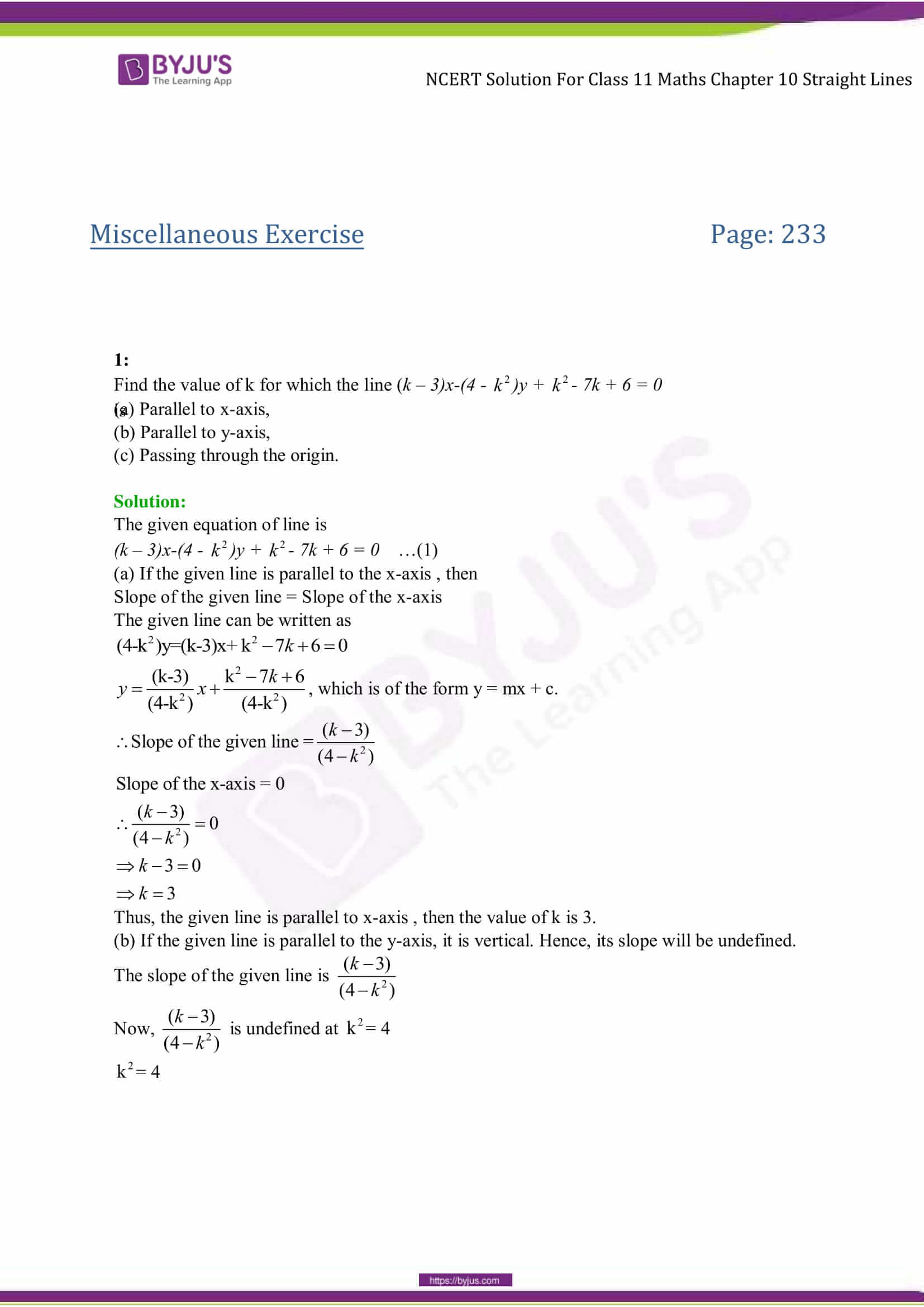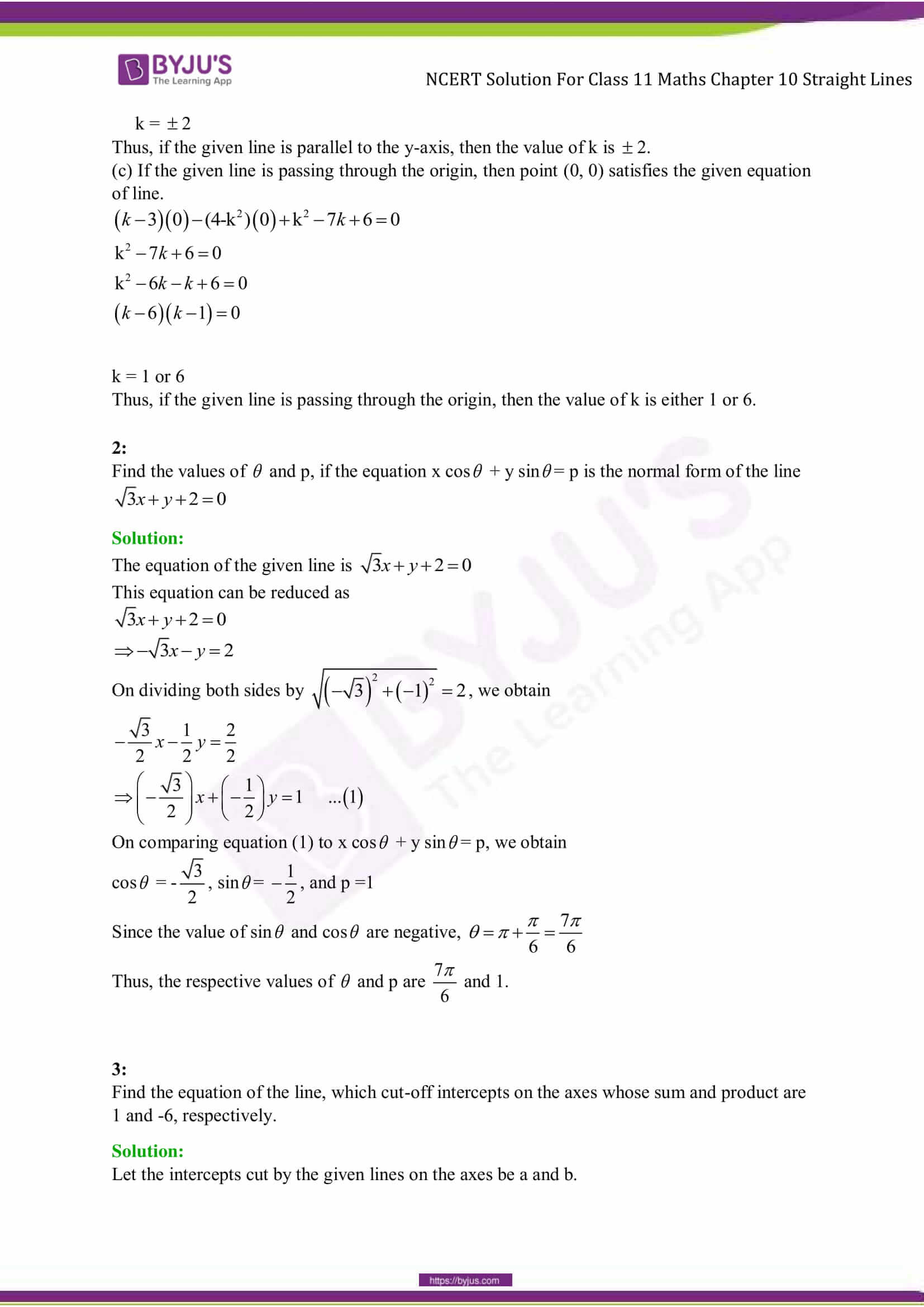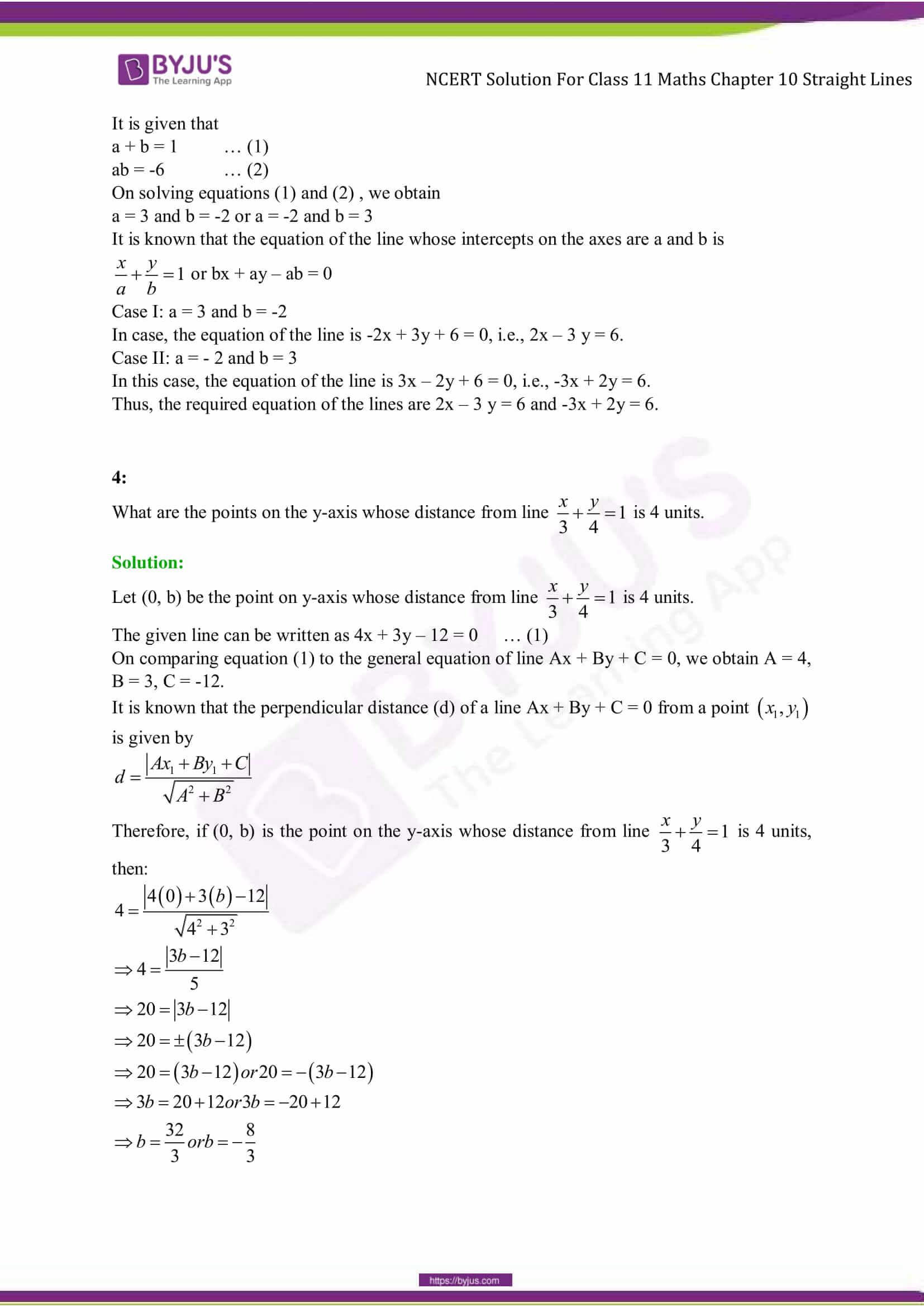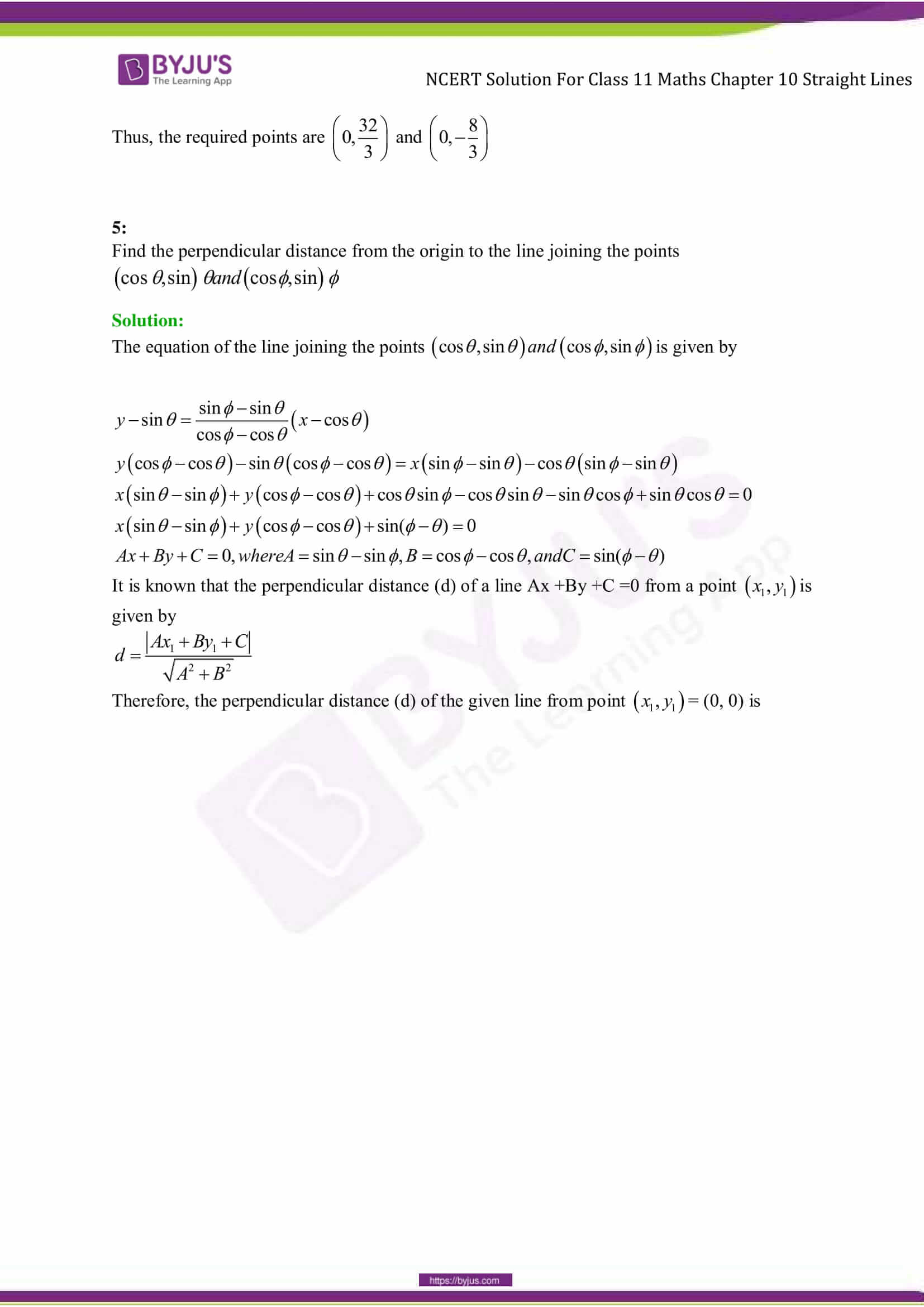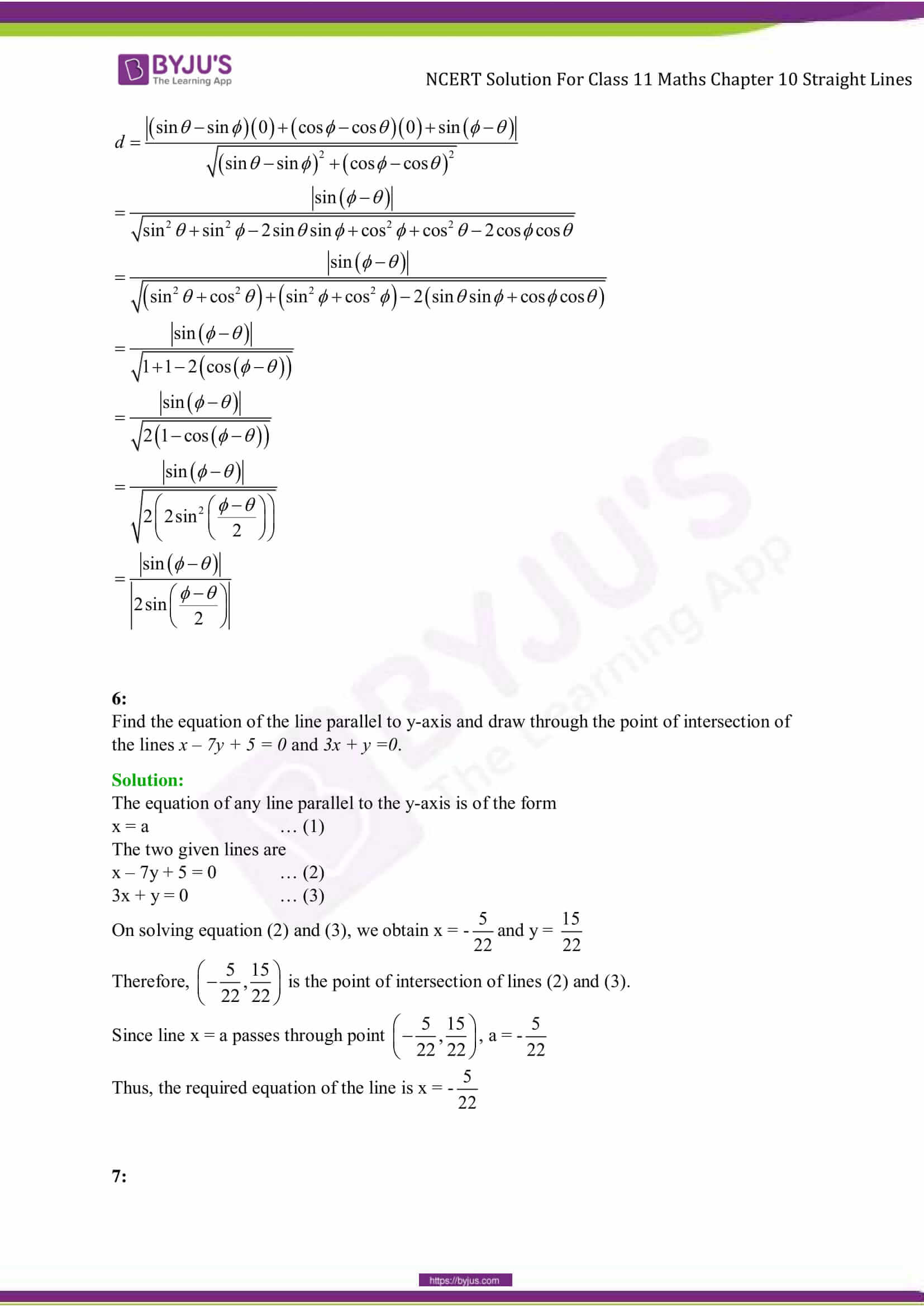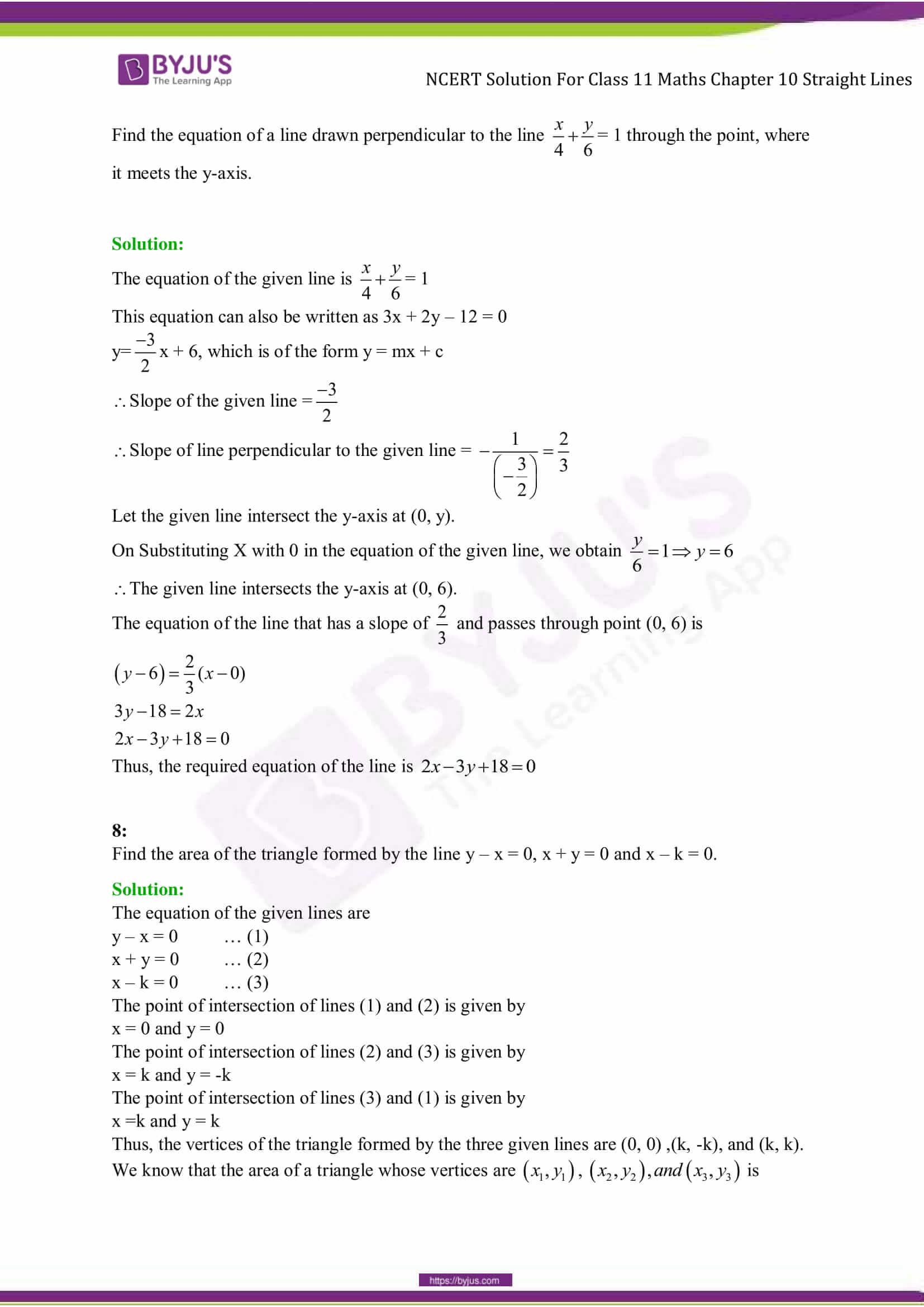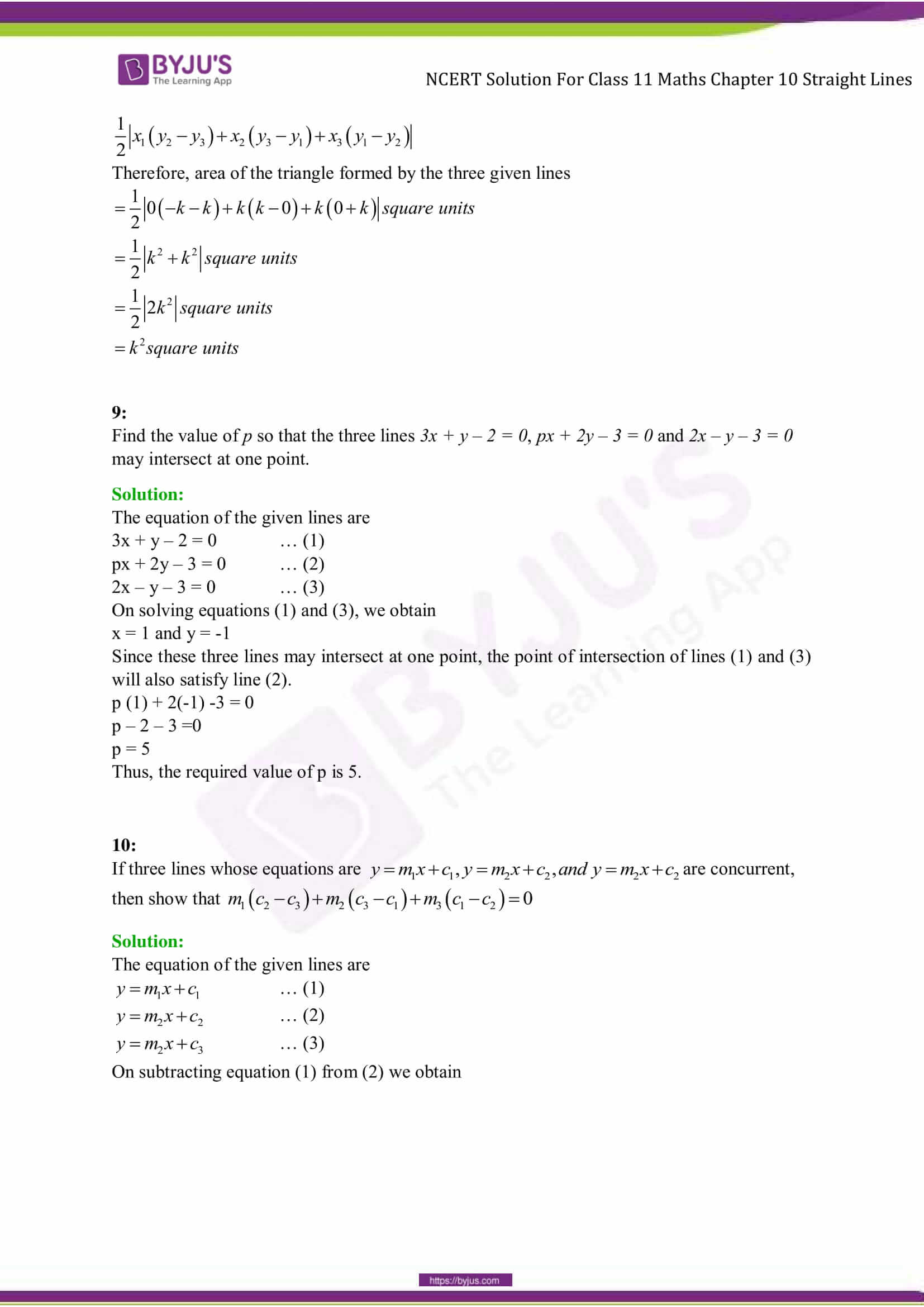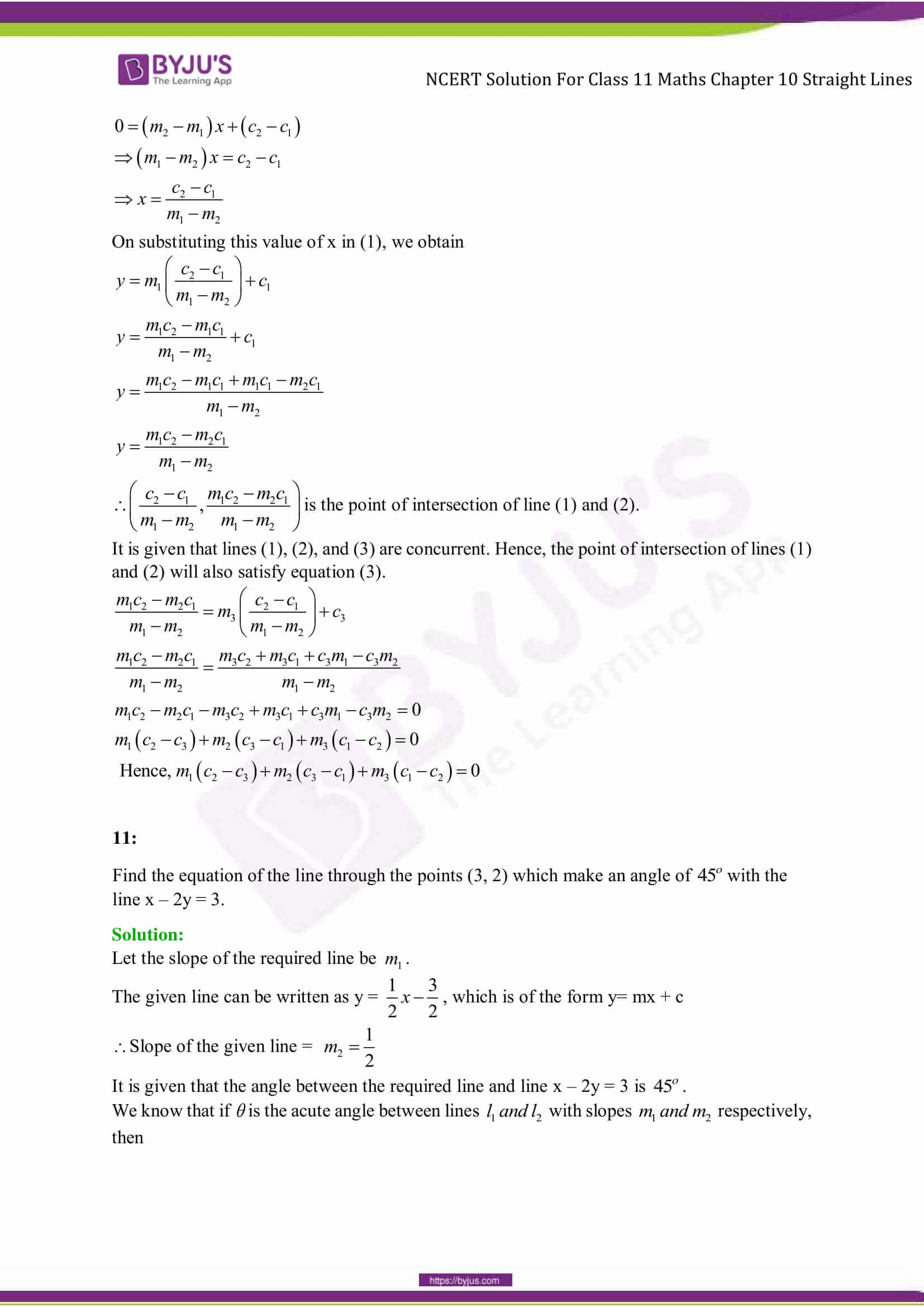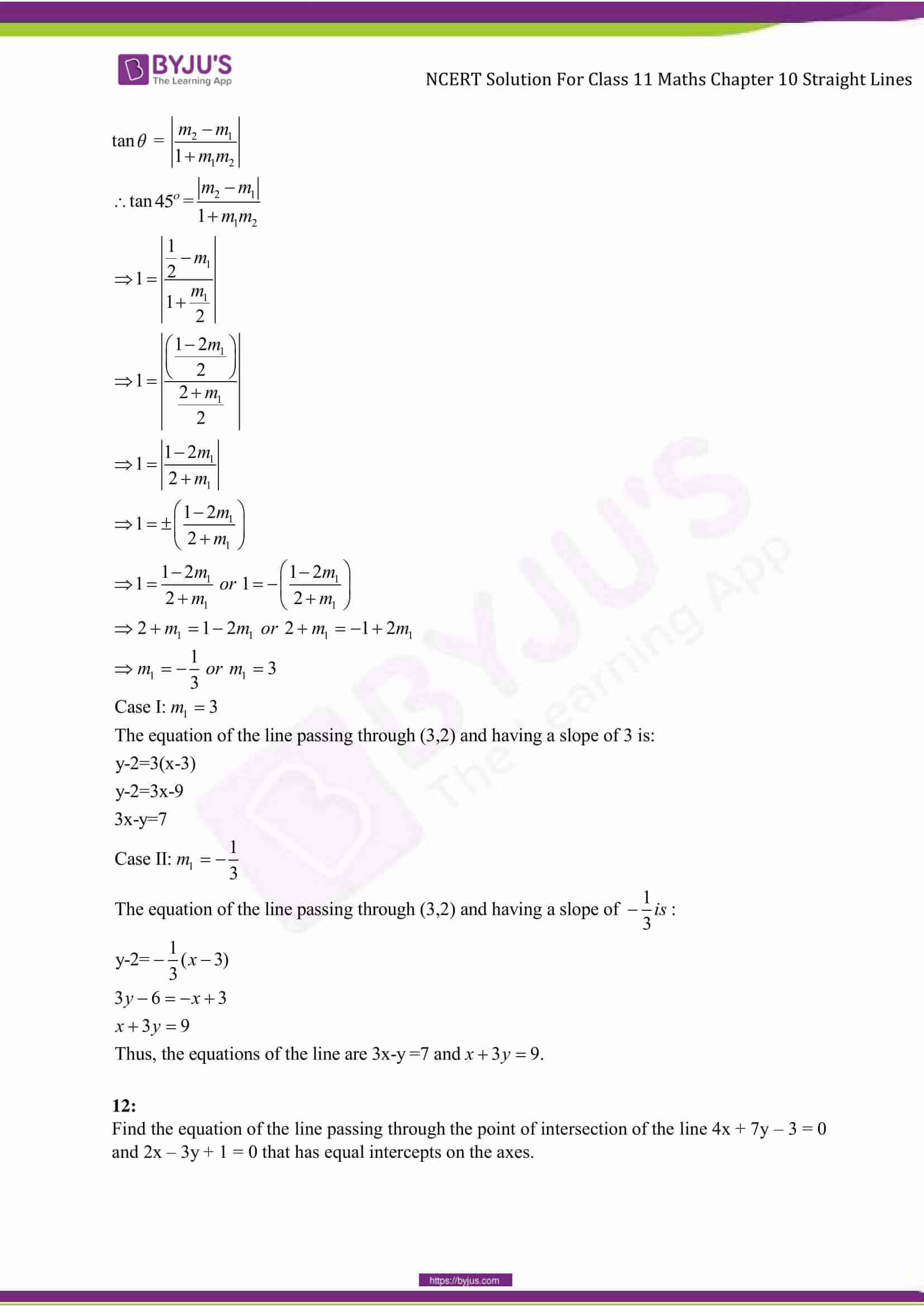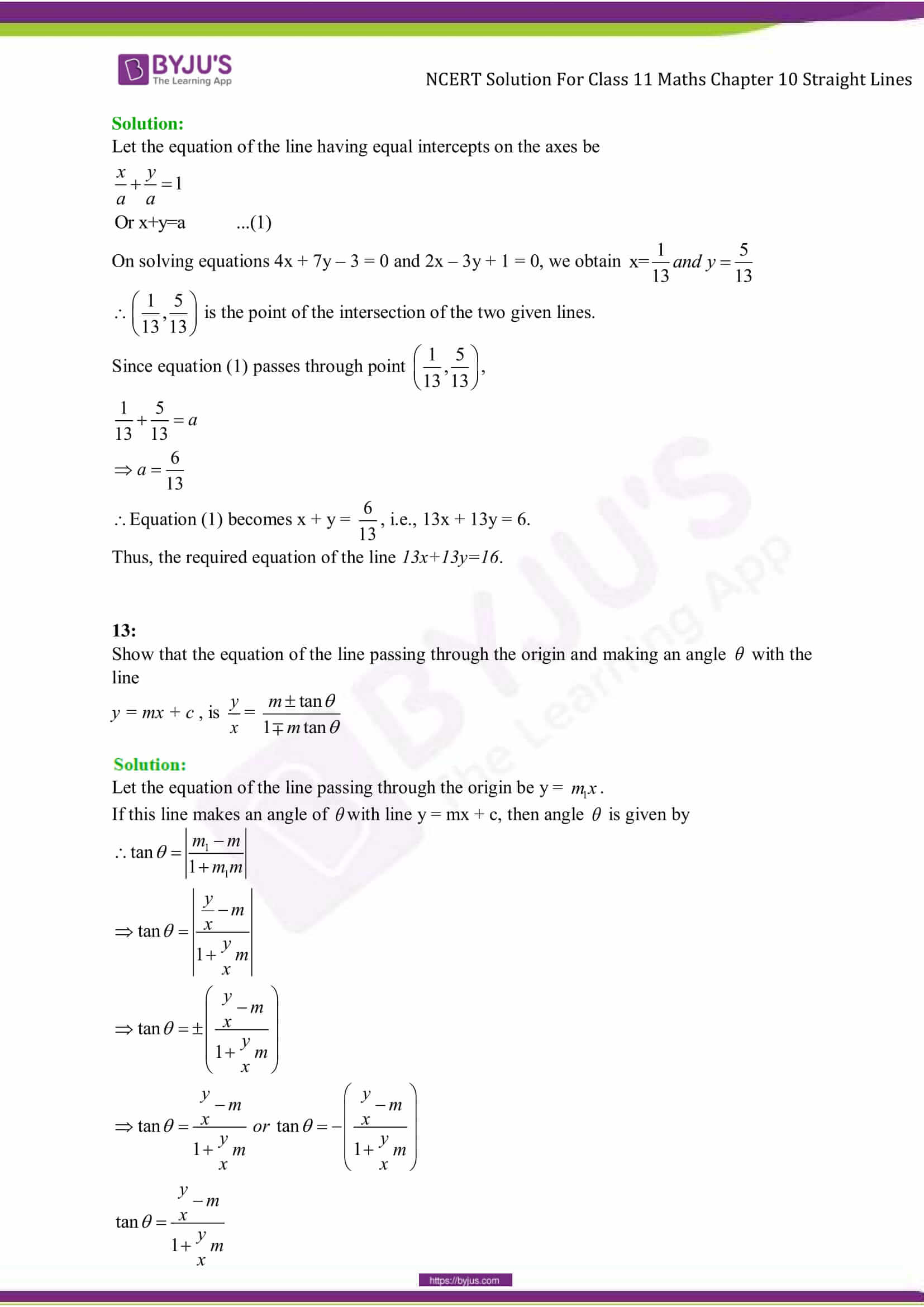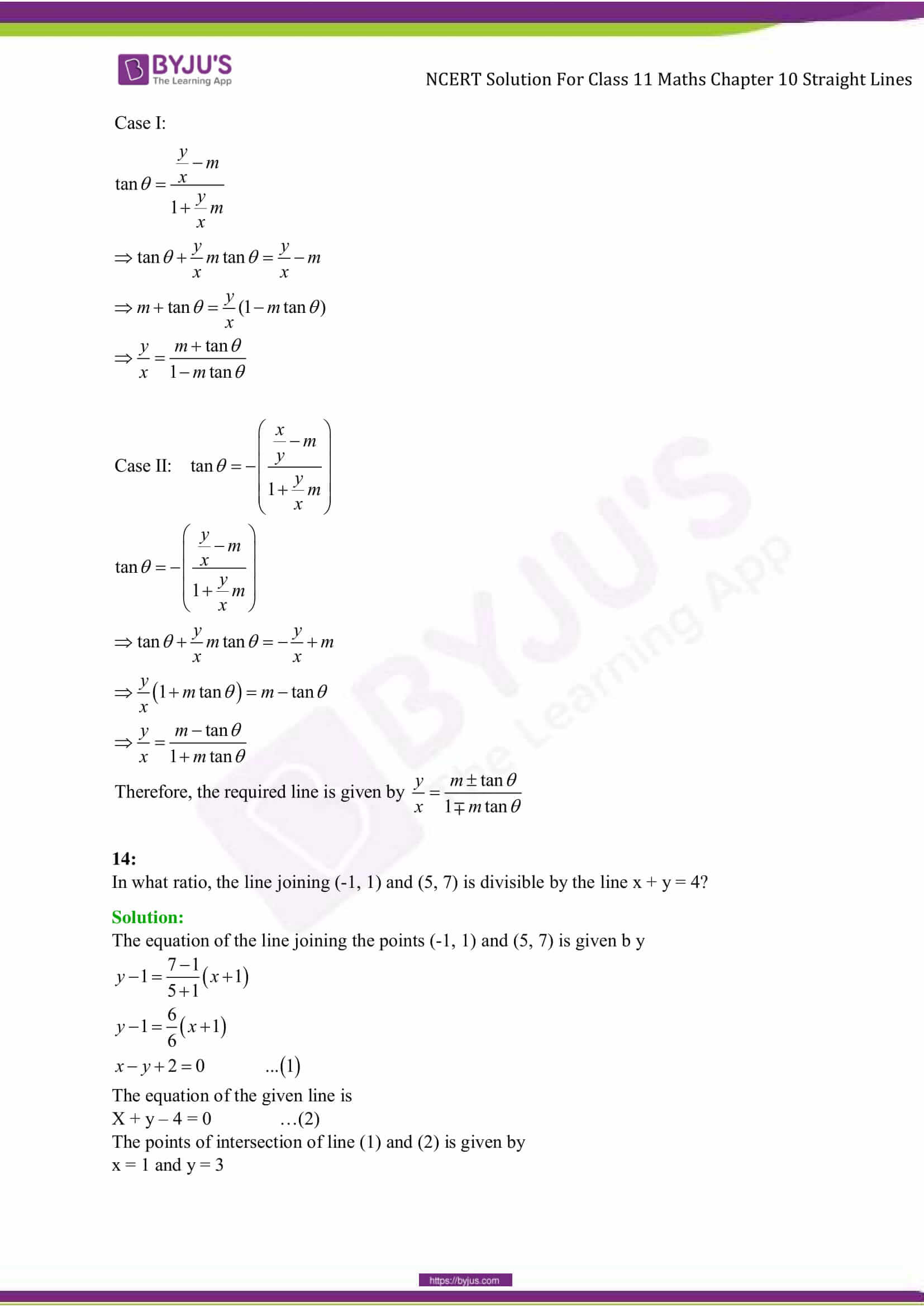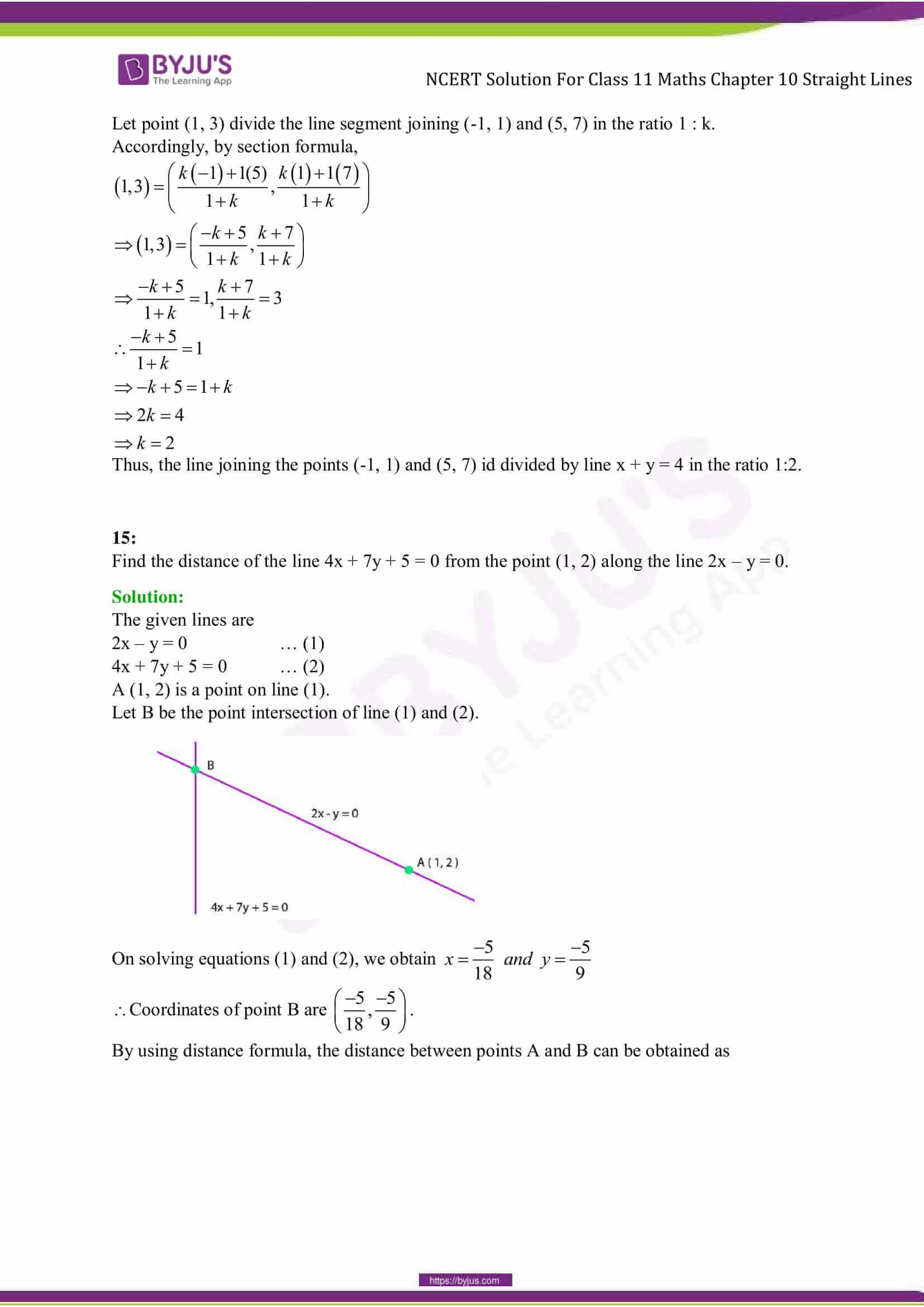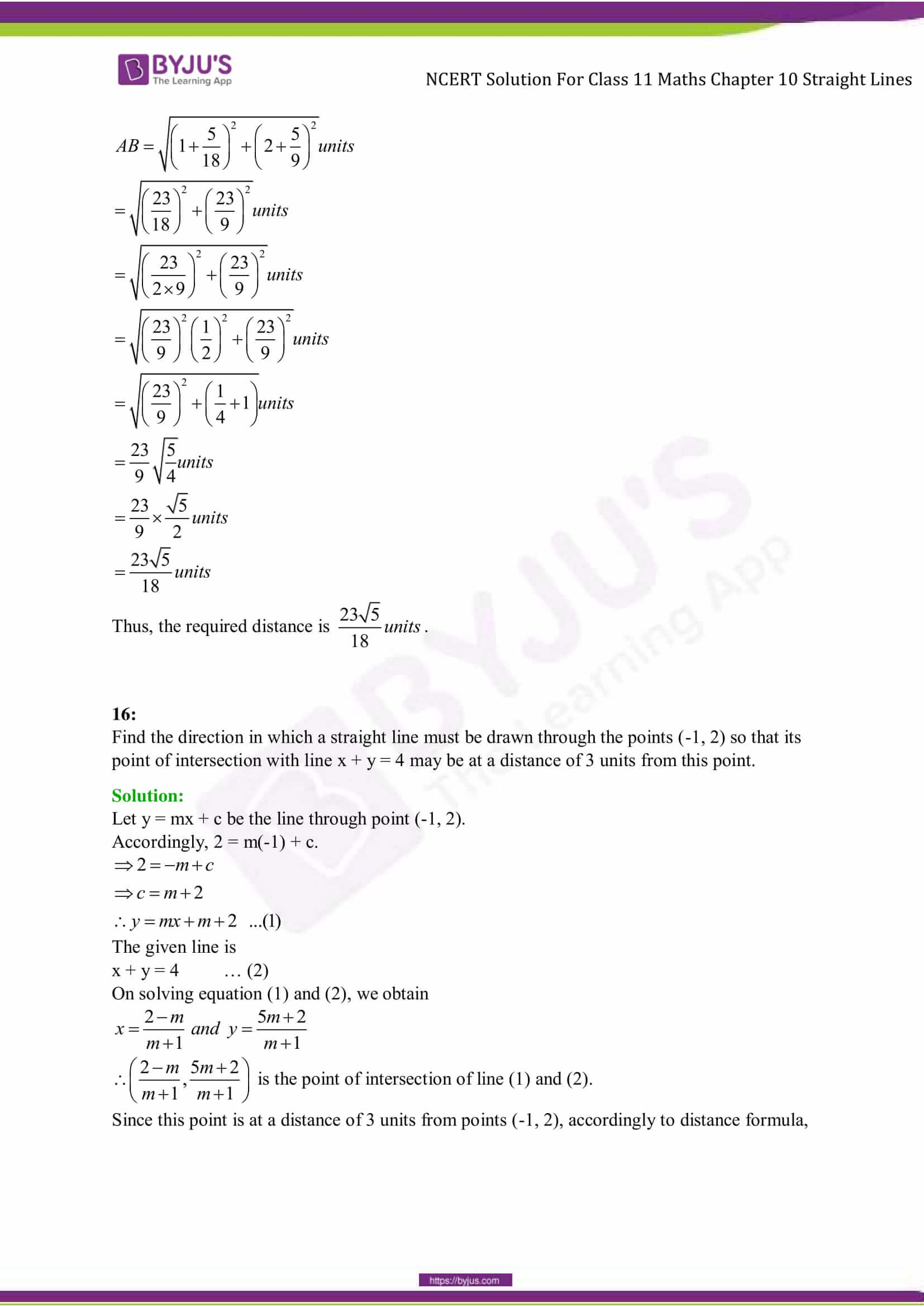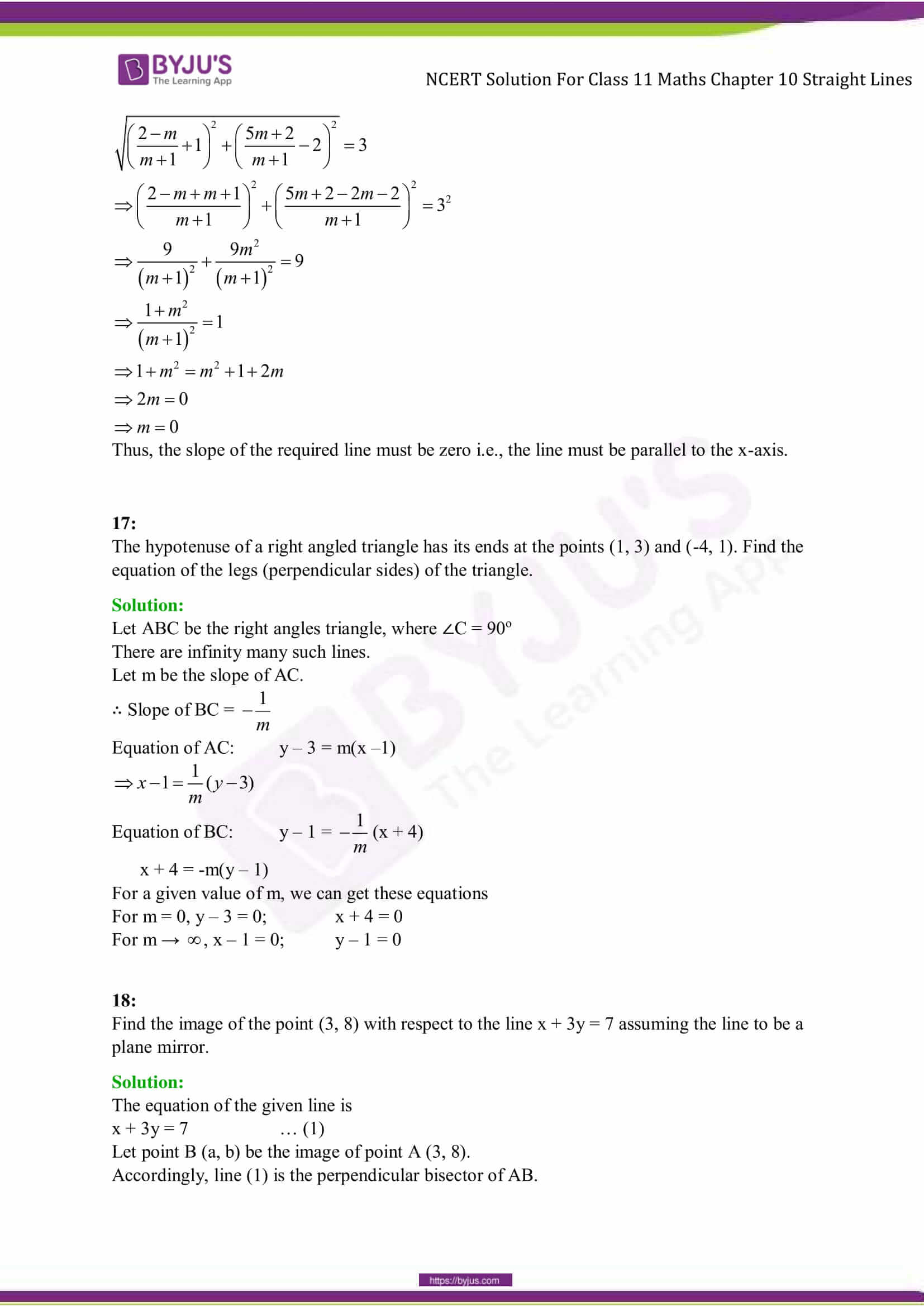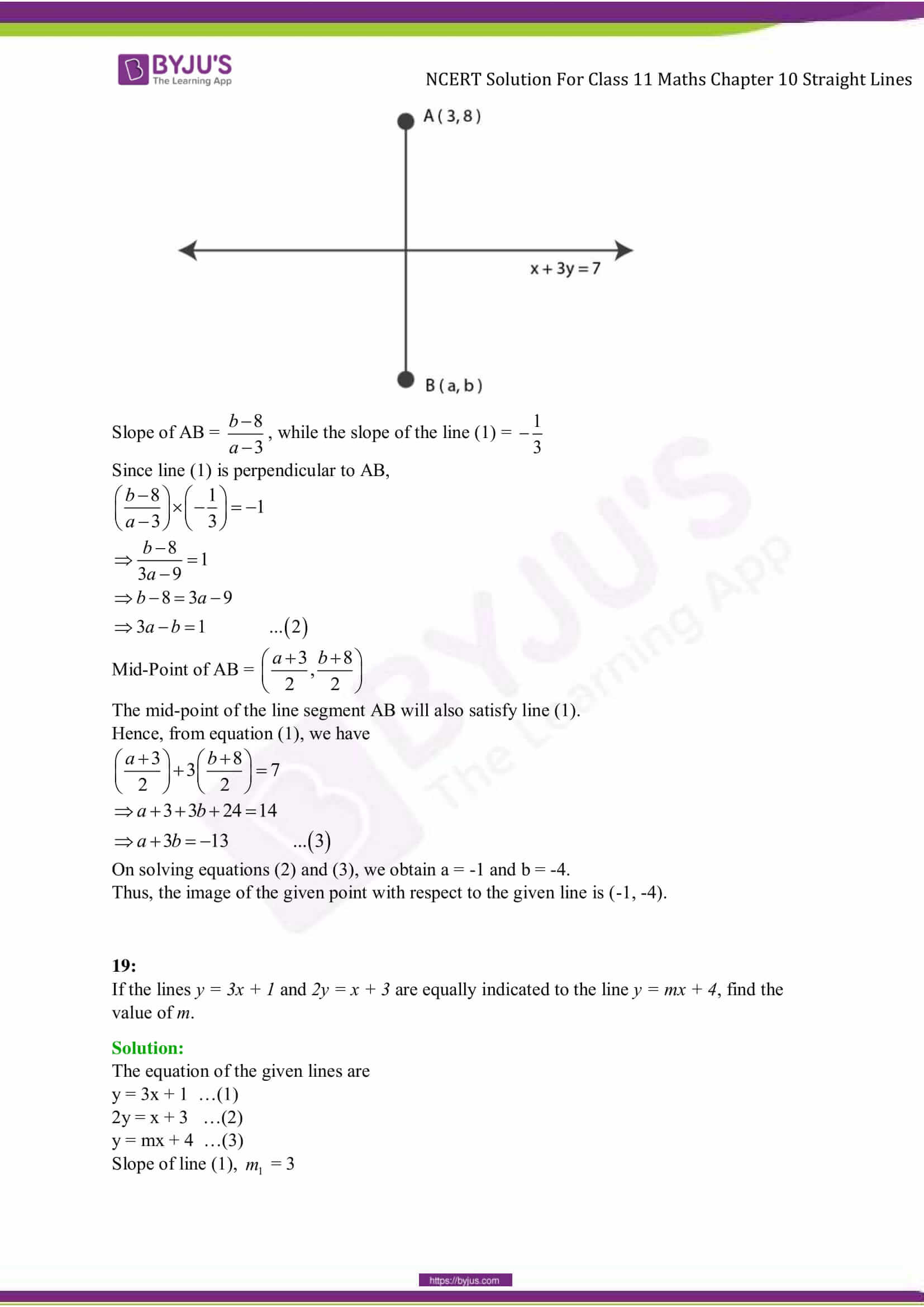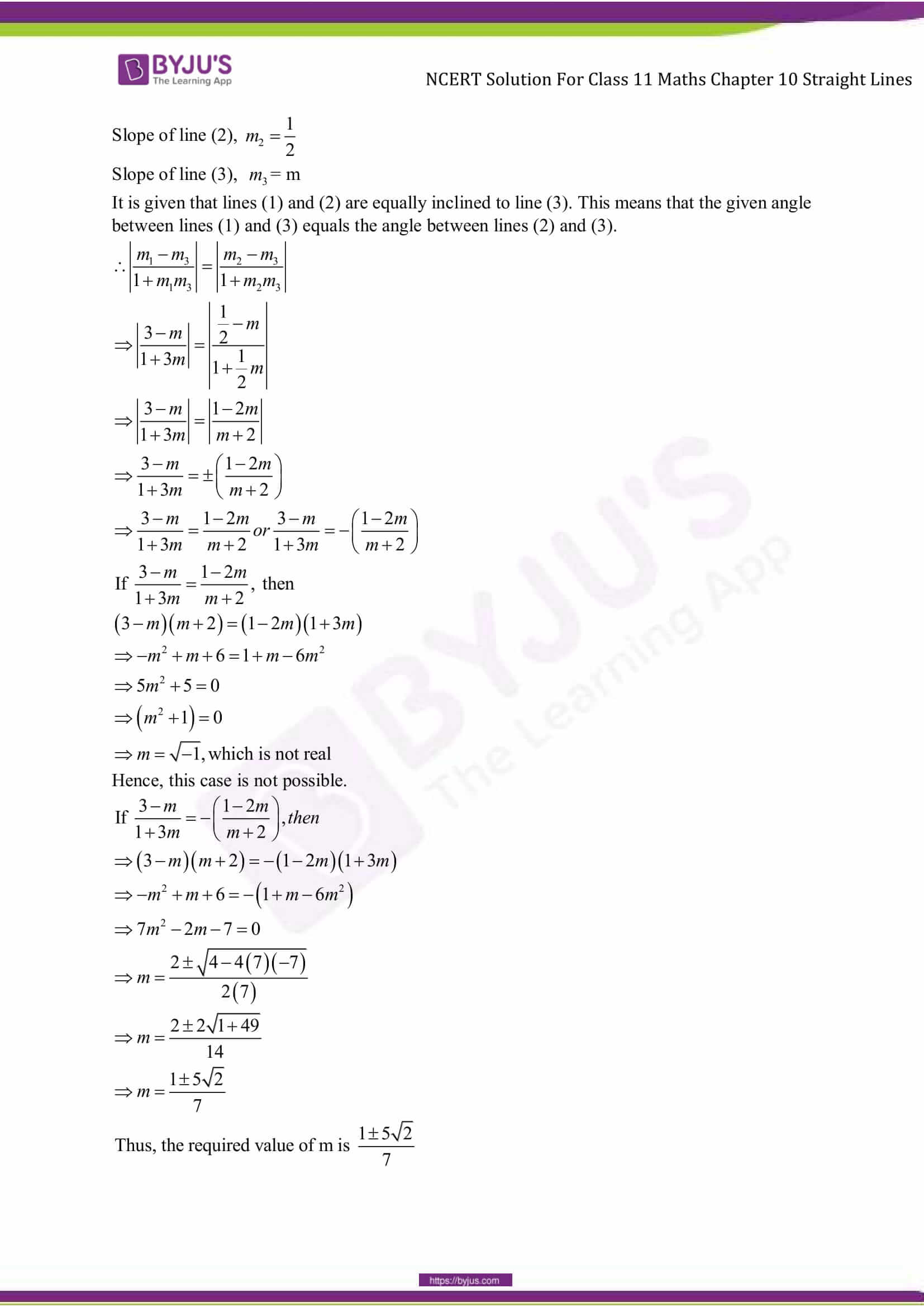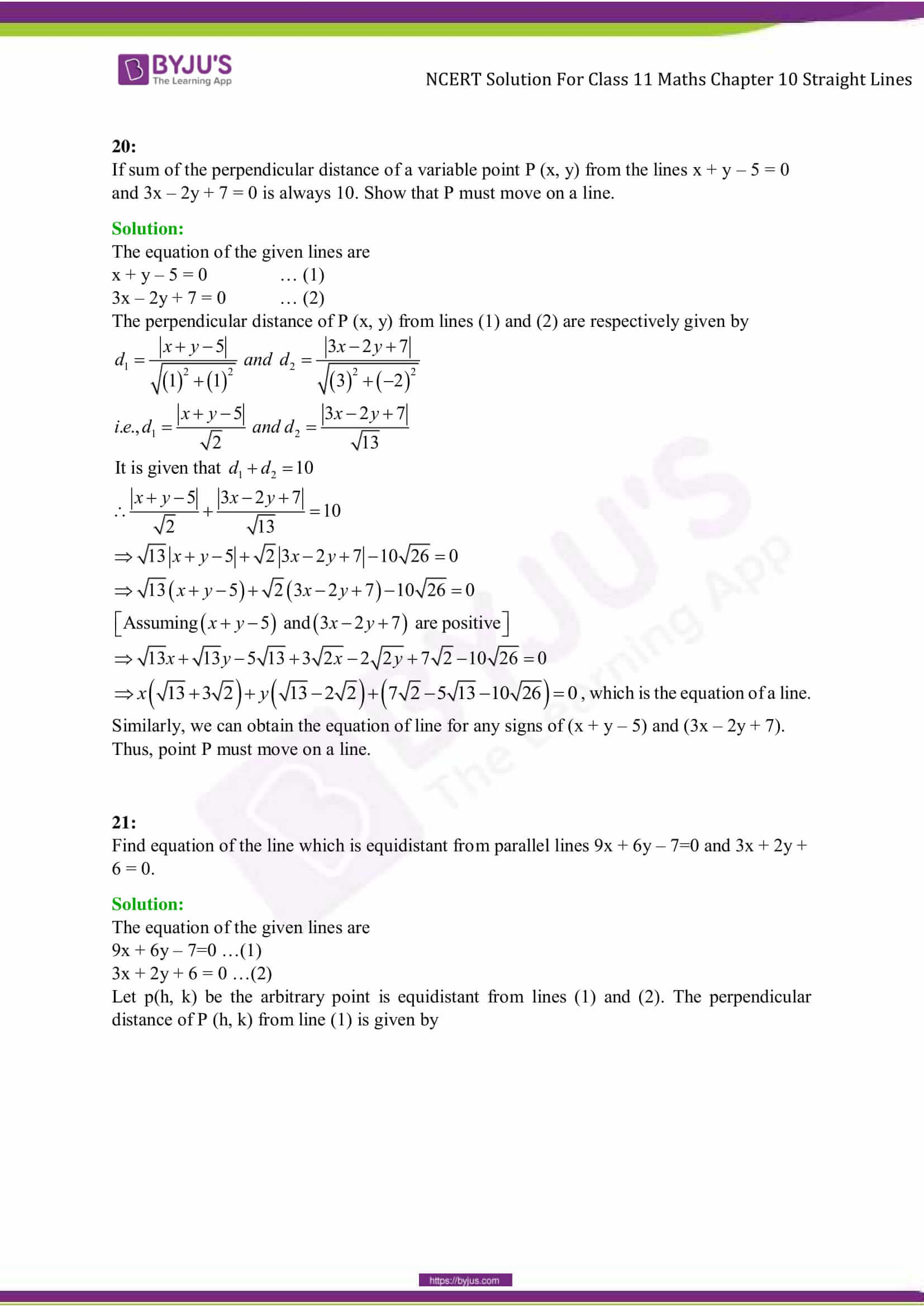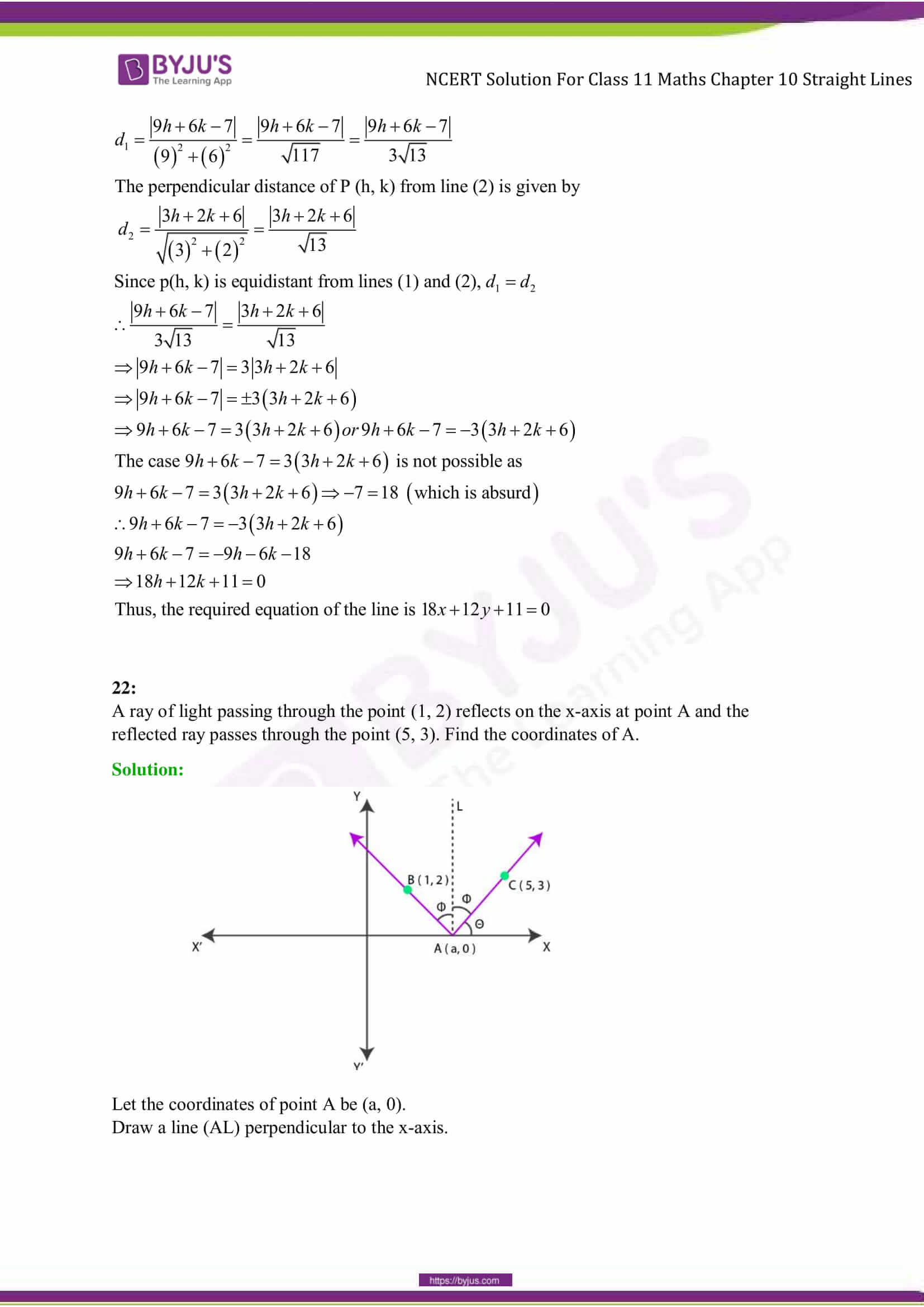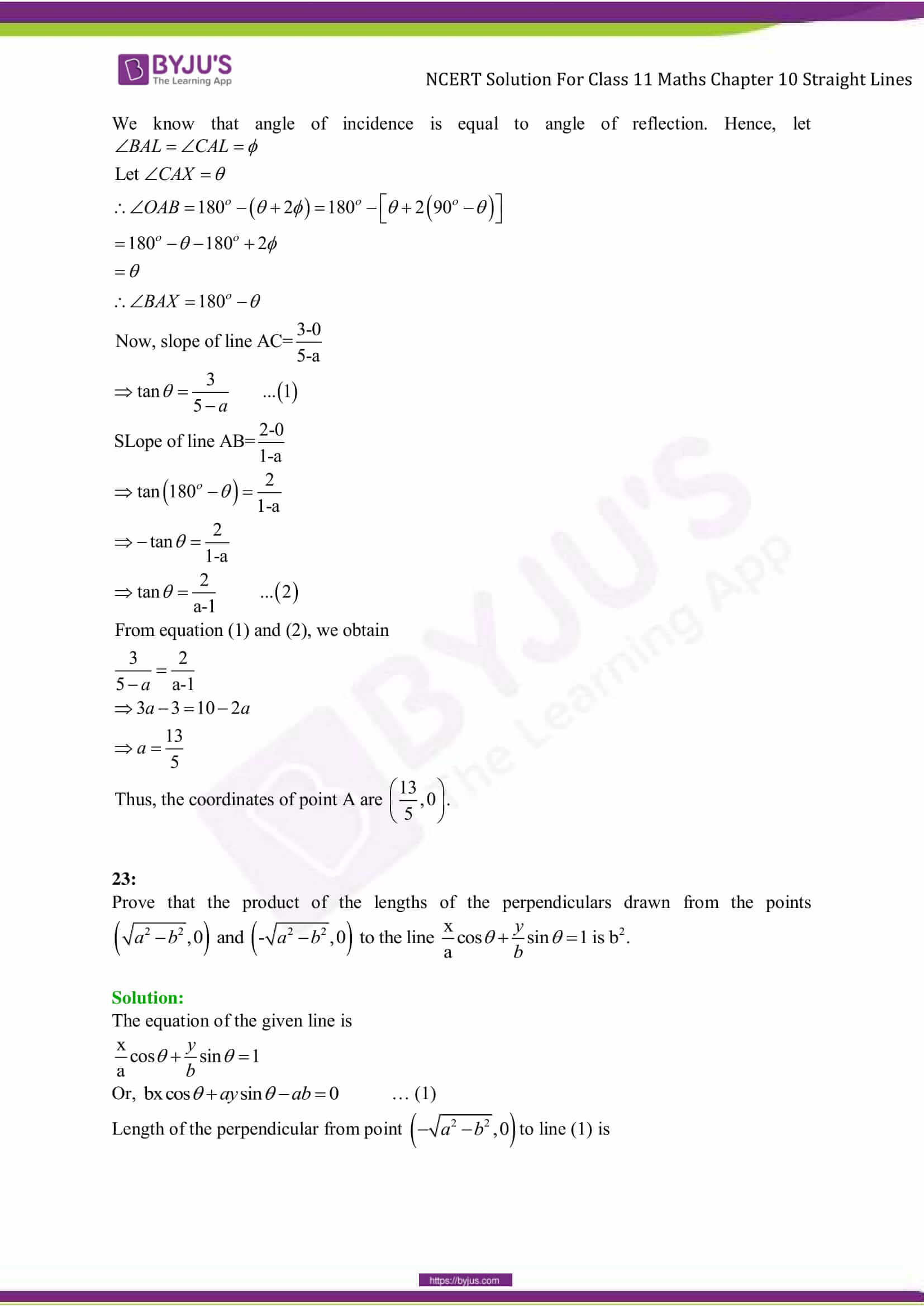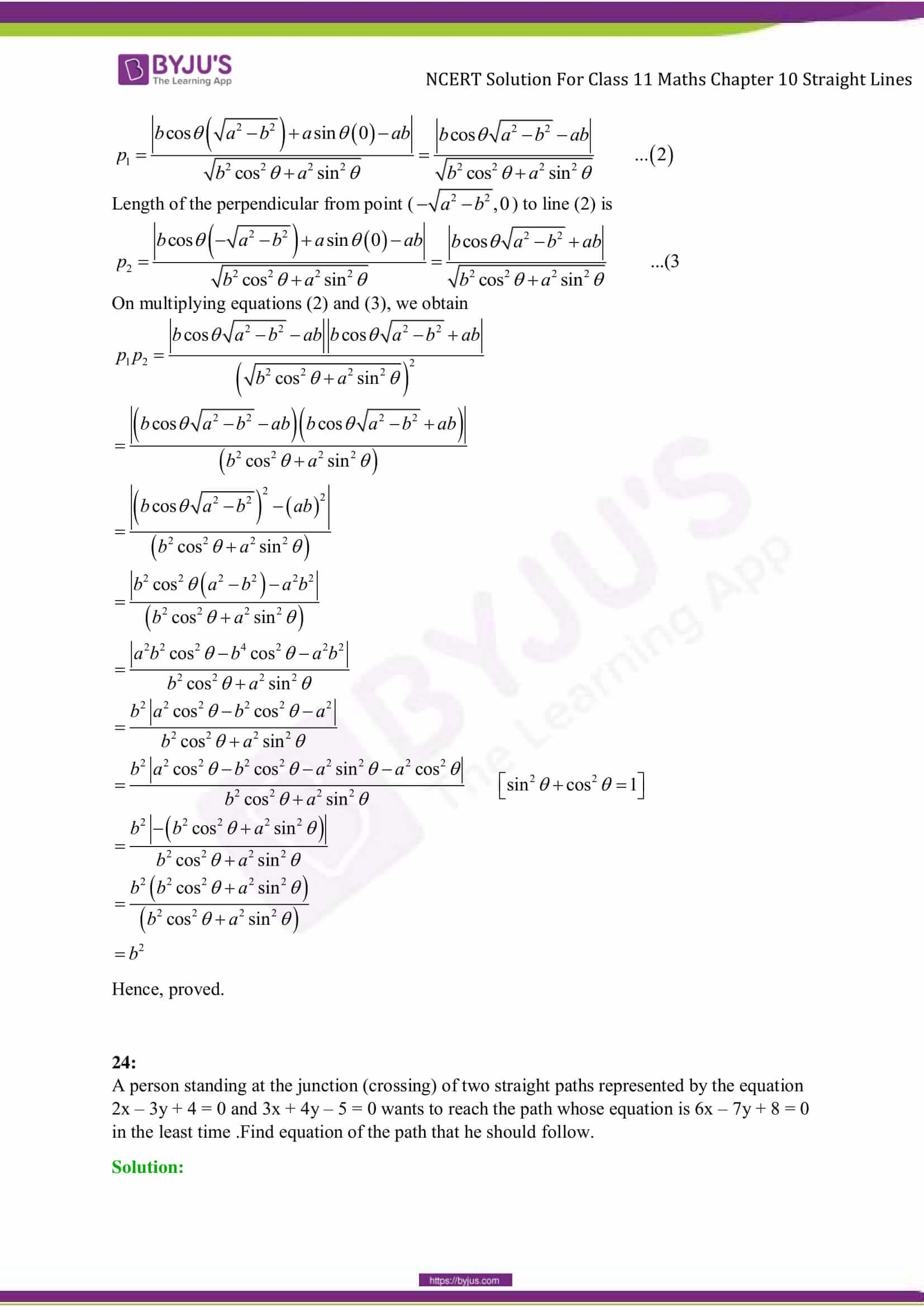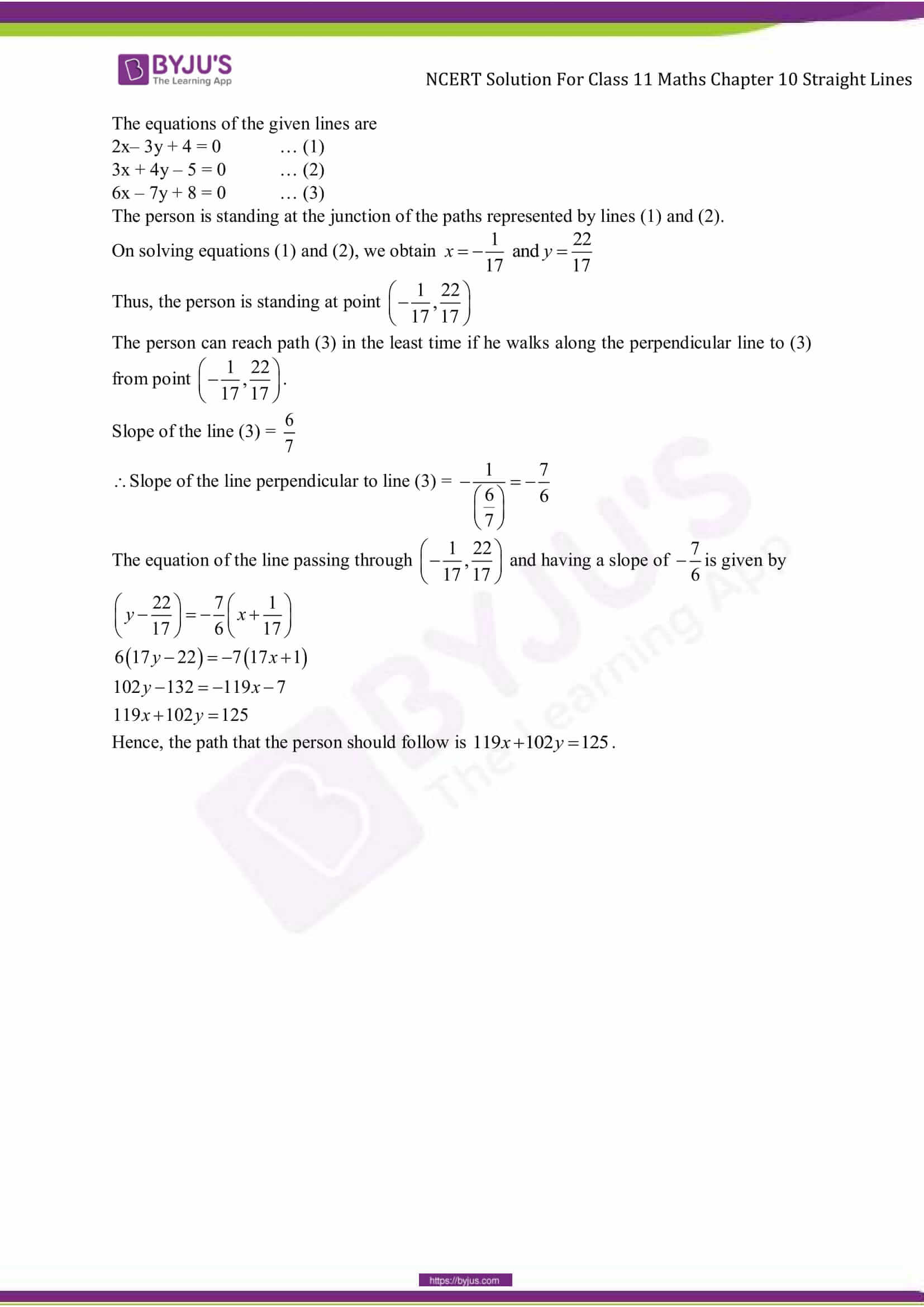 NCERT Solutions for Class 11 Maths Chapter 10- Straight Lines
The major concepts of Maths covered in Chapter 10- Straight Lines of NCERT Solutions for Class 11 includes:
10.1 Introduction
10.2 Slope of a Line
10.2.1 Slope of a line when coordinates of any two points on the line are given

10.2.2 Conditions for parallelism and perpendicularity of lines in terms of their slopes

10.2.3 Angle between two lines

10.2.4 Collinearity of three points
10.3 Various Forms of the Equation of a Line
10.3.1 Horizontal and vertical lines

10.3.2 Point-slope form

10.3.3 Two-point form

10.3.4 Slope-intercept form

10.3.5 Intercept – form

10.3.6 Normal form
10.4 General Equation of a Line
10.4.1 Different forms of Ax + By + C = 0
10.5 Distance of a Point From a Line
10.5.1 Distance between two parallel lines
Exercise 10.1 Solutions 14 Questions
Exercise 10.2 Solutions 20 Questions
Exercise 10.3 Solutions 18 Questions
Miscellaneous Exercise On Chapter 10 Solutions 24 Questions
NCERT Solutions for Class 11 Maths Chapter 10- Straight Lines
The chapter Straight Lines belongs to the unit Coordinate Geometry, that adds up to 10 marks of the total 80 marks. There are 3 exercises along with a miscellaneous exercise in this chapter to help students understand the concepts related to Straight Lines clearly. Some of the topics discussed in Chapter 10 of NCERT Solutions for Class 11 Maths are as follows:
Slope (m) of a non-vertical line.
If a line makes an angle á with the positive direction of x-axis, then the slope of the line is given by m = tan α, α ≠ 90°.
Slope of a horizontal line is zero and slope of vertical line is undefined.
Two lines are parallel if and only if their slopes are equal.
Two lines are perpendicular if and only if the product of their slopes is –1.
Three points A, B and C are collinear if and only if slope of AB = slope of BC.
Equation of the horizontal line having distance a from the x-axis is either y = a or y = – a.
Equation of the vertical line having distance b from the y-axis is either x = b or x = – b.
The point (x, y) lies on the line with slope m and through the fixed point (xo , yo ), if and only if its coordinates satisfy the equation y – yo = m (x – xo).
The point (x, y) on the line with slope m and y-intercept c lies on the line if and only if y = mx + c.
If a line with slope m makes x-intercept d. Then equation of the line is y = m (x – d).
The equation of the line having normal distance from origin p and angle between normal and the positive x-axis ω is given by cosω+ sinω = pyx .
Any equation of the form Ax + By + C = 0, with A and B are not zero, simultaneously, is called the general linear equation or general equation of a line
Key Features of NCERT Solutions for Class 11 Maths Chapter 10- Straight Lines
Studying the Straight Lines of Class 11 enables the students to understand the following:
Brief recall of two dimensional geometry from earlier classes. Shifting of origin. Slope of a line and angle between two lines. Various forms of equations of a line: parallel to axis, point -slope form, slope-intercept form, two-point form, intercept form and normal form. General equation of a line.Equation of family of lines passing through the point of intersection of two lines.Distance of a point from a line.