NCERT Exemplar for class 11 Biology chapter 12 Mineral Nutrition provided here gives answers to the exemplary question in NCERT book. NCERT Exemplar for class 11 Biology chapter 12 is a very important study material that will help you in perceiving the topic clearly. Studying this exemplar solution will help you memorise the topics for a very long period of time.
NCERT Exemplar for class 11 Biology chapter 12 has a variety of questions like mcq on mineral nutrition, mock test on mineral nutrition, mineral nutrition mcq for neet, Match the following, fill in the blanks along with worksheets, exercises, assignments, tips and tricks.
Mineral nutrition are primarily the nutrients which are required for the essential wellbeing of the plants. Different nutrients for plants are macronutrients and micronutrients which are essential in large concentrations, to ensure the healthy life of the plants
The different types of nutrients required by plants are:
Carbon
Nitrogen
Oxygen
Hydrogen
Potassium
Calcium
Magnesium
Phosphorous
Sulphur
Chlorine
Concepts of Chapter 12 Mineral Nutrition
Methods to Study the Mineral Requirements of Plants
Essential Mineral Elements

Criteria for Essentiality
Role of Macro- and Micro-nutrients
Deficiency Symptoms of Essential Elements
Toxicity of Micronutrients

Mechanism of Absorption of Elements
Translocation of Solutes
Soil as a Reservoir of Essential Elements
Metabolism of Nitrogen

Nitrogen Cycle
Biological Nitrogen Fixation.
Check out the NCERT Exemplar Class 11 Biology Chapter 12 Mineral Nutrition PDF available for download below :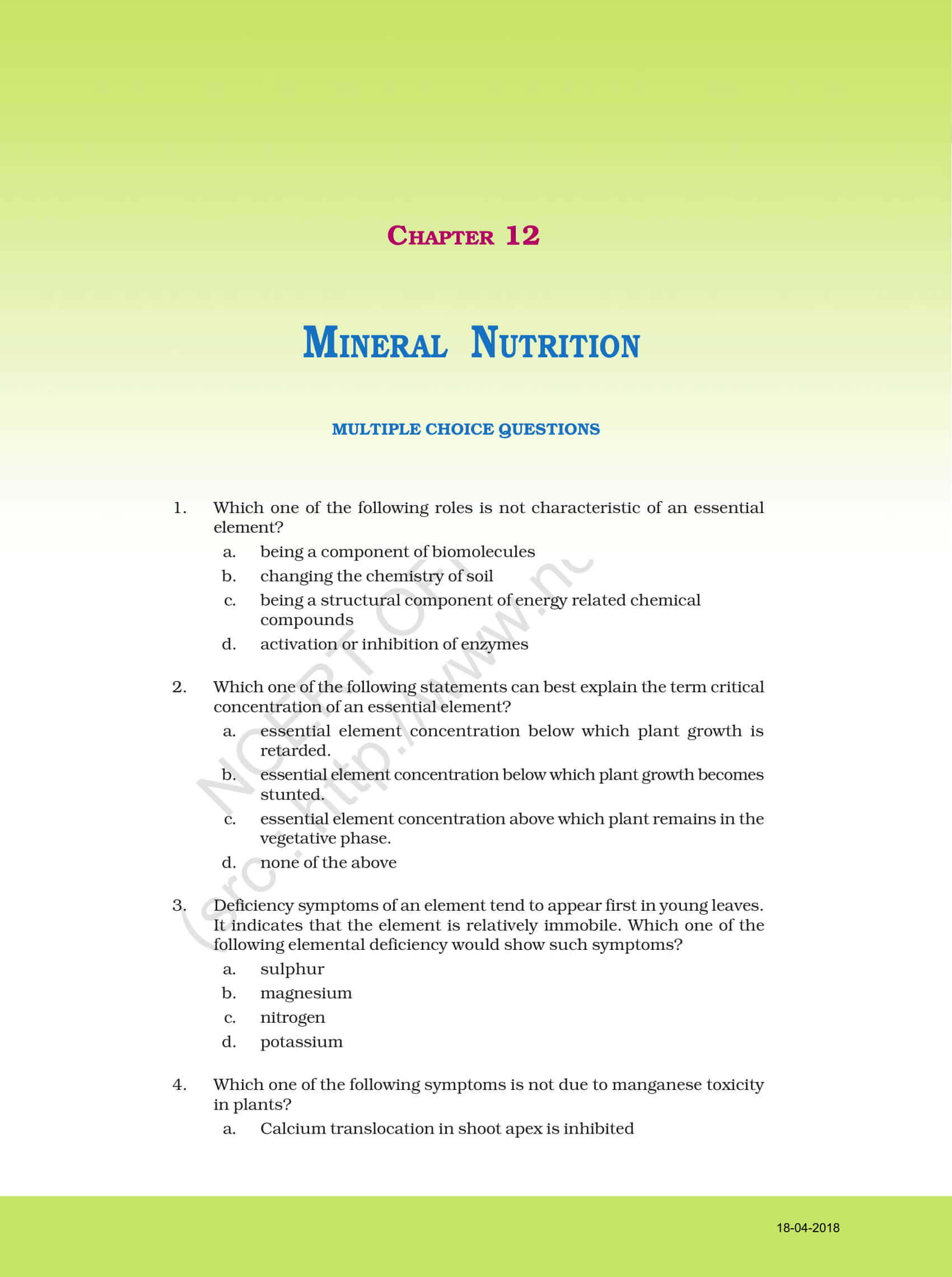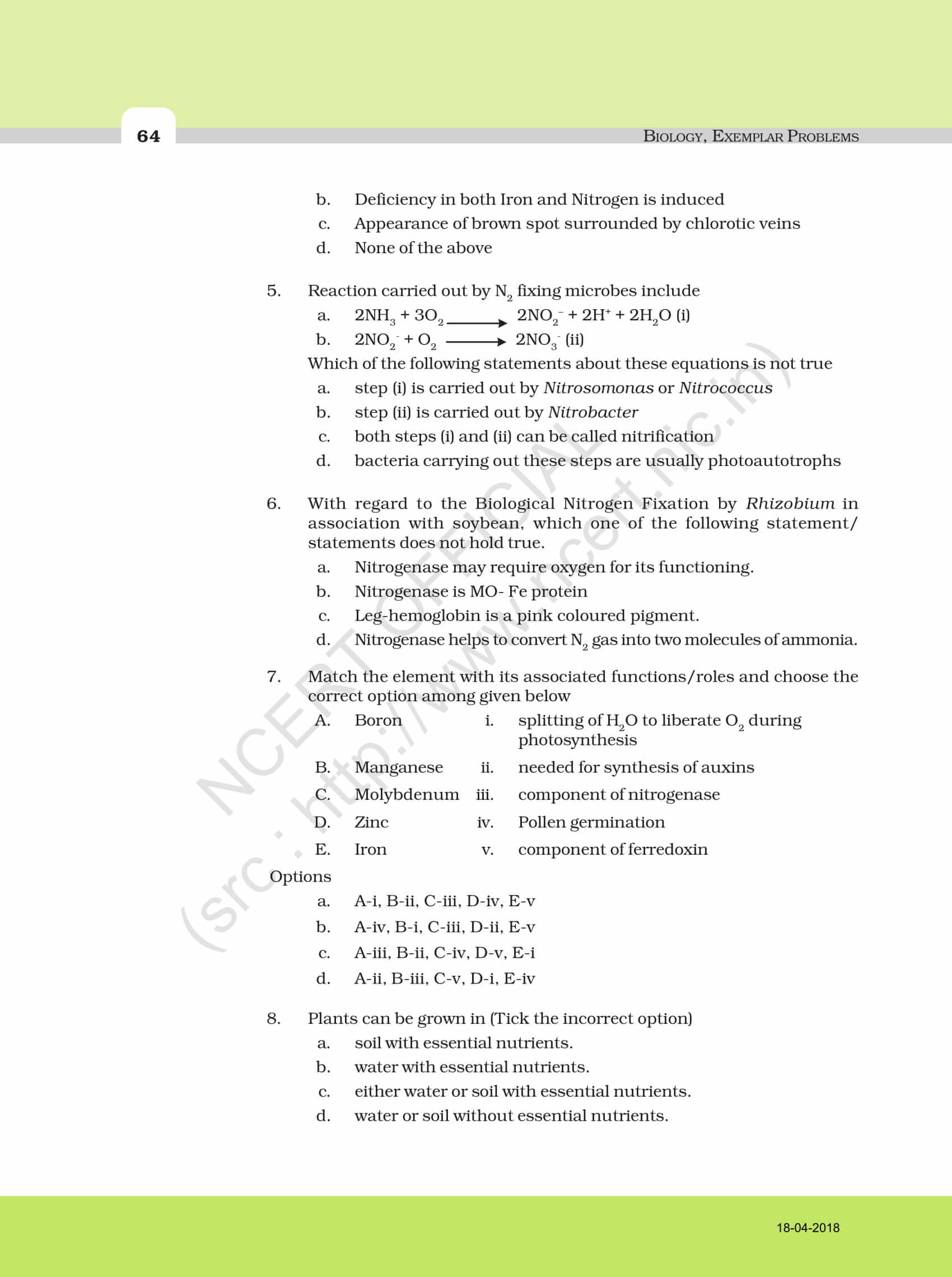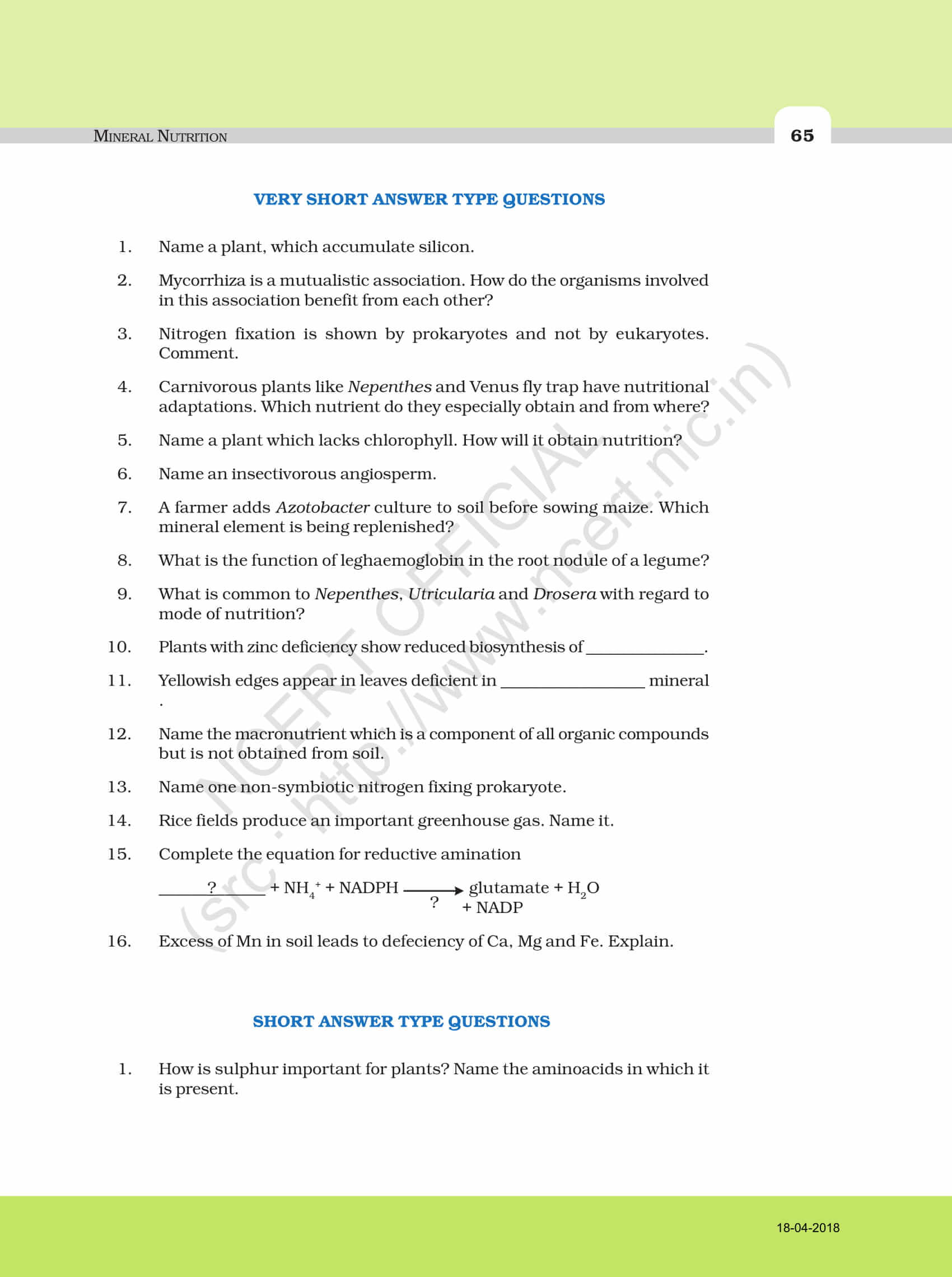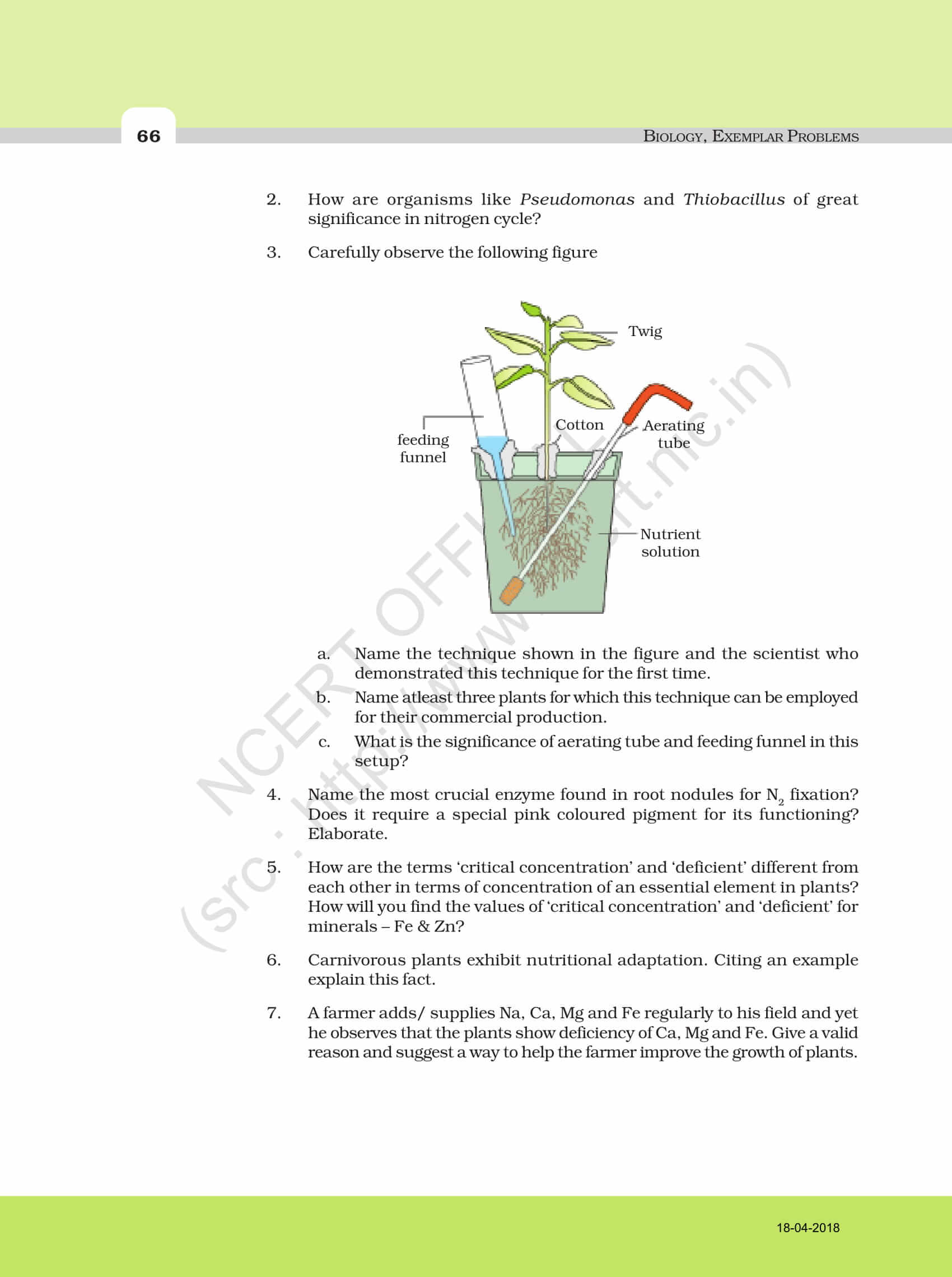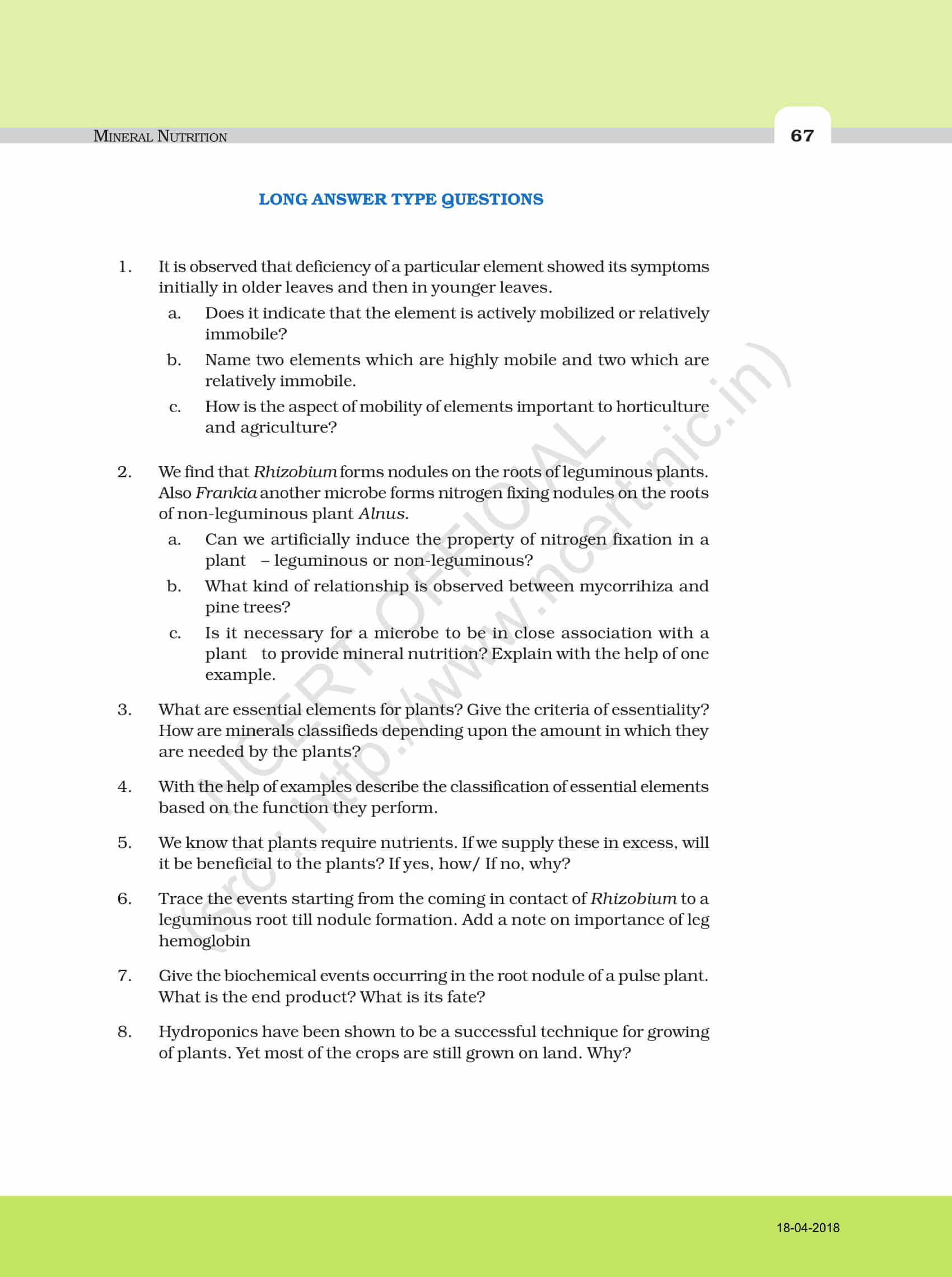 Why to Opt BYJU's?
Get Free study materials, questions papers, sample papers, NCERT solutions, NCERT exemplars, books, notes, worksheets, assignments and mock test are available in pdf format for easy access and download. Students should register with BYJU'S to get all the study material provided by us.